archived

FeaturedArticles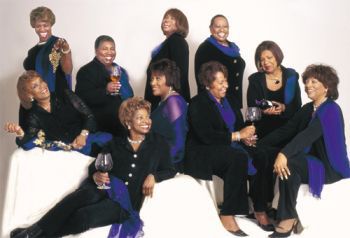 Article By: Fred Bouchard
I'm having a pleasant tete-à-tete luncheon with Karen Holmes Ward in the popular Kenmore Square "ristro" Le Petit Robert, with some personal attention from chef Luc Le Gillec. We're talking about Divas Uncorked, the women's wine education group of which Ward is a founding member.
Divas Uncorked is a Boston-based social and educational organization of black American professional women who are exploring wine for friends, associates and neglected consumers. Since wine writers tend to like that attitude - most of us work towards demystifying wine - the Divas have had plentiful ink in area press, such as the Fab 4O Wines in Boston Magazine (November 2OO5), and nationally in Newsweek, and they're working on a wine-book.
As a longtime television personality, Ward finds an easy eloquence talking about her groundbreaking organization. "One of the great appeals of Divas Uncorked," says Ward, "is that we are a group of African American women trying to push open yet another door. Like other minority wine groups, Wine Brats and Women for Wine Sense, we play our role in changing people's attitudes - and misperceptions - around wine."
Ward affirms that the timing is ripe for Divas to emerge and be heard. "The time is right for US consumers to learn more about wine. European cultures have enjoyed it for millennia. Americans are just getting into the swing of the wine thing. Today wine is the beverage of choice with meals for 38% of Americans. Women spend 8O% of consumable dollars, and thus are the biggest wine consumers. The Divas have cachet because we're breaking that 'Fraser-esque mold' of wine appreciation. I'm talking about those endearing NBC TV characters Fraser and Niles bragging about the la-de-dah Burgundy they had at their 'cluuuub'. We're breaking out of that; you don't have to be like those sorta snobby guys to enjoy wine."
Suddenly across the dining room we espy Rebecca Alssid and Kara Nielsen of Boston University's Lifelong Learning Center, who greet us warmly. They gleefully break the news to Ward that the Divas' recently named scholarship nominee, Andrea Lockett, had yesterday passed the entrance examination and was to enroll in Level Three studies in the Wine Studies Certificate Program at BU's Elizabeth Bishop Wine Resource Center. Ms. Lockett, whose socially conscious essay won the scholarship co-awarded by Hess Select Winery and Starwood Hotel Group, was then working for the Fresh Wine Company in New York and was free-lance writing, but was eligible to attend Master of Wine studies at Bishop.
Back at the table, Ward says wryly: "Black women challenging wine culture makes people sit up and take notice. There's an interesting interplay of race and gender in what has traditionally been a white man's bastion. Women may live vicariously through our efforts to make a statement about wine. Men are attracted to our daring to take on the wine world."
A fine example of this attraction is recounted by Tim Thornhill, partner in Mendocino Wine Company, whose labels include Parducci and Zingaro. Thornhill remembers, "I had (the) pleasure of being at a Wine Vision seminar symposium in Santa Rosa in front of 1OOO people on a podium where (Divas founder) Stephanie Brown was telling the truth loud and clear. Her point was that women are major wine purchasers and that people of color have been ignored by the industry's marketing. I was the only one who jumped up and said, 'Count me in!'. I told her that everything she said meant a lot to me, and that we needed to talk. Ms. Brown soon returned with four of her partners and a proposal. It took me about five minutes to say "yes" to partnering with this group." Today Mendocino Wine is an enthusiastic mentor and supporter of Divas' programs. Divas are now working on developing a wine club and label. "As women," Ward says with humor, "we like to plan ahead and we like choices! We're looking at two price-points: one public (on the web, available for retail), the other (possibly an artist label series) of boutique offerings sold through our wine club, perhaps in six-packs."
The Divas like to make a quiet splash. Ward continues: "Boston has a reputation of being more stuffy and highbrow than Chicago or LA, so our collision course may have created a bigger crash here. But we've created a bit of a stir even in California. The first time we went to Napa we had lunch in the private dining room in The French Laundry, and people were taking the long way around to the rest room to get a peek at these ten African American women enjoying themselves. We got a kick out of that!"
Recently the California-based Wine Institute has recognized the growing influence of women as consumers and buyers. A September, 2OO5 press release quoted a 2OO5 Gallup poll which trumpets: "Men prefer beer; women prefer wine." The release then cites Adams Wine Handbook's 2OO5 statistics: women comprise 52% of the adult population and purchase 55% of the wine consumed in the US. The release further suggests, as Divas confirm, that women are less influenced by wine ratings than perceived quality, label design, bottle shape, and winery philosophy.
Divas' own market research on women's winebuying habits reflect these expert opinions, according to Ward. "Our market research found that men tend to buy wine that's Robert Parker rated for its status. They'll order restaurant wine based on price to impress a client. Women are likelier to buy a wine based on a friend's recommendation, or with a relational association, such as a bridal shower. Women are also more attuned to matching wines to foods to which they're best suited. Thus we find that price has little to do with a wine's taste or (its perceived) value. Your tastebuds may prefer that $8 bottle over an $8O bottle."
Girls' nights in... The Divas began in 1999 as a group of friends who enjoyed casual social gatherings. Founder Stephanie Brown, IT Executive at Blue Cross, recalls, "I wanted to engage socially with four women I'd been friends with for years. I conjured up the wine club idea (an alternative to the book club) and put some structure around it. Each of us was to invite a new person, so we were ten. I didn't know much except red and white, enjoyed it as a cocktail, and learned about wines through tastings. We tried learning differences between two whites and two reds, but were intimidated faced with, say, 2O white wines! After a few collective experiences, we decided to become educated consumers."
The Divas laid out ground rules for their gatherings. "Every tasting had to include education," Brown explains. "Hosts picked the theme. We used the internet for a ton of info. We asked stores where we bought our wines. We got little help in liquor stores initially, noting a disconnect between buyer and seller. Some sales people were neither receptive nor respectful, even when we were trying to buy cases of wine! Was it because we were women, or black, or both? Their perception of a buyer was a middle-class white male. Our negative reception led us to more connection with the industry. Now we've found stores in our communities that give us more background. We explored the industry's perception of female consumers."
The Divas began to attend, and wanted to conduct their own, wine tastings, but again felt stymied. "Our tasting experiences were tough," recalls Brown. 'We found the terminology too high-flown or obfuscated. We wanted beginners to feel relaxed and welcomed, without intimidation. Our events led to our notoriety within the industry. The marketplace must shift attitudes toward women, who buy differently from men and must be made to feel comfortable. Storeowners! Build your shops around the more touchy/feely way we buy. Give us interaction! Not point counts, but price/value ratio! Things are slowly changing."
Ward recounts Divas home events. "When hosting dinners, our challenge is to come up with something new and different, with that education component. Catherine Kennedy and Callie Crossley showed an array of rose wines one time, white Burgundies another. Barbara Cruz' blind tasting of French and Californian Chardonnays and Merlots caused us some confusion, though the California entries were more openly oaky. Rosalind Johnson's dinner, based on New England seafoods, prominently lobster, featured Trimbach Rieslings."
Her own wine dinner had a strong visual element. "I hosted a dinner based on artists wine labels from Mouton-Rothschild, Kenwood, St. Supery, Leeuwin. A question we raised was, 'Did the premium you paid for the art label correspond to the quality of the taste in the bottle?' We read Jeff Calderwood's Icon, a book on wine labels. US labels are easy to follow - as the grape name is prominent. French labels are confusing unless you know French geography. New world wineries understand this problem, so wines from Australia, South America and South Africa are usually easy to read. Sociology is a factor, too. America's acceptance of South African wines has taken great strides since the end of Apartheid; it's great to find good value wines and to support a developing nation. The downside may be behind the fact that I am not attracted to German wines - even though I love my Mercedes! (Do we unfairly categorize Germans as great engineers but not great winemakers?)
"Our private group remains the same in 2OO6," says Ward. "We continue to learn about wine, with attention to improving food pairings. Food and atmosphere are as important to us as the wine. Over the years we've developed strong friendships - we've been through marriages, divorces, deaths, kids growing up - and forged strong personal bonds. Sometimes we feel we could add some new people, since we all work full-time."
...and on the town Divas Uncorked's public presence goes far beyond their private dinners. Ward enumerates them. "We hold local annual public dinners for 1OO or more. They were at Seasons in 2OO1 and 2OO2 with Best Cellars' Josh Wesson, in 2OO3 at Bonfire with Todd English. In 2OO3 we held our first Wine Conference for Women at Seaport Hotel (Domaine Chandon dinner, Andrea Immer presiding). In 2OO4, our second wine Conference at the Westin had Spencer Christian, the weather guy on Good Morning America, as our main speaker; there was a Parducci wine reception, a Hess dinner and a St. Supery chocolate cabernet cabaret! In 2OO6, we're moving our event to March, so as not to conflict with The Spinazzola Dinner, Wine Expo and Super Bowl. The Patriots, God bless them, might win it all again. Finally, our "Divas Dine" educational seminars we hold around Boston, such as at Legal Sea Foods in Park Square with Sandy Block (ordering wine with the sommelier, questions to ask). We're planning a series to visit all the Legals (DC, White Plains). Owner Roger Berkowitz has been a supporter for many years; he and I won Boston Jaycees' TOYL award (1O Outstanding Young Leaders) in 1987.
Niche issues abound for minority consumer groups, and Divas is no exception. "High alcohol wines are of particular concern to African Americans," explains Ward, "because alcoholism can be a problem in the community. Divas promotes social consciousness, and therefore responsible drinking. We pour to taste not to inebriate; we encourage people to drink water to flush their systems. But from a taste perspective, if wine gets too alcoholic it becomes port or a liqueur. I don't prefer the taste of high-alcohol wine because it burns out your palate and you won't enjoy food. You might want to examine the motives of the wine producers. They may be intent on making a product that they feel caters to a certain population, the Gen X possibly."
Forging partnerships The Divas have made friends with women (and like-minded men) in the wine world everywhere. Boston's women sommeliers are exemplary, as Ward tells it. "Cat Silirie, Nine Park's sommelier, has been very supportive. Cat is unassuming, relaxed, doesn't throw her opinions in your face. Alicia Towns (ex-Grill 23) gave a very convincing conference lecture on wines to lay down. Two of our members - Carolyn Steingaard and Carla White - have since built wine rooms in the basements of their homes."
Of course, the Divas connect well with America's tiny group of black vintners, the AAAV (Association of African American Vintners). Stephanie Brown helped them fund a scholarship for an internship to study the business of running a winery that covered areas like accounting, management, signage, packaging, running a showroom. The very first public wine dinner featured Mac MacDonald of Vision Cellars, a founding member and president of AAAV. Last summer, the Divas sipped AAAV wines prior to hosting a dinner based on those wines. Ward reported that wines from Sharp Cellars, Estrellina, Black Coyote, and Vision Cellars were favored in the tasting.
Divas meet Dellie "As marketing person for Divas," Ward says, "I'm responsible for finding conference speakers. It's like booking a TV show. Thanks to the internet, I do a lot of this research online. As a BU alumna, I found Dellie Rex's name associated with BU's School of Hospitality and Administration and invited her to speak at our second conference. She lectured on Argentine and Chilean wines (supplied by Schiefflin-Somerset). The night she was to speak she came down with laryngitis, but she's a trooper and showed up anyway, and rapped and racked through her whole presentation called Wine 1O1. Dellie has great knowledge, persuasive delivery and gets her point across. We've invited her back to our conference each year. As an adjunct BU professor, Dellie was on the judging panel for our scholarship committee; she and I wrote selection criteria and screened the applicants. She has been a dear friend and associate. Now that she's at New England Culinary Institute in Vermont, we're brainstorming about arranging a Divas tour."
St. Supery Vineyards and Winery has partnered with the Divas in underwriting two $25OO industry scholarships. "St. Supery is funding two scholarships in support of the advancement of women and people of color in the field of wine and hospitality," confirms the Napa winery's marketing coordinator Tina Cao. "One qualified candidate (has been) chosen from a pool of applicants in the Advanced Sommelier Course and one will be chosen from the Master's level. St. Supery's scholarships will fund registration fees and out-of-pocket expenses. We have (to date) awarded one scholarship to a candidate in the Advanced Sommelier Course. Because no applicant was a Master's level candidate, the MS scholarship is still available for the upcoming 2OO6 session." To view or apply, see the application form at www.stsupery.com/scholarship. Divas' most recent partnership, struck with Wente Vineyards of Livermore California, is described by Christine Wente: "Wente Vineyards has decided to partner with Divas Uncorked because we believe in the mission of the Divas - to share the wine and food experience with more consumers, especially those who have had less exposure to the world of wine." Wente launched its Divas partnership with a wine dinner at Bacar Restaurant in San Francisco last October. Wente is also launching a program to support the American Red Cross' Hurricane Katrina relief efforts; when Divas affiliates bought wines through Wente's website during 2OO5 using the coupon code "Divas", the winery donated 1O% of the proceeds to the ARC. Wente plans to support other Divas' events nationwide in 2OO6.
Summing it up "We knew we were going to be very busy, but The Divas have become a true labor of love. This is a lot of fun! We see this as another way to make a change in the world. We don't presume to be making great social changes like Martin Luther King, but sometimes changing little social attitudes helps change other attitudes as well. And don't forget, people often look to the black community to set trends, witness the embrace of hip-hop by Madison Avenue and the fashion world."

---

CALENDAR Divas Uncork's annual "Wine, Women and..." Symposium is in Boston on March 24 and 25. For recent updates, log onto www.divasuncorked.com.

---
OPENING PHOTO KEY back row, standing, left to right Carolyn Golden Hebsgaard, consultant and executive director, Boston and Connecticut Lawyer's Group; Callie Crossley (sitting), broadcast journalist and regular panelist on WGBH-TV's 'Beat the Press'; Paula Wright, entrepreneur, and owner/operator McDonald's restaurants; and Katherine Kennedy, academic administrator and director, Howard Thurman Center, Boston University. front row, sitting, left to right Carole Alkins, hospitality administrator and director of premium services, Boston Red Sox; Gert Cowan, corporate administrator and executive administrator, IBM; Karen Holmes Ward, television host, producer and director, public affairs and community service, WCVB-TV; Stephanie Browne, account support service leader, Blue Cross and Blue Shield of Massachusetts; Rosalind Johnson, educator, and program specialist, Needham Public Schools; and Barbara Cruz, artist and administrator, Cruz Real Estate Development & Management Company. - PHOTO TANIT SAKAKINI