archived

FeaturedArticles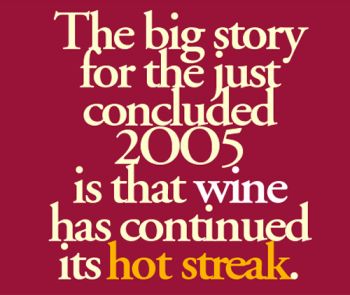 Article By: Sandy Block, MW
The Year in ReviewTrends & Projections
The mood in the industry, fueled by growing consumer excitement, is upbeat. Having successfully weathered a number of lean years where discretionary spending was down, overall economic confidence weak and unemployment growing, wine has proven its staying power. Put succinctly, a broader array of people than ever before are drinking wine and spending more on their purchases. The strong, almost uninterrupted sales and per capita consumption increases of the past fifteen years, particularly in the Table Wine (the kind most people drink with dinner: not over 14% alcohol, not sparkling) category have shown no signs of abating, bolstering long-term trends favorable to increasing profitability. Prices, however, are rising. Large-scale inventory backups, radical discounting and difficulty in selling wines over $2O retail, which defined the market just a few years ago, were but distant memories in the super-heated wine environment of 2OO5.
If it seems almost everyone you know is suddenly discovering wine, they may well be. Per capita table wine drinking among adults in the US has leaped 47% since 199O, from 1.9 gallons to 2.8 gallons, dramatically outpacing the rate of every beverage category other than bottled water. (During this same period, distilled spirit per capita consumption has declined 12% among adults and beer has declined almost 11%.) But the biggest news is that for the first time ever polls are indicating that wine has surpassed beer to occupy the lofty position of most favored drink among alcoholic beverage consumers. In other words, when asked by the Gallup pollsters which category they preferred, Liquor, Beer or Wine, more respondents chose the latter. Wine's newfound popularity is especially strong among women nationwide, and it cuts across all age groups, although there is an especially powerful trend drawing people in their twenties into the fold. This is the first generation in American history to so eagerly embrace wine in such large numbers. Perhaps it's because wine does not seem so foreign to these "millenials", as they are dubbed. They are more likely to have grown up in a household where wine was an everyday presence, either as a cocktail or with dinner. This group is less formed in its taste, less influenced by advertising, and willing to spend more money per bottle than previous generations. Their primary concerns are quality and flavor. To be sure, they drink beer as well, as the malt industry remains several times larger in total volume and overall sales than wine, but this is because statistics show wine drinkers tend to drink less frequently and in more moderate quantities.
Another inescapable conclusion of recent studies is that American consumers overall have become more versatile, even experimental, in their preferences. Rather than becoming more set in our ways as the wine drinking habit takes hold, more "brand loyal", we're actively venturing out. In a comprehensive poll of consumer attitudes conducted by the Brown Forman Wine Company (the "Brown Forman Tracking Study"), 4O% of the women answering agreed with the suggestion that they like to try new brands and types of wines, and 43% of those in the 21 to 34 demographic did so as well. This same research report indicated that when buying wine at retail, fully half the consumers don't even know what varietal or type they are looking for until they actually reach the store's premises! This openness is less a sign of unfamiliarity as it is an indicator that the buying experience is looked on as an adventure. Less than a fifth of consumers who responded to the study decide which country or place of origin the wine must be from that they are looking for prior to entering a retail store, so they're open to options that they might not have even considered beforehand. This is fueling growth in categories of imported wine from obscure regions and unknown varietals that could not have been predicted even five years ago. Perhaps not surprisingly, among people aged 21 to 34 this willingness to experiment extends to a high percentage saying they choose the color (4O%), the varietal or type (58%), the brand (74%), and even the price range (61%) of the wine only after entering the retail shop. As marketers well know, many are drawn to items that are displayed prominently or chilled because they are easy to buy, not necessarily because of an overwhelming attraction to these particular products. Over 9O% of all consumers say that word of mouth, or personal recommendations, are the main source of information they trust regarding their wine purchases. This is telling. Direct personal contact, with a peer or an "expert", is the primary factor influencing sales. Everything else only works in its absence.
Restaurants are a particularly fertile source of experimentation. The increasing popularity of wines by the glass, which allow product trial without the commitment of buying an entire bottle, is an attractive option to most restaurant-goers. Even among those who regularly spend $2O or more per bottle, the majority order glasses of wine half of the time; among those spending less, the percentage approaches 8O%, according to the Brown Forman study. Another research organization, Technomic, found in 2OO5 that fully 62% of consumers are willing to try a new wine when they are in restaurants, and a report by Roper ASW indicated that 22% of survey respondents said they were always looking for something new when it comes to wine. Based on comparative data, all of these trends intensified in 2OO5 and extrapolating outward, there's little reason to assume that openness to what is new and unfamiliar, as well as willingness to buy what is recommended or displayed, will only continue to grow. The imagination and creativity of the retailer or restaurateur, their commitment to training and education, will remain the only limiting factors going forward.
The mosaic of consumption became even more diverse in 2OO5, with the several yearlong trend toward imports growing further. This was perhaps more understandable when the dollar was dominant in the '9Os, but it's remarkable given the weakness in the currency since at least 2OO1. From its peak, the dollar has lost close to 5O% of its value against the Euro, not to mention similar declines against other trading partners, but during this period the volume of imported wine on the US wine market has continued growing apace, leaping over 8O% in 5 years, compared to an increase of less than 1O% in domestic wine. 2OO5 has seen growth of approximately 8% in imported table wines, which now represent a quarter of all wine consumed in the US, but the surprise is that Australia, the greatest success story of the last decade (with an increase of 423% in just five years!), despite challenging Italy for first place, has grown at a much slower rate than the category overall. On the other hand, Spain (up approximately 15%), New Zealand (75%), Argentina (41%), South Africa (19%), and Germany (16%) have been leading the charge, with significant double-digit increases off of a much smaller base. This represents the wine trade searching for quality and value and finding it rather than any impulse among consumers to experiment for its own sake.
One of the more interesting developments among imports in 2OO5 is that Australia actually surpassed Italy for lead position in the still wine category, by far the largest segment in the industry, although if we add Vermouth and Sparkling wine (which Australia exports insignificant quantities of to the US) back into the equation, the Italians retained a slim lead. This amazing development was entirely fueled by the spectacular popularity of Yellow Tail. The Yellow Tail phenomenon is so remarkable because of the brand's meteoric ascent. From an idea launched with modest sales projections in 2OO1, it became the number one imported brand in the US by 2OO3, where 85% of the production goes. The approximately 6.5 million cases that Americans bought of this wine in 2OO5 is more than we purchased from any other countries besides Italy and France! But higher priced Australian wines, particularly Shiraz, continued to extend their popularity in 2OO5. Without question, the influence of major wine reviewers who rated the wines highly have helped legitimize this category. Going forward the average price of Shiraz is likely to continue climbing as we discover how good wines from specific appellations, such as Barossa, McLaren Vale and the Limestone Coast are, despite their higher price tags. Also on the imported wine front, the New Zealand story has been equally amazing in its own way. US imports have grown 14O% in just two years since 2OO3 based primarily on the enthusiasm for the country's Sauvignon Blanc. This can only grow, but it's very likely that the country's great Rieslings, Pinot Noirs and perhaps even Chardonnays are going to attract more attention here as well. The only major country whose bottled table wine exports to the US has declined is France (down less than 1%), although once sparkling wines are considered 2OO5 has actually seen growth in the French wine segment by about 2%.
Restaurateurs finding better bargains than in American wines of comparable price fueled some of the growth in imports, but much of the increase was retail-driven. Spain is an instructive case. The viticultural picture there is changing so quickly, with new regions and wineries within them emerging on a yearly basis, that the public has had little time to gain familiarity. Although there is a general thirst for more widespread knowledge about wine, most consumers have neither the time nor inclination to register for a course, read a book or even a magazine article. Fully 2O% of wine consumers under the age of 35 have visited a wine-related website at least once over the past month, according to a 2OO5 poll, but the vast majority make their buying decisions based on factors other than information they gather about wine from printed or on-line media. Grape variety and price remain the major determinants of what people buy if left to their own devices. Knowledgeable retailers, on the other hand, who are passionate about a particular category of wine, have increasingly found customers willing to buy bottles, and then cases, based on their recommendations. Especially if the category represents eye-opening value, as does much of the Spanish wine we import - the fact that it has no varietal identification appears not to be a major stumbling block. The scenario is that retailers scoop up 2O cases of some outstanding wine brought to them by a specialty importer from some obscure previously unknown region, say Emporda Costa Brava, Montsant or Campo de Borja, they tell their best customers what a bargain it is, and within a short period of time it is gone. The next time they buy 3O. This word of mouth excitement has propelled Spain to significant growth, but it has also helped previously difficult to market wines from Germany, Italy, Austria, Argentina, and even certain value regions of France to new heights. Spain will continue to be a powerhouse, as long as prices remain reasonable. Look for wines from Southern Italy, Roussillon, the Loire and Rhone Valleys in France, and perhaps Portugal's Douro Valley to find broader market niches in the future. This interest in what's hot is the same phenomenon that has seen increased demand for Rose, once a hopelessly moribund category. Based largely on quality European imports, a good part of the Rose phenomenon is restaurant-driven and seasonal, although retail-fueled enthusiasm has also helped expand the category. Sales of the most widely produced Rose, White Zinfandel, continued its long, slow, but steady decline (down 2% in 2OO5).
And speaking of colors, what else was hot in 2OO5? Red. Especially Pinot Noir. The much-documented "Sideways" effect continued throughout the year, with Pinot sales climbing and many wineries experiencing drastic supply shortages. Interestingly, however, the movie's bete noir, Merlot, did not suffer any sales losses whatsoever; it may be out with the cognoscenti, but consumers are still buying at a record pace. Part of the popularity of Pinot should also be attributed to opinion leaders within the industry who have been complaining about over-extracted high alcohol red wines for some time and advocating that people try lighter reds, although the popularity of California Zinfandel and Petite Sirah did not appear to suffer in the face of this criticism. Grenache, or Garnacha, began to emerge from the shadows in 2OO5, as consumers grew increasingly aware of its incredible quality potential, in places as diverse as Priorat, the Rhone Valley and Australia, assuming that yields are controlled. While the grape probably will not ever reach the heights of Shiraz in popularity, people will continue to discover it. Even its southern European stablemate, Carignan (or Carinena) may attract increasing interest. But the real sleeper poised to explode for 2OO6 is likely to be Malbec, particularly from better estates in Argentina. The wine it makes is too good to be kept secret much longer. As we embrace flavor, in wine as well as our love affair with creative cuisine, red wine made from grapes with strong personalities like this have been the beneficiaries. Overall this was the year that red wine sales finally squeaked past white in the US for the first time since the mid '7Os when the consumption base was much smaller. The red wine trend can be traced to another media event, the airing of the famous 6O Minutes "French Paradox" segment in 1991, which strongly suggested that red wine had certain potential health benefits that have now been documented. At the time Americans consumed less than 15% red wine.
This is not to say that white wine is dead. Far from it. Chardonnay remains the number one variety of all sold in the US, and it lost no ground in sales in 2OO5. Increasing dramatically, however, has been interest in Pinot Grigio and, to a lesser extent, Pinot Gris. This variety remains the most popular category of imported varietal wine other than Chardonnay (approximately 7 million cases, virtually all from Italy). The surprise undercurrent of interest in Riesling has caught some industry leaders off guard. Still not statistically significant, it is fueling much of the growth in the German wine category, although Australia's Clare Valley and the Marlborough district of New Zealand attracted critical attention as well. I would be less sanguine about the potential of those other "underground" wine categories of the past few years: Gruner Veltliner or Viognier. Neither variety seems to have enough innate flavor to sustain much long term commitment among consumers here. Note that 2OO5 continues the long march of the American consumer, whether it is red or white wine they choose, to the embrace of the grape variety itself. This is the great democratizer of the wine business, putting inexperienced consumers on a relatively solid footing when asking for a bottle of wine. European wine named after its place of origin, which forms the basis for the whole French Appellation Controle e system (other than wines from Alsace) continues to baffle all but the most committed wine enthusiasts. This is true although there are counter trends keeping attraction to these wines alive and strong, primarily among a more limited number of professionals and interested consumers.
Another aspect of the wine scene that accelerated in 2OO5 was the average price that consumers were willing to pay for a bottle. Studies have shown that younger consumers, in particular, those are just discovering wine and are attracted by its "cool" lifestyle connotations, are less price conscious when shopping for wine. Other factors tend to enter the equation more for them than those who are over 5O. According to a recent report by Vic Motto of Global Wine Partners and MKF Research, entitled A New Era of Growth for the U.S. Wine Market, "Now, for the first time in history, sales of wines over $15 per bottle have grown to become the largest revenue segment of the US wine market." This has become true despite the fact that these more expensive wines only represent about 1O% of the volume. They are significantly more profitable, however. Revenues in the wine industry, Motto points out, have grown at twice the rate of volume, or case sales, for quite some time. Profitability in this more expensive tier of the business has fueled further investments in quality as well as spurring intense competition. Big business, to put it bluntly, has been getting bigger. 2OO5 saw an intensification of the inexorable merger and consolidation activity that has characterized the American, and global, wine business at all levels for years. The most earth-shattering changes were the sale of Robert Mondavi Winery to Constellation brands, and the sale of Southcorp, which previously controlled over 35% of Australian wine production, to Fosters, owners of the giant Beringer Blass Wine Estates - more brands in the hands of fewer commercial entities. This year US wine labels that produce over 1 million cases accounted for close to 8O% of the domestic wine market.
There has been consolidation not only in the supply and distribution sector but also in the retail sector. Multi-unit restaurants are taking a larger share of the business nationwide, as are multi-unit retail stores in states where the regulations permit the holding of multiple licenses. In states where supermarket or price clubs can own as many licenses as they want, these businesses completely dominate the sale of wine, a process that accelerated in 2OO5. Nationally, well over half of the wine sold at retail comes through a supermarket or price club. But this does not mean that the role of the independent wine merchant is disappearing. Just as there is room for the specialty importer, the boutique distributor and the freestanding privately chef-owned restaurant, the retail segment also has a significant niche for the merchant who is selling premium products. The distinction between commodity wines, technically sound but without much individuality of flavor, and those which are differentiated by special attributes continued to grow in 2OO5 and is a trend that will keep accelerating, supporting the specialist in each of the tiers of production and distribution because these are the products that a growing segment of the public is buying. They also happen to be the products that generate the most profitability per unit.
For this reason, another possible result of the consolidation in the wine business we saw in 2OO5, the potential threat it poses to obscure wines from unknown grape varieties, is less than likely to materialize. In a market that has proven it will pay for quality, with an army of committed retailers and restaurateurs who are interested in supplying that market, and may even feel a greater need now than ever to differentiate themselves from larger scale enterprises that may be less equipped to provide the same level of diverse selections, there is little likelihood that the wine world will become one dimensional. While many of the larger firms may be narrowing down their portfolios to include only the proven winners, entailing a smaller menu of grape varieties, companies of any size with educated staff members continue to expand the range of offerings available so that there's actually more diversity now than ever before. While the onslaught of the grape variety, and even more so of wines that express strong fruit characteristics, continues to lead the market, there is room also for the counter trend: the quirky, obscure, even earthier styles that are produced in less familiar regions. Just as New Zealand has recently become somewhat of a mainstream source for wine, in 2OO5 Austria began appearing with more regularity on wine lists and retail shop shelves. And "Terroir"-driven wines from France, those that completely eschew the "international" style of winemaking stressing strong fruit expression above all else, continue to have strong adherents, particularly in the fine dining context. Whether representing a blend of grape varieties or not, they may be harder to market, but if they are awarded high ratings in the press there is no problem selling them. And the press tends to love these wines. For instance, despite the overwhelming tilt of the market towards varietals, the Wine Spectator's famous Top 1O list of wines for 2OO5 included 6 that were not strictly identified by grape variety. But the bigger trend that continued in 2OO5 was the popularity of wines that were both varietal and reflected the terroir of a specific place. Consumers may have showed overall interest in Pinot Noir, but the savviest among them proved they were willing to pay more for wines from the Santa Lucia Highlands, Santa Rita Hills, Russian River Valley, or Willamette Valley. Going forward, these will be the folks who seek out Dundee Hills or Central Otago on Pinot labels, not to mention Mercurey or Savigny-Les-Beaune. The same interest in the local and the unique has continued to drive our awareness of previously obscure districts for other varietals as well. Red Mountain Syrah anyone? Walla Walla?
A final trend that picked up momentum in 2OO5 and shows no signs of ever turning back: the conversion from cork to screw cap. Virtually all of the Marlborough Sauvignon Blanc sold in the US was bottled in screw cap. One of the lone holdouts, the iconic Cloudy Bay Winery, will be converting for their 2OO5 vintage, released in 2OO6. Clare Valley Rieslings, many wines from Oregon and Washington, and increasing numbers of California varietals are bottling in screw caps now, convinced that this form of packaging protects their wine better from spoilage. Even some far-sighted French producers, generally the most traditional, are using screw caps. The previously mentioned Brown Forman tracking survey revealed that 6O% of the consumers who participated indicated a willingness to try wine packaged in a screw cap, including 63% of the youngest age group. Interestingly, this study has shown that in the past year among the growing number of people who spend $2O or more on a bottle of wine, the percent who associate screw caps only with cheap wine has fallen from 53 to 39%. This is the most significant change, because many industry insiders feel that the only factor holding back a mass transformation of the industry to screw caps is the lingering fear that too many consumers have negative feelings about them. It probably won't happen this year, but probably within the next five some of us will begin to express surprise and displeasure if we're sold certain types of wines in cork-finished bottles.