archived

FeaturedArticles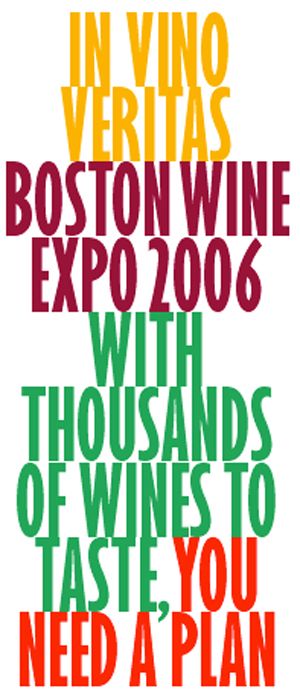 Article By: Jonathon Alsop
Especially when the New England winter punishes our world with snow, wind and piercing cold, it makes me wonder what those Pilgrims were thinking. Surely there was someone on board the Mayflower shouting, "Left! Turn left!" but to no avail. For 15 years now, the happiest sight of winter has been the big gold star on the calendar that signifies the weekend of the Boston Wine Expo, a happy break from snow, shoveling and single-digit temperatures for wine lovers from all over New England. In the years since it started, the Expo has become such a profound part of the wine scene, I can't remember what I used to do between New Year's Day and the Marathon to make life worth living.
If you're a wine lover and have never attended, I find that a little hard to believe. In two days, you get to taste a vast range of wines you could never hope to taste, even if you spent an entire year going from wine shop to wine shop. The crowds are typically so huge it doesn't seem like there's anyone left outside. Hundreds of wineries pouring thousands of different wines is just the thing to lift our collective spirits. Only problem with the Expo - if you even think this is a problem - is that it's so big and chock full of great wine experiences, you can find yourself wandering and tasting aimlessly for four hours if you're not careful.
Saturday always feels like the start of the Boston Marathon with everyone crowded together and trying to stake out some turf. When wine lovers start holding their glasses high and yearning for wine, I'm always reminded of the 1953 Richard Burton film "The Robe" where weltering crowds surge and reach out to touch the passing Jesus. Sunday is like the finish line, with only the hardiest wine lovers making it to that second day. As swirling, noisy, upbeat, and busy as Saturday is, Sunday is comparatively laid back, and for my money, this is the day to go. Sunday's crowds are very reduced, and winemakers and salespeople are relaxed and unhurried and really able to spend time talking through what they're tasting. People in the wholesale and retail business (wine writers too) get a nice three-hour window of opportunity at the Expo when they can taste and schmooze free from the companionship of their consumers. That makes for some nice frank conversations (mostly off the record) about how much wine really costs, why you can or can't get it at the local wine shop, and how some darling wine got such a huge score in the Wine Expectorator.
In the beginning, the Wine Expo was just like the Power Tool Expo, only with more drunkenness and breaking glass. It has grown immensely over the years and has evolved beautifully to include seminars, celebrity chefs, and some new flooring material that either keeps glasses from breaking as much or makes them break much more quietly. People lost in the wilderness tend to roam in a great circle to the right, or to the left, if they happen to be left-handed. You see the same thing at the Wine Expo sometimes as folks wander in and taste through the first four tables. Then they take a right for a table or three. Attracted by the pretty flags, they amble over to the Balkan wine pavilion, come out the other side, enter a raffle to win a car, and go home. At the end of the day, they've covered about 1OO yards in two or three hours and leave overwhelmed.
While you might have been able to show up and wander freely in the early days, today you need a plan. Otherwise, you run the risk of getting profoundly lost and confused. Food writer Elizabeth David used to say that too-careful planning was the enemy of good eating, but when it comes to the Expo, a little organization makes for a better experience.

---

GOLDEN RULES of the WINE EXPO

1 Spit or die. If you swallow everything you taste at the Expo, you will be an insane embarrassment to everyone in no time. Learn to spit, and don't be shy about it.

2 Sunday's the day. Day one is typically wall-to-wall with wine lovers. Sunday is plenty busy, but much more civilized.

3 Leave your coat in the car. You have to dash 5O yards from the garage to the Expo, but it's worth it not to wrangle with coat check.

---

GET IN, GET OUT, NOBODY GETS HURT Getting to the Wine Expo is usually no problem: drive right into the Seaport Hotel parking lot, and you're tasting yummy wine in no time. At the end of the day - cranky, lost, looking for a bathroom, and frankly, still a little too buzzed to be driving - you'll wish you'd thought of something different.

For best results, park your car at a semi-remote T stop like Riverside, Chestnut Hill, Forest Hills, Alewife, Ashmont, or Braintree. Ride the T as close to the World Trade Center as you can, hop out, and take a taxi the rest of the way.

After the Expo, take a taxi or a long walk to dinner, then get on the T back to your car. Designated drivers for everyone!

---

FIRST FOOD, THEN WINE Going to the Wine Expo on an empty stomach is a big mistake. Eat like you were about to run the Marathon: lots of carbs, lots of protein, lots of water.

---

DRESS for a MESS Basic black is a good wardrobe choice for a wine tasting. You can spill almost anything on it, and look untouched. European winemakers favor the busy sportcoat with a pattern so elaborate you could spill an egg on it and not see.

I once stupidly wore a white shirt to a big wine tasting. By the end of the night, I looked like a Jackson Pollack painting.

---

SIP, SWISH, SPIT It's undainty and undignified, but you have to spit, not swallow. There are spit buckets everywhere, and everyone else is spewing wine like crazy, so don't be shy.

If you swallowed even a tiny bit of 75 different wines, your brain would be awash in way too much alcohol in no time. Every year, a couple of otherwise nice people collapse insane and drunk in the corner as security rushes in to protect and defend. Don't be one of them.

---

WHERE in the WORLD is GEORGE SCHWARTZ? I don't know who George is selling wine for these days, but Italy has been his specialty, and the stuff he champions is always fantastic. Once I find where George is pouring, I park myself right beside him for as long as it takes to taste everything he's pouring. Hang out at the Italian Trade Commission for a few minutes and ask nicely; someone will point you to him.

---

PLANNING the UNEXPECTED Some of my favorite wines from every Expo have been complete surprises, something I just stumbled upon, or simply new and unexpectable wines. Of course, you can't very well plan this happenstance. That's like trying to schedule spontaneity.

But wine lovers will be open to it, taking good advice, trying different things, and discovering new favorites. The Expo is so big it's sometimes overwhelming, and people can tend to gravitate toward old favorites. Remember to taste lots of new wines and especially new grapes. It's probably what you'll be drinking for the next year or so.

---

TABLE HOPPING

QUADY WINERY Don't miss Quady's dessert wines and top-quality Vermouth.

CASA ZULIANI and CASTELLO di NEIVE Two superb northern Italian wineries from the same importer. Zuliani makes French-style Cabernet Franc and Pinot Blanc. Neive is in Nebbiolo country.

CHATEAU ST. JEAN California finesse and full-flavored fruit from a classic.

PEDRONCELLI I'm always looking forward to any of Pedroncelli's Merlot or Bordeaux-style Cabernet.

FOSS MARAI Rare and fantastic Italian sparklers of the highest quality.

ROUTAS and THREE THIEVES Affordable country French wines from Routas fit nicely with affordable country California wine from Three Thieves.

S.A. PRUM Great opportunity to fall in love with deliciously dry Riesling.

RED BICYCLETTE Love the label, love to taste the rest of the Red Bicyclette line.

---

PINOT to the PEOPLE!

MacMURRAY RANCH Their Pinot Gris and Pinot Noir cannot be missed.

MONTINORE The longer Oregon makes wine, the better it gets, and the more the rest of the planet suffers from Pinot envy.

MACROSTIE WINERY Passionate Scottish Pinot Noir producers are not to be ignored.

ABUNDANCE Delightful California pinot producer makes great fruit-forward wines. I'm interested to see what other wines they bring.

---

ALL the DEADLY ZINS

PEACHY CANYON Features a full line of excellent Zinfandel, from simple blends to single-vineyard selections.

FOUR VINES There's nothing like a rich red Zinfandel in winter.

RENWOOD You could spend a week at the Renwood table and never get bored.

---

BIG SOUTHERN TOUR

ALAMOS, COUSINO-MACUL, TRUMPETER, TRAPICHE, and OTHER SOUTH AMERICAN WINES Under the right conditions, South America can become the new Australia on the global wine scene. This year, I'm looking for Carmenere, Malbec and good white wines.

and OTHER WINES of NEW ZEALAND Still unique, still exotic, New Zealand has carved out a real niche for itself. Next to catch on: New Zealand reds.

BROWN BROTHERS, PENFOLDS, ROSEMOUNT, GREG NORMAN, LIMB, and MORE AWESOME AUSSIE WINES Australian wines are huge again this year on the international market. Stylistically, they call the shots for everybody else who wants to make profitable wine.

NEDERBURG, KUMALA, FLEUR DU CAP, and OTHER SOUTH AFRICANS Pinotage is getting much more pleasing these days, and the ripe, zippy white wines are super.

---

BRING in the FUNK, BRING in the WINE!

FREDERICK WILDMAN This importer always brings great wines. Who knows right now what they will taste, but I am hoping for the Potel-Aviron.

KYSELA Neither winery nor vineyard, but an importer whose logo - on the back of the bottle - means good wine. So far, I've loved everything I've ever tasted from this company.

---

REAL INDIVIDUALS

TRENTADUE My affection for this winery grows every time I taste their big dense black Petite Sirah.

FESS PARKER Fess specializes in keeping it real - real American, that is. Every year, this winery delights and surprises me with interesting wines and exotic styles.

THE PASO ROBLES WESTSIDE GRAND CREW Paso Robles is both geographically and metaphorically halfway between L.A. and San Francisco. Rich, delicious white wines, audacious blended reds. Austin Hope Roussanne became a favorite last year.

---

BOSTON WINE EXPO WEB DIRECTORY

Ticketand schedule info www.wine-expos.com/boston/tickets.php

Directions www.wine-expos.com/boston/directions.php

Frequently asked questions www.wine-expos.com/boston/faq.php

Buy tickets online https://secure.wine-expos.com.