archived

FeaturedArticles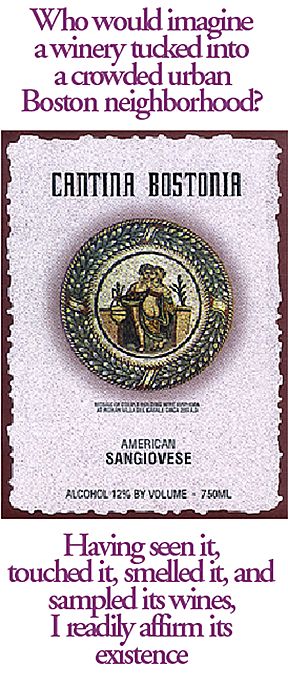 Article By: Harvey Finkel, MD
Cantina Bostonia occupies a corner of the old Haffenreffer brewery complex in the Jamaica Plain section of the city, a massive Victorian brick edifice build 135 years ago. (The Boston Beer Company, brewer of Samuel Adams beers and ales, is also located within.)
The owner and winemaker ("maestro del vino") of Cantina Bostonia is a 51-year-old Rodolfo Canale, a youthful and committed native of Forli, in the Romagna region of Italy (where his father made wine for home consumption: don't all Italians?). Canale has always been interested in health-enhancing diets. He even owned a macrobiotic restaurant before he emigrated in 198O. His business here (Twenty First Century Foods) was initially focused only on food, particularly tempeh (an Indonesian form of bean curd) and tofu. He felt, however, that his own health was incompletely served without wine, but he didn't want to drink wine with additives, so he began making his own. Eventually there was more wine than could be consumed at home: Cantina Bostonia was commercially licensed in 2OO1. Rodolfo's wife, Lovin, daughter, Luana, and son, Robin, help at the winery. The food production continues, chiefly tofu-based products.
Grapes all come from various Californian locations, including Napa and more southerly sites. The Sangiovese and Zinfandel I tasted originated in the Lodi area. Canale has been seeking closer grapes sources, so far without satisfaction. He much prefers and has made only red wines, especially ripe and boldly fruity ones, but is now trying to develop at least one white wine. He is determined to make his wines as naturally as possible. Quality image is most important to him: he'd rather not offer for sale a wine that doesn't meet his personal standards.
Canale has his own ways of doing things. (Based on my tastings, I must conclude they work.) He soaks the chosen grapes in water with some baking soda (to eliminate inapparent mold and pesticide residue), rinses them, then dries them on racks with a fan overnight or for up to three days to get rid of the water and to concentrate the grapes. This recalls, in abbreviated form, the appassimento stage of Amarone production, but without the Botrytis. Natural yeasts - those found on the grape skins - are allowed to work their will. Oxidative damage and microbiological spoilage are controlled by the laying on of carbon dioxide. A thin film of paraffin on the surface of the wine in barrel is also protective. Canale adds no cultivated yeast, sugar, acid, sulfite or other chemicals. He does use oak chips, which he prepares himself from selected used barrels.
About 1OOO gallons per year (about 4OO cases) are produced. This will likely increase. Retail costs range from $1O to $12 per bottle. They are sold in Massachusetts at Blanchard Liquors in Jamaica Plain, Harvest Cooperative Market in Jamaica Plain and Cambridge, Whole Foods Market in Cambridge, Wine Gallery in Brookline, Marty's Liquors in Newtonville, and Warehouse Wine and Spirits in Framingham, and are on the wine lists of Pomodoro restaurant and Matt Murphy's Pub, both in Brookline Village.
Let's taste the wines Red Table Wine 2OO5 A blend that may include carignane, alicante, muscat, barbera, syrah, and zinfandel. Dark and saturated. Somewhat vegetal nose. Of unusually high acidity. Decent finish. Sangiovese 2OO5 The predominant grape of Canale's native region in Italy. This is a barrel sample. Good color, fruit and balance, with a touch of oak. Seems shy yet. Sangiovese 2OO4 Already bottled. Riper, with more intense fruit. Quite good. Zinfandel 2OO5 Good color. Enough fruit to make a well-balanced wine with good structure, but the vegetal character is, to my taste, a liability. A Merlot was not ready for tasting. The Sangioveses are the best bets.
Cantina Bostonia 3OA Germania Street, Jamaica Plain (Boston), MA O213O. 617.522.7595 rodolfoc@bellatlantic.net. Visits by appointment.