archived

FeaturedArticles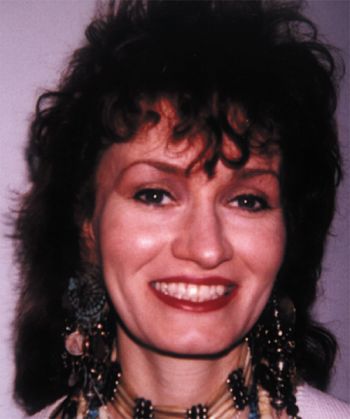 Article By: Fred Bouchard
LOLLY MASON • 51 • Bartender • Meritage at Boston Harbor Hotel • Boston, MA

---

Boston bar icon Lolly Mason is a hardhitting yet deft mixologist. This dynamic, self-taught woman with a deep history in Boston bars, has lots of fans, fine-tuned taste buds; she's candid, quotable, and both sociologically and sartorially attuned to her clientele. Lolly's barwork summary reads like Moll Flanders' success story: 1975 to 198O at The Fatted Calf and Ken's Pub in Allston; 198O to 1984 at 29 Newbury; 1984 to 1986 at Commonwealth Grille; 1986 to 1992 on Lansdowne Street at Avalon, City, Metro; on and off, with restaurant gigs, eg; Casa Romero (during 'burnout' phases); 1992 to 1998 at Chaps, Paradise (Cambridge), Tattoo); 1998 to 2OO2 at Machine at Ramrod; 2OO3to 2OO6 at Upstairs on the Square; and now at Meritage at the Boston Harbor Hotel. stuff magazine in 2OO1 said: "This queen of queens is a true master of cocktails with sass, a quality that she herself radiates in abundance." improper bostonian in 2OO2 called her: "the madcap, multimedia mistress of mixology" and "one of Boston's greatest treasures." the boston globe recently likened her cable TV show to "Julia Child on acid." Boston's Dominatrix of drink says what she loves most about bartending is "the total creativity of blending brands, infusions, juices." Check her website (lollyland.com) and 'Lolly's Remedies', her cable TV show (Boston and Cambridge, formerly Manhattan, this fall also in Arlington, Belmont and White Plains, NY).

---

BLUE RINSE to BLACK SHIRTS When I mixed drinks at 29 Newbury, we could wear 'creative' black and white; the owners knew our mixed clientele would love it: blue-rinse Ritz matrons, blue serge stockbrokers, Newbury St. artists. I went crazy, I'd spend hours dressing for work. I had a Mohawk, painted triangles on my face, one eye a butterfly, the other Cleopatra. Today in Boston everything's pigeon-holed, inflexible; New York's wide open, everyone goes everywhere. Even the student scene is stratified: Tommy Doyle's for blue jeans and Ts, and fancy places like Saint and Vox for "Eurotrash" fashionplates, who look like each other. Prada and Armani are all about how much it costs, not whether you can put anything original together.

GIVE 'EM GUMMY WORMS Drinks can have sociological stereotypes, but I've found I can get people to try anything. Upstairs on the Square is a bastion of Yankee blue-blood conservatism - old Harvard professors in bow-ties and ladies with helmet hair and pearls - but they loved it when I put plastic gummy worms and Japanese parasols in their drinks.

STANDING OUT I started making crazy drinks when I worked on Lansdowne Street, because in clubs you're in competition with 7 or 8 other bartenders. They put me on the back bar, so I had to give people reasons to come to me. If I'm just opening a beer or making gin & tonic, why come to me? I got into alchemy, making multiple-liquor drinks with elaborate garnishes to attract attention. I'd buy candies, make juices from scratch, have five blenders going. When people walked around with my blue, layered drink with something in it, they'd hear, "Where'd you get that?"

WHIPPED CREAM & BLACK LEATHER My finest constituency is gay men: they have great taste and they're loyal. The gay community is very receptive to strange, kitschy concoctions. Gay life is going out, dining out, experimenting, spending more. Chaps boomed during the '9Os - before internet, [heavy AIDS] and staying home. It was a seriously happening places, packed seven nights, I made a lot of money. Heavy leather men mostly drink beer, but I had big butch guys trying frozen drinks with liqueurs and whipped cream. They lost their lease when Christian Science took over; when they moved to Warrenton Street - it was never the same. [Warring factions of] Nick's Comedy Club, The Roxy, and gay-bashing straights. If the owners had been smart, they'd have bought the old Napoleon Club (Piedmont St., Bay Village.) Machine (below Ramrod) was for regular suburban 'disco boys'; gays would bring in their straight friends. But there was conflict with leather boys upstairs, they should've left it as two clubs.

WORK GEAR It's a far cry from dressing for a nightclub and for a hotel bar. In clubs, you want to attract attention. People recognize me for wearing a lot of makeup, necklaces, earrings. At Machine I wore fetish gear, leather, bitches' clothing. In hotel bars, you wear a plain uniform: dark shirt, high collar, like a Russian peasant, no necklaces, earrings smaller than a dime, black pants and cafe apron, muted earthtone makeup.

BEST DEFENSES When I'd work clubs, you'd go home with your ears ringing and you couldn't sleep. So I'd wear earplugs; I found that they cut out peripheral noise and you could concentrate on what you're doing. When I started at Lansdowne Street, I thought, "Oh, I'll be so cool, wearing all these crinoline skirts and flat shoes!" One night a bar-back dropped a huge bucket of ice on my foot; to this day I still feel pain in it. Then Doc Martins [steel toe footgear] became fashionable; I call them 'post-holocaust shoes' for wading through nuclear rubble. There's Chefwear and Employees Only, too, but I like policemen's shoes - part boot, part sneaker - light with plenty of support.

STARS ? BUCKS Years ago, the Sheraton Boston allowed some personal leeway in creative dress, but the higher up you go with star ratings, the stricter they are. You have to weigh out the pros and cons of how much individuality you want to give up. People think that the fancier the place, the more money you make, but that's not necessarily true. People who work [hard] for a living often appreciate your efforts, don't look down their nose at you. On the other hand, working in hotels can give health benefits and pay raises, not often true of clubs and singly owned restaurants.

BLEND it YOURSELF It makes a huge difference when you make your own sour mixes, and blend fruit juices and nectars. Upstairs on the Square gave me full kitchen access and ordering privileges (eg, Monin syrups.) The more you do it, the better a feel you get for mixing hard-to-blend drinks like bourbon or tequila. It's like cooking - practice gives you the touch. Chef Stephen Brand was an inspiration. I adapted his lime-lemon-ginger Thai chili sauce for a Spicy Mint Julep. I made pickle brine for Bloody Marys, made with Hangar One and heirloom tomatoes.

WINE MIXES I make syrup of leftover red wine, blend it with blueberry/blackberry infusion, and pour Brachetto [sparkling Italian red wine] on top. I call my sangria "Man-gria" because I use a hefty red like Zinfandel and spike it with Port. I made a Chocolate Port Martini with chocolate vodka, Heitz Cabernet Port, spiced hibiscus tea, Grand Marnier, rimmed with cocoa, cayenne pepper, and cinnamon, garnished with chocolate drops and a cinnamon stick. Chocolate also blends well with tequila.

TEA TIME I do a lot with teas: Earl Gray (with chocolate), Rooibos. I blend citrusy, spicy Wu-Wei with pomegranate juice, crimsonberry tea and sour cherry juice as a multi-drink base. My favorite herbal teas are Mark Mouradian's MEM.

FAVE BRANDS I'm very fond of brandies and fruit liqueurs. Marie Brizard is a favorite product line - top quality, huge variety, fabulous flavors, modest price. I love all sorts of white spirits - vodka, gin, cachaca, grappa, pisco, eaux de vie; they give you an appreciation of how skilled master blenders really are at what they do. I love the products of Alsatian master distiller Jorg Rupf at St. George Spirits (CA): his Hangar One - flavored with Viognier! - is the best vodka I've ever tasted! Also their Germain-Robin Brandy, Aqua Perfecta, pear brandy, framboise and its liqueur, kaffir lime vodka - unbelievable! With such hand-crafted products, you only need a little to be satisfied. Other favorite vodkas are Belvedere, Chopin, Shakers, Rain. I love Ron Zacapa Rum from Guatemala. Gin? Hendricks. Bourbon? Woodford Reserve.

COCKTAIL PAIRINGS I paired cocktails with appetizers at Upstairs: ceviche with frozen margaritas, spicy Asian food with passion-fruit and guava drinks. It was more informal than wine dinners, as it was all appetizers. We video-ed it for my show, because people often ask 'what foods with cocktails?' My suggestions are affordable and easy, never hoity-toity or snobbish. This is just food and beverage; we're not solving global warming here - lighten up!

WATCH YOUR BACK If you have issues with substance abuse, you definitely do not want to work in a bar. I saw an awful lot of people fall down the rabbit hole with drugs and drinking too much. Before long, you're going to after hours 'house' parties, end up sleeping all day long, then have to go to work, so you don't have any kind of life. If you don't watch out, you might find yourself not showing up for work and unable to function.

THINK LATERALLY When people come in and ask for something I haven't got, I try to think analogously to what's similar. If you ask people a few questions - What do you order at the Oak Room? Do you prefer sweet or sour? - you can get where they are taste-wise and make a reasonable substitution.

AFFORDABLE DRINKS If you go that extra mile to make something special, people appreciate it. If you charge $12 for a drink, it should be a really good drink, made with top quality liquor and really fresh juice, and be a positive and unique experience. Then they'll come back. It's not something they'll make at home, and it's not made with an eyedropper, either! I remember one lady who said of a drink made with a measured 1.25 ounce pour: "Whaddaya pourin', nitro-glycerin?"

TO YOUNG BARTENDERS Customer service is number one: Be friendly. Smile. Learn their names and tastes. You're not working in a force-field! People see your expression and read your body language. Be open to talk to someone, but not reveal your own problems. This is show business; you're on stage. Preparedness is critical. Know the day of the week, how many reservations. Get your fruit cut. Check your juices: nobody wants slimy limes. Be clean: polish your glasses. Even when I worked the Ramrod back bar, I'd clean the glasses and scrub the ice bin. There's no reason not to be clean! I've trained many people in the Lolly Method, like Corey Reeves, who's worked at Chaps, Lansdowne Street, Europa, Aria, Buzz, Man Ray.

COOL MEDIA You can learn how various cultures blend flavors by watching ethnic cooking shows, like Brazilians making avocado milkshakes. Take your job seriously. Know your products. Don't want to buy books? Okay, go on-line! Every product has a website now. You can learn tons. Robert Plotkin's barmedia.com and drinkboy.com give me ideas. Watch the best TV channels: Fine Living, Discovery, Travel, Food Network. Andrea Immer is great if you're just starting with wine: she explains everything, is down-to-earth. Anthony Bourdain (Reservations) is very knowledgeable but speaks in everyday language.Tony Abou Gamin, beverage manager for Bellagio, does cameos on Andrea Immer's show. bartender magazine, for all its silliness, has lots of good basic how-they-make-it articles.

ALL I WANT is a PLACE SOMEWHERE I've always wanted my own place, but have never aggressively searched out backers. I was good managing the dining room at The Commonwealth Grille. I thought I'd be out of my league, but of course you see people do it all the time. Companies actively seek out lounge-type places besides hotel function rooms to have fun parties where you can have good drinks, good food, and people say 'hey, how are you?' A place that won't diss you for putting ketchup on your steak or washing it down with gewurztraminer. There aren't enough of them, or the few you find are too snobby, too impressed with themselves, and intimidating - even for me!

GOING PROACTIVE I walked into a bar a few years back and saw that they served Fonseca 2O Year Tawny Port, which I love! I asked for it, and the bartender looked at me with a frown and said, "What?!" I repeated it. "What?!" I pointed to it, up on the wall and said, "Third bottle from the left." "We don't serve that," he said, passing up a $15 sale. Again: it's more important to know your products and to carry on a reasonable conversation with customers than to spin bottles around and make drinks fast. Years ago United Liquors funded and ran a Bartender's Advisory Board, where manufacturer and distillery reps gave talks and tastings on tequila and bourbon. Unfortunately it kinda died out. I wish somebody would start it up again; maybe Carolina? They'd make far more money if young bartenders knew what was out there and how to use it. Less generic, more individualistic. People want drinks they can't make at home. I'd help run it!

Lolly's Remedies

Since specialty syrups and fresh fruit juices are usually not available in bars and nightclubs, and making them are labor-intensive, club drinks must be streamlined. Even muddling (say with rosemary, lavender, mint) can take too long, so at Upstairs on the Square we prepared a mint simple syrup, made with peppermint leaves blanched, ice-bathed, and blended with simple syrup). But, whether you're a dive-bar rough-trader or an Ivy League matron, Lolly says, that her wild concoctions, aka remedies, are "Good for whatever ails ya!"

Note: All juices must be fresh squeezed. Quantities are mostly 1 to 1.5 ounces, but amounts can be adjusted for personal taste and bartender experimentation. Questions? Contact Lolly at lollymason@yahoo.com.

The Jackie O
Conceived as a Mother's Day drink for the Harvard Square Set at Upstairs on the Square.
Stoli O
Ketel One Citron
Marie Brizard Creme de cassis
Apricot nectar
Cranberry juice
Splash of fresh lemon juice
SHAKE and top with sparkling wine, like prosecco.
Glass Straight-up cocktail glass (or 1O-ounce martini glass) rimmed with colored sugar (pink, red, and yellow).
Garnish orange wheel, lemon wedge, paper parasol, and a gummy shark or frog with the lemon wedge and a plastic cocktail mermaid.

Mongolian Motherfucker [aka, MoFo]
Another version at Upstairs on the Square was called the Kennedy Compound for the polite set so the matrons wouldn't pass out. This was a real nightclub drink, but it did sell well in Harvard Square!
Hangar One Buddha's Hand Citron Vodka
Marie Brizard Blue Curacao
Grand Marnier
Marie Brizard Peach Liqueur
Cruzan Pineapple Rum
Cruzan Coconut Rum
Marie Brizard Watermelon Liqueur
Splash of Bombay Sapphire
Splash of Patron Silver Tequila
BLEND all with banana nectar, fresh orange juice, fresh guava juice, mango nectar, and a squeeze of fresh lime juice. Makes 2 14-ounce drinks, two huge zombie glasses (Collins glass on steroids.)
Glass El Macho and La Femme glasses I bought from a catalog for a Chinese restaurant, imbedded in the glassware are a muscle beach guy and a bathing beauty. (May be available at party planner websites or at I-Party, near Staples on Soldiers Field Road, also swizzle sticks with pink butterflies, and other zany, precious cocktail novelties).
Garnish triangle of pineapple, slice of kiwi, and on the other side, slice of mango and a giant cocktail umbrella and a sour peach ring over the straw. Then a few gummy worms and two Bing cherries stuck right into the glass as 'buried treasure'.

The Frequent Flyer
Hendricks Gin
Marie Brizard Apricot Liqueur
Puree of fresh cucumber, honeydew and cantaloupe melons
Rose syrup (not rose water; check in Middle Eastern stores)
Chilled Earl Grey tea
SHAKE and pour into chilled cocktail glass. Top with chilled Moscato d'Asti.
GLASS 1O-ounce martini glass.
Garnish cucumber wheel with pink rose petal and fresh mint leaf tucked into it.