archived

FeaturedArticles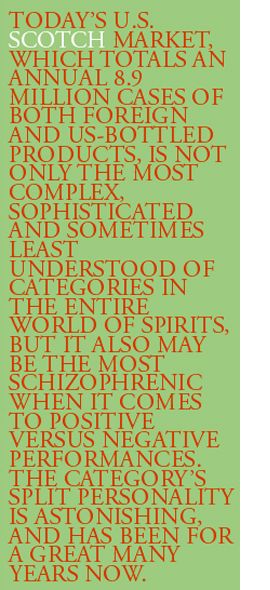 Article By: Robert Bradford
For example, there's simply been no relief in the bad news department that continues to haunt the decline of the flat-to-mostly-negative US-bottled standard blended brand segment, which has not recorded a single positive growth year since 1994, and dropped yet another couple of percentage points in 2OO5. But, meanwhile, in complete bipolar contrast, the surging popularity of the lucrative foreign-bottled single malts segment has posted only one negative sales year since 1992. And, although representing only 1O% of total scotch sales in the US, the malt market has been romping forward at an increasingly impressive clip for the past five consecutive years, expanding its brand portfolios, introducing fascinating new bottlings, exotic wood finishes, creating genuine consumer excitement with stylish packages and unusually hip marketing techniques, and attracting a significant new wave of younger scotch aficionados who are putting to rest that old perception disclaimer about scotch being a fusty, uncool "Granddaddy drink" of yesteryear. Now, more and more of this 25- to 35-year-old target audience, so coveted by drinks industry advertisers, is adopting scotch as their own spirit of choice, while tuning into the category's unprecedented multitude of brands, its cornucopia of singular tastes and different whisky interpretations, and all the subtle refinements that this most historic and discriminating of sipping spirit categories has to offer.
As all retailers will tell you, yes, it may be true that consumers are indeed drinking less today, but it's also eminently apparent that they are now seeking out higher quality products and the promise of new and exciting taste discoveries which has so much to do with what's driving the present day single malt segment.
Another key aspect of the single malt success story is how these uniquely distinctive whiskies have been able to enhance consumer interest in premium imported blends. Increasingly, major blended brands like Johnnie Walker, Chivas Brothers, and, now, #1 Dewar's, have been emphasizing the pedigree of certain core single malts as the backbone of new trade-up 12-year, 18-year, 21-year, and still-older blended super-premium label extensions. Moreover, some leading blenders, most recently the Bacardi-acquired House of Dewar, have been sufficiently inspired by current popularity trends to enter the single malt arena for the first time with a malt label of their own (see Aberfeldy retailer roundtable on page 18),
Back home, here in the robust metro-Boston scotch arena, I further explored the scotch category with two top wholesalers, who, apart from their red-hot single malt whisky portfolios, are leading distributors in the blended scotch market. One of them, United Liquors, carries the largest selection of foreign-bottled, high-end premiums; the other, M.S. Walker, has a commanding share of the lower-end bulk business, including two of the leading US-bottled blended brands, which together represent an annual volume sales of more than one million cases in the American market.
United distributes all the big name icons in the category, including all the Johnnie Walker's, the Dewar's line, Chivas, J&B, and many other Diageo-owned brands that populate the blend segment at lower volume levels. Indeed, a few years ago, United created a special Century Division, exclusively devoted to Diageo product interests. "For the overall scotch portfolio," says United's Century Division Vice President Jim Hickey, "there's been some aggressive price increases over the last two years. The result has been great sales-dollar growth. For example, Johnnie Walker Black has grown the most out of all the types, even though it's already a very big brand. But it's leading the way with case/dollar volume, despite the price increases that have hit upon it. It's also become just huge a item with our Hispanic demographic. Retail on a 75Oml is now about $3O. Two years ago it was retailing around $25. But this hasn't slowed it down a bit. Then, with the Johnnie Walker higher marques - the Blue, Gold, Green, and Swing - performances have also just been outstanding.
"In the case of the Johnnie Walker Swing, I realize it isn't really a new item, but it's new to us," he goes on. "We've pipelined a couple hundred cases into this market, and it seems to have gained some pretty good retailer acceptance, although we've still got a lot of work to do with it on awareness, visibility and continuing distribution."
One of Swing's distinctive selling points is its singular attention-getting package, Jim points out. It's a uniquely-shaped bottle that literally rocks and rolls, and it was designed by the great grandson of John Walker, Alexander. This is the guy who created Johnnie Walker Gold Label for the company's 1OOth Anniversary in 192O," says Jim.
In fact, Gold is growing even better than Blue, Jim indicates. "It's now out there in the retail market at about $7O a bottle, growing 37% and just going crazy!" he exclaims. "And the relatively new Johnnie Walker Green label, at about $5O, is also showing some positive development."
The Green label is a pure malt blend of single malts vatted together, only the whiskies in the blend are obviously considerably younger in age. "Green's growth potential looks promising," says Jim, "but it's a little hard to be specific, right now, because we'd pipelined over 5OO cases into the market the year before and this can distort the actual growth statistics. Anyway, it's definitely another plus in the brand line-up item, even if not yet achieving the dramatic growth performances, levels of awareness, trial, and take-away that the Blue and Gold have recently been experiencing."
Admittedly, Jim concedes, the one Johnnie Walker that's struggling a little is the big volume Johnnie Walker Red Label signature staple, which is down there in the mix of the lower-end price promotion battlefield of the blend market. "We've done some things on price that have kept it afloat, focusing on the 1.75ml bulk size. But, let's face it, the days of your Big Four, which, for so many years, included Red Label, Dewar's White, Cutty Sark, and J&B, are over. Of course, Cutty and J&B have been really struggling over the past 12 to 15 years, so nothing has changed in there. Today, it's quickly becoming just the Big Two, a battle between Johnnie Walker and Dewar's, where Dewar's, from a volume standpoint, clearly is still the leader in this Massachusetts market. I don't have Dewar's exact growth statistics in front of me, but you can be sure the figures are impressive.
"Anyway, this is the nature and direction of the premium, super-premium and ultra-premium blend business that I'm seeing," he adds. "In the beverage industry, super-premiums, in general, are presently growing 11%, which represents by far the leading price segment growth of distilled spirits. And the Johnnie Walker higher marques fit into this exceptionally well, starting with Black, which is right at that super-premium starting level, with a 1.75 bottle priced right around $7O to $75. The Black 1.75s, in fact, are our fastest growing size."
About the other foreign-bottled blends in the United portfolio - like Scoresby, Vat 69 Gold, King George, King William, White Horse, and many others - these are brands all playing in the price category arena, he points out. "This is a territory where you see consumers with no loyalty to a specific brand, if the price is right. But it's a declining sub-category within the blended segment. Overall, your bulk scotches are declining. For instance, I've put a lot of energy into just having the right price for Scoresby, which, although declining, is still doing around 35O,OOO cases a year, and is the #2 foreign-bottled blend nationally. And my pricing efforts helped the brand to some extent. But this type of price brand business is mainly about just stealing another guy's business or another brand's business with pricing and coupons, etc. It's all about investment against price, and that's about it. There is no point of sale, just a coupon on it, because that's the demographic that's working it. So, the real money that's being made in blended scotches is in the movement to premium and super-premium price point levels."
Can he still get excited about opportunities in the blend market? "No question that it's still a very viable part of the scotch category," he answers. "But, in some instances, in certain segments, you've got to have a very sharp pen on a price point. However, as you get into more premium pricing, it becomes more about imagery and brand awareness that are driving the growth, as opposed to just marketing price points. I mean, you take a Johnnie Walker at any premium level. They simply have not cared about who the competitor is. They're just taking price to build their imagery and investing incredibly against the Johnnie Walker icon. And this should not be surprising. It's a global priority brand for Diageo. It's an international super-star. It is the best-selling scotch in the world. And for us, I'll just say that in my Century Division blended scotch portfolio, Johnnie Walker is the news and is my lead, without a doubt."
M.S. Walker isn't involved with any of the Big Four scotch blends, but don't feel in the least deprived. Why? Because what they do have is the largest portfolio of US-bottled bulk blend brands of any distributor in New England, as well as the venerable bottled-in-Scotland old favorite Cutty Sark. They also carry high-profile single malts like William Grant & Sons #2 category leader Glenfiddich, and #4 Balvenie, as well as the Dalmore, Glenrothes, and Isle of Jura, among several others. We took a look at the company's perspectives on the scotch market with M.S. Walker's Vice President and Sales & Marketing Director Mike Brody, who remains steadfastly optimistic about his company's bulk-blend business philosophy.
The US-bottled segment includes all the scotches brought over in tanks and bottled here, Brody explains, and M.S. Walker carries the two largest sellers in America. Number one is volume brand Clan MacGregor, from Wm. Grants & Sons, which continues to be a very stable scotch blend that does an annual volume of about 72O,OOO 9-liter cases in the US market. It does very well month-in and month-out with a loyal base of consumers, and is a distinct value within the category. His second leading US-bottled scotch is Cluny, bottled in Kentucky by Heaven Hill. It continues to do nearly 3OO,OOO cases annually. "So, in this US-bottled segment of blended scotch products that is doing over 2.6 million cases annually, you can see we're involved in a pretty commanding chunk of the bulk business," Mike points out.
"We also do a lot of business with our own Kennedy's scotch product," he goes on, "and also sell smaller amounts of scotches from other suppliers like Barton Brand's Muirhead, Martin's VVQ, now bottled in this country, and a great many others such as Duggan's Dew, Grand Macnish, Piper's, Lauder's, to mention a few. And, of course, in the bottled-in-Scotland segment, we have Skyy Spirits' category classic, Cutty Sark, which continues to hang in, nationally, in the quarter million annual case-sale range. And Cutty, like many brands, has been very aggressive, recently, with advertising pitched at capturing that younger consumer base. The traditional Cutty consumer has tended to be an older individual. What they're trying to do now is bring some of the Skyy Spirits vodka brand cachet into the pitch for Cutty. And the whole campaign is built around the idea of mixing this scotch product in a broad variety of drink ideas."
Another bottled-in-Scotland product he has considerable hopes for is the Grant's scotch blend, which is another popular seller, doing 15O,OOO annual cases nationally, and currently holding a #7 position among leading US brands in this segment, just ahead of Famous Grouse. "It isn't yet growing in our market with quite the momentum it now has in New York and some other places," Mike observes, "but it's definitely an excellent growth brand that's started to do very nicely for us right now."
Foreign-bottled doesn't necessarily translate into more cachet, he contends. "What this end of the business is really all about is price points. It's the difference between the premium consumer and the value consumer. You know, you get two very good scotches like US-bottled Clan Macgregor and Cluny, but then you have Cutty, and you're looking at two different consumer types. It comes down to value versus premium, and we're talking about two very different category segments.
"I don't have to tell you that the single malt scotches are by far that part of the category that's growing the most. Certainly, with hot brands like Glenfiddich, Balvenie, the Dalmore, Glenrothes, and some of the others we have, we're well aware of the phenomenal single malt interest that's out there today. And just look at the performances of brands such as the Johnnie Walker's and Dewar's, the Chivas-Glenlivet products. But our biggest scotch segment focus tends to be within the bulk value category and a few premium blends. And let me assure you that the bulk end of the business is still an extremely viable and steady part of the scotch industry.
"No, there's not a lot of growth to it," he concedes, "But it's a challenging part of the category that's trying to learn how to attract a younger consumer audience. I mean, it really has to. Your blend consumer, right now, is continuing to age, and unless there are younger consumers coming in, in some sense you're fighting the graveyard. These are just the facts of life. Either you get new consumers in your corner or you're talking about the cemetery. And, since scotch tends to be an acquired taste, the way to do it is what you'd do with any whisky - you have to direct total emphasis on mixability. Clearly, even the biggest premium blend producers like the Johnnie Walker's, the Dewar's, J&B, Chivas, they've all got their work cut out for them. We're all in the same boat on this.
"With some of these bulk brands like Clan Macgregor and Cluny," Mike observes, "they represent a definite plus for us. First, we find there's actually a surprisingly loyal brand consumer base sticking with the brand, and, then, there's also a lot of extra added-value in what these kinds of brands can offer to consumers. I mean, when there's a downturn in the economy, or when consumers start to think, 'Jeez, I'm paying so much for a gallon of gas, today. Where can I save a few bucks?' suddenly spending $4O and up for a premium scotch blend may seem both expensive and excessive. So, they come down and start looking at some of the bulks we sell in the $15 range at less than half the price. And, then, they find out when they drink it that's it's a very good product. That's why this segment tends to be stable. There's a consistency of slight growth or it's at least holding its own. All I can say is, we continue to see life in this value end of the scotch category, and it remains a very feasible part of our company's spirits portfolio."
Creative marketing has also been an area where scotch has been making significant advances, particularly in appealing messages that incorporate quirky Scottish wit, native customs, history, traditions, and national ethos, while presenting the whole world of scotch whisky as a fun and approachable place to be. And perhaps there is no more entertaining example of this contagious marketing charisma and user-friendly approach than the irrepressibly colorful, 4O-year-old, Hollywood-handsome brand ambassador for Chivas Brothers blends and The Glenlivet line of single malts, Sir Jeremy Bell, the "Sir" title being bestowed upon himself, he is quick to point out with a characteristic hearty laugh. "I don't want to appear too stuffy."
Humor, it turns out, is Sir Jeremy's signature selling schtick, and belly-laughs, one-liners, hilarious and insightful anecdotes play a key role in his demanding globe-trotting schedule of industry events, tasting presentations to private clubs and consumer groups, and on-premise appearances, both in this country and abroad.
Jeremy always wears one of his 7O celebrated, full Scottish kilt outfits. "The truth is, life doesn't get much better than what I do," he says. "I've found that wearing a kilt presents all kinds of opportunities. You can walk up to almost anybody, in almost any kind of bar, say virtually almost anything, and it's almost invariably taken with a pinch of salt and good humor. I mean, who's going to resent a guy in full Scottish dress, bursting into an establishment, playing the pipes or a fiddle, and announcing he's buying a few rounds of drinks?" And who else would have an outrageously funny website like maninaskirt.com or pose for this magazine wearing a Marilyn Monroe-style blonde wig with air drafting up his kilt in a spoof of the classic Marilyn Monroe "Some Like It Hot" movie portrait? No problem for Jeremy. Outperforming the cheekiest shameless Australian you've ever met, this guy will go to any lengths to entertain his audiences and get them rolling with enthusiasm for his amber liquid cause.
For instance, for openers, what are all those trappings that are part of the official kilt regalia? One, he explains, is a tiny little knife, stuffed in his sock, called a sgiandhu (meaning hidden dagger in Gaelic). "It used to be a sword, but now is more like a backup," he quips. "And how would you like to be a Scotsman at a spelling bee?" he adds. Another spelling puzzler is this furry pouch-like thing he calls a sporran, which is basically like a belt purse. "But don't call it a purse in Glasgow or there might be trouble," he cautions, "and you certainly won't be served any more whisky. Ah, the kilts. God love us! 'Come on ladies, I'm a fashion plate!' I say. And of course the girls all want to know what you're wearing underneath. It's an obsession. If they only knew, they'd be very disappointed, but cleverly, in a rare stroke of Scottish genius, we've never told them."
I spent an unforgettable afternoon in Sir Jeremy's company discussing scotch and all things Scottish, which provided not only a wealth of shrewd, savvy marketing insights, caveats, and observations about the category and a changing consumer market, but also left me with a bad case of sore ribs from all the laughing. "My scotch tastings are always based on lots of laughs," he says. "It's a technique I call a humor sandwich. I tell a funny joke, then get a fact in about the whisky, then follow it up with a funny line or a toast. I think this is the best way to get some of the information out. There's something already both quaint and intriguing about the way Americans think of Scotland, whether accurate or not. Mental images of guys in skirts, parsimonious characters, weird and physically grueling sports like caber-tossing and deer-stalking, where you can kill yourself crawling over rocky landscapes, the skirl of bagpipes, windswept briary golf courses, and a world of whiskies. It's an easy thing to talk about, a natural subject to romance, and an easy culture to have fun with. So I always keep the topic light, whimsical, entertaining, and lively.
"And, oh, yes, let's not forget the haggis," he adds with a loud laugh. "That's all the meat we couldn't sell to the English. People just love all this stuff. They love the pipes, the Robbie Burns quotes, they want to see the kilts. And I think a lot of whisky companies seem to be getting away from all that, sadly enough. I don't think they realize that, especially here with young Americans, all this is a huge turn-on. The kilt thing is getting a lot of play nowadays. You've got to keep this stuff going. It's a compelling part of what scotch is all about."
No doubt this was the whole idea behind Glenlivet's well-publicized "Be A Man: Wear-A-Kilt-To-Work" challenge last spring on what the Scots call Tartan Day - April 6. The date celebrates the existing and historical links between Scotland and Scottish descendants overseas, with over 2O million Americans claiming Scottish descent. For every employee in the US that faced up to the Glenlivet-sponsored kilt-wearing challenge, a host of companies agreed to donate a fixed sum to Direct Relief International, a charity organization that provides aid to victims of natural disasters, and was instrumental in making a major contribution to survivors of the tsunami in Southeast Asia as well as victims of Hurricane Katrina. These are some of the things that are so important, Jeremy feels, not only for the Glenlivet brand image, but also for the enormous receptive goodwill feelings it creates for the entire scotch industry.
An Economics and Accountancy graduate from the University of Edinburgh, and once employed as a professional accountant by Arthur Anderson, Jeremy switched careers to scotch marketing and has been affiliated with Chivas-Glenlivet for over 2O years. "It's the smartest business move I could have ever made," Jeremy laughs. "The way I explain it is that I went from the accountancy abyss to the beverage bliss. But so many people have asked me about my career change, and what prompted me to do it, and how much they'd love to get into this kind of work, that I now have created another website - quityourjobanddrinkforaliving.com - which explains everything in a tongue-in-cheek light-hearted fashion."
Jeremy says that his forte has always been working with entry level scotch consumers and even with people who don't know anything about scotch but want to get into it. "This is where you encounter the main problem the scotch industry is trying to overcome," he emphasizes. "You have people who are almost desperate to enjoy whisky for the romance of it, the sophistication of it, and they actually want to acquire a taste for it. So, that's exactly where I come in. I call my presentations Chivas mentoring, and it's all about keeping it simple, explaining Scotch 1O1, how to enjoy it, the rocks, the water, the glass they use, and I use this tasting mat which is a map outline of Scotland, showing the basic scotch-producing regions, some illustrations of whisky production steps, and some essential information about Chivas products."
Chivas blends and Glenlivet single malts are, of course, splendid world-class, best-selling examples of lighter Speyside malt whisky styles, generally regarded as the ideal type of whisky for an entry level palate, he points out. "Basically, I explain to my audiences that there's a sunny side of Scotland to the east, and there's a rainy side on the west coast and the isles. I also tell them a popular joke we have about the western Scots: 'These people in the West don't go to hell; they're too wet to burn.' It's an environment that's all about lots of rain, poor soil drainage, and that's why you have all these smoky whiskies from the west. Yes, many of them are enormously popular, and that's great. I won't knock it for a minute. There are many truly fantastic whiskies. But, for entry level drinkers, many just can't take all that peat-reek. Instead, bring them over to Speyside in the sunny eastern region and get them introduced to the greatest concentration of sweet, subtle, fruity, delicate, complex, and elegant single malt whisky tastes and distilleries that exist in Scotland. This is the way to get them started.
"And here's a problem we have in America," Jeremy continues. "A young person will come up to a bar and say, 'You know I've heard about these single malts. What have you got?' The bartender laughs, thinking, 'I'll teach him.' And what does he reach for? The Ardbeg, the Laphroaig, the Lagavulin. He pours a dram and the young person exclaims, 'That's whisky? Pffft!!! No thanks! Give me a Cosmopolitan.' So, we've lost him. We have to get these people in slowly through the Speysides, with the sweeter, aromatic delicacies of, say, a Glenlivet 18-year-old, for instance, and through the better fragrant blends like Chivas 12 and 18, with a pronounced Speyside bent and a long mellow aftertaste. Get them here for openers, and once they're up and running and enjoying the scotch category, then, sure, that's the time for further exploration and starting to have a look at those hefty, smoky peaties from the dark side of Scotland's great whiskies.
"Ultimately, of course, the objective of the single malt industry is to get drinkers to the level where they want to try everything," Jeremy emphasizes. "The fact is, I see more and more American consumers getting to this level today. And I'm not saying that there isn't a very definite appeal about a big heavy smoky scotch, mind you. But it's a pronounced masculine identity, like what you see about all the boastful 'my whisky is nastier than yours!' macho posturing that goes on at many a bar. In fact, it's almost like a rite of passage or wearing a badge of courage for some younger drinkers who might be into extreme sports and are looking for ultimate challenges. But are they truly enjoying what scotch is all about or know what they're missing? There's a joke in eastern Scotland which says that doctors actually prescribe one of these West Coast spirits on your death bed. It may not help you feel any better, but it will certainly help you get used to the dirt."
Another way Jeremy will illustrate this regional difference to the youthful element is pointing out that human beings are all related to apes, and it's a well-known fact that an ape can discern 4OO different fruits in and out of season. "Our senses are predisposed to enjoy the fruity flavors from the nose," he explains. "See a flower and you instinctively want to smell it. See a campfire and you don't want to stick your head in it. So, steer away from the big peaty whiskies until you've started to acquire a real appreciation for the category. But don't try and start on the West Coast."
Aside from his busy on-going schedule of individual tasting appearances, Jeremy is a featured focal figure during the two major annual Chivas tours, in autumn and spring, that visit 1O key US metro-markets, including LA and San Francisco, Dallas, Chicago, Miami, New York, and, of course, scotch-loving Boston. "It's a long three-nights-a-week schedule in every locale," he explains, "and I will see as many as 3OO consumers a night, two sittings. I gear my presentations to the mentoring idea I was talking about. People first have a cocktail hour where they're encouraged to try Chivas and ginger or something like a Chivas martini, which is made with Chivas and apple flavored Pucker, and it's amazing how many people love these drinks. But, you know, there's a lot of whisky snobbery out there, and when I suggest having a mixed Chivas cocktail before we go in and do our sit-down tasting, at first you hear a lot of gasps at the very idea of adding anything to whisky.
"What more people need to learn," he goes on, "is that there's something in a sweet Speyside blend like Chivas that really brings out both these apple and ginger flavors, and people are astonished by how much they instantly like these drinks. However, it's got to be a genuine full-flavored gingerale like Schweppes, nothing from the bar gun. Just remember, when you ask for whisky and water, and some bartender tries giving you water out of the gun, don't ever let them do it. Why? Because something like Coca Cola was sitting in that gun a minute before. So, always beware of the gun!"
Bartender and wait staff education is another of Jeremy's key interests. "When I train bartenders about serving scotch, I say, 'Listen, these are not the types of people who are going help themselves, so leave the bottle on the bar. And put a little bottle of Evian or a little water jug next to it. Let them add the water themselves. That's the whole idea.' So many consumers think you should drink the whisky neat, and they are missing the effect of when water cuts the alcohol and frees up the bouquet. So a big part of my job is educating people about how to enjoy it.
"I'm so often dealing with young drinkers," Jeremy continues, "let's say 25- to 35-year-olds. I think many of them see themselves as John Wayne or some macho character muscling up to the bar and slamming down some red-eye. But as soon as I teach them how to add a splash of water or even a cube of ice, if they insist, their whole attitude changes. The line I like to use about this is that nothing improves water like good whisky. So, as soon as I get them to add a little dash, the reasons become immediately clear. I point out that professional tasters in the trade nose and professionally analyze whiskies at 2O% alcohol by volume. This means a dram of 5O-5O alcohol-to-water split for nosing."
Jeremy gets lots of people coming to tasting events, who've never really tasted a whisky. "You might ask, well why do they come to this tasting if they didn't fancy scotch? It's a fair question. But these are the ones I want. These aren't events where I just want whisky drinkers. Not at all. I want the people who don't know or think they don't like whisky, especially a young 25- to 35-year-old woman. 'Why are you here?' I'll ask. 'Well, my friends came.' I introduce her to a 5O-5O scotch water dram, telling her to sip it, nose it. 'You know, girls put perfume behind their ears. In Scotland, we drink it,' I tell her. And before she's finished this first scotch encounter, she's saying, 'My God, I can't believe it. Not only did I like that, but I will now order that in a bar.' I can't tell you how many people I've converted like this.
What really knocks him out, he exclaims, are the people who flatly declare, 'No, I can't drink whisky. It's too strong.' 'Well, what do you drink?' I ask them. 'Vodka.' They think whisky's too strong, but they're drinking a chilled vodka straight up? So, a vodka drinker is easy. Colorless, odorless, tasteless, by definition. Well, mate, welcome to color, welcome to taste, welcome to a world of extraordinary and fascinating nosings. And this is the line we actually use with cocktails. You're drinking a cocktail because you want a fruity delicious taste. Why would your building block start off with clear, colorless, odorless liquor? Why not start with a Chivas and ginger, an apple martini, a Chivas sidecar with a little bit of Triple Sec and sour mix? And they love it. This is the way we can get a younger consumer into the category. They try it with a little ginger, then, later, less ginger, more whisky, and before you know it, they're into on-the-rocks and straight-ups, and they're loving it."
The type of drinking glass is another essential part of bartender education, he emphasizes. "How many times in America do we go in, order a whisky, and the bartender just drags the old-fashioned glass through the ice bucket? My line is 'Hold the Hail, miss! You can't smell any of the nuances from the old-fashioned, and if I want to add ice to my whisky, let me be the one do it. So, I want to see a full measure first. And don't add the water, especially from the gun. Leave this whole procedure up to me.' What I'm trying to instill in bartenders is to really make an experience out of scotch. Someone comes up for a Jack-and-Coke or orders a vodka tonic, that's entirely different. They just want a drink. But if they ask for scotch, they want to be treated differently. I myself was a bartender in Edinburgh for 1O years. And if anybody came up asking for whisky, ahhh, I would just slow down. I'd be thinking, 'You're one of mine. Let's talk.'
"Same kind of thing when I talk about waitstaff service. When you serve a table, don't just take out the glasses and plop them down. Put the bottle in the middle of a tray with a neat arrangement of surrounding glasses. Then put the tray down. And only then serve the whisky. There should be the same kind of passion in serving scotch as there is in consuming scotch. It has to be a ceremony that goes along with kilts and bagpipes."
Encouragingly enough, Jeremy sees considerable recent improvement in many of these service fine points here in the states. "I really do feel that things are getting better in this country," he declares. "When I recently ordered a scotch at a bar in Manhattan, for example, this bartender guy reached for a wine glass, rinsed it under the hot tap, then started slowly polishing it, as he asked me what kind of whiskies I liked. When I'd chosen one, he puts the glass down, gets the bottle, pours me my dram, leaves the bottle on the bar, and then asks how many ice cubes would I like or here's a jug of water. It was perfect.
"The whole point is, I think there's a mystique about even ordering a scotch, unlike any other spirit, and we must train the bar staff to serve it this way, and train the consumer to expect to get it this way, and certainly not in an old-fashioned tumbler heaped with ice. And it's not just about mystique, you know. It's because there's a reason. More than any other spirit, scotch is a spirit that needs to be customized to an individual's specifications. That's a major part of its beauty. As I said, it's all about creating a whisky moment, and, by the way, for bartenders, that's where the tip comes from. You give someone this moment, along with some information and helping them through it, and your service will be appreciated and, in most cases, richly rewarded."
Does Sir Jeremy see convincing evidence of a more sophisticated approach to drinking in general in the US? Are more consumers looking for something with real taste, higher quality, distinctive style? "More younger people want to discover and savor today, rather than slam it down," he observes. "And when I talk about it, I approach it as a maturing thing. Whatever you did or are doing in college, I don't want to know about. But you're an adult now, and alcohol is very much a part of an adult and professional lifestyle. I actually have a lot of consumers who come to my mentoring sessions, and I ask them, 'Well, why are you here?' It turns out they're getting interviewed for jobs, and a lot of the interviewers are whisky drinkers. Well, when you get interviewed by the boss or a partner, this is not the time to ask for a cold frosty one. You have to show a wee bit of maturity. And to say, 'I'll have a whisky, please,' and know a wee bit about it, and how to serve it, this is a defining moment in the impression you make. So, to answer the question, yes, I think a lot of people are first attracted to the scotch category because of the sophistication and mature image that goes along with drinking it. Indeed, it might make a difference of thousands of dollars on your paycheck.
A vivid case in point, Jeremy remembers with a chuckle, was when he was interviewed by Arthur Anderson right after university. "All the other job candidates were ordering a pint of beer. But as soon as I said 'I'd like a whisky, sir,' this partner came up to me, started talking, then found out I had this passion for scotch, and I was the guy who got the position. It was definitely a career plus for me. Anyway, the line I like to use is 'Now, you are here to sip and savor. There is nothing like a whisky moment.' Just think about it. When you get home, there's the deep leather armchair, ticking clock, open fire. That's a perfect whisky moment. But also in a bar, as well, to choose a whisky and know about it, and share it with friends, these are also enjoyable whisky moments that are endlessly fascinating. This might sound like romancing it, but the fact is you can't romance scotch too much and all the things it represents.
What does Jeremy see really changing about the scotch consumer audience? "Well, take the recent development with Chivas, for example. When I first started working with their consumer audiences 1O years ago, I was sitting people down, explaining the definition of a blend versus the definition of a single malt, how to add the water, and simplifying it with this whisky tasting map. Now, it seems we've upgraded to a higher level of consumer awareness with what's called experiential marketing. We want to make the whole thing more of an experience. For example, at a recent event we had models dressed up as cocktails - skinny little legs together were the stem of the glass, and their arms were stretched out to form a martini glass-like outline. And they were wearing these beautiful expressions. Very theatrical, of course, but people were just blown away. 'Whaaat is happening???!!! . . . Wow! Scotch!!!'
"Or let's say you want to come to one of my tastings at the Boston Harbor Hotel," he continues. "Today, you get a beautiful invite to the Chivas Experience. You get greeted in an extraordinary way, and the venue imparts an almost bizarre uniqueness. We choose amazingly distinctive clubs and venues around the country, like the Boston Harbor's upper level high-domed rotunda area. In New York, we picked a converted and gorgeous synagogue venue with flashing red lights outside. Two girls, with two absolutely ethereal white ostrich feather fans, are greeting you. The fans open and there I am, the Man-in-a-Skirt. 'Hello! Be welcome. Help yourself to a cocktail.' They go to the bar and help themselves.
"There's a catwalk stage. There's a belly-dance show. There's some kind of meringue-samba-tango dance exhibition. I come in and give everyone a Scotch 1O1 presentation for about three minutes, just to squeeze their attention. Then, bang, back to the dancing, back to the fun. We have a strolling sax player, there are flair bartenders juggling. We give away $1OO,OOO to someone who wants to live the Chivas life. All you have to do is spend 1OO grand in a year. Can you do that, people? We give away $1OO in Traveler's checks. We give someone a beautiful dinner for two. We give away a spa vacation.
"What all this is saying is that whisky is luxury," Jeremy emphasizes. "It's exciting. It's about exploring and opening your horizons. It's about pure opulence. There's a Chivas Life, a buzz, that's evident. But never do we say go and buy our whiskies. We don't have to. They decide for themselves. 'This really is cool,' they're already thinking. 'This is real. I've always wondered what whisky was. Now I'm drinking it.' It's like the off-beat dazzle of the Cirque de Soleil, a fantasy world. It's whimsical, even surrealistic. You have to come into the territory and become part of the imaginative realm. And then you're hooked.
"So, this is all about bamboozling people with just a fantastic creative night. They leave thinking 'Scotch! This is the life!' And next time they go to their favorite bar, they'll want to tap into more of this, drinking our products, something authentic, something hand-crafted. It was started back in 18OO, but it's still the coolest thing in your bar today. That's what we're trying to turn people onto with less information, and more just big experience. Anyway, this is the major change I've seen, and all kinds of scotch companies are getting into this experiential marketing approach."
Another change Jeremy sees is the larger number of professional women today who are networking in bars. "A drink can say so much about you, of course, but women are not always confident about ordering drinks, and they're particularly eager to learn more about scotch," he points out. "So several women's professional organizations have been asking me to come and conduct seminars for their memberships, doing my Scotch 1O1 mentoring about how to order it and how to feel confident about the category. I can't tell you the number of women who first declare they have no liking for whisky, but end up loving it. Another line I often hear is, 'I would have been afraid to order something. I wouldn't have known what to ask for.' Now, they're feeling more empowered and are also able to tell the boys a wee bit about it, too. So, this definitely is a change.
"All this indicates that more people today are seeking out information so they can order our scotch products," Jeremy contends. "And if they want to learn how to order scotch, the desire for our products is already there. All we have to do is make it more accessible. And, by the way, I don't think that a lot of the whisky aficionado product writers and critics who write these very winey-type descriptions of whisky are helping. Many people get a wee bit scared and intimidated. We've got to keep it simple. I mean this isn't rocket science."
Jeremy also sees some major changes taking place in advertising. "You can advertise everywhere, and a lot of people simply won't pay attention. 'Oh, that ad's about whisky. I don't drink it, so forget about it.' So, familiar normal advertising doesn't necessarily attract new consumers to the category. What does work is what I'm involved with. It's sitting someone down in a luxurious, beautiful, relaxed, very cool atmosphere, and helping them make the mental connection themselves. Then, they sip it and exclaim, 'My goodness, this really is delicious! What a natural spirit. There's really nothing like it.' And, you know, the truth is, they're right."
Another cause for excitement in the single malt segment has been a growing appreciation for the limited, often rare special offerings of Scotland's independent bottlers like Signatory, Cadenhead, Black Adder, Adelphi, Hart Brothers, and, most prominently, the world's oldest and leading independent malt whisky specialist, Gordon & MacPhail. This has always been something of an arcane connoisseur's corner for collectors in the popular scotch consumer marketplace, and represents only a tiny niche in the category at-large. However, finally, it's beginning to get the respect and recognition it richly deserves, as more and more scotch drinkers discover that this is the one and only place where they can find many of the world's greatest single malt whiskies, and more and more people are willing to pay the price.
Matt Chivian is the CFO and Scotch portfolio director for Norwood-based Classic Imports, which became Gordon & MacPhail's exclusive importer in the US a couple of years ago. "This has proved to be an excellent product fit for us," says Matt. "Classic has always been noted for an extensive international selection of unusual hand-crafted artisan wines, and these are limited-edition artisan whiskies, some of them extraordinarily old and rare, and some of them with all kinds of exotic wood finishes and single barrel interpretations of distillery brands. It's a niche market that's been catching on at the consumer and retail levels, and without meaning to sound too corny, it's really been an honor for us to get the chance to take on this product and try and build a distribution network around the country with it."
The Gordon & MacPhail name certainly opens the door in most places, Matt emphasizes. After all, these are the people that kind of invented the independent bottling category. The firm was founded back in 1895 by James Gordon and John MacPhail. The original business combined groceries with wines and spirits, and there was always a bit of leaning towards the whisky. Up to this point, all of Scotland's whisky products - like the early Dewar's and Johnnie Walker's - were blends sold in the back of grocery shops, and, in similar fashion, Gordon & McPhail blended whisky under its own label from stocks they got from other distilleries, selling it from barrels out in the back of their store.
During the first year of business, they hired John Urquhart, who specialized in the whisky and wholesale side. "And, as John was developing as a master blender and tasting all these whiskies," Matt explains, "he thought they had unbelievable characteristics of their own. So, they started marketing some of these as stand-alone single malt products. Thus was born the whole single malt whisky idea. Urquhart's son George joined the firm in 1933 and was the guiding force who took the whole single malt business to a new higher level. Today, a third generation of Urquharts run the firm, and a fourth generation of the family has also come aboard. So, it's a deep history of family ownership and traditions, and with all the consolidations, buyouts and shifting of brand ownerships going on in the present day scotch industry, these wonderful family stories and the heritage they represent are increasingly rare.
"But, of course, traditions don't necessarily make the sale," Matt continues. "It always comes back to what you've got in the bottle. And this is where they really excel. They're just about the only independent bottler out there buying new-make spirit right off the stills, then having it put into barrels of their choosing, and then making all the decisions about the entire aging process, and bottling when they think it's ready, etc. And when they do a finished whisky, like in a Tokay or Port barrel or whatever, it's not just an in-and-out thing as with so many other finished scotch products. It's been in there from six to 24 months to really get a flavor, and not one of those things where you do two barrels and then vat 2O together. If theirs says Port, it means that all the whisky has spent time in a Port barrel. So, it's one of the very few whisky producers that are still truly hand-crafted, something similar to all the very small boutique wineries that dot the countryside."
Among the many choice whiskies in his G&M portfolio, Matt talks about the celebrity single malt, Mortlach, which legendary scotch critic Michael Jackson considers one of the truly splendid examples of a hearty Speyside style for its combination of smokiness, maltiness, fruitiness, complexity, sherrywood notes, and depth of character. "But it's always been traditionally produced mainly for blending," Matt points out. "However, the Urquharts have been buying selected casks from this distillery since the early 193Os, and from our G&M portfolio, today, we can presently offer a young 12-year-old Mortlach bottled at cask strength, a 15-year-old at 4O%, a 21-year-old at 46%, and then, because of G&M's ancient stocks, a 32-year-old, a 44-year-old, a 5O- and 51-year-old, and we actually go back to pre-WWII distillation dates of 1939 and 1936. We can go back almost this far with rarities from Linkwood, Glen Grant and even very old Glenlivets. We also have a 5O-year-old Macallan special bottling that sells for $29OO a case. None of these whiskies are inexpensive, obviously. But there are a lot of connoisseur customers out looking for them.
Other notable G&M rarities he points to are whiskies from long-dead distilleries like Rosebank which closed in 1993 or Islay's Port Ellen which closed in 1983, also a 32-year-old bottling of 1974 Glencadam which closed in the early 198Os. "The independents are the only ones who can keep these names alive," he emphasizes. "It's almost like being a museum curator, except in this case, once an exhibit piece is gone, it's gone."
Matt agrees that there is still a lot of confusion about the differences between distillery-bottled single malt whiskies and those bottled by the independents. "By definition, a single malt is a whisky from a single distillery," he explains. "When they do, let's say a Macallan 18, they probably take hundreds of barrels, and the mixing of those barrels is called a vatting. And unless you're bottling a single cask as a single cask, all the single malts are vatted together to get the signature house style or house profile. But even if all the barrels have the same age, each one has slightly different characteristics. So it gets into the remarkably fine art of a master blender's mixing and matching talents.
"However, quite a few of the whiskies bottled by G&M are just single barrels," Matt goes on, "and so, even though it's the same whisky, you're going to have some variations in flavor in the different bottlings which, I think, is one of the major joys and key fascinations of what the independent bottling industry represents. You're not always getting the same whisky. For instance, one year, we might bottle a very limited 14-year-old Glentauchers at 43%. Then, we might take a look and see what stocks they have for us, and decide to produce a 13-year-old or a 15-year-old, and feel the best proof is 46%, or possibly bottle it as a cask strength whisky. It's just a constantly fascinating creative part of the scotch industry that's always a work in progress. And the important thing is that it keeps offering such sophisticated appeal and varied whisky interpretations for knowledgeable consumers."
To pursue the fine art of independent bottling a bit further, I was able to contact Gordon & MacPhail's third-generation family owner, Michael Urquhart, at his company's headquarters in Elgin, Scotland, the heart of the Speyside region. How does he select the whiskies, and what is he looking for looking for, I asked? "We buy from a majority of distillers, and have a constant ongoing yearly program of filling," Michael explains. "We make decisions about whether to bottle a years-old whisky, or whether to bottle it more possibly as a vintage. If it's a vintage, it might mean that we're going to do a 199O for this year's release. But when that offering runs out, we look at the whiskies that we've got about that age, and decide what we think is the best representation of that whisky. For instance, this one needs another year or two in cask, or this one is perfect right now. So, it could be that a 199O is followed by a 1985. In other words, the older is by no means necessarily better."
So, this isn't like a vertical progression of wine vintages, then? "Not at all," Michael emphasizes. "There's much more of a variation coming through from different ages of the same distillery scotch, because each cask has its own unique identity. Some mature quicker than others. So we're always working our bottling list from very careful individual cask analysis. In the American market, if it's a years-old whisky we have to put a years-old statement on the label. If it's a vintage, we have to declare how many years it's been matured in casks. Our portfolio for American export is meticulously regulated and monitored. Presently, we have about 12O different whisky expressions in America right now. It's a pity that we can't export 7Ocl bottles to the states, because so many of our total 36O different whiskies are only in that European size. But we're trying to build it up the US inventory as we go along, and seeing what the market's looking for."
Michael is encouraged by what he sees happening in the American scotch market in recent years. "There's just so much more knowledge about malt whiskies out there, today, more sophistication about how to drink them, more consumer tastings to go to, more product information to read about, resulting in so much more appreciation for what quality scotches represent. We're seeing