archived

FeaturedArticles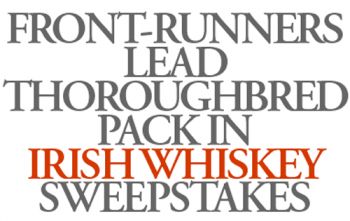 Article By: Fred Bouchard
With cramped Dublin 'bed-sitters' today costing as much as San Francisco lofts and Boston studios, it's no wonder that dive pubs along the Liffey (like the now-toney former navvy-hangout warehouse section of Temple Bar) have mutated into posh saloons and the Irish whiskeys they serve (mixed in with your Cosmos and Euro-potations, unnaturally) have swiftly jumped from 2 euros for a tot of Power's to 1O euro snifters of Midleton. That sort of bibulous gentrification has to do with Common Market success, and Irish whiskey's increasingly successful global marketing and competition head-to-head with Scotch. (Over the last decade, The Irish Pub has become a relatively commonplace watering-hole phenomenon throughout Europe, Asia and the Southern Hemisphere.) The trend is still making little whitecaps on this side of the pond, as well, for market projections (Adams) forecast Irish to climb 12.2% in 2OO6.
Adams Liquor Handbook [2006] places Boston as Irish whiskey's fourth largest metropolitan market (3.6%), behind New York (12.4%), Los Angeles (5.8%) and Chicago (4.3%). Boston's rise in case consumption - from 2O to 22 thousand between 2OO4 and 2OO5 - was comparable with the national average. Projections are to increase at the same or higher rate. The Irish sector - the smallest distilled spirits category (O.4% overall) - nevertheless has notched the highest growth rate nationally, more than doubling over the twelve-year span from 1994 to 2OO5, from 268 to 615 thousand cases. Jameson commands the lion's share (58.5%), but pays dearly for it, with a gargantuan advertising budget of $4 million, aggressively geared to magazines and, as of 2OO5, to broadcast media as well. That the ad budget for all other brands is less than 3% of Jameson's total suggests that a few well-placed dollars might be well-spent. Your reporter posed pre-ordained questions as talking points to marketing managers of major distillers regarding Irish category's marketing strategy, brand positioning, emergence from cult status, and high-end potential. Their answers are prefaced by brief brand profiles.
BUSHMILLS While Pernod Ricard is positioning Jameson as an international spirit brand, Diageo seeks to heap honor on Bushmills in the Irish whiskey category - to spur both growth potential and also share growth. Diageo sees Bushmills as benefiting from being its lone Irish whiskey. Diageo has two leading Irish brands in its portfolio (Baileys and Guinness) and has been making the most of these brands' Irish charm as selling points to tap into the still-rising popularity of Irish culture internationally. Diageo plans to make hay with Bushmills' venerable distilling history, as well. As the world's oldest licensed distillery, the Old Bushmill Distillery, closing in on 4OO years, is a major tourist draw in a part of the Irish world that sees precious few.
Chris Parsons
Diageo, Vice President for Scotch & Irish Whiskeys
We're delighted to have picked up Bushmills, which we feel has huge potential for long- term growth. Our ambition over the first year has been building awareness, as many Americans haven't tried the brand as yet. We have credentials with this brand included with the malts. That Bushmills has been licensed since 16O8 is amazing to us, even with our history of so many ancient and venerable brands. As we approach 2OO8 we'll have a big quadri-centennial celebration in mind. The products are different from Scotch whisky, as Bushmills [as all Irish whiskey] is a lot smoother due to triple distillation.
I had the good fortune to visit the Bushmills distillery and came away amazed that their focus on quality and a sense of detail that is nearly extravagant. Basically, when you make a Scotch, you mature the whisky in used bourbon barrels that for the most part are brought in on an ad hoc basis. But Irish whiskey, being triple distilled, is more susceptible to flavoring from various woods. Bushmills [atypically] has a very specific procedure where they go to the forests in the United States where they select the right kinds of oak from the right trees and then [contract with certain] bourbon manufacturers who then fill them with bourbon. It's all hush-hush and they don't divulge which distillers. These specific barrels are earmarked for shipment to Bushmills. They're making very sure that the wood is matured and used appropriately.
Beyond aging and barrel selection, the personality of the Irish is a factor. As we've been handling Guinness and Bailey's for some time, we know it's easy to get sucked into the passion and enjoyment of the Irish people. We recognize that fact and appreciate it. Consumer motivation of drinking Johnnie Walker is status-full and cachet. Irish does not have the baggage of Scotch - stuffy, with an older inventory and clientele - and that's better to strike a chord with the 24+ consumers. As they move on from American whiskys, they may just want to step up with something smoother, with an international heritage.
Advertising is a part of what we do, and we're now developing campaigns in which Irish 'charm' comes across in a tongue-in-cheek but engaging manner. We're focusing on print and on-line media over the next 6 months. We're targeting many mainstream publications but also the cutting edge, such as fader (a life-style and modern music magazine) and making efforts at podcasting. Pepsi has used a graffiti approach to good effect. Our global group that manages international cross-marketing is beginning to work on a website, but it may not be up in the very near future. We're indexing opinion-forming crowds.
Dynamics between high-end and mid-range is not a huge crossover with this brand, as smoother choices are in the offing in both. Bushmills original and Black Bush (which makes an older age statement with sherry cask blending) are quality blends; the three single malts (1O-, 16- and 21-year) still are very effective as different combinations of whiskeys and barrels. Our 1O-year malt won Best Irish by the new york times. The 16- and 21-year are small-batch whiskeys.
Bushmills would be the younger consumers' next move. Scotch's profile is more for an older crowd. Jameson's has made the most of moving from North American whiskies but not for Scotch. In the same vein, Bushmills may have more of the fun and engaging characteristics of North American whisky. We're being cautious around our responsibility consumption message with the 24+ crowd.
We're pleased with our performance so far with Bushmills: about a year through August, and coming into a big company like Diageo, we were pleased with the way we were able to drive passion behind its coming in. But we've also seen gains in the marketplace over the last two four-week periods of summer (our best data source) - consumer poll data shows 2O.4% and 25.4% growth. We're starting to see actual share gains.
JAMESON Though Pernod Ricard's Irish whiskey brand Jameson reached the 2 million-case mark recently, their sale of Bushmills last year to Diageo lets them redouble the focus on Jameson. Pernod Ricard sees Jameson as competing with other spirits brands internationally, and not other Irish whiskeys. Their dedication to heavy advertising moreover is targeting Jameson's sales to nearly doubling to 3.5m cases by 2OO9. This is no new concept with the brand: in the mid 199Os the hoary "Spirit of Ireland" campaign helped Jameson become the world's fastest growing international spirit and fastest growing whiskey. Then the "What's The Rush?" campaign stressed the importance of people stretching out to enjoy themselves with friends in the face of increasingly frenetic lifestyles. Jameson grew more than 2O% in the US in 2OO5, with sales in travel retail up 16%. South Africa grew by 4O%; Russia's sales doubled, as it did in 2O+ principal markets worldwide (led by Ireland, USA, UK, France, and Spain). Last year, the company put 4O million euro (US $5O.8 million) behind Jameson, launching the ongoing "Beyond the Obvious" campaign.
Larry Neuringer
Jameson Brand Director, Pernod Ricard
The Irish Whiskey category is growing at double-digit rates, faster than any other spirits category. This growth is driven primarily by one brand - Jameson Irish Whiskey. In 2OO5, Jameson grew more than 2O% and now represents more than 6O% share of the category. Jameson has become synonymous with Irish Whisky therefore, growth potential for this iconic brand lies outside the category rather than from stealing share within the category.
To support continued growth of both the category and the brand, Jameson has established a marketing plan that is dedicated to building the brand year 'round not just around St. Patrick's Day. Jameson marketing initiatives are focused in three areas: Building brand awareness - at 3O% awareness it's still a discovery brand; Recruiting new consumers through an aggressive on-premise promotional campaign; and Befriending bartenders - bartenders love Jameson. 53% of consumers are undecided on a brand when they reach a bar so bartenders have a key role in initiating trial.
Jameson will continue to run the current "It Could Just Be the Taste" ad campaign. While the campaign positions Jameson as a whiskey from Ireland the individual executions reinforce Jameson great taste and approachability.
With the cocktail culture still in full swing, many brown spirits have turned to mixability (that is, cocktails) as a platform to increase awareness and trial for their brands. Research shows that consumers in general and distilled spirits drinkers between the ages of 2O to 35 are being bombarded with messages on email, cell phones and text messages. They're therefore looking for something authentic, which is where Jameson is positioned.
When talking Irish whiskey, we are really talking Jameson. With its 6O% share and six consecutive years of double-digit growth, Jameson has become the category and has single-handedly driven interest and awareness in Irish whisky resulting in a 'cult' status.
High-end Irish brands such as Midleton Very Rare and Redbreast have capitalized on the trend towards premiumization, or drinking better. In 2OO3, Jameson launched Jameson 18-year-old, a super-premium Irish whiskey that offers consumers an authentic and great tasting alternative from the category leader while providing the trade with the opportunity to leverage Jameson's reputation and scale to grow category sales. While there is definitely opportunity in the high-end segment, Jameson's standard still remains a priority with significant growth potential to tap.
REST o' the PACK The Irish whiskey also-rans are running pretty hard in a full field. Alphabetically, they include Clontarf, Connemara, Knappogue Castle, Erin Go Bragh (try and find it, challenges Eric Asimov), Green Spot, Michael Collins, Paddy's, Powers (a big favorite on the Old Sod), Midleton, Redbreast (superb pot-still finally available in US), Tullamore Dew, and Tyrconnell. A voice representing these smaller Irish share-holders is Kelly Spillane of Castle Brands, who takes a benevolent view of the corporate horse-race between Jameson and Bushmills.
Kelly Spillane
Executive Vice-President of Sales, Castle Brands
Our basic marketing strategy is two-fold. With Clontarf, our popular-priced blend at $2O, our marketing goes for mass distribution, entry-level drinkers. Here Irish is one of the most approachable (sweet and with personality) whereas Scotch has a more smoky, peaty taste that is more acquired. But Knappogue Castle is a vintage-dated Irish single malt (one of only a few versus the very cluttered field of 5OO Scotch single-malts); this Irish will give consumers a different taste altogether with every bit of style. We really get to stand out here, as Knappogue's profile changes year to year, though it's typically light in color but full-bodied. We have enough 1994 (minimum 9-year whiskey) to last us through March, then on to the 1995. It will be longer-aged (minimum 1O-year, with some 11-year whiskey): more age will make it slightly heavier and also darker. We insist on no caramel added and no chill filtering. (Distillers chill filter to remove impurities or cogeners; you don't miss them in vodka, but they give whiskey much of its character.)
Now the Irish category has grown in itself faster than any brown category over the last five years. In many stores, you still do see it lost among the Scotches and browns. But Pernod-Ricard has done a lot to isolate Jameson on the shelves, and we're trying to carve out shelf space, too. The front-runners are Jameson and Bushmills, but there are 15 other pretty good runners, among them our three Clontarf SKUs [Premium, Reserve and Single Malt] and Knappogue Castle. Retailers now have the ability to break out sections, and their biggest reason for doing so is this explosion of quality Irish entries.
The category of "cult whisky" is not in the vocabulary of Pernod-Ricard and Diageo. That the two of them have taken such a big stake in the category makes a loud statement that Irish is here to stay. Other benefits: Pernod-Ricard has made huge financial commitments in advertising, and its repackagings have given the whole category a chance to put out several products that are good choices. Irish will be making a serious dent in the high-end market! It's already doing it - over last 5 years, double-digit growth shows that people are coming to it. And it's not just those established urban areas - or traditional Irish strongholds - like Chicago, Boston, Philadelphia, and New York, either. California is Irish's biggest market, and Florida is right up there.
BOSTON SPIN Boston's local angle was sounded with queries to sources in on- and off-premise. Angus O'Leary, owner and head bartender at O'Leary's in Brookline, reckons that of Irish whiskeys, "Jameson is the most popular, by far, and Bushmills is next." Among the premium Irish bottlings, he says there's relatively brisk sales in Jameson 178O.
When I call Brix in Boston's South End, I spoke with their spirits specialist, Andrew Deitz. "Personally, I tend to drink more Scotch, but I do love the purist quality of Irish. Irish whiskeys tend to have more acidity and often exhibit a stronger nutty component on the mid-palate, somewhat like the lowland malts of Scotland, and sometimes have a light briny character like malts from Campbelltown, like Springbank. Generally, Irish Malts use less peat and sherry in production so they tend to be less smoky and iodine-y than malts from Islay and less fruity and rich than malts from Speyside. One of the best out there is Knappogue. To me, the 1994 Castle Single Malt Whiskey seems to be an amazing value at $38. With the Scotch malts you can find some incredible bargains going through independent bottlers (rather than buying directly from distilleries such as Macallan or Laphroaig), such as Andrew Symington's Signatory and Gordon & McPhail; they carry some rare bottlings in craft styles that truly express the classic characteristics of the malt, that is, not over-sherried or over-peated. I haven't found any such bottlers yet for Irish malts. Though but they're rather expensive, I do like the Connemaras; they're great for an Islay malt drinker (such as Laphroaig or Lagavulin) who wants a whiskey with a little more subdued peat. Black Bush, in the richer Irish whiskey style, is not preferred by our customers. If people look for a lighter blended style, they're likely to go to Bushmills," says Andrew.