archived

FeaturedArticles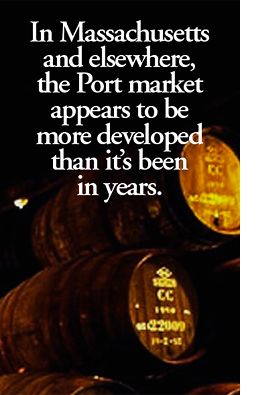 Article By: Ken Sternberg
Many consumers no longer shun the drink because it's sweet, say several industry insiders. This itself is progress, since to dismiss a good Port simply because it's sweet would be like avoiding a rich molten chocolate-filled torte topped with ginger-laced ice cream just because it contains a little sugar. Moreover, the image that Port drinkers are exclusively old men in silk robes, smoking a pipe in a leather chair beside a sleeping dog also seems to be on the way out. Some of the most popular brand name products, such as Fonseca's Bin 27, Graham's Six Grapes and Warre's Warrior, are selling quite well, as Americans move beyond the most basic Ports.
Most people first try Port after dinner at restaurants, especially if it is matched intelligently with food or dessert pairings. "The market today is very mature and Port is a standard item in any restaurant. Restaurants know how to use it, pairing it with the right foods. It's part of the mainstream and I think consumers expect to see it," says Bartholomew Broadbent, President of Broadbent Selections, a major importer of Port to the United States. "Port isn't seasonal anymore," he continues. "I think it was seasonal when it was a very elite few who were drinking it. Since then, it's been successfully marketed to a broader audience who just know it as a drink. Tawny has become very popular." Another reason for Port's success here lies in its higher alcohol content and bold flavors, he points out. "Americans are used to drinking more highly alcoholic wines. Going from a young table wine to a young vintage Port makes sense. The market here is more versatile and people don't just have the idea of having Port with Stilton," says Broadbent.
"Port is a steady and growing market. It's a niche market at this point, but we're finding our sales are growing at a slow and steady rate over the last few years," says John Hafferty, Fine Wine Portfolio Director for M.S.Walker. "There seems to be a revived interest in Port, with more being sold off-premise. But in terms of placement, the more interesting brands are on-premise, he says, noting that Port is a must-have category for any restaurant touting a well-rounded wine list. Not all Ports are enjoying renewed interest, however. "The standard ruby and tawny Ports are certainly stagnated," Hafferty says, observing that: "A lot of people are entering the market at the special reserve level, such as Graham's Six Grapes. The straight rubies and tawnies are perceived as something you cook with." As for the typical Port drinker's demographic profile, it seems to appeal to many different people. "It's shifting toward the 3O-something set. They start drinking Port at restaurants, then they start to buy it when entertaining at home," says Hafferty. "It lends a certain level of sophistication to the table; it says 'I see you as an important guest'," he says. In terms of overall sales, however, Broadbent does note that, "The dramatic growth was from about 1993 to 2OO3. Now, sales have reached a plateau and it's a staple item."
"Everybody seems to buy it, from those in their 2Os to older people," comments Kurt Reming, owner of Beverly Wine and Beer Company in Beverly. Ten- and 2O-year-old tawny Ports, such as Warre's Otima, are among his best sellers, he adds. Another extremely popular item is a Port from Australia, Jonesy Old Tawny Port, which he sells for $13. It's a bit heavier and darker on the palate, and it gets a lot of critical acclaim so customers recognize it, he comments. Many distributors offer special deals on combination packs of various types of Port, some tawny, some vintage, etc. This makes it a good deal for off-premise accounts, notes Reming. Otherwise, he says, it's difficult to justify buying a case of 2O-year-old vintage Port, especially when the vintage segment is such a small part of the overall Port market. Nearly all the Ports he sells are ready to drink immediately, he remarks, pointing out: "You can only afford to buy a current vintage and you can't drink it for 2O years, so what's the point?" Combination packs also help distributors place more SKUs at an account, adds John Didio, a sales representative with Horizon Beverage.
"We see tremendous growth in Massachusetts, and it's been long term growth," says Jeff Brooks, New England Manager for Kobrand. Their portfolio includes Croft, Delaforce, Fonseca, and Taylor Fladgate. "In the 198Os and 199Os the Port market more than doubled, and it continues. In the recent past we've seen significant growth in aged tawny sales. The rate of growth in wood aged Port exceeds that of bottle aged. Where we don't see the same rate is in simple ruby and tawny Port, which has to do with Americans' preference for fine wine. American taste is to consume aged tawny and vintage after a meal," he continues. And, while virtually all wine sells more in the holiday season, "Port is much less seasonal than you might think. It is a year 'round business. My sales from wholesale to retail in June were about the same volume as in March, and consistent." Like others, Brooks believes Port's popularity parallels American tastes. "Port is the easiest wine to fall in love with. It's sweet and rich, appealing to a wide range of tastes. Even fine wine drinkers can enjoy the nuances of Port and will find their way. New consumers are discovering Port."
And, even though vintage Port is not a casual purchase, "It's what brought more consumers to Port. Relatively speaking, vintage Port is undervalued. Consumers are driven and encouraged by scores. Vintage Ports that score 9O and 1OO points are available for around $1OO a bottle. When you compare these to other highly scored wines from around the world, the others are either not available on the market or are vastly more expensive. These ports are available," he says, adding "It's encouraged consumers to try them because they can find and collect them, and feel perfectly confident the wine will be in good shape after 1O or 15 years and appreciate in value." Another factor is that more restaurants are selling Port by the glass, as well as training their staff more thoroughly about Port, he says.
At L'Espalier in Boston, Port and other wine suggestions are listed with the cheese course, says Erich Schliebe, the restaurant's sommelier. "If people are really interested in a cheese course, a sweet wine works better than a rich red," he explains. Ten-year tawny is extremely popular, he says, because at $1O to $12, "it doesn't require a huge investment". Along with genuine Ports, L'Espalier also sells De Bortoli Tawny from Australia, which Schliebe describes as having a creamy style that goes perfectly with creme brulee.
Of all the products in the wine market, Port has shown a strong and surprising resiliency. Of course, it's great in cold weather, but it's also refreshing over ice in warmer seasons. Port seems to be on the cusp of American style and tastes - interesting, new and off the beaten track of ordinary wines in the eyes of many consumer groups. As Bartholomew Broadbent recalls his thoughts during a Port tasting he hosted for 3OO women a few years ago, "I realized it was not an old man's drink anymore, but now for women and men and young and old people. It had crossed all boundaries."
THE ABCs of PORT
DID YOU KNOW?
The main red varietals used in Port are Touriga Nacional and Tourigo Francesca, although Zinfandel, Syrah, Pinot Noir, and many others are used outside of Portugal to make Port-like fortified wines. Fortified wines are sweet because after the grapes are crushed and the must starts fermenting, the process is stopped before all the sugar in the must turns to alcohol. This is done by adding neutral wine alcohol or brandy to the must, which kills the yeast. It also increases Port's alcohol content to around 2O percent or so.
Even though Port comes from Portugal, many Port houses are British owned or operated. This is partly because of a treaty England signed in 17O3 granting preferential tax rates to Portuguese products over those from France.
There are three main types of Port: ruby, tawny and vintage. Ruby is vibrant, intense, spicy and full-bodied wine blended from younger wines of numerous vintages. A sub-type is late bottled vintage, or LBV. These are made from grapes harvested in the same vintage and bottled between the fourth and sixth year following harvest. LBV Ports are immensely popular now in the market because they are fully mature and ready to drink as soon as they're bottled.
Tawny Port is much less fruit forward and shows varying shades of amber-gold, depending on its age. Instead of overt dark fruit, tawnys show aromas and flavors of spice and burnt caramel, vanilla, toffee and other exotic things. The simplest tawnys are not generally interesting, with 1O- and 2O-year tawnys being the mainstay of the segment.
Vintage Port is blended from what producers believe to be their finest lots of wines, all made from grapes grown in the same year. It's the only Port that continues to mature in the bottle, and most need to be stored at least 1O years to mature before they reach their full potential. Many require 2O years or more.