archived

FeaturedArticles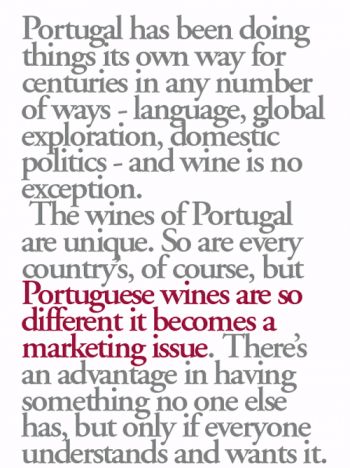 Article By: Donald Breed
In the late 198Os, I accepted a trip to Portugal from the Portuguese Trade Commission. It was led by the late Pasquale Iocca, an Italo-American from Illinois but a lover of all things Portuguese, including its literature. He was the quintessential gentleman, soft-spoken and always polite, but once on the trip I got him really angry. I asked (I admit it was a callow) if it wouldn't be a good idea for the Portuguese to plant more international varieties, like Cabernet Sauvignon and Chardonnay.
"Why should they want to do that - copy other countries?" he spat out at me. "Their own wines are wonderful and unique."
That's what we were there for, to find that out, and it was confirmed in the parts of Portugal we visited (which didn't include the Douro, probably the most esteemed region for both port and red table wines). Still, I was as much confused as enlightened by the tour. Everywhere we went, it seemed, the names of the grapes changed, and for Americans taught to learn varietals, it was frustrating. Take Periquita: Some vintners said it was a proprietary name, while others insisted it was a grape name.
Making it harder is the fact that, except for the lovely Alvarinho (Albarino in Spain), almost all Portuguese wines are blends, so knowing varietals doesn't help that much. How about following regions? Well, winemaking in Portugal is changing so fast that reputations from the past no longer apply, and new ones are changing.
This kind of confusion can means Portugal is Terra Incognito for many Americans, and it was cited in interviews I had recently with retailers, wholesalers and importers. Still, all agreed that Portugal's decision to cling to its indigenous varieties was a good one - it means their product is unique. While native grapes predominate (though you find a little Cabernet Sauvignon and Syrah, among other international varieties, in some wines), what's done with those grapes is changing. A few winemakers are from other countries, such as Australia. Jerry Luper, who was a celebrity winemaker in California decades ago, has now moved to Portugal to make his own limited production wines. Many more Portuguese winemakers are influenced by the technology and practices in Europe and the New World.
Moreover, the native varieties are migrating within Portugal. The law governing Denominations of Controlled Origin requires that grapes traditional to that DOC be used in the wines. But when wines are bottled under the regional label, it's possible to use Portuguese grapes from other areas. So the whole scene is very volatile. The importers and wholesalers I interviewed were from New Bedford and Fall River, where there are large concentrations of Portuguese-Americans. The retailers, one from Newton and another from Chicago, have very few ethnic Portuguese as customers.
"It's a hand-sell item," said Gary Rohr of Fine Wine Brokers in Chicago, using a phrase I heard more than once. Rohr said he had a tasting of Portuguese wines a couple of years ago, and he sells them at prices ranging from low end to $4O and $45 a bottle. Sales are increasing but still constitute less than 5 percent of his volume. With an inexpensive wine all you have to say is "here's a nice red, try," Rohr said, but with the high-end ones, customers try it because "they want something different." He said he sells a lot of vinho verde in the summer, but even there "you have to introduce people to them."
Tom Schmeisser, of Marty's in Newton, said he has some Portuguese wines, low-end and some $25 to $5O a bottle. "If you can get people to try them, they're wonderful," he said. "But I still have to find a base. They need press, scores, numbers. I have yet to find any of it, so as much as I like some of these wines, I've chosen not to carry them. I just don't have the space." But, he added, "The wine is in the bottle." It appears that Portugal now needs someone to do for it what Jorge Ordonez did for Spain, Terry Theise for German and Austrian wines, and Neil Empson (among others) for Italian wines. And it may need someone as charismatic as Lucio Caputo, who, when he headed the Italian Trade Commission, diverted a passing boom for Lambrusco into interest in Italy's serious wines.
While we wait for Portugal to become the next "hot" wine source, it should be remembered that Portugal has already had two successful exports. The first, centuries old and continuing, is Port. The second was fizzy, off-dry rose, mostly Mateus and Lancers. They are still made and sold, but nothing like their heyday when they were in every store. I even remember being taken to Ernie's, the swank restaurant in San Francisco, in the late '6Os, and the host selecting Lancers.
When consumers got tired of - you might say outgrew - those roses, other Portuguese wines did not take their place. To this day, a tasting of Portuguese wines is likely to begin by the emcee saying, "These are not Mateus and Lancers." (Those roses may or may not have turned Americans off Portuguese wines, but I'd argue that they turned us off rose wines, in general, for decades, and interest in dry, well-made rose is just now reviving.)
In southeastern New England, certainly, though probably not in most of the country, there exist two markets for Portuguese wine: ethnic Portuguese and everyone else. Both of them tend to drive prices down. Ordinary consumers don't like to spend very much on a wine they don't know. As for the Portuguese, they have a heritage of low prices that dates from the Salazar regime, whose slogan, according to a booklet from the Portuguese Trade Commission, was "drinking wine means feeding a million Portuguese." People were encouraged to drink a lot and prices were kept low by overproduction. (Given that quality was not a priority, those wines were remarkably good, as you can discover if you can find some old bottles.)
Fernando Saraiva, vice president of Saraiva Enterprises Inc. in New Bedford, notes that the ethnic market includes older immigrants "who have the stubborn habit of buying cheap 4 and 5 liter jug wines" and insist on making their own wine from California grapes mixed with some from their backyard (which unfortunately may be Concord), spending more money on grapes and equipment, he says, than if they'd bought a better bottle for $6. At the other end of the ethnic spectrum are second- and third-generation Portuguese-Americans who may not even speak the language but because of "the romantic notion and cultural connection" are attracted to the wines.
"The strength of the market right now," Saraiva said, "is definitely in the $3 to $7 range, primarily by the ethnic Portuguese community, but we have noticed it slowly climbing with many people beginning to get into the $8 to $13 range. There is a reluctance to go beyond $15. Even in the American market, the strength lies in the $7 to $1O range - at least in our neck of the woods. So there is price-resistance in all ethnic groups; it's just that thresholds are different."
Low prices were lamented by several of the importers. Jack Couto, president and half-owner of Grapemoments in New Bedford, exclaimed: "My philosophy is not to bring in another cheap wine."
During a visit in Fall River with Luis Fortuna Oliveira, president of Luiz's Liquor's Inc. and L&B Beverage Inc. of Rhode Island, and his wine marketing manager, Helder Costa Rita, I was told about a promising red wine that they'd positioned at $1O.95. It didn't sell until they reduced to $9.95.
Saraiva said, "Unfortunately, there have been some distributors, with the help and blessings of the producers, that, in order to do volume, have taken estate-produced wines that were bridging the gap between the ethnic and general markets and, through pricing and reduced margins, positioned them in the ethnic market at the price of cooperative wines. Some are even selling for less money here than they are Portugal. This short-sighted strategy might bode well for the short term, but it is not good for the future and long-term perception of Portuguese wines with the American consumer. With the American consumer, if a wine costs below $7 or $8 the perception is that it is inferior."
Pedro Carvalho of Aidil Wines, which does business in New Bedford and in New Jersey, said: "Low-end wines will always be an easier sell. People are not afraid to try a wine if it is below, say, $1O a bottle. Now, if you already tried the lower end of a particular producer or a region, and you liked it, then you are more likely to take the next step."
As for market strength, Carvalho said "it really varies from state to state as demographics change. We don't see Portuguese wines present at a national level enough to judge where the strength and weaknesses are. The wines that a creating an impact in New York and New Jersey are not necessarily the same as those in Massachusetts or California.
"Even though 9O percent of the sales on the shelf are from wines below $18, in certain shops you will find wines above $4O. Price resistance applies to both. You have higher end consumers in both markets. The major difference is that the ethnic market will "drink labels" and the general public won't. Since the general public is not aware of the `weight' a specific brand or producer has back in Portugal, they will not buy the wines based on that; they will choose their wines based on recommendations from friends, store owners or simply on ratings. The lower-end will make the general public aware of the great values Portugal has to offer, and hopefully they will move on the higher-end great quality wines. When we start seeing Portuguese wines consistently getting 9O+ ratings in the wine media and more attention from international wine writers like [Robert] Parker and so forth, that is the way I see Portuguese wines growing."
The importers I spoke to, Couto, who said 8O to 9O percent of his business was with the general market, declared that Portugal is "where Spain was five years ago." Stay tuned!