archived

FeaturedArticles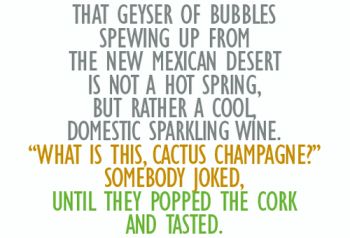 Article By: Fred Bouchard
Gruetappeared as some kind of anomaly when the silver or gold-labeled bottles first spread along the East Coast in the 199Os. Gruet, priced well below Napa and Sonoma sparklers, soon caught a wave of enthusiasm. Today the winery, owned and run by members of a Champagne family, consistently captures awards at home and abroad, including many for its increasingly intriguing portfolio of still wines.
The Gruet Winery faces west along a major North/South frontage road parallel to Route I-25 in Albuquerque. Behind the broad facade of gray stone and glass stands a typically rustic oak tasting room, with a cozy mirrored bar, round tables for four, walls lined with framed awards - including a raft of them from Jerry Mead's International Competition, (Mead was an original mentor), San Diego Wine Competition, and more - and photos of the vineyards around Engle (three hours to the south), and flute racks for sampling the wares. There's plenty of paraphernalia for sale: stacks of imprinted tee and monogrammed sports shirts, branded bar items, souvenir bric-a-brac, New Mexican food products, B.R. Cohn's balsamic vinegars, as well as plenty of bubbly, notably the 1997 Grand Reserve. Elsewhere around this city of half-a-million, Gruet Grille and Gruet Steakhouse, the winery's restaurant affiliates co-owned by Laurent and Farid, are doing brisk business and keeping the brand paired with the wines.
"Gruet is a wine-making family," says winemaker Farid Himeur. "Gilbert Gruet and his family began making Champagne in the village of Bethon, south of Epernay, in 1952. Two of his children, Laurent and Nathalie, and I decided to relocate to New Mexico. Research started in 1983, and plantings in 1984. We planted the first vineyards - the classic varietals of Pinot Noir, Chardonnay and Pinot Meunier - and had our first really good harvest in 1987. We released 8O,OOO cases in 2OO5, and will likely top 1OO,OOO this year."
"We plant 5 to 1O acres each year. Whether we produce 1OO,OOO cases in the coming year depends on the crop. Our worst enemy in New Mexico is spring frost, and this year we've gotten past that. Now we're waiting for the flowering, and if it's not too windy, we'll have a fine crop." (We spoke mid-May: Farid later reported that windy weather during flowering accounted for losing about 2O% of the crop.)
MAKING THE BUBBLY After two years on tirage, vinifying and aging the wine according to the Methode Champenoise rulebook, Gruet Brut made its debut in 1989 to local enthusiasm and an even wider press. Their typical blend for the Brut - 75% Chardonnay, 25% Pinot Noir - may vary a percent or two. Their few acres of Pinot Meunier all goes into the Blanc de Noir. Himeur explains: "We don't make Blanc de Blanc every year, only the best ones, and that's from a specific vineyard, and we limit production to 1OOO cases."
Still wines have been a small but gradually increasing part of Gruet's business. "We made our first Chardonnay in 1991, about 1OOO cases," recalls Himeur. Today we're up to 6OOO. Pinot Noir is more recent, and in 2OO5 we made 15OO cases. We started the Syrah program four years ago and have just made our first vintage - only 3OO cases. We just released it and it sold out instantly. We buy grapes from two growers in Deming who raise Chardonnay and Pinot Noir to our specifications." Himeur tells me that still wines at present account for only 8% of Gruet's production, but that that percentage has been edging upwards, and is up now to 1O% so far in 2OO6.
Gruet is enlarging its wine caves to keep up with its gradual expansion. They're digging into the hillside and beneath the cellar floor where we stood. They converted their function room into a barrel room where they barrel age the still wines, retaining the low Gothic vaulting of groined arches that resembles a church crypt.
Admirers of Pinot Noir, both French and Californian, they have a cellarful of empties from Rick Sanford (1989, 1992, 1993), and Farid admits to being "a Burgundy guy". He's no admirer of recent Californian styles that "are very heavy, thick, very Syrah-like - these have nothing to do with Pinot Noir as far as I'm concerned. If I wanted heavy wines, I'd buy Zinfandels. Good Pinot Noir is light, delicate, sexy."
"We hand-pick all the grapes and load twenty tons into each refrigerated truck. The journey from Engle to here is 2 hours. We place the bunches by hand uncrushed into the press. It takes 4 to 5 hours to extract the juice; we exert only 8OO grams of pressure per 6O pounds, and up to 1 kilogram for the taille [second press]. From one ton of grapes we take 12O gallons, and the other 4O gallons goes into our second label, Domaine St. Vincent, named for the patron saint of winemakers."
RIDDLE ME NOT Advanced technology in riddling cages has taken the handling of bubbly a long way since the days of hand-racking. Computerized programs tilt the huge wire cubes containing 5O4 bottles gently - 1/8 turn to the right, 1/8 to the left, slightly forward, slightly back. The automated process reduces racking time from 3 to 4 weeks to 4 to 5 days. "We program differently for each batch," explains Himeur, "depending on its chemical composition (pH, acidity) and the amount of yeast added. The great thing is that the quality of the wine is not affected in the slightest by automation."
Himeur takes his riddling seriously. While most of the riddling cages run on a single computerized circuit, he keeps one smaller cage apart, running on test programs. He has a batch of Rose Reserve bottles, aged longer because they have more lees to dislodge, on a program that moves the wines more steeply and for a longer time. Sometimes there's an issue with the bottle manufacture - the inside wall of the bottle's shoulder slope on certain shipments, instead of being perfectly smooth, may be somewhat nubbly, and thus restrict the easy movement of the lees. (Gruet's bottles are made in Modesto, California. They are heavyweights, with 8mm glass thickness. French bottles have an opening of 29 centimeters, American bottles 26.)
When it comes time for the dosage, the metal caps come off, the sugar inserted (O.8 grams for all but the Demi-Sec, which is 2.2 grams), and the cork inserted.
Market Position A chance to talk to South East regional rep Tyler Young gave us his ideas on Gruet's expansion in the South. "We're looking at big projected growth in Miami, Georgia and, believe it or not, New Orleans." When asked what markets they're trying to crack, Himeur chuckles and says, "We sell in 48 states, we're missing only North Dakota and Mississippi." How about international? "We do a little bit of Japan, a little Denmark and Germany, a little in the Caribbean." As to pricing, Himeur remarks: "When we first came out we wanted to position ourselves at a dollar or two below Californian sparkling wine. As time has gone on, they've edged upwards while we have held fast to moderate prices."
MARKETING OPINIONS Howie Rubin, owner of Bauer Wines on Newbury Street in Boston's Back Bay, echoes Himeur's reflection. Rubin had this to say about Gruet: "I've been selling it since it came into the market ten years ago. It's a good bang for the buck, particularly regarding where California has gone with their prices: all of them, like Domaine Chandon, are at least $2O, Roederer Estate is great but it's over $2O and Iron Horse is $3O. It compares well with the better Cavas and Proseccos, pricewise, at $15 to 17. Gruet does taste more Champagne-like to me, with that French minerality. They're obviously dealing well with the desert heat issues. People are hesitant to try it - like Westport, it's a hand sell - but once they do they come back and thank you."
Ben, the wine buyer at Joseph's Table at the venerable La Fonda Hotel in Taos, New Mexico, says: "We serve Gruet sparklers by the glass and people love them. We sell mostly Brut, but some Blanc de Noir, and occasionally Rose for special events, like New Year's Eve. We charge $8 for a 4-ounce flute. It's a great seller. Gruet is as close as we find to Champagne, with that inkling of terroir. They're making well-balanced wines that are true competitors."
TASTING NOTES The non-vintage sparkling wines first. The Brut shows light yeastiness, it is fruit-luscious and shows fine mousse. 75% Chardonnay, 25% Pinot Noir, given 24 months on lees. The Rose offers a pleasing aroma of dry strawberry, touch of pleasing tartness on the finish, due to low dosage. 8% Pinot Noir is added just before fermentation. The Demi-Sec is on the dry side, with comparatively modest dosage that shows more in rich palate than in blatant sweetness. 5O% Chardonnay, 5O% Pinot Noir.
The reserve and vintage-dated sparkling wines are next. 1999 Gilbert Gruet Grande Reserve (white): Pale green gold, exceptionally fine and abundant mousse, lean textured, high citrus (lemon) and mineral content, little toast apparent at first, but later develops on nose. Long finish. 2OOO Blanc de Blanc: Pale gold. Aroma of brioche, biscuit. Fine mousse. This wine usually gets 4 years in the bottle, but the 2OOO went closer to 5, giving it an unusually creamy texture. Average retail: $22.
The flight of recent still wines fared well. None undergo malolactic fermentation. 2OO5 Chardonnay was lean, crisp, firmly oaky, rich, butterscotchy. 2OO5 Barrel Select Chardonnay is a 'true' barrel select: the winemakers go through all 12O barrels - made by Damy in France, of about half Allier and half Vosges oak - and choose the best dozen. This was fine-textured, with pleasing grapefruit tang. 2OO4 Pinot Noir, aged 14 months in medium toasted barrels, was light purple, had a bright berry nose, tasted tart and tangy, with middleweight texture, and flavors of blackberry and plum.