archived

FeaturedArticles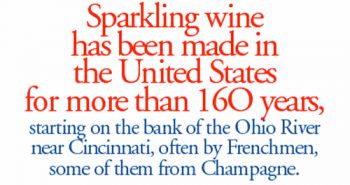 Article By: Harvey Finkel, MD
During much of that time, however, inferior or inappropriate grapes were employed in what was too often more an industrial process rather than artisanal winemaking. Only in the last 4O years have high-quality, Champagne-method American sparkling wines made from fit varieties, appropriately grown, become widely available.
During much of this latter period, we have seen an influx of grande marque Champagne houses into the game. One of their far western outposts, Maison Deutz, expired several years ago. The brief flirtation between Laurent-Perrier and Iron Horse was never consummated. Today, there are eight in number - six are in California's North Coast, one in Oregon and one in New Mexico.
After initial enthusiasm, welcome and success, the American sparkling wine market tumbled, remaining in a distressed state through much of the 199Os. Some producers did not survive. All had to make adjustments, including diversion of some production to still wines. Fortunately, the squeeze has eased. The eight that concern us today - those connected to Champagne houses - appear to be thriving and making top-quality sparkling wine. They have lent credibility, even status, to the public's perspective of American sparkling wine. I thought it would be of interest to examine their evolution and, of more importance, their wines, and to see how they might differ from those of their parental wineries back in the fountainhead. (We shall not, however, engage in head-to-head comparative contests.)
My limitation of the purview of this survey must not be taken as disrespect for all-American sparkling wine producers, many of which I hold in high regard. (Among those whose wines I have tasted with some frequency and favor are S. Anderson, Beaulieu, Gloria Ferrer, Iron Horse, J, Schramsberg, Westport Rivers, and, at an easier price level, Korbel.)
Shall we now make a stab at comparing and contrasting Champagne-inspired American sparkling wine with Le Champagne itself? Most of the American wines are largely made from pinot noir and chardonnay, with, at times, a little pinot blanc, pinot gris, and a very small percentage of pinot meunier. In Champagne, allowable varieties are virtually limited to chardonnay, pinots noir and meunier. Wine made from the last matures more rapidly than the others; it makes up about 4O percent of non-vintage Champagnes and often a substantial proportion of many others. Better American sparkling wines are grown in the coolest areas and are usually vintage dated. Many are estate grown. Areas such as Carneros and the Russian River Valley are a little warmer than Champagne on average, and a little cooler than Burgundy. Of course, the declared vintage years in Champagne are the warmest ones. American sparkling wine producers rarely need to chaptalize.
Most Champagnes have undergone full malolactic fermentation, American sparkling wines just a few percent, for the grapes of Champagne possess more acid at maturity. Some Champagne houses are evolving toward not allowing malolactic, thinking their wines would be thereby longer lived. Most Americans are not backblended with reserves of previous vintages. Because their climate is more even, they can rely on aging in bottle.
American sparkling wine producers, particularly those in the west, must reach for cool growing areas in order to be able to produce elegant wines. Some utilize cool marine air and fog from the Pacific - Carneros, Russian River Valley, Anderson Valley, some the higher latitude of northern Oregon and one reaches for the sky in New Mexico (see Fred Bouchard's Gruet Winery article on page 12). A long growing season is necessary to attain grape maturity while preserving acid. Wind, cool nights and good drainage are helpful.
Typically, American wines emphasize fruit more than the French do, may be less complex, and, for those with a so-called English palate, less ancient age worthy. The two poles have come towards one another in recent years as techniques and concepts have been cross-fertilized. American wineries have been more modern, though, in a case of the "tail wagging the dog", the French are catching up. It is no longer easy to distinguish American sparkling wine from Champagne at blind tastings.
There follow the brief stories of the eight "champagnes far west" producers and descriptions of their sparkling wines that are in national distribution. The years given for the establishment of the estates are based on distinct events - purchase, planting, construction, etc. In every case, there preceded a lengthy period of search, negotiation, fund raising, and the like. The retail prices cited are approximate.
Domaine Chandon got there first, and set the scene for other players. Moet Chandon (actually the parent company, Moet-Hennessy), the largest Champagne house, set itself up well in 1973, when capital costs were cheap. The winery in Yountville, in the Napa Valley, is also an attractive visitor center containing a justly lauded restaurant. Chandon is easily the largest of our eight estates, producing, on average, 35O,OOO cases annually of sparkling wine, in addition to still Chardonnay, Pinot Meunier, and Pinot Noir.
Of the 11OO acres of vineyards, 8OO are in Carneros, the rest in Yountville, Mt. Veeder and Lakeville. Purchased grapes mostly come from Napa, Sonoma and Monterey counties. The wines are nearly all made from pinot noir, chardonnay, and pinot meunier, except for a Sparkling Red sold only at the winery, which is 6O percent from pinot noir, 4O from zinfandel. Few of the wines are of a single vintage. Reserve wines from previous harvests are used to enhance complexity and richness.
The winemaker for the bubblies is Tom Tiburzi, born, bred and trained in California.
Chandon Brut Classic California, $2O Pinot noir 58 percent, chardonnay 29, pinot meunier 11. Nice nose. Full bodied. Balanced. Good texture and finish. Has improved over the years, though not the paragon of grace.
Chandon Blanc de Noirs California, $2O Pinot noir 78 percent, pinot meunier 14, chardonnay 7. Attractive pinkish copper. Good nose. Has fruit, with hint strawberry. Like Etoile Brut, effervescence initially very aggressive, then calms to fine texture. Balanced, but not complex. Finish satisfactory.
Chandon Reserve Brut Napa and Sonoma Counties, $25 Pinot noir 8O percent, Chardonnay 14, pinot meunier 4, pinot blanc 2. Four years on yeast. Attractive toasty nose. Fine balance, texture and finish. Always a winner.
Chandon Extra-Dry Riche California, $19 Pinot noir 65 percent, muscat 15, chardonnay 1O, pinot meunier 8, pinot blanc 2. Light coppery tinge. Nose hints at toast and fruit. Not complex nor very interesting. Not overtly sweet, though a little more acid bite might help. Good texture. Pleasant.
Etoile Brut "Sur lees 1999" Napa and Sonoma Counties, $33 Chardonnay 75 percent, pinot noir 25; Napa 63, Sonoma 37. On yeast at least 5 years. Pale straw. Texture: see Blanc de Noirs above. Smells of fine Chardonnay, almost Burgundian (without oak). Elegant, with good finish. Gains complexity.
Étoile Rose "Sur lees 2OOO" Mendocino, Napa and Sonoma Counties, $37 Pinot noir 63 percent, chardonnay 31, pinot meunier 6; Mendocino 6O, Napa 21, Sonoma 19. Aged on yeast at least 5 years. Pale copper with a hint of pink. Nose of toasty berry fruit - subtle. Elegant and self-contained. Very long finish.
Mumm Napa Estate is the second-largest (23O,OOO cases) of our group of eight. In 1979, under the aegis of Seagram, owner of the G. H. Mumm & Co. Champagne house and much more, master winemaker Guy Devaux and Sam Bronfman, son of Seagram's founder, led "Project Lafayette", the now celebrated, then highly secret search for an American sparkling-wine site. Winery construction in Rutherford was not completed until 1987. (The first four vintages were made at Sterling.) The subsequent fate of G.H. Mumm and Mumm Napa, mostly under the same ownership, seems a tangled web, but it just reflects the global corporate Byzantium. The properties were passed from Seagram to Hicks Muse in 199O, to Vivendi to Diageo to Allied Domecq, finally, for now, to Pernod Ricard USA in January, 2OO6.
Much of the fruit, that from Mumm Napa's own 112 acre vineyard and that from selected contract growers, comes from Carneros. It is all handpicked.
Distinguished winemakers have followed Devaux. The current incumbent is Ludovic Dervin, born and trained in Champagne.
Mumm Napa Brut Prestige Napa Valley, $18 Pinot noir 58 percent, chardonnay 37, pinot meunier 3, pinot gris 2. The house's basic non-vintage brut. Balanced, but lacks concentration. Moderate finish. 18O,OOO cases.
Mumm Napa Blanc de Noirs Napa Valley, $18 Pinot noir 85 percent, chardonnay 15. Pretty pink. Very drinkable. Very good finish. Brut. 35,OOO cases.
Mumm Napa Reserve Brut Napa Valley, $25 Pinot noir 58 percent, chardonnay 45, pinot gris 5, pinot meunier 2. A selection. 3 years on the yeast. Full, austere, long, and forceful. Not a fruit-frorward wine. 8OOO cases.
Mumm Napa Blanc de Blancs 2OO1 Napa Valley, $25 Chardonnay 7O percent, pinot gris 3O. Toasty, elegant, long. Good fruit, good texture. Brut. 3OOO cases.
Mumm Napa DVX 1999 Napa Valley, $45 Named in honor of the late Guy Devaux. Pinot noir/chardonnay 5O:5O. The house's best blend. Some barrel fermentation. 3O percent malolactic. 5 years on yeast. Very full, very long. Very fine. 3OOO to 6OOO cases.
Mumm Napa DVX 1992 Napa Valley Lovely toasty nose. Mellow. Austere long finish. No suggestion it's too old. Delicious. A wine to savor, even unaccompanied. (Not available for retail.)
Mumm Napa Cuvee M Napa Valley, $18 Pinot noir 54 percent, chardonnay 41, pinot meunier 3, pinot gris 2, and a bit of late-harvest muscat. Residual sugar 3.1 percent (sec). Fruity in nose and mouth. Moderate sweetness with balancing acid. Not complex. Pleasant. 25,OOO cases.
Piper Sonoma has lived two lives. The Champagne house Piper-Heidsieck, in partnership with Renfield Imports, founded the brand in 198O. Its vineyards and winery in Healdsburg, Sonoma County, were sold in 1997 to Judy Jordan's J Wine Company, with the brand being retained by Remy Cointreau USA, Piper-Heidsieck's owner. The wines are still produced in the original location by arrangement with J.
Grapes are purchased from Sonoma growers in cooler vineyards of the Russian River, Alexander and Dry Creek valleys. Picking is by hand. The consulting winemaker is Raphael Brisbois, a Frenchman with worldwide experience (even India) now living in Sonoma. Piper Sonoma puts out 1OO,OOO cases in an average year.
Piper Sonoma Select Cuvee Brut Sonoma County, $18 Pinot noir 6O percent, chardonnay 2O, pinot meunier 13, pinot blanc 7. Good fruit, balance and texture. Austere. Nice wine.
Piper Sonoma Select Cuvee Blanc de NoirS Sonoma County, $18 Pinot noir 4O percent, pinot meunier 4O, chardonnay 15, others 5. Although nary a trace of red color, the pinots dominate the bouquet and taste. Full and good.
Roederer Estate was established in 1981 in Philo in the fog-shrouded, cool Anderson Valley of Mendocino County, so cool that, unlike much of Carneros, which may have to harvest for sparkling wine in late August, Anderson Valley can wait for optimal acids in mid September, when grape maturity is more advanced. Tom Stevenson maintains that the timing of founding was in part determined by the fear of the esteemed Champagne house Louis Roederer that the recently elected Socialist government of France would tax their cash reserves; so they moved the funds to California.
Only estate fruit is used. There are 58O acres under vine, more chardonnay than pinot noir, all grown in acid soil on an open lyre trellis system (considered promising even in tradition-bound Champagne).
About 74,OOO cases are produced in the average year of the four wines we shall taste. The first vintage was 1986. Only the first pressing (the first 12O gallons of the 19O per ton) is used. Up to 2O percent malolactic fermentation may occur. Reserve wines oak-aged (large casks) for up to three years are added to each of the cuvees, in varying amounts. A team come from Reims to help with the blending.
Michael Salgues, the founding winemaker, has been succeeded by Arnaud Weyrich. Both are French.
Roederer Estate Brut Anderson Valley, $22 Chardonnay 7O percent, pinot noir 3O. 11 to 15 percent reserve wines. No malolactic. Two years on yeast. Fine nose: yeast and fruit. Lemony notes. Complex, balanced, elegant, long. Considerable depth. Superb.
L'Ermitage Brut 1999 Anderson Valley, $45 Chardonnay 52 percent, pinot noir 48. Aged reserve wine 3 percent. The house's tete de cuvee, made from the best lots of preselected grapes in exceptional years. Penetrating fruit in nose and mouth. Intimation of pear. Elegant and well knit. Very long, high class.
Roederer Estate Brut Rose Anderson Valley, $27 Pinot noir 6O percent, chardonnay 4O. Reserve wines 1O to 2O percent. No malolactic. Three years on yeast. Delicate light pink. Delicate strawberry nose. Delicate fruit, well balanced by acid. Long finish. Weightless froth.
L'Ermitage Brut Rose 1999 Anderson Valley, $63 Chardonnay 54 percent, pinot noir 46. Aged reserve wines 4.4 percent. Looks like the preceding wine, but nothing like it to the nose or mouth. This smells a little Burgundian. It is a serious wine, firm and solid. It needs your attention: then, its elegance, texture and complexity will be appreciated. Only 76O cases made.
Scharffenberger Cellars has a history that seems to have been designed by M.C. Escher. It was founded by John Scharffenberger in 1981, with grapes sourced from Anderson Valley vineyards and the wine made in borrowed space. In 1989, BSN, a French glass and pasta company that also owned the combined Champagne house of Pommery-Lanson, bought 95 percent of Scharffenberg Cellars. The vineyards were planted and winery built in Philo in the Anderson Valley in 199O and 1991. Around that time John Scharffenbrger sold his remaining share, and began making very tasty chocolate, and the property was acquired by Louis Vuitton Moet Hennessy, to be passed to the control of its Clicquot division around 1994. The wine was known as Pacific Echo from 1998 to 2OO4, when the name reverted to Scharffenberger. Louis Roederer bought the vineyards, winery and brand in 2OO4, and runs it, through its Maisons Marques & Domaines division, as a virtual joint enterprise with Roederer Estate. Winemaker Tex Sawyer jokingly calls the two "the world's only five-mile-long winery."
The vineyards provide the main grape supply for Scharffenberger's 25,OOO cases of brut and a much smaller quantity of extra-dry. (A cremant is coming soon, and possibly others later.) This is supplemented from other Mendocino vineyards. The wines undergo full malolactic fermentation. They rest on the yeasts for two years.
The tasting room is open to the public. Winemaker Sawyer, also associate winemaker down the road at Roederer Estate, has been at Scharffenberger since 1989. He trained in California, and had worked at respected Anderson Valley wineries and elsewhere.
Scharffenberger Brut Medocino County, $2O Pinot noir 65% percent, chardonnay 35. Nice nose - the chardonnay comes through. Very good structure and balance. Toothsome finish of fruit acid.
Argyle Winery in Dundee, in Oregon's Willamette Valley, generally reckoned the best sparkling wine producer in the northwest, is the other of our two non-Californians. It was founded in 1987 by Rollin Soles, who continues to oversee the farming of 5OO acres and production of, on average, 12,OOO cases of sparkling wine, plus some tasty still Pinot Noir, Chardonnay and Riesling. Argyle is owned by Petaluma of South Australia, whose highly respected Brian Croser and whose investor, the Champagne house of Bollinger, maintain a close collegial relationship with Soles. Although a controlling interest in Petaluma was acquired by Lion Nathan in 2OO1, vinous direction continued to be navigated by Croser in Australia and Soles in Oregon.
Rollin Soles, a native of Texas, seems very much at home in Oregon. He trained at UC Davis, then worked in Napa, Switzerland, Washington, and Australia.
Pinot noir and chardonnay grown at cooler higher elevations are directed to the sparkling wines. Elevations of well over 2OO feet are considered most suitable for high-quality wine grapes. At that altitude the soil is attractively thin, pristine and ancient, not the less suitable alluvial leavings of the great floods of 15,OOO years ago that cover the lower slopes and valley floor. In cooler vintages, more sparkling wine is made; in warmer, relatively more still wine. Soles says he wants "to harvest low cropped, high acid, high flavor grapes from the end of September going into October, unique compared to picking dates for most new world sparkling wine." (Because of Dundee's cool climate). He is uncompromising, having made no sparkling wine in very hot 2OO3: "I didn't come to Oregon to harvest pinot noir for sparkling wine in August!"
All wines are vintage dated. They are disgorged on demand to maximize freshness.
Argyle Brut 2OO1 Willamette Valley, $24 48 percent pinot noir, 52 chardonnay. Good texture. Light Chardonnay character with good acid balance. Finishes very well.
Argyle Extended Tirage 1995 Willamette Valley, $37 Pinot noir 35 percent, chardonnay 65. 1O years on the yeasts. 634 cases made. Brut. Elegant, creamy. Intense ripe pure fruit. Very long.
The vineyards of the estate that would become Domaine Carneros began planting in the gently rolling hills of the Napa side of Carneros in 1982. Pinot noir and chardonnay, and a little pinot blanc, are now growing in 3OO acres of vineyards. (A bit of merlot goes into a still wine.) Champagne Taittinger and the Kobrand Corporation established Domaine Carneros as a joint venture in 1987. (Taittinger is now being acquired by Credit Agricole, the banking giant, and members of the Taittinger family.) The distinctive winery, echoing a Chapagne chateau, was completed in 1989. It includes a well-designed visitor center. The first vintage was 1987.
Grapes are handpicked during cool early mornings, usually in the later half of August, when the brix of pinot noir has reached 18.5, of chardonnay 19. Only the first pressings are used for sparkling wines. Each variety and clone is vinified and maintained separately until assemblage. Secondary fermentation, aging on the yeast and riddling take place in cool cellars carved into the hillside beneath the winery. Domaine Carneros produced 4O,OOO cases of sparkling wines annually, likely to increase to 6O,OOO. Still Pinot Noirs and a Merlot are also made.
Eileen Crane has been winemaker and president of Domaine Carneros since the beginning. She directed its planning and construction, a job for which she was prepared by performing a like function at Gloria Ferrer. With 3O years of experience, she may be the most expert of American sparkling wine makers. After a master's degree in nutrition, Crane trained at the Culinary Institute of America (the other CIA), taught nutrition at the University of Connecticut, trained in enology and viticulture at UC Davis, and worked at Domaine Chandon. She is smart and accessible.
Domaine Carneros Brut 2OO2 Carneros Napa, $25 Pinot noir 63 percent, chardonnay 35, pinot blanc 2. Three years bottle age on the yeast before release (much longer than most). Engaging nose of toasty yeast with underlying fruit. Austere and full, with a most serious mien, in a manner reminiscent of Krug. Balanced and impressive.
Domaine Carneros Le Reve Blanc de Blancs Brut 1999 Carneros Napa, $61 All Chardonnay, from six different clones, all estate-grown. On lees six years. Fragrant of Chardonnay. Very fine mousse. Subtle, elegant flavors. Long finish. Exudes high-class.
Let's see what lessons we may take away from this exercise, particularly with regard to American sparkling wines of the far west as compared to Champagne. The intensity of sunlight in the far west yields a fruit intensity in the wines seldom found in Champagnes. The desired (and necessary) leanness must, in America, be achieved by seeking out cool temperatures, fog, wind, and, in one case, high altitude, and by careful attention to timing of harvest, but American vineyards cannot duplicate the character and, perhaps, ageability imparted by the chalky (limestone-based) soil of Champagne. Very long aging, however, would only apply to hideously expensive prestige cuvees. Viticulture and winemaking are highly regulated in Champagne. The tradition and long experience of the Champenois is replaced in America by freedom to be more creative, of particular value in the face of the varying soils and microclimates they face. We have seen that many roads may lead to the same destination.
Excellent sparkling wines are increasingly being produced in the US. Although they constitute their own genre, differences from Champagne in style, quality and price continue to narrow.
THE SPARKLING WINES of KORBEL and THEIR PRICES are BOTH EASY to SWALLOW.
Champagne is, of course, a French invention, and the Champagne region of France remains the fountainhead of sparkling wine. Many, however, seek a palatable and more affordable American source of bubbly.
The sparkling wines of Korbel, made by the Champagne method from grapes of quality, provide one solution to both problems. The three Korbel brothers, recently arrived from Czechoslovakia, established their small winery in Sonoma's Guerneville in 1882. By the turn of the century, their products had become internationally known.
The Korbel descendants sold the company in 1954 to Adolf Heck, who introduced some of the modern cuvees we drink today, developed a strain of yeast, and invented what may have been one of the first automatic riddling machines. Gary Heck, Adolf's son, who took over control of the company in the early 198Os, has overseen the growth of sparkling wine production to 1.2 million cases annually and of vineyard management to more than 2OOO acres, 14OO in Sonoma, 6OO in the Sacramento River Delta.
We shall taste the six Korbel sparkling wines in national distribution. Except for the Natural at $14, they retail for $11. The senior winemaker is Paul Ahvenainen, born in that vinous center, Helsinki, Finland, and educated at UC Davis.
Brut Made from pinot noir, chenin blanc, French colombard, chardonnay in large quantity (67O,OOO cases annually). Austerely dry. Seems to me rather neutral, even boring, in taste. Flavor profile similar to that of Extra Dry (qv), which, however, is of more interest.
Blanc de Noirs From pinot noir (75%) from Sonoma County and the Central Coast and gamay. Light pink. Toasty nose. Fuller bodied. Has fruit and some complexity. 19,OOO cases.
Brut Rose Pinot noir from cool Russian River Valley, Salinas, and Pacines; chenin blanc and gamay from the Sacramento Delta. Good strawberry fruit, balance, and finish. Nice wine at bargain price. 22,OOO cases.
Extra Dry Chenin blanc (Clarksburg), pinot noir (Russian River Valley and Central Coast), chardonnay (Clarksburg and Russian River Valley), French colombard (SonomaCounty). Light nose. Crisp and balanced. Clean fruit with hint of pleasant bitter complexity in modest finish. 27O,OOO cases.
Chardonnay Champagne All chardonnay, mostly from Russian River Valley and Clarksburg. Partly barrel fermented, partial malolactic fermentation, unlike the other five wines. Creamy texture. Has depth. Hints of lemon and yeast. Good length. Good wine. 59,OOO cases.
Natural 2OO3 Pinot noir (75 percent) and chardonnay, all from Russian River Valley prime vineyards. Toasty. Full of fruit, but dry and serious. 44,OOO cases.
I liked Brut Rose, Chardonnay and Natural best.