archived

FeaturedArticles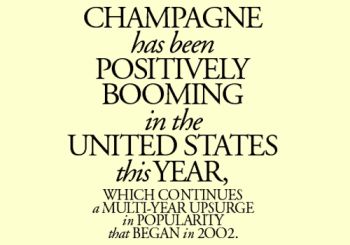 Article By: Sandy Block, MW
Judging by aggregate sales figures for the first 7 months of 2OO6, Americans are doing a lot of celebrating. Whereas imported wines in general keep creeping higher as a percentage of the overall US wine market, Champagne has always constituted a category unto itself. Sales trends in this unique segment tend more to reflect optimism versus pessimism about the future, and they have tracked fairly consistently with purchases of other luxury goods, such as gold jewelry, designer clothing and sports cars. For instance, strength in the stock market, as well as real estate and other hard assets, coupled with favorable employment and income prospects among the most affluent demographic of the population generally correlates closely with increased Champagne-buying. This is one of the reasons why the category has shown strength despite stagnation the last few years in overall French wine imports to the US.
The Champagne industry has over the years done a fabulous job of differentiating their products in the minds of consumers worldwide. For a long time Champagne itself has constituted a strong "brand" within which there are many powerful internationally marketed "sub-brands" that have been instrumental in driving sales growth. Collectively the category has shown incredible pricing power, largely because its image, and the mystique surrounding it, remains unique. Few industries can boost sustained double-digit growth over the most recent multi-year period despite real price increases that have raised by about 33% the cost of their products - yet today a Brut Non Vintage from one of the prestige houses costs closer to $4O than the $3O average retail price of 4 years ago. There has also been virtually no aggressive discounting of the well-known brands during the last few years. And the cheaper "buyer's own brand" Champagnes - so significant on the British retail market - still remain invisible in the US. Together this all represents true brand appeal, which is even more impressive considering the dramatic fall of the dollar's value in comparison to the Euro since 2OO1. So whereas many wine lovers have little difficulty substituting Pinot Noir from California or Oregon for wines from the Cote d'Or, or Australian or Californian Cabernet Sauvignon for red Bordeaux, and are not troubled in the least abandoning Sancerre for lesser-priced Sauvignon Blanc from Marlborough, it's a completely different matter when it comes to Champagne alternatives. Buying anything else with bubbles, even a fine traditional method sparkler produced by a respected Champagne company in another part of the world, often seems to constitute a step down, a concession to economic reality at a time that should be devoted to celebration. This continues to be the case despite substantial price advantages in favor of the wines from everywhere else that, incidentally, have not been successful growing sales while increasing costs to the consumer. "Real Champagne", as it is sometimes rather redundantly called, has been an exception to the overall rule of consumer versatility because of its perceived uniqueness. Somehow, by osmosis perhaps, consumers have absorbed the "Champagne story". For example, many restaurants that serve only American wine as a matter of policy make an exception in stocking several Champagnes. Retailers who accord minimal shelf space to France because, they report, demand has dwindled still experience strong Champagne sales during the all important holiday season. The justification in both cases: many consumers show unshakable allegiance to Veuve Clicquot or Moet or Taittinger or Perrier Jouet or one of the other global brands and they will either express disappointment or go elsewhere if the bottle they want is not available for purchase.
This year, interestingly enough, Champagne's impressive record is not bucking yet another year of lackluster interest in French wine overall, but is actually right in line with the resurgence of many of the other most significant AOC regions. For example, in 2OO6 the volume of Champagne sold in the US has increased a chart-busting 2O.23% versus 2OO5 (which was actually a year of flat sales after outstanding growth in 2OO3 and 2OO4), but this impressive performance lags behind even more substantial increases for wines from Bordeaux (+33.98%), Burgundy (24.85, not including Beaujolais) and the Rhone Valley (+3O.3O%), all of which, not surprisingly, are primarily red wine regions. (The picture has been less rosy in classic districts focusing on white wine, such as the Loire, which is -1.42% and Alsace, -2.83%, and it is even worse for the lower status wines of the Midi, -6.2%, or for basic undifferentiated table wine, -22.65%) The composite total of French non-sparkling wines have been increasing in the US at a rate of 16.46% in 2OO6, which is within hailing distance of Champagne's sales. Interestingly, it also comes at a time when Australian wine imports (which surged past France a few years ago and up until this year had been growing for several years running at a compound rate of close to 3O%) are essentially flat. Why the seemingly newfound interest in French wines among American consumers? Some of this reversal undoubtedly has to do with cyclical factors such as the availability of highly regarded and well-promoted vintages (never the case in the Champagne story, as the vast majority of sales are in the Non Vintage category) in 2OO6, and some of it may be attributable to increased marketing expenditures which are better targeted to consumers and the trade than they have been in the past. But there is another factor in the Champagne equation which effects the rising fortunes of other French fine wine regions as well: supply. As with the Champagne region as a whole, which cannot produce significantly more wine than it currently does because its delimited acreage is entirely planted to vineyards and yields are controlled by law (although AOC authorities are considering serious proposals to increase maximum yields by 1O% and to include 25OO acres that were historically considered outside the zone), the other classic districts each contain specific properties or brands that are image and sales leaders but also severely limited in availability. These wines are known and considered desirable among luxury consumers on every continent and in virtually every country that imports. Americans, in other words, are not buying generic Bordeaux, they are buying their favorite Chateaux and they are competing with customers worldwide. The health of French wine exports to the US in general therefore reflects the degree to which individual producers, or entire regions such as Champagne, have successfully stimulated demand through brand differentiation of what is essentially an agricultural product of relatively limited supply.
Worldwide the Champagne market is estimated at $17 billion annually and if the proposed expansion of production takes place alongside projected price increases this total could grow by 25% in the next 5 years. The US market (second in volume behind the UK) and Asia are expected to contribute the highest increases. These projections may reflect undue optimism but given the price elasticity that Champagne has shown in the recent past, they are probably realistic. It seems unlikely that Champagne will relinquish its marketing advantage short of an overall economic catastrophe as quality is impeccable across the board now and promotional budgets designed to keep the product foremost in the minds of consumers remain lavish. In terms of overall average pricing per bottle Champagne is far and away the leader among any regional wine segment in the world. But as the fashionability of the category expands and Champagne continues to be consumed as a cocktail at ultra-trendy bars from Hong Kong and Tokyo to London to cities throughout the US, there is little likelihood of prices moderating.
What are the other trends going forward beyond firm pricing? Expansion of the market beyond the dominance of the traditional Brut NV category; increased use of Champagne as a lifestyle statement; including meal accompaniment, rather than simply as a celebration beverage; increased consolidation of production and marketing in the hands of fewer international drinks business giants; and continued dominance of the market by the strongest positioned quality brands. Rose, Vintage dated and Prestige Cuvee Champagnes are each poised for growth as the category itself expands. Rose represents only a fraction of the overall Champagne market and while it may be the most cutting edge of the region's sub-categories it is also the least likely to grow in dramatic fashion because of the negative association too many Americans have with any pink colored wine. Prestige Cuvee Champagne, such as Dom Perignon, Roederer Cristal or Veuve Clicquot La Grande Dame represents a bit under 5% of overall sales volume but constitutes between 9 and 12% of the total sold annually in the US, which is by far the largest market for this category. Despite accounting for less than 1O% of the Champagne region's exports, the US buys between 25 and 3O% of all exported Prestige Cuvee Champagne each year, so it seems unlikely that this category has room to grow. The regular vintage Champagne category, on the other hand, is the one that the US market seems to almost completely ignore and it would seem to represent the greatest opportunity. Where it might be a real stretch for a $4O a bottle Brut NV buyer to trade up to their favorite producer's Prestige Cuvee for well over $1OO, a Vintage-dated Champagne is generally not higher than 1/3 more expensive than the NV. Aged substantially longer on average and reflecting the unblended product of a single high quality harvest, vintage dated Champagne is often a bargain, with higher quality, riper, more flavorful grapes going into the mix although it is not marketed particularly well so relatively few consumers are aware of it. Vintage Champagne generally constitutes only about 3 to 4% of the US market and is often completely invisible even in restaurants and stores that specialize in Champagne. Wherein lies an opportunity: If Americans are to view Champagne as a very special wine with unique flavor and aroma attributes, rather than simply as a branded product, demand for vintage Champagne should grow. One of the best venues for this experimentation and learning is in the restaurant sector. The opportunity to market glasses, or even comparative flights, of Champagne, so that a consumer can contrast different brands or different wines within a brand range, would provide a wonderful way of raising awareness. Aggressive glass or flight programs are gradually making their way into the restaurant scene, but this is still a sector where Champagne sales lag. Pricing is one of the issues; consumers often complain that they don't order Champagne in restaurants because of the hefty mark ups - preferring instead to drink it at home. On the other hand there are chic and trendy bars and night clubs in every major American city that sell disproportionate amounts of Champagne as they cater to a clientele for whom price is apparently not a deterrent. This latter group is particularly brand-oriented. The multi-year trend of increasing consolidation and sales being concentrated in the hands of fewer players appears to be inexorable. While "grower's Champagnes" seemed to be making slight inroads in the US a decade ago, the growth today is all in the big, well-financed brands with strong media exposure, virtually all of which are now owned by global companies. Marketing and image, more so than other attributes, seem to influence the sales of these brands in a manner closer to the way spirits and beer are sold rather than most other wines. Regardless of critical acclaim for more obscure Champagnes, or even for those which are well known and firmly established in France but historically less visible in the US, the same brands dominate sales every year.
Two recent tastings of Champagne confirmed a number of things to me: the great prestige cuvee Champagnes are magnificent wines without peer in the world, at least in terms of individuality and style, and while there are differences among houses in emphasis and structure, the general level of Brut NV Champagne is very high at the current time. The first tasting was held in California on June 28, 2OO6 in the Napa cellar of the renowned sparkling wine producer Schramsberg and was a blind tasting for Masters of Wine and MW candidates during a recent Educational Seminar. Five recent release prestige cuvee Champagnes were pitted against top of the line counterparts from California produced in the same vintages. The following are my tasting notes of the ten wines, in descending order of preference. I have noted the choice of the overall group after my own tasting notes. While my favorite three wines were all Champagnes, this did not reflect the overall group preference, so maybe the differences were more a matter of style than quality.
DOM PERIGNON, 1998 Light pale straw colored with a delicate perl, this wine's aroma was a bit reticent at first. Eventually floral essences, lemon peel, understated bread dough scents, fragrant herbs and oils each wafted from the glass in succession. The real excitement was on the palate. Creamy, bone dry, toasty and lingering, with pure acidity and evocative fruit which kept echoing, this 5O/5O Chardonnay Pinot Noir blend struck me as a very great Champagne at the beginning of a long cycle of development. $135 retail.
The panel ranked it 8th, with mine the only first place vote.
LOUIS ROEDERER "CRISTAL", 1999 Second only by the merest of whispers, with an aroma that seemed a touch less distinguished perhaps than the DP at this stage, the unmistakable class of this wine shone through from the first sight of its pale and steely pinpoint mousse. Biscuit-like and chalky, with a slight green apple character and subtle, layered citrus notes, this wine was ethereal on the palate, all about finesse rather than power. The dosage tasted extremely low and while the flavors were still a bit closed the fine soft bubble structure and pure acids were in absolute harmony. $24O retail.
The panel ranked it tied for 6th and there were 3 first place votes.
PERRIER-JOUET "FLEUR de CHAMPAGNE", 1998 I had this wine scored very close to the other two Champagnes. It showed the same light pale color and delicate bubble structure, but was a touch fruitier in aroma with delicate spring apple and lemon zest scents contributing to the perfume as much as the autolytic yeast accents. The finely delineated aromas were matched on the palate with beautifully integrated tart fruit flavors that showed a touch of elevated acidity. This was more than balanced by the wine's soft texture. Stylistically it struck me as a Blanc de Blanc, although the cuvee is actually only half Chardonnay with the rest half Pinot Noir. $125 retail.
The panel ranked it 2nd and there were 4 first place votes.
MUMM CUVEE NAPA "DVX", NAPA VALLEY, 1999 My favorite among the Californians, this wine showed a slightly deeper color than the 3 Champagnes and, while the bubbles were small, they were much foamier. Orange, butter, nutlike toast and delicate floral fragrances marked the very fine aromatics, while the texture was big, creamy and very satisfying. While delicious the flavors struck me as somewhat aggressively ripe and there was a jarring hint of phenolics. Overall, however, a very sensual, richly endowed wine that wore its ripeness and bold flavor profile well. $6O retail.
The panel ranked it 5th and there were 4 first place votes.
ROEDERER ESTATE "l'ERMITAGE", ANDERSON VALLEY, 1999 Pale with very fine bubbles, this finely perfumed, delicate wine showed the greatest disparity in the tasting to me between the nose, which was very fine, and the palate, which seemed a bit extreme and, at least at this stage, slightly out of balance. While the aromas hinted of toast, herbs and fruits that were so finely integrated (peach, red apple, tangerine) it was hard to distinguish them. The flavors were a bit anomalous: aggressive acidity that had a sour edge and a heavy, lingering impression of an unusually high dosage. Perhaps in the company of some of the Champagnes this wine stood out as too sharp and fruity to me to rank higher despite some of its obvious charms. $55 retail.
The panel ranked it tied for 6th with no first place votes.
BOLLINGER "GRANDE ANNEE", 1997 This was the oldest of the wines we tasted and it was still very fresh with a greenish tint and a tiny mousse. The aromas were intriguing: very earthy and redolent of forest scents (tree bark, mushrooms, underbrush) and green herbs, with ripe red fruit. The flavors struck me as bone dry, with earth and minerality, good richness but an overly aggressive phenolic character. A big wine that perhaps should be judged on its own rather than in the company of some of the other more subtle Champagnes, this was still very tasty but it seemed to have a roughness that kept me from ranking it higher. $14O retail.
The panel ranked it 4th with one first place vote.
SCHRAMSBERG "J SCHRAM", NAPA, 1999 Medium straw in color, very foamy, this wine struck me as somewhat unappealing on the nose: green olive, vegetal spice and baked bread. It did settle down and it was better on the palate although not quite my style: thick, buttery, with a lush texture and pleasant although slightly sweet ripe orange and cream-like flavors. High on sensuality, very direct and flavorful, it nonetheless seemed to lack complexity and while I thought it was a perfectly delicious drink it didn't strike me as in the same league as the above 6 wines. $9O retail.
The panel ranked it first, with 4 first place votes and, it should be noted, of the 21 members only one had it ranked lower than I did.
KRUG "GRAND CUVEE", NV Medium deep straw in color, this Champagne had an enveloping buttery, ripe, vanilla-like aroma, with honey, nuts, apple and sweet/spicy scents. Quite intriguing. It fell apart on the palate for me though. The flavors were very toasty, dry and quite angular. There was a woody feel to the texture as well that I felt detracted from the wine's overall balance. This was a surprise to me because I had always enjoyed Krug in the past. $15O.
The panel ranked it 9th, with one first place vote.
DOMAINE CARNEROS "LE REVE", CARNEROS, 1999 This pure Pinot Noir cuvee was quite pale in color. The aromas were dominated by lime, apple and other green fruits and herbs but there was little in the way of yeasty autolytic scents in evidence. It tasted disappointingly stripped of flavor, with a fruity personality and rather elevated dosage. Disappointingly one dimensional in character to my palate. $6O retail.
The panel ranked it last and there were no first place votes.
SCHRAMSBERG RESERVE, CALIFORNIA, 1999 This wine had a light gold color and was very foamy in the glass with a smoky, heavy, slight buttery and orange tropical fruit spice aroma which clearly marked it as Californian in this company. Product of a largely Pinot Noir cuvee, it had super-ripe flavors and a somewhat harsh coarse finish. Not my style. $8O retail.
The panel rated it 3rd, however with 3 first place votes.

---

The second tasting was also blind. It's one I conduct every year in the summer to analyze the current crop of Brut Non Vintage Champagnes. An impressive crop, to say the least. Again listed in descending order of preference. The top 5 were actually very close and it might be splitting hairs to distinguish among them.

LAURENT PERRIER Delicate in color and aroma, this boutique Champagne producer's current release shows an interesting bread dough aroma, with minerality, ginger and sweet herbs present. Beautifully structured, creamy and full with fine pure acidity, it has a refined round flavor, with red fruit edge and nicely balanced chalky mineral notes. This would be a great wine to accompany fleshy fish.

GOSSET "EXCELLENCE" Another small specialty house, Gosset makes a Brut that is cherry-like and earthy on the nose and big and rich on the palate, with intense beautifully structured red fruit flavors. Very satisfying, with a toasty richness on the palate, this is a Champagne I would not hesitate to serve with breast of duck. There were actually hints of game on the nose.

BOLLINGER "SPECIAL CUVEE" The aromas here are smoky, earthy and mushroom-like. Strong, bold, a touch aggressive on the palate but balanced off with ripe red spicy fruit and powerful extract, this is another Champagne that could easily complement flavorful meat dishes. It had a lavish, wine-like texture.

TAITTINGER "LA FRANCAISE" This wine was completely different in style from the above 3: lean, clean, with a predominant note of apple and lemon. It scores high on the elegance side of the Champagne equation, with purity, softness and finesse the operative descriptors. This is a Champagne to start the festivities at dinner, or to complement delicate poached shellfish.

POL ROGER Full of spicy ginger-like aromas with orange and lemon undertones, this is a bone dry Champagne which is medium in body but elegant and reserved. There is a mineral-like slightly lemony vanilla edge to the lovely soft fruit flavors. More in the Taittinger mode, but a touch firmer, this would be a great all-purpose Champagne for fish.