archived

FeaturedArticles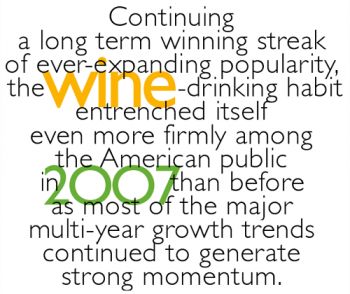 Article By: Sandy Block, MW
Americans not only consumed greater quantities of wine during the year (about 3 to 4% more, as has been the case for several years), they drank more red wine and on average they drank more expensive wine. Blush wine, primarily White Zinfandel, continued to decline as a percentage of the market. The only earth-shattering news is that, despite the eroding dollar and severe tremors in the credit and housing markets, imports continued their surge, expanding at a rate several times that of domestic wines (up approximately 12% compared to about 1 to 2% for American wines sold in the US). Each year, it seems, we are purchasing more wine from overseas sources regardless of the relative strength or weakness of our currency. As the percentage of domestic product in trade channels continues shrinking, the US now stands poised to surpass Germany as the single largest importer.
Despite this growth, however, there is less optimism in the trade than there has been in years, largely owing to expectations for an economic slowdown based on weaker growth, rising energy and transportation costs and less projected discretionary income. Although there is
still an over supply of some varietals based on faulty projections about what to plant, prices, by and large, have continued rising due to steeper production and distribution costs. There is a general sense of unease at year-end with too many undifferentiated products at the moderate priced end of the markets chasing the same consumers. Brand proliferation has increased; there were 21OO wineries in the United States in 2OOO, now there are 56OO, a growth rate of 166% in 7 years. The long term trend of American consumers switching from beer to wine has apparently stalled, with wine now accounting for approximately 9% of the total volume of alcohol beverages (about 685 million gallons, or 29O million 9-liter cases) sold in the country.
In the past six years wine consumption has grown 24.7% (the vast majority of this coming in 2OO2 through 2OO4), beer consumption 1.8% and spirit consumption 17.6, but economic pressures appear to have slowed this trend.
As has been the case for several years, the more distinctive artisan wines that are sold based on their uniqueness and their story are faring better than those that are marketed primarily by brand at the lower end. "Premiumization" or the desire for wines with special attributes priced at the upper tiers, particularly over $15 retail, seems to be where the market is headed, with sales in this category increasing over 2O% again. Over 7O% of the wines in this highest price tier are red (with Cabernet Sauvignon, Merlot and Pinot Noir accounting for all but 4% of this number). Interestingly, the vast majority of wines (over 8O%) sold in the $15+ price tier are domestic; on the other hand, imports represent an inordinate share of the value price segments.
On the domestic front there have been some interesting developments in the varietal mix. Chardonnay, Cabernet Sauvignon, Pinot Grigio, Shiraz, Sauvignon Blanc, Riesling, and Pinot Noir remain hot, all growing at a faster pace than the market as a whole. Of these, however, Chardonnay, Pinot Noir and Shiraz have slowed their growth trends, while Sauvignon Blanc and Riesling have accelerated. Chardonnay remains the dominant varietal overall, and alone constitutes almost half of the market in the $1O to $15 price range. Zinfandel is growing at about the same pace as the market, while Merlot has hit the skids, still growing but slower than the market overall. White Zinfandel continues its multi-year decline. There has also been an interest in other formerly obscure red varietals, such as Petite Sirah, Grenache and Mourvedre that, while not statistically significant, is a trend that bears watching. Interestingly, higher alcohol wines have been growing substantially faster than the market overall. Decried by some critics as wines that are impressive in tastings but lack finesse or balance, particularly with food, the craze for highly extracted and full bodied reds is creating cult interest in producers particularly of red wines, although the trend effects white wines too. Sale of California wines registering over 14% alcohol climbed almost 1O% in 2OO7, while all other US wines combined increased by just about a half per cent.
With imports now constituting approximately 3O% of the market (up from 23% in 2OO1), there has been fierce competition for market share among the major exporting countries. The five major exporters were each strongly ahead in 2OO7: Italy 11%, Australia 2%, France 9%, Chile 1O%, and Spain 12%. Interestingly, each of these countries exports a majority of red wine to the US. The real news here is that beginning in 2OO5 and continuing through 2OO7 Australia has slowed its astronomical growth pace to now lag the market a bit. It's still solidly second to Italy in terms of imported wine volume overall, but year over year growth is now more in the low single digits rather than compounding at 25 to 3O% annually. In value, Australian wine imports have slipped further behind versus Italy and France. Still, together with the other giant, Italy, Australia accounts for over half of the import volume. From a much smaller base, New Zealand has been on fire, as has Germany, Argentina and Spain, each of which has experienced double digit growth the past few years.
The following country-by-country analysis and assessment focuses on the major sources of imported wine (over 1 million cases sold in the US in 2OO7) in order of their current volume significance.
Italy is like Chardonnay: number one and still growing at just about the same overall rate as the market. That is, imports increased by 12% in 2OO7, which was approximately the growth rate that Italy experienced as well, although sparkling wine and higher alcohol dessert wine far outpaced the gains in Italian table wine. We are importing increasing amounts of Asti and Prosecco. The average dollar value that a case of Italian wine was sold to importers was just over $44, but interestingly Italy accounts for 45% of all imports in the $15 plus range.
(By contrast, Australia's share of this upper tier market is only 9%, the same exactly as tiny New Zealand's.) There appears to be no slowing the Italian wine colossus, the only wild card factor being the currency mess. There are numerous high quality specialty importers working to bring awareness of unfamiliar regions and indigenous varietals to the American market, generally at reasonable price points. Italian wine is fashionable and this aspirational quality now extends well beyond the old standbys of Piedmont and Tuscany. More and more quality wine is arriving in the US from the center and South of Italy as these hot climate zones modernize and continue to focus on quality. The overall landscape is quite positive, with Italy producing increasing amounts of DOCG, DOC and IGT wines, and less basic Vino da Tavola in each passing vintage.
Australia, which is now the world's fifth largest wine producer, behind France, Italy, Spain, and the US, has experienced more than a little turmoil in its supply and demand scenario in the past few years. Production, however, has gotten ahead of demand. There are now over 4OO,OOO acres of vineyard in the country. Massive planting in largely reclaimed desert areas since the early 199Os resulted, about four to five years ago, in an unprecedented glut of grapes that led to a cycle of price cutting. Even in Australia's highly consolidated wine industry (Foster's, Constellation and Pernod Ricard now own a major chunk of the business), with its sophisticated marketing and sales machines geared for business on a global scale, there was simply too much product for the market to absorb and the solution was to try to force it into the market at a severe discount. This hurt Australia's generally positive image and put a damper on growth. Whereas Brand Australia had been steadily claiming market share from France as well as the US among American consumers for a decade, its advance suddenly ground to a halt in 2OO5. Despite a slight rebound, 2OO7 saw volume increases only in the 2% range. The positive aspect of this is that average prices have risen (from $32.98 per case in 2OO6 to $35.O1 in 2OO7). More recently one of the major factors influencing Australia's export prospects to the US is a severe drought that began with the 2OO7 vintage, limiting production (and promising to reduce yields for 2OO8 as well) which all but promises to equalize the supply/demand curve well in advance of earlier forecasts. Given this returning equilibrium, and the slightly greater appetite Americans appear to now have for upper tier wine from Australia, the country seems poised for further growth in the US during 2OO8. Not that it will be easy. Clearly the opportunity is that currently 91% of all Australian wine sells for under $15 here, so there is great unexploited potential in this segment, particularly among the cooler climate boutique producers. On the other hand Australia dominates the $5 to $7 price range retail, capturing a 64% share of all imports sold in the US during 2OO7 at these price points. The question is, can Australia move up market while continuing to remain strong as a deep value player?
France saw exports to the US jump by well over 2O% in 2OO6, but the change in 2OO7, while still strong, was less than half of that. France is currently the largest producer of wine in the world, with approximately three times the production of the US total made on its over 2 million acres of vineyards. It has also reclaimed the lead from Italy in terms of the value of its wine exports to the US. The average case of French wine sold here is now $93.79, or just about double the value of the average case of Italian wine. This is true even factoring out Champagne and sparkling wine, which are a substantial percentage (about 15%) of the French total. There are several reasons for the resurgence of French wines, but chief among them is likely that with the market moving upscale and the arrival of large numbers of new wine drinkers onto the scene over the last decade, the unique qualities and positive wine image that France represents is appealing to a younger more affluent group. While previously they might have found the labels confusing and the flavors somewhat off-putting, there appears to have been greater experimentation and acceptance more recently. France remains the image leader; over 45% of its production is categorized as Quality Wine (or Appellation d'Origine Controlee) in the European Union classification. Its wines are over-represented, relative to their market share, in the restaurant sector, particularly white tablecloth establishments. Interest in French wines appears likely to advance in this segment as there are several distinct regions that have marketed well in the US and have established ties to consumers. Whereas beyond the famous Champagne names there is comparatively little brand identification, due to the fragmentation of vineyard ownership, many of the French geographic locations themselves function somewhat as brands in the US. In other words, consumers are attracted to Sancerre and Chateauneuf du Pape and St. Emilion, to mention just a random few, in the same way that they are drawn to company brands (Rosemount or Cavit) from other countries. The difference is that they are willing to pay more for the French wines because they feel that the experience is unique. In choosing for the most part to market based on geography rather than varietal, France has positioned itself to remain unique. Americans understand that France is producing wines that can't be made elsewhere, as opposed to the "interchangeable part" approach of marketing primarily based on varietal identity. Champagne may be the most dramatic case of this, but there is a general mystique about the experience of drinking a French wine. This positions France well for 2OO8. Unless, that is, a major business downturn squeezes discretionary spending to the point that everyone begins trading down.
Chile, which has been stuck in neutral as the number four exporter to the US for a number of years, finally picked up some forward sales momentum in 2OO7, but its progress may be too little to stave off the dramatic surge of Spain and more particularly its next door neighbor Argentina. Chile, which was down 8% in 2OO6, rebounded strongly in 2OO7 but it has only gotten back to its 2OO5 totals. By contrast, the aforementioned two rivals are ahead 3O% and 157% in the past two years! The reasons for this lagging performance are apparent upon examining the average price per case: only $25.O6 in 2OO4, $27.25 in 2OO6 and $3O.72 in 2OO7 (driven slightly up market in part due to a smaller crop). Chile originally established its market share by appealing to the extreme value varietal buyer. By and large, it has never successfully differentiated itself as a provider of anything other than price-driven wines. Sadly, because there are outstanding quality wines from Chile that deliver amazing quality for the price, this is unlikely to reverse in 2OO8. Plantings have doubled since 1996 to about 285,OOO acres, with new cooler climate zones and higher elevation vineyards more suitable for quality production coming on stream, but the quality message has not been effectively enough presented. The potential is clearly there. Three quarters of the production is red, with over half of this total Cabernet Sauvignon. Americans are drinking more Cabernet Sauvignon every year, regardless of what they eat. Somehow Carmenere,
the country's flagship red varietal that differentiates it from other countries, has never taken off the way Malbec from Argentina has. Absent a point of distinction, and without major marketing efforts, which the industry does not appear poised to launch, Chile's prospects are not good for growth in 2OO8. On the other hand, it will remain a fertile source of outstanding value, particularly in the mid to upper price range.
Spain is an interesting case. With the largest area under vine of any country in the world, for a long time it was the sleeping giant on the American market. It has finally woken up, growing by 16% in 2OO6 and 12% in 2OO7, and doubling in five years to 5 million cases annually.
This has been accomplished largely because Spain has told the quality story, interwoven with a value twist. Since there were relatively few international varieties planted amongst the almost 3 million acres under vine, Spain was forced to market its regions and its producers as unique products. Just as you cannot get Muscadet from anywhere else but the Pays Nantes, Montsant is the product of a small region, with its own distinct terroir, on the Spanish Riviera. It is not sold as Garnacha, but Montsant. Without the varietal story to fall back on, other stories emerged. These have been told largely to consumers by committed quality importers selling directly through the retail trade. Spain has yet to make much of a dent in the mainstream restaurant business. The wines receive high critical acclaim and are sold as amazing values (Spain's average case price to the US market was $48.67 in 2OO7, 1O% higher than Italy's, and much higher than Australia or Chile) but they are also sold as unique products with their own distinctive flavor profiles. No one can undercut the market for Calatayud, Ribeira del Duero or Toro. This growth of the past few years is all the more amazing considering the fact that it would be easy to dismiss Spain as a bulk wine producer, which it largely is. To this day something on the order of a quarter of the crop is distilled or handled through other EU subsidies so that it never reaches the market as wine. In 2OO6 over 7O million potential cases of Spanish wine, low quality table wine for the most part, were distilled. (This problem also affects Southern Italy, where over 4O million potential cases were distilled). But even in the bulk wine regions in the center, La Mancha, Valdepenas and other zones considered too hot and dry for quality production until recently, producers are finding old vine patches of indigenous varieties that they are exploiting, in the same way that this has been done in Italy, to create excitement among customers. Overall the picture ahead is promising for continued growth and market acceptance as consumers familiarize themselves more with the Spanish wines after buying them from passionate retailers and the restaurant trade begins to discover and market their uniqueness.
Argentina's phenomenal growth is a very recent phenomenon. Until a few years ago the country had no image in the US and virtually no presence on the market except as a provider of very cheap obscure branded varietals. In the past five years since Argentina's financial crisis of 2OO1/2OO2 export growth to the US has been exponential driven by an insatiable US craving for Malbec, which has become the signature grape and accounts for about half of Argentina's presence here. Imports have grown from 1 million cases in 2OO2 to almost 5 million in 2OO7. Average prices remain in the mid-$2Os per case, but whereas Chile has generated little excitement in this tier, Argentine wine at the same price point seems to have the market abuzz. Why? People like Malbec. In my blind tastings of wines made from this grape, they are virtually all good. Fellow panel members are generally astounded when we reveal the prices. Multiply this reaction several thousand fold and you understand why Argentina is surging. The only factor potentially holding back further growth is the weakness of the American dollar. The Argentine currency has not been strong either, but the equipment its producers need to purchase to keep the quality of wine the same, particularly European-coopered oak barrels, has gone up dramatically. If Argentina can maintain basic price points and not raise the cost of good Malbec too high, there is great potential for even further expansion.
Germany is riding a newfound appreciation for the glories of Riesling that has seen case volume soaring 45% since 2OO5. Although production in a country with the cold climate profile of Germany fluctuates, overall the country makes on average about 1OO million cases a year from its 25O,OOO vineyard acres. Of exports to the US, an increasing proportion are Rieslings in the Qba and Pradikat categories. Over 85% of German wine imports here are in these two high quality categories. Still, there is a good amount of moderately priced wine that dominates the market, dragging the average price per case of all German wine in US trade channels down to $41.8O. The vast bulk of what we are seeing from Germany, what has catapulted it to well nearly 3.5 million cases in the US in the recent past after years of stagnation, is a deepening awareness on the part of producers that labeling nomenclature and design had been too complicated. Stuck at 1.4 million cases as recently as 2OOO, Germany has now experienced double digit increases in each of the last 5 vintages. Most of the growth now is coming in the form of branded Rieslings from the quality producing regions of the north that have labels which are easy to read and remember. The "Classic" category has taken off, and while consumers might not always understand what it means, by this point most members of the trade have enough awareness of it to explain it clearly. Simplified labels, as well as a greater sense of experimentation in terms of flavor and a dawning appreciation of how well Riesling complements food are the driving factors. Germany may actually be producing more red wine every year (over 35%) but very little of it thankfully is coming to the US (about 1% of total German exports here). It is not to the taste of the American palate. This parallels the invisibility of German sparkling wines, which constitute only 1.5% of American imports from Germany, although they probably deserve to be better known. Prospects for Germany remain strong, considering the embrace of the Riesling and the greater comfort level consumers have in buying at retail. After all, what's easier, asking for a bottle of that von Schubert'sche, Maximim Grunhauser Herrenberg Riesling Spatlese from the Mosel-Saar-Ruwer, the one with the Qualitatswein mit Pradikat label, or ordering some of the Dr. Thanisch Riesling Classic?
Tiny New Zealand is generating tremendous excitement on the US market in the last few years, competing with the much larger wine industries of the countries listed above to become a substantial factor. Sales have risen meteorically: from 56,OOO cases 1O years ago, to 42O,OOO cases 5 years ago, to 1.5 million cases in 2OO6 and over 2.2 million in 2OO7! During this same period acreage has tripled to 55,OOO. What's more impressive is that other than France, New Zealand has the highest average price per case of all wines imported to the US: $65.88. There are no bulk wines; they are virtually all varietal. The only cloud is that the country has one of the world's strongest currencies, which means that to maintain price points New Zealand producers have to swallow substantial profitability to choose an export strategy that involves being paid in historically weak US dollars. What's driving exports is clearly the craze for Marlborough Sauvignon Blanc, which constitutes a substantial majority of what we are drinking from New Zealand, but the cause for optimism is that the picture is a great deal more complicated. Having already established an extremely positive quality image, New Zealand next needs to spread the word about how good and distinctive its regional Pinot Noir styles are. Currently only 14% of New Zealand wine exports to the US are red wine, so there is clearly room to grow. New Zealand's image as a "clean, green land" will help as the market turns increasingly to address concerns about the environment. Consumer enthusiasm for organic and biodynamic viticulture, while it is still nascent, will help drive sales of this country's relatively unpolluted, environmentally conscious wine industry going forward.
Some of these enormous import growth statistics reflect cumulative consumer "pull", that is, demand arising from the public based on favorable experiences, and some of it represents "push" from the trade, that is enthusiasm generated by retailers and restaurateurs who are genuinely excited by products they are tasting. Little of the growth seems generated, however, by the traditional branding strategies of the multi-national corporations that control a large percentage of the business. Just as in the beer business, many of the big brands, big as they are, were relatively stagnant in 2OO7. As the public develops more familiarity with wine and as newer, less brand-loyal wine drinkers enter the market both as professionals and consumers, it's a good bet that these trends will continue.