archived

FeaturedArticles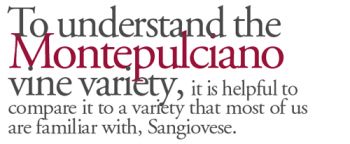 Article By: Bill Nesto, MW
Montepulciano is, in some ways, the "Sangiovese" of central Italy east of the Apennines. Though the growing habit of Montepulciano and its resulting wine differ greatly from the growing habit and wines of Sangiovese, it is in the same league as Sangiovese as far as its dominance in the areas where it prevails. In the same way that Sangiovese lords over Tuscany, Montepulciano lords over Abruzzi. While Emilia-Romagna and Umbria producers are clearly allied to Sangiovese, producers in Marches and Molise clearly favor Montepulciano. Montepulciano, like Sangiovese, makes both inexpensive and expensive wine. What Montepulciano lacks is the prestige and international popularity of Sangiovese's blue chip appellations, namely Vino Nobile di Montepulciano (a Sangiovese-dominated wine without the Montepulciano grape variety in its wine blend), Chianti Classico, and, most importantly, Brunello di Montalcino. There are, however, Montepulciano appellations on the way up, particularly, Colline Teramane, a DOCG in northern Abruzzi, and the Montepulciano-dominated Rosso Conero on the central Adriatic coastline of the Marches. There are many acknowledged masters of Sangiovese in Tuscany: Soldera, Isole e Olena, San Giusto a Rentennano, to name a few. Though Montepulciano masters are few, their numbers are growing. Valentini, a perfectionist producer in Abruzzi, comes first in my list and in many others. Working on a larger scale and having a more pervasive influence is Masciarelli. Moroder, a small producer, was key in establishing the quality image of the tiny Rosso Conero appellation.
By many accounts, Sangiovese is more difficult to grow than Montepulciano. Sangiovese, farmed properly in a stony soil with adequate water and moderate heat, makes perfumed, elegant wine. As vineyard conditions stray from this profile, making excellent Sangiovese becomes more and more difficult. Montepulciano's most highly reputed sites, Colline Teramane in Abruzzi and Rosso Conero in the Marches, have relatively stoneless soils composed of calcareous clay with lesser amounts of sand and silt. But fine Montepulciano wine can also be made in sandier, siltier and stonier sites. During the growing season, areas planted with Montepulciano typically experience less precipitation and similar, if not warmer, temperatures than those planted with Sangiovese. Sangiovese rarely produces excellent wine along the seacoast. Inland elevations between 25O to 45O meters tend to be ideal. Most Montepulciano vineyards, on the other hand, lie within a 3O minute drive of the Adriatic coast. Despite this coastal inclination, historians and scientists believe that the variety evolved in an inland site with a continental climate. An historian writing in the 18th century mentions the variety growing in the valley of Peligna nestled in the Apennine Mountains. A handful of producers near this valley, notably Cataldi Madonna and Valle Reale, show that Montepulciano can be ripened regularly and successfully. It is a common story in Italy, that the era of phylloxera, which occurred at the end of the 19th century and the beginning of the 2Oth, induced producers to move their vineyards from the difficult-to-cultivate hills to the plains at lower elevations where yields are higher and more regular. This scenario also likely occurred in Abruzzi.
Sangiovese and Montepulciano play very different roles in wine blends. Sangiovese adds fresh cherry fruit aromas, acidity and a bitter-astringent texture. Montepulciano adds depth of color and soft astringent texture. Sangiovese is an important addition in Rosso Piceno wines and lesser percentages are usually blended into inexpensive Montepulciano d'Abruzzo. It is illegal to use Montepulciano in Tuscany's DOCG wines, but rumors are ever-present that it finds its way into these wines, particularly in difficult vintages.
Because the trend to make high quality Montepulciano wine is only about ten-years-old, there is less known about Montepulciano than Sangiovese which has been in the spotlight since the 198Os. No one knows the Montepulciano variety better than the leading Italian consulting agronomists and enologists who have the chance to compare and contrast results at and from different locations. To learn more myself, I selected ten and asked them each ten questions.
Before presenting their answers, here are brief descriptions of the consultants' activities related to Montepulciano wine production. Riccardo Cotarella from Latium consults for Conte Leopardi Dittajuti, located in Numana near Ancona in the Marches. This estate produces Rosso Conero. He looks after Terre Cortesi Moncaro in Montecaratto in Ancona. Rosso Conero and Rosso Piceno are on products list there. Another client in the Marches province of Ascoli Piceno is Villa Pigna. In Abruzzi, Cotarella has two clients in the province of Teramo, Villa Medoro at Atri and Monti at Controguerra. Lorenzo Landi of Tuscany consults for Cataldi Madonna in Abruzzi. Malandrini is the signature Montepulciano there. In the Marches, Marchetti, Laila and Montecappone are his clients. Alberto Antonini of Tuscany guides Saladini Pilastri in the Marches. Vigna Monteprandone, a Rosso Piceno Superiore, is the top Montepulciano at this estate. Donato Lanati is an enologist who comes from Piedmont. His consulting company is called Enosis. He follows Cantina Montori di Controguerra in the province of Teramo in Abruzzi. The outstanding Montepulciano wine of this estate is called "Fontecupa". Carlo Ferrini and Gioia Cresti, both from Tuscany, follow Valle Reale, an estate in an inland valley in Abruzzi. "San Calisto" is the star wine here. Luca D'Attoma, from Tuscany, consults for Fattoria La Valentina in Abruzzi. The outstanding Montepulciano wines of this estate are "Spelt" and "Bellovedere". Attilio Pagli from Tuscany consults for Velenosi, an estate in the Marches. Velenosi makes "Poggio del Filare" and for Fattoria Le Terrazze in the Rosso Conero zone. Its "Sassi Neri" is its best example of Rosso Conero. Stefano Chioccioli, also Tuscan, has followed Fratelli Barba in province of Teramo in Abruzzi since the 2OO4 vintage. "Vigna Franca" is the top wine there. Valerio Barbieri from Tuscany is the consulting agronomist for Illuminati in the Colline Teramane zone of Abruzzi. Danieli Cernilli, co-director of Gambero Rosso, identifies Illuminati's "Zanna" as classic Colline Teramane.
The first question I asked each was, "Is Montepulciano a maritime or continental variety? If a continental variety, what altitude above sea level does it prefer?" This question presumes the understanding that continental climates feature greater summer-winter and day-night temperature variation than coastal areas. Terrain at higher elevations above sea level typically exhibits continental characteristics. The temperature of a sea or ocean moderates land temperatures.
Antonini and Lanati have different opinions. Antonini mentions that Montepulciano "does well in areas rather warm, not too high in elevation, nor too cool . . . along the coast is good because the climate is milder there. One hundred to 25O meters above sea level works well." Lanati asserts that it is "a continental vine variety and prefers an altitude of 2OO to 5OO meters above sea level." The other answers are somewhere between. All mention the highly adaptive nature of the variety. Chioccioli and Barbieri both agree that although the variety is principally continental that it adapts well to lower elevation maritime sites. Chioccioli says between 2OO and 4OO meters is best while Barbieri mentions between 2OO and 3OO meters. Chioccioli says that, while the variety produces more polyphenols and more aromatic compounds at continental sites, its early ripening period at lower elevations allows it to ripen before fall rains and hence avoid botrytis problems. Pagli mentions that although it is principally planted in maritime sites, "it also expresses itself well in climates more continental, usually between 25O and 3OO meters above sea level." Landi and Cotarella both emphasize that Montepulciano adapts to both maritime and continental climates. Landi says, "Maritime sites produce opulent and fat wine. Continental sites produce fresher and less opulent wine." Landi finds this fresh lean style at elevations up to 4OO to 5OO meters above sea level. Cotarella believes that Montepulciano excels in "hillside sites which receive the beneficial effects of the sea", i.e., gets the best of both worlds. Ferrini and Cresti say more or less the same thing, that Montepulciano is "neither maritime nor continental". They point out that it needs "a high degree of temperature excursion" and this can be realized "near the sea or inland". "Montepulciano", they say, "gives its best expression at 3OO to 4OO meters above sea level in areas that are cool and ventilated." D'Attoma recognizes that Montepulciano "prefers climates with maritime influence of the Mediterranean type" but that "it can also be grown in high hills (3OO meters above sea level or higher), in zones with hot microclimates, with expositions to the south and soils which reflect heat and light."
My second question was, "Montepulciano is considered a low acid variety. Is this true?" Do the consultants have a different opinion? Only D'Attoma seems to think that the wines are generally low in acidity. Lanati accords it a normal range: "With Montepulciano, we obtain a wine with a fixed acidity between 5.OO and 6.OO grams per liter." Chioccioli puts more detail into his answer: "In the hills, the fixed acidity at the end of fermentation is between 6.OO and 6.5O grams per liter. Near the sea, the fixed acidity is lower by about 1 gram per liter." Pagli, Ferrini and Cresti, Cotarella, Antonini, and Barbieri all feel that the wine normally has high acidity. Ferrini and Cresti, Pagli, and Barbieri qualify by saying that if the vines are pushed to yield too much fruit that acidities can drop to low levels Lanati tells me that more often than not the acidity is on the low side but that this is because the vines are "cultivated in warm areas where the acidity diminishes naturally during ripening. In the internal areas where the altitude is rather high, the acidity is high."
I then asked, "What soil types and characteristics does Montepulciano prefer?" provoked a wide range of answers, some of them contradictory. Many agronomists and enologists pair varieties with soils. A classic pairing is Merlot with clay and Sangiovese with rocky, calcareous soil. D'Attoma says, "Montepulciano needs clay soils, better if deep and rich in stones. " Barbieri agrees but adds that the soil should have some sand and silt mixed in too. Cotarella adds that the soil should also be "moderately calcareous". Chioccioli adds more precision, "The best soils are mixes of sand, clay and silt with a tendency towards clay. The active lime content should be between 9% and 12%." The 9% to 12% active lime content Chioccioli mentions is not high enough to impose the use of specialized rootstocks. Landi says that "calcareous soils are best because they help preserve wine acidity." Donato Lanati on the other hand says that Montepulciano "does not like calcareous soils." Antonini recommends soils which "drain well and are not too heavy." This would exclude clay. Pagli agrees with Antonini. Ferrini and Cresti emphasize that the best soil is a stony one.
Key to the profession of enologic consultancy is skill in blending. Consulting enologists usually have blending preferences. For this reason, I asked them, "What variety do you prefer to blend into Montepulciano?" All of the respondents indicated that Montepulciano was complete enough in itself not to need blending. If they had to blend, however, Cotarella would use Nero d'Avola; Antonini, Sangiovese; Ferrini and Cresti, Cabernet Sauvignon; D'Attoma, Cabernet Sauvignon or Sirah; Lanati, Sangiovese, Merlot and Cabernet Sauvignon; Pagli, Merlot; Barbieri, Merlot; and Chioccioli would use Syrah.
My next question was, "To what diseases is Montepulciano particularly susceptible?" All the consultants agree that Montepulciano has good resistance to a wide range of diseases. Oidium seems to be the biggest problem for the variety. Barbieri says it is very sensitive while Lanati feels the vulnerability level is moderate. Chioccioli says that oidium is most problematic in coastal areas. Cotarella and Landi say it is a problem, but it can be easily controlled. Chioccioli reports that peronspera is a problem in hilly areas (higher altitude). Antonini and D'Attoma point at botrytis as being the principle disease, particularly at harvest. Pagli says that botrytis is a problem with clones that exhibit tightly packed bunches. Cotarella mentions that Montepulciano grapes have a tendency to shatter.
My next question was, "To what climatic conditions is Montepulciano sensitive?" Consultants agree that because of the long ripening period, cold weather can be a problem. If rain and humidity also occur the problems get worse, and during the harvest can be a major problem, say Cotarella, D'Attoma, Ferrini and Cresti. Barbieri went so far as to say that it does not mature well at altitudes over 3OO meters above sea level. Chioccioli says that the variety needs good day-night temperature variation. He elaborates that the vine suffers during sudden spring cold spells and if the vine is pushed to produce too much as would be the case if planted on rich, flat alluvial soil, the vine can easily go into hydric stress.
"What particular problems does Montepulciano have in the vineyard?" Chioccioli and Cotarella are concerned about restraining the vigor. Cotarella assesses the vigor as "moderate plus". Pagli calls it "a very productive variety" and warns that yield management is difficult. Chioccioli, Cotarella and D'Attoma urge to limit the number of the buds. Both recommend green pruning and green harvesting. Chioccioli warns not to add too much nitrogen to the soil. "Even reduce the supply to 2O to 3O units per hectare and not more." D'Attoma warns that Montepulciano suffers from too much direct sunlight and that it is wise to cover the grapes with foliage. Barbieri marvels at the vine's flexibility: "There are no particular problems. It adapts well to all forms of training from tendone (pergola) to cordon-spur."
As varieties such as Montepulciano become increasingly important commercially, attention is brought to bear on clonal selections. I asked the consultants, "Are clonal selections of Montepulciano available? Have they been well-selected?" Chioccioli mentions that some farms use estate selections derived from the old vineyards planted around 19OO. Many clones available today come mainly from old selections made by the agricultural school at Ascoli Piceno. New vineyards or vineyards where mass selection has not been consistently applied or where the old clones are not satisfactory can improve their potential by using clones recently developed and tested by nurseries and research institutions. Cotarella recommends clones such as R7 and R1OO which produce loose bunches of medium-small size with little tendency to shatter. Chioccioli, Ferrini and Cresti mention R7, too. Lanati mentions R7, but also VCR1OO, VCR453, and VCR456.
My last question was a fundamental one. "Where is the best place for Montepulciano and why?" Pagli mentions that since it is only recently that producers have tried to make top class Montepulciano wine it may be too early to come to a definite conclusion. He and Antonini both point to Marches and Abruzzi. They believe that the tradition of Montepulciano wines in these two areas gives these two regions a big advantage. Ferrini and Cresti feel that Abruzzi is the best region. Lanati mentions the province of Teramo in Abruzzi. Cotarella mentions the DOCG zone of Colline Teramane. Landi remarks the answer to my question depends on the wine that one wishes to obtain. He gets the results that he wants, high aroma wine, fine tannins and moderate to high acidity, at Cataldi Madonna. Antonini says that Tuscany is a good site for Montepulciano. D'Attoma spreads his net wider than Marches and Abruzzi, saying that excellent wines can be made in Molise, Latium and areas of central Italy. Chioccioli casts the net even farther south to Apulia.
These consultants and I agree that Sangiovese is a more difficult grape to work with than Montepulciano. The intense effort over the last thirty years to improve Sangiovese wine has yielded definitive results, while we are still in relative infancy concerning our knowledge of Montepulciano. For only about a decade has the attention of Italy's best enological and viticultural minds been directed at the Montepulciano variety. In another decade's time, Montepulciano will be much better understood and valued.