archived

FeaturedArticles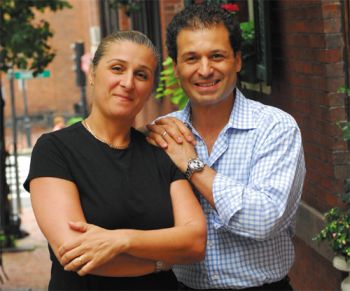 Article By: Becky Sue Epstein
Babak and his sister Azita Bina-Seibel are equal partners in the restaurants and wines; she is the executive chef for both places. She was actually in the kitchen at Bin 26 when I had lunch that day: a gently autocratic presence with long, straight salt and pepper hair, and a true concern about her food and her customers. The siblings have a hands-on partnership in the two restaurants.
Babak and I are sitting by the window in the wine bar: a long narrow room, brown, woody and spare. Casual enough to attract a local upscale clientele as well as tourists for lunch, and a bar crowd of young professionals after work. My first question: with two busy restaurants, why take on a huge project like making wine in Italy, importing it and marketing it here? Babak replies with remarkably introspective honesty: "For several reasons. For us, to keep life interesting. For a human being - at least for me - as soon as we achieve something, we want to up it by a level." This is classic entrepreneurial thinking.
Babak and Azita's wine project had a long history. And it required the patience to weather false starts as well as the experience to keep it on track. When they began the project some years ago, Babak and his sister Azita had been involved with Italian cuisine for some time, having owned Toscano and Azita restaurants in Boston. You might know that Lala Rokh's "Eastern Mediterranean" food is based on Babak and Azita's Persian heritage. So why did the sister and brother start out in Italian food? Babak relates: "I got into it because one of my best friends was Italian." He started working in Italian restaurants in 1981. "I just wanted to fit in with all the other kids," he admits. "So I started asking all my friends, 'What do you do? What do you do for the summer?" Babak's father owned several (non-restaurant) businesses and thought Babak was crazy, but told his son "Go ahead if that's what you really want to do."
A few years later, Azita wanted to fill a void by opening a Northern Italian restaurant because there wasn't one in Boston - in 1983. Both of their original restaurants were quite successful. By the time they began thinking about their own wines, "we obviously truly knew Italian food and Italian wine," Babak concludes - and this background is important. Deciding that Pinot Grigio would complement the food at Lala Rokh, they looked to one of the premier producers of this wine, Italy's far northeastern province of Friuli. There they found winemaker Alessandro Furlan who created his namesake "Al Furlan" wine for them. The 2OO6 is 1OO% pinot grigio, hand-harvested. Furlan allows a medium amount of skin contact, says, Babak. "That's where the beautiful golden color comes in." He made only 27O cases, described by Babak as "small production, high quality, well rounded, with a good balance of acidity and fruit."
When Babak and Azita decided to delve more deeply into the wine business, they thought about establishing a wine bar and perhaps even their own wine shop or retail line. With their Italian connections they found another winemaker they liked, in Umbria. They began tasting, eventually decided on a blend, and contracted with quality vineyards and with a winemaker to make a vino da tavola type Umbrian IGT wine - quality controlled, but for everyday drinking. They created a distinctive label with a bright yellow color inspired by the sunflowers near the vineyards, and brown accents which give the very modern design a slightly retro feel.
Babak says, "Those who know us thought it would be [a]; natural [next step]." Apparently these siblings have a ton of extra energy, I'm thinking, as Babak admits, "Dealing with another country - it is crazy." Unfortunately, their first vintage of Solare didn't come out the way they wanted. Concerned with quality, they realized they couldn't serve this wine at their restaurants, and they made a difficult choice. "We had to dump the 2OO5," Babak states simply. Still, he and his sister persisted, moving their projects forward. They opened their wine bar, Bin 26 Enoteca, in September 2OO6. Its menu is Italian, and their new wine was meant to complement this food. Back in Italy, they went forward with the wine, commissioning a new vintage.
In Umbria, Azita and Babak are currently working with Maurilio Chioccia, a well-known winemaker/consultant in the area. Their vineyards are near Orvieto in the southern part of Umbria. This is in central Italy, where, according to Babak, the volcanic, gravelly soil contributes to the chosen flavor profile of their wines. It's a pastoral area, dotted with farms, olive trees and woods. Still rural, it is a vacation area for Italians, and is gradually being discovered by outsiders. Here, the grapes are also hand harvested: Sangiovese and Merlot for the red, with the white a blend of local Trebbiano called Procanico, along with Grachetto, Malvasia and a little Sauvignon Blanc. And they use no oak barrels to age either the red or the white wine.
A few months later - very early in the following year - Babak and Azita tasted the 2OO6 vintage wine and it worked. They had it bottled and began shipping it over, a few hundred cases at a time, cleared by Boston-based M.S. Walker. It's still small production: 5OO cases of Solare Rosso (red) and 66O of Solare Bianco (white). When it first arrived last January "it was very angry," Babak recalls. In a few months it had settled down (which is not uncommon) and people have been enjoying it for some time. Babak says the Rosso is very good now, and will age for some years. The Bianco is for more immediate enjoyment; it has a plastic cork, which is appropriate when a wine is meant to be consumed within a year or so of release. They are selling it by the glass, taste, carafe and bottle at Bin 26 and also by the bottle at a couple of wine shops such as BRIX Wine Shop in the South End and nearby Charles Street Liquors. Daniel Edwards, one of the managers at BRIX, told me they began selling Solare wines in the summer. The white sold well then, and it has only fallen off as the red picked up during the fall.
Babak and Azita are also working toward another release: a higher end, higher priced wine, possibly a SuperTuscan - a rich, full, bodied and ageable wine. They may also produce more wines in the future, "possibly only for retail," Babak says. "We will perfect this process. If everything goes smoothly we will expand the idea," he explains. This is a good template for any ongoing business, a guiding philosophy which - along with a lot of hard work - has allowed Babak and Azita to become successful in their various ventures.
Is there perhaps another new venture in the works, possibly also dealing with Italian food? Without getting into detail, Babak admits, "We're working hard to bring to fruition a gourmet food shop as well as a new restaurant." Stayed tuned for Babak and Azita, vintage 2OO8.