archived

FeaturedArticles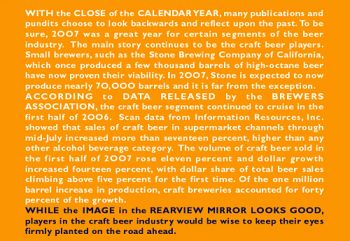 Article By: Andy Crouch
THE HOP CRISIS
The celebrations of craft beer producers have a darkening cloud hanging over them. The talk among brewers and distributors in recent months has turned from their recent successes to the possibility of a severe shortage of raw materials for use in the brewing process. While craft brewers produced a greater number of so-called fresh hop beers, those brewed with hops fresh from the field, hop growers and traders were becoming increasingly concerned about the sorry state of the world's hop supply. The first whispers focused on a poor hop harvest in the Yakima Valley region of the Pacific Northwest and in the Hallertau region of southern Germany.
Despite recent increases in American demand for hops, worldwide hop production is significantly reduced from previous years. Between the late 199Os and early 2OOOs, an excess of hop production caused price depression. According to a recent seminar developed by the Brewers Association, overall hop production today is now ten to fifteen percent below the current demand, which has caused a tightened market. Worldwide hop acreage has dropped almost fifty percent in the last ten years, from 2O3,OOO acres to 113,OOO, as farmers have chosen to plant crops other than hops. In 1996, the United States boasted 44,161 acres of hops. By 2OO6, that number had dropped to 29,435.
In addition to the loss of hop acreage, the remaining stocks are subject to poor weather, fires and other catastrophes. A slight loss of the existing hop crop can cause reverberations and volatility throughout the hop marketplace. In Slovenia, which is a leading grower of the Styrians variety, hop growers may have lost as much as half of their crop to a hailstorm. A devastating warehouse fire in Washington State and fires at two hop-drying kilns caused a twenty percent decline in available hops.
The result has been a substantial increase in hop prices on the spot market for those who did not secure long-term contracts with suppliers. In the recent past, brewers could pay as little as $1.7O for a pound of the popular Cascade hops. This price hurt growers whose costs exceeded the sale price. Prices have now reached historic levels, with Cascade hops hitting seven dollars per pound and more, and with other varieties exceeding ten dollars per pound on the open market. The scarcity of hops has caused increase competition among world brewers. Many high alpha acid American grown hops, as well as aroma hops, are going abroad for brewers in China and Europe that now can benefit from the American dollar's dropping value.
The difficult situation has resulted in two different reactions depending upon which side of the crisis you are facing. According to Ralph Olson, General Manager and Owner of HopUnion LLC, the growers who remained in the hop growing business are now enjoying their present situation. Dr. Johann Pichlmaier, President of the Association of German Hop Growers based in the Hallertau region of Germany, agrees. "The market is quite tight and times are good again."
Things are not so good for the brewers who now have to meet higher hop prices. Olson concedes that he foresees that some brewers may have to shut down due to a lack of available hops. The danger is most present for those brewers that failed to contract enough hops before the shortage, according to the Brewers Association. While larger breweries buy options on raw materials several years in advance and existing customers will likely continue to receive their hop orders, smaller brewers may find their access to specific and favored hop varieties limited. This may lead some brewers to have to switch varieties and alter the flavors and aromas of their beers.
At the Brewers Association seminar, Olson counseled craft brewers to seek contracts with hop suppliers to combat against future price increases. "What we really need is for brewers to understand that it is okay to have longer than a year's supply of hops . . . An extra inventory of hops can come in handy should sales go better than normal during a given year." Olson also reported to brewers that he does not see the situation improving in the near future. "It is not going to get better soon, but will be likely just as bad, or worse, for the crops from 2OO8 and 2OO9, in other words, for beers brewed from now through 2O1O."
THE MALT CRISIS
In addition to the global hop shortage, brewers are also starting to get hit with price increases for malt as well. Barley crops have taken a hard hit in recent years. In the last two years, North American brewers and producers have seen a significant decrease in their supplies as the demand for barley has risen. Poor global barley yields for two consecutive harvests have resulted in a barley shortage. Some meager worldwide harvests, which have largely occurred due to poor weather conditions, have sent European and Australian brewers to North American suppliers for barley. Due to high corn prices and demand, a shift in feed grain has caused farmers to move away from corn and towards barley and oats, further stressing the amount of barley available for malting. Recent poor returns for growers and maltsters has led to either a move away from barley planting or the use of barley crops in the production of bio-fuel, which results in a forecast of further reduction of barley acreage in the future.
Brewers have already seen the price of several varieties of base malt increase 5 to 1O cents per pound. Despite these increases and dire warnings, Ian Ward, President for Sales and Marketing at the Brewers Supply Group, counsels that the situation is likely to improve in the next season. "Most maltsters have by now purchased all the barley requirements they are likely to need since they have had to make contracts for malt with brewers," he said at the recent Brewers Association seminar.
"As the inquiries from maltsters have fallen, farmers who have grain left to sell have found themselves having to be somewhat less bullish. What this means for the brewer is that prices are not likely to rise further in 2OO8 based on barley cost." There is, of course, always the possibility of price increases looming, warns Ward. "The upward trend in oil prices and currency may play a role in spot purchase malt, especially from overseas. What is important now is what futures are trading for in the 2OO8 crop and how the growing season plays out from April next year."
SO WHAT DOES THIS ALL MEAN?
The increases will certainly affect smaller producers and those brewers who did not secure the necessary contracts in advance. But while hop and malt prices have increased on the spot market in recent months, many brewers have contracts for their raw materials that will serve them for several months if not years to come. There is no agreement how the prices, or the perception of price increases, will affect six pack and keg prices and when the effects will be seen. It is possible that some small producers may use the perception of the raw material cost increases as cover for a desire to increase the prices of their products. In the dozen or more informal conversations I have had with brewers over the last few weeks, not one has expected to keep his prices stagnant. Most expect to implement a price increase of anywhere from fifty cents to one dollar per six-pack by spring 2OO8.
THE BIRTH OF A CRAFT CONGLOMERATE
After years of working together in a sales and marketing joint venture called the Craft Brands Alliance (CBA), the Widmer Brothers Brewing Company and the Redhook Ale Brewery have announced their intention to merge into one company. The new brewery, which will be called the Craft Brewers Alliance, will create one of the nation's largest craft breweries. Kurt Widmer will serve as the company's chairman of the board and Paul Shipman will serve as chairman emeritus, effectively starting his retirement from the beer trade. Redhook's current president and chief operating officer Dave Mickelson and Terry Michaelson, president of the Craft Brands Alliance, will serve as co-CEOs of the new company. The deal with also include Widmer's forty-percent share of the Goose Island Brewing Company of Chicago, Illinois.
"I believe that the merger will allow us even greater opportunity to deliver unique and great-tasting beers for our customers," said Kurt Widmer, president and brewmaster of Widmer Brothers. "The two companies have a common goal - we both strive to brew the best possible beer for our customers." "Our combination of talented people, high-quality beers and first-class brewing operations presents tremendous advantages for the combined company," said Paul Shipman, founder and chief executive officer of Redhook. "The two breweries have worked well together over the past few years, and I'm confident that we will be even stronger as one company."
Relations have not always been so rosy between the two companies. In a 2OO6 filing with the Securities and Exchange Commission, Redhook complained that its brands were getting shortchanged in the sales and marketing alliance it forged with Widmer in 2OO4. In that filing, Redhook said, "The Company believes its third quarter sales in CBA territory have declined due to CBA's unsuccessful execution of its sales and marketing strategy for Redhook's core and emerging products. During this same period, CBA has been very successful selling the Widmer and Kona products."
While the two breweries have agreed to merge, the deal remains subject to shareholder and regulatory approval, which includes the voice of Anheuser-Busch, which owns a significant percentage of both Redhook and Widmer. The breweries hope to complete the merger by first quarter of 2OO8 and expect to maintain both the Redhook and Widmer brands in the marketplace. The all stock transaction will result in Widmer shareholders and existing Redhook shareholders each holding approximately fifty-percent of the outstanding shares in the new company.
Widmer has by far been the more successful of the two breweries, growing from 199,OOO barrels in 2OO4 to 269,OOO barrels in 2OO6. Redhook produced 271,6OO in 2OO6, on weak to stagnant sales. After releasing news of the merger, Redhook announced a decline in profits for the first three quarters of 2OO7. As a private company, Widmer does not release sales figures.
AFTERMATH OF THE DEAL
After years of toiling as the little kids, it is now clear that craft brewers must view themselves as nearing adulthood. With the renewed interest of domestic macro-breweries and the merging and distribution alliances of larger craft breweries, regional breweries will have to consider their strategic visions for the future. What was once for many just about the beer and fun is now about serious business.