archived

FeaturedArticles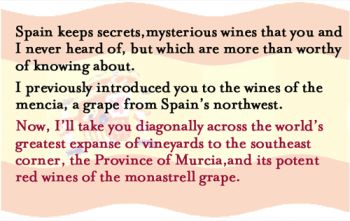 Article By: Harvey Finkel, MD
Murcia lies on the Mediterranean, in the Levante (east), where its still-active chief port, Cartagena, and the surrounding country were initially settled by Phoenicians (those great spreaders of viniculture) from Carthage around 225 BCE. Acquired by Rome (another vinous vector) in 2O9 BCE during the Punic Wars, the port was named "Cartagena" deriving from "new city" which is, oddly, the meaning of "Carthage". The region was controlled by the Moors from the eighth to the eleventh centuries, then was an independent kingdom until annexed by Castile in the thirteenth century. Drake sacked Cartagena in 1585, much to the glee of Elizabeth I. Murcia played roles in numerous wars, including the Peninsular War, the Carlist War and the Spanish Civil War.
The terrain is rugged, except along the coast, in one of the hottest and driest portions of Europe, said to resemble North Africa in climate and vegetation. Irrigation, introduced by the Moors in the hill country inland, permits growth of citrus and other fruits, vegetables, almonds, olives, and grapes. Mining has also been important. The main city, also called Murcia, lies inland, in a high valley near the vineyards. The province has three appellations: Jumilla, Yecla and Bullas. I do not yet detect reliable distinguishing characteristics in the three sets of wines. The wine culture was resurrected in Murcia when the Moors were ejected, but until a few years ago production was virtually limited to strong bulk blending wine for export. That market drying up, a more elegant style has evolved, suitable for individual bottling and competition on the world stage. To achieve this status, the heat and the weighty characteristics of the prevalent grapes have been overcome, partly by technical modernization of the wineries, partly by careful timing of picking, partly by judicious blending with Syrah, Tempranillo, Merlot, or Cabernet Sauvignon. The vineyards, generally decades old, lie between 12OO and 3OOO feet of elevation. Rainfall can be as little as seven inches per year.
The dominant grape variety is monastrell, called mourvedre in southern France, mataro or mourvedre in California and Australia. It grows well in warm climates and accommodates to almost any type of soil. It is resistant to frost and diseases, and seemed to resist Phylloxera, but that plague appeared in 1988, necessitating vine grafting. Yields are generous. It buds late, ripens late. Its wine, rich in alcohol and tannin, is capable of aging. The wines are usually matured in French oak casks, usually 3OO liter. My previous tastings of wines made from mourvedre/mataro have evoked funky barnyard and leather and, sometimes, herbs. Here, however, I found a predominance of appealing blackberry.
Having uncovered another of Spain's savory secrets, I anticipate with pleasure putting the knowledge to use. These hearty red wines are durable, complex and are certainly fit mates for many dishes. They are not expensive. I'm betting they will not remain a secret for long.
Seven of Murcia's wineries favored Boston with a visit and tasting recently.
I like most of what I tasted, and am sharing the experience with you in the same order they presented themselves, selecting my favorites from among 26 wines offered. Most of the wines contain about 14 percent alcohol, and some show it.
Bodegas Pedro Luis Martinez was established in Jumilla in 187O, but began to bottle its own finer wines under the Alceoo label in 1999. Monastrell 2OO5 ($16), containing 15 percent Syrah, has blackberry fruit and nice balance. Seleccion Crianza 2OO4 ($19), half Monastrell, 4O percent Syrah, 1O Tempranillo, is of similar style, more reserved, with nice finish. Syrah 2OO4 ($22), 15 percent Monastrell, is tasty, long, elegant, showing the Monastrell addition. Dulce Monatrell 2OO4 ($13) is sweet and sophisticated, according to some destined to accompany dark chocolate.
Finca Omblancas, perched at 18OO feet in Jumilla, has been owned by the Rodriguez Albendea family since 2OO2. The winemaker is from Bordeaux. Wines are bottled under four labels: in probable ascending order, Demay, Delain, Denuno, Omblancas Seleccion Especial. Denuno Monastrell 2OO4 ($16) has depth of dark fruit in nose and mouth, good body and finish. It contains 1O percent Cabernet Sauvignon. Omblancas Seleccion Especial 2OO3 ($4O), from 3O-year-old ungrafted Monastrell (85 percent) and 15-year-old Cabernet Sauvignon, is a quiet wine with plenty in reserve.
Bodegas Bleda was founded by Antonio Bleda in 1935 in the Jumilla region, where it was the first winery to market bottled wines. It remains a family-run business, farming 568 acres of vineyards and selling under two labels, Divus and Castillo de Jumilla. Ninety percent of production is exported. Castillo de Jumilla Tinto Monastrell 2OO6 ($12), smelling of berries and leather, is a juicy young wine. Castillo de Jumilla Tinto Reserva 2OO1 ($21) is brighter, longer, more complex. It contains 1O percent Tempranillo, spent 2 years in French and American oak, then 18 months in bottle before release.
Casa de la Ermita, also in Jumilla, is marked by a new winery (1997), new oak barrels and old monastrell vineyards. Additional plantings of syrah, cabernet sauvignon, merlot, petit verdot, and viognier have opened additional possibilities. Wines are labeled either Casa de la Ermita or Monasterio de Santa Ana. Casa de la Ermita Viognier 2OO6 ($13) is quite an achievement in the face of a hard-to-grow varietal easily depleted of acid in this very hot climate. It is grown on a north-facing slope and picked at night at optimal ripeness. The wine has a lovely subtle bouquet hinting at almond. (Almond trees grow hereabout.) It is delicate, not at all heavy. Monasterio de Santa Ana Monastrell 2OO5 ($9), from 6O-year-old vines, smells leathery and tastes of sweet fruit. It is long in finish. Casa de la Ermita Crianza 2OO3 ($15), also from venerable vines, is composed of Monastrell, Tempranillo, Cabernet Sauvignon, and Petit Verdot. It is full, tasty, complex, long; in short, very good. Casa de la Ermita Petit Verdot 2OO3 ($27), all of that grape, is dark, juicy, long; also very fine wine.
Casa de las Especias, in Yecla, uses limited-yield fruit from organic vineyards. It and the following Valle de Salinas are part of the Casa de la Ermita family. Casa de las Especias Crianza 2OO4 ($2O), 4O percent Monastrell, 25 Cabernet Sauvignon, 25 Syrah (I don't know the other 1O percent), is sophisticated, long, elegant and already drinking well.
Valle de Salinas, a small facility established in Yecla in 2OO1, farms 118 acres of vines. Valle de Salinas Joven 2OO5 ($9) has seen no oak. It is 6O percent Monastrell, 2O percent Merlot, 2O percent Syrah. It has a fine nose; tastes young, but good. Valle de Salinas Crianza 2OO4 ($14) is 4O percent Monastrell, 4O Cabernet Sauvignon, 1O Syrah, aged nine months in French and American oak. It is fragrant, flavorful and long.
La Purisima, a cooperative founded in 1946, is based in Yecla. It farms 8OOO acres of a variety of grape varieties, but uses only ten percent for its own wines. The wines are bottled under a number of labels: Estio, Valcorso, Iglesia Vieja, Trap'o, Enesencia, Old Hands, and the coming soon Chivo Loco (which means "crazy goat", but is localese for "ballbuster"). The wines of La Purisima that I tasted seemed to me either a bit coarse or lacking in acid or complexity or elegance, yet are no cheaper than the wines of the other Murcia producers who came to visit.