archived

FeaturedArticles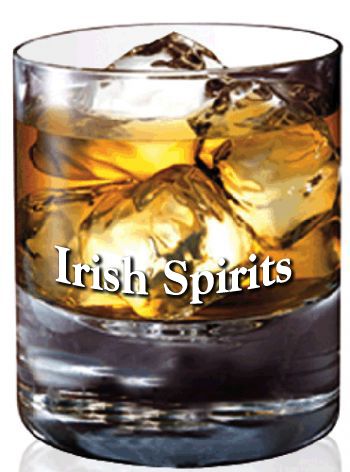 Article By: LEW BRYSON
I was recently out on the road visiting bars in, of all places, central New Jersey, for a drinking book I'm working on. I drive on these trips, but I drink a lot of water, and I usually only drink about a third of the lower alcohol session beers I order. I also keep a personal breathalyzer in the car. I'm careful and responsible. I take it easy.

Then I walkedw Irish pubs, and the worn but clean look of the place was just so true, that when the bartender asked me, with a bit of the smiling Irish lilt itself, what I was having, my drinking brain shoved my writing brain out of the way and blurted out, "Guinness and a shot of Powers, please."

As I shook my head in wry self-amusement, sipping a measure of the warm, sweet glow of the Powers followed by its dark countryman, I thought about the strength of the Irish mystique, the Irish 'brand'. There was no Irish music playing in Tierney's, no "Erin Go Bragh" or "Cead Mille Failte" signs, none of the bric-a-brac that says "You're in an Irish place now, boyo," be it authentic or bought out of a catalog to "theme" the place.

But when I settled in at the bar and right away felt at home, the first thing that came to mind was how good a glass of Irish whiskey would taste.

That's the kind of gut-level association with comfortable good times that is helping to make Irish whiskey one of the hottest categories in spirits, one of the hottest in all alcohol beverages.

HOW HOT? Here's the numbers, courtesy of Wayne Hartunian, Jameson Irish Whiskey Brand Director for the US: "The latest Nielsen numbers, over the last 6 months, are up 23%, and it's continuing to accelerate," he said. "The Adams numbers for 2OO6 were up 19%. It's incredible."

It's even more incredible when you consider that fifteen years ago the category was flat, just like the greater whiskey category. Irish, Scotch, Canadian, bourbon: they were all standing around on the package store corner, hands in their pockets, waiting for some kind of opportunity to come along, while vodka, gin and light rum drove by, partying in the back of their big-growth limo. No one had time for "brown goods" they were all looking for something to mix. It was a tough time to be in the business, hoping for a year without a loss of sales.

Things have turned around. Scotch left first, with a hot tip in the single malt horserace; bourbon followed, hot on the scent of some rich small batch bottlings, and now it's time for Irish (don't worry, there are signs of a Canadian revival coming along, too). The drive seems to be coming from a younger crowd. "As the younger generation gets a little older, 3O-ish, they are looking for spirits with more flavor," said Kelley Spillane, executive vice-president at Castle Brands. "They've cut their teeth on cocktails mixed with juices or soda and are now looking for a more adult flavor. Unpeated Irish whiskey is an easy transition to the overall whiskey category."

Hartunian loves it. "There's so much dynamic in the category," he said. "It's a fun category to be working in. Twenty, fifteen years ago, it was pretty static. This is fun.

THE QUESTION Let's take Irish whiskey apart a bit. You know the brands, you know salespeople, you know your customers . . . mostly. But Irish whiskey is finally attracting the same kind of attention, the same kind of customer, that Scotch whisky and bourbon have been attracting. You know the kind of customer: the one who wants to know more.

If that's who you've got, you've got to be ready for The Question: just what is Irish whiskey, anyway? It's a question with a lot of answers.
Ask Jameson's Hartunian and he'll tell you about the smoothness from triple distillation. "It's the taste profile versus other whiskeys, and a lot of that comes from the triple distillation," he said, adding, "It doesn't have the peaty smell. It's much more approachable. A lot of consumers may have the perception that whiskey is harsh: Irish is not."

Ask Bushmills master distiller Colum Egan. "What makes Bushmills whiskey different from other whiskeys of the world is the smoothness of the character," he told me. "We distill the whiskey three times. When you distill a whiskey three times, you get this lovely, light, fruity whiskey with nice spicy, flowery notes. Another key difference between Irish and other whiskeys, I suppose, is that we don't smoke our barley. There's a complete absence of any smoky, peaty aroma."

Then ask Jack Teeling, who runs the company that owns the other two, quite small distilleries in Ireland, the last independently Irish-owned distilleries in Ireland: Cooley, and the just-recently re-opened Kilbeggan. "Irish whiskey, in a generalization, is much smoother than other whiskeys," he responded. "Many say this is because Irish whiskey in modern days has been tripled distilled. However, we double distill and we still produce very smooth and sweet whiskeys. As such, it is more likely our temperate damp climate, neither too hot or too cold. We double distill, we have a grain and malt distillery on the same site, we use single used bourbon casks, and use peated and unpeated malted barley in our production process. Us independents try to do things differently."

So when you get the question, you can explain it quite easily. All you have to remember is that Jameson – or more properly, the Midleton Distillery, Jameson is a brand – triple distills in pot stills with a mixture of malted and unmalted barley, and matures their whiskey in used bourbon barrels. Bushmills is a single malt whiskey, made from all malted barley and triple distilled, and uses a mixture of bourbon barrels and sherry casks to age their whiskey. (Take a breath . . . and on to the next round.)

Both Midleton and Bushmills blend their flagship product with grain whiskey (grains other than barley: corn or wheat, for example) produced on a column still. Meanwhile, Cooley double distills, makes all-malt whiskey, also uses grain whiskey, also uses bourbon barrels, and sometimes uses peated malt . . . but not always. (Kilbeggan's whiskey won't be on the market for a while yet, so you don't need to worry about that.)

Just to make it a bit more complex, these distinctions turn out not to be unique after all. For instance, Woodford Reserve uses triple distillation in pot stills to make bourbon, and Auchentoshan triple-distills their Scotch whisky. Several Scottish distilleries used unpeated malt, stuff without a whiff of smoke.

There are really only two unique aspects to Irish whiskey. First: Midleton's "pure pot still" whiskey is the only whiskey made with that combination of malted and raw barley . . . but it only happens at Midleton. Second, and most important: it's all made in Ireland.

If that seems to leave us with the somewhat sing-song, non-definition "Irish whiskey is whiskey made in Ireland", it's not as substanceless as it may appear on its face. Barry Crockett, the distillery manager and master distiller at Midleton, feels that "The first consideration which sets Ireland aside as a premium location for distillation of whiskey is its uniquely temperate climate. It is this natural advantage which guarantees an abundance of soft water and a bountiful harvest of plump rich barley."
It's possible that there is a certain aspect of terroir to Irish whiskey. Both Midleton and Bushmills people refer to their distilleries as "grain to glass" operations, all taking place in Ireland. There may be something to be said for the climate's effects on the maturing process in the cool, damp warehouses as well.

That's all really interesting stuff, you're probably thinking. But what the hell is Irish whiskey? Colum Egan actually came pretty close with his subjective description: ". . . lovely, light, fruity whiskey with nice spicy, flowery notes." There are still exceptions, but if "Irish whiskey" has a character, even Cooley's peated examples, that's it. And made in Ireland, naturally.
The Brands Now that we've got it settled – mostly – what Irish whiskey is, what's selling? The category leader by far is Jameson's standard bottling. Hartunian was pretty happy about the brand's performance. "If you look at Jameson," he began, "we're 6O% of the category. I think it's fair to say that we're driving a lot of the growth." He referred back to the Nielsen data, noting that while the category grew 23%, Jameson was up 32%.
"We continue to invest in the brand with support and trial," he said, "we continue to invest more in the advertising. We recognize that we're growing the category, not just the brand. It's a category that's still in its infancy. We think there's a huge amount of upside for Irish whiskey. This is a critical stage in the life cycle: you have to invest to make the potential."

Category growth doesn't come from advertising alone, though. Irish whiskey is tapping into something, and Hartunian thinks he knows what it is, the same thing that's driving growth in wine and craft beers: variety.

"Consumers are looking for variety," he said, "something beyond flavored vodka. The younger LDAs are experimenting, and Irish whiskey is a pretty easy transformation. Scotch, for example, is more polarizing: love it, hate it."

There's something of a Spanish character to the younger drinkers, too, in the sense of not being afraid to try something that would shock the core of whiskey drinkers as Spaniards do with their popular drink of single malts and cola. "The alternative means of consumption are growing," Hartunian said, "Irish whiskey mixed with cola, Irish whiskey mixed with ginger ale. It pulls more people in, introduces them in an easy way." It's reminiscent of the old bourbon distiller who says "Son, we don't care how you drink it, so long's you drink it."

Bushmills is second in the race, but with drinks giant Diageo now in the drivers seat, expect some hard driving of the brand; they don't like being second. Diageo's North American vice-president of Scotch and Irish whiskey, Bill Topf, agreed with Hartunian about an interest in variety, and also saw interest coming from Irish whiskey's premium image. "As consumers become more knowledgeable about spirits in general," he said, "there is a growing interest in more premium spirits and imports. As they experience trial with these spirits, their palettes develop, and they tend to turn towards more flavorful taste profiles, which we believe is driving the brown spirit category."

The packaging on Bushmills Original has been re-done, a classic white label that jumps off the shelf, and that's just part of what Colum Egan is talking about when he says, "That's what makes it so much fun to be part of Diageo. We finally have someone who believes in the whiskey with that same passion that we have. We're very good at making whiskey, but Diageo's very good at actually telling the world about it.

"One of the first things Diageo wanted to do," he explained, "was to emphasize a lot of characteristics of Bushmills that were neglected for years under the previous owner. The Bushmills name is more prominent now; it's a name that's synonymous with quality. If you ask people in Ireland what's the best quality whiskey, they'll all say Bushmills. Unfortunately, they'll probably go away and buy something else! What they do is, they keep it for special occasions."

Black Bush, which has a much higher proportion of sherry cask-matured whiskey than Bushmills Original, was the first Irish whiskey I had that I really liked, and I like the bottle of 16 Year Old I got last Christmas. But they're a drop in the bucket compared to Original. "The Original outsells all four of the others combined," Egan said. "It's that popular. I think it's because of its versatility."

Cooley has their peated whiskey, Connemara, named for the area in the rocky northwest of Ireland. Connemara takes Irish whiskey back a century or more by using peat-smoked malt, as older Irish distilleries almost certainly did. "Cooley was set up with a vision to revive old brands and old distilling techniques," says Teeling. "One in particular that we experimented with at an early stage was using peat in the malting process." Their other brand, The Tyrconnell, is a nicely done, straight-up single malt whiskey . . . with no peat.

While there are only three distilleries, there are quite a few more brands: Powers, Michael Collins, Tullamore Dew, Knappogue Castle, the divine Redbreast. Where do they come from? It's simple: they come from those three distilleries. It's a common practice, and the whiskeys really are different, not just different labels. There are all kinds of techniques that can be used to vary the taste of whiskey: aging, barrel types, grain recipes, types of still, distillation processes, even the type and location of the aging warehouse.

That's why Powers and Redbreast don't taste like Jameson, even though they're made in the same place. That's how relatively new whiskeys like Michael Collins and Knappogue Castle can be created from existing stocks of whiskey. Distillers love to play around to create different flavors.
And what about Tullamore Dew? Tullamore Dew ceased production for years, although its name retained a solid reputation. It has been revived and is now distilled at Cooley. Tullamore has made a very successful comeback along with the rest of the category, actually outpacing the steamy category growth. Timing undoubtedly played a role, but senior brand manager Jim Brennan at Skyy Spirits credits the success to a way of looking at what makes Irish whiskey different: "It's social, fun and convivial," he said. "You know, people actually call it "Tully". It's a small insight, but that's what's selling it: a friendliness. It's smooth, but still has a distinctive taste that younger people are more open to."

Michael Collins is also made from whiskey distilled at Cooley. Abaigeal Hendron, of Sidney Frank Importing, is quite feisty in her support for her category. "Why is Irish whiskey hot?" she asked rhetorically. "More brand awareness of Irish whiskeys as a result of increased investment from the brands. More acceptance of Irish whiskey as a 'whiskey', which can be consumed on an everyday basis, not just on St. Paddy's Day and in Irish coffees. More sophisticated marketing to a targeted consumer rather than just the Irish-American population."

She's just as set on her own brand, with the kind of detailed information that warms a whiskey geek's heart. "What sets Michael Collins apart from other Irish blends," she said, "is that it is double distilled and aged in small bourbon barrels for more than the required three years. The blend is a blend of whiskeys from four to twelve years, and this extra aging ensures a smooth refined finish, whilst the double distillation retains the flavors of the ingredients."

Moving Up If you're looking for an upsell path, everyone's got one . . . except Knappogue Castle Irish whiskey. Knappogue ("nappo") is the whole path, a high-end, vintage-dated whiskey that's meant to take on the high end of the market. "Our Knappogue Castle whiskey is not only a single malt but is also vintage dated which adds a singular dimension to the brand," declared Kelley Spillane. "Knappogue Castle crosses the Irish/Scotch whiskey category as well as the blend/single malt category.

"People generally start out drinking blended whiskey," he continued, "and move up to drinking single malts, the top end of the whiskey category. Single malts have distinctive flavor profiles and single malt drinkers are accustomed to enjoying the diversity of malts available. Consumers are both trading up from Irish blends and trading across the single malt category to reach Knappogue Castle."

Trading up is what premium spirits are all about, of course, and the other brands are ready for you. Wayne Hartunian believes in the soft sell for the range of premium bottlings from Midleton/Jameson, like Redbreast, Midleton Very Rare and Jameson 18 Year Old. "We really don't push the premiums," he said, "people find them. We do have brand ambassadors; besides presenting to the trade, they will interact with consumers. As part of the education, there's upsell involved. But the growth in the premiums is happening organically." They do have a very high end bottling, the Midleton Rarest Vintage Reserve, that will be coming out this spring.

Bill Topf noted Bushmills' four premium bottlings: the sherried Black Bush, and three aged single malts, the 1O Year Old, 16 Year Old, and 21 Year Old. There's something special out this year, too. "In celebration of the 4OOth anniversary of the license to distill, granted to the region of Bushmills in 16O8," he said, "Bushmills is releasing a limited edition product, Bushmills 16O8. This special whiskey is made with crystal malt, offering additional smoothness. It will only be available in the US from February through December 2OO8 and will retail for $1OO." I understand that if you want any after that, you'll have to go to the distillery to buy it.
Hendron offers Michael Collins Single Malt, while noting that both bottlings offer a premium product. "What makes [the Single Malt] interesting," she said, "is that some of the barley is peated. Consumers associate peat with Scotland and are pleasantly surprised to know that our distillery is the only one in Ireland to have revived the tradition of using peat."

Tullamore Dew 12-Year-Old "has the distinctive smoothness," Jim Brennan said, "but it's a richer, more complex whiskey. We're also coming out with Tully 1O-Year-Old in mid-2OO8. It was designed to accentuate the signature smoothness, the smoothest of the smooth. We also have the familiar crock bottling, which we've re-designed back to the original the green and white crock design, which was introduced over 6O years ago."

SELLING IT Judging from the growth numbers Hartunian quoted, it would seem that all you have to do to sell Irish whiskey is put it on the shelf and step out of the way – quickly, so you don't get run over by eager customers. It's not quite that easy, but Hartunian did show me some more numbers that give you solid support for working with your Irish whiskey section (and if you don't have a section, if you've just got some bottles sitting beside the Scotch, better fix that!).

Display and feature support are key, according to the additional Nielsen numbers he quoted. They compared a number of categories – Irish whiskey, gin, wine, rum, bourbon, cordials – on their volume lift when supported by display or display and feature. Irish whiskey sales response to display and feature support was phenomenal, almost twice as strong as the next-best category, and the response to display alone was second only to wine.
What's that tell you? People are interested, and if you make it available, they'll buy it. That's why Hartunian's other bit of advice is to establish Irish whiskey on its own. "The key thing: transition the shelf set away from Scotch proximity," he said. "If Irish is next to Scotch, it's not as good a fit. The Scotch consumer tends to be a bit older, and the market's not growing as fast. Irish is more like American premium or Canadian whiskies, and that's where you'll see it in a bar."

"If you feature it, they will come . . . back for more," agreed Jim Brennan. "Don't think of it as another Scotch. A lot of people will just group it in with Scotch, which is a more reparative, "older man" drink. Irish has a much broader appeal."

As that section gets more full, as new whiskeys arrive – and they will, nothing draws new entries like 2O% growth – you'll have to compensate by learning even more (like new answers to The Question). "Consumers are often overwhelmed by the myriad choices," said Bill Topf, "and sometimes purchase based on price. As a retailer, if you build your knowledge about different whiskeys, and individual brands in particular, you can pass on the quality messages to your customers."

If you're concerned about the bottom falling out because of exchange rate woes leading to price increases, well, it's no more so than any other sector. Retail growth was weak across the board, and there's no reason to believe that Irish whiskey will be hit any harder than anything else.
Finally, a word from Abaigeal Hendron about Irish whiskey's seasonality. "Unfortunately, it is more seasonal than any other whiskey category because of the tradition of marketing it around Irish coffees and St. Paddy's Day, and also because publications tend to only feature Irish whiskey in March: no offense but it's true!"

Just for you, Abaigeal, I managed to write the story without any reference to St. Patrick's Day until now. Irish whiskey sales in America and Massachusetts are finally transcending that March Madness and standing on their own, year 'round – as it should be. Cheers!

CREAMS of the CROP
You absolutely cannot talk about Irish spirits without talking about cream liqueurs. Baileys created the category back in 1974, a formula of emulsified cream and whiskey, flavorings, caramel color, and spices, that has grown in sales steadily ever since. "It continues to show positive growth," according to Melissa Woodbury, the brand manager. The brand is iconic, something that can be seen in the mute tribute of its competitors' bottles: dark, long-necked, fat-bottomed . . . just like Baileys.
Baileys recently packaged their billionth bottle of the spirit. The brand has crushed all category challengers to date. It continues to lead the cordial category, and is the #7 spirit in sales in the world. Woodbury noted that Baileys is the #1 spirit brand in off-premise during the holidays. "We sell upwards of 5O% of Baileys during that time of year."
This year saw the first substantive innovation in the brand in years: two new line extensions, a mint chocolate and a creme caramel "Baileys Flavors". Woodbury said, "We are extremely pleased with the results."
She had a few suggestions for positioning Baileys. "Baileys is at home in the cordials section," she said, "but is also very much at home in non-traditional sections for cordials such as the cold box, in the wine section to encourage incremental purchase for consumers, or amongst its Irish brethren of Bushmills or Guinness."

You'd have to be crazy to take on a juggernaut like that, right? People continue to try, with a variety of strategies. Castle Brands has Brady's, which takes on Baileys with price. "The fact that we own the brand from the bottom up and do not act as an agent," explained Kelley Spillane, "has allowed us to take out a tier of profit and offer consumers an outstanding product at a value price. And, unlike many Irish creams, Brady's is made with single malt whiskey."

Why does Spillane think Brady's can take and hold share from Baileys? He's seen it: "Brady's has been in the US for four years and has grown rapidly in each twelve month segment. Massachusetts ranks as one of our top markets and each of our sizes are enjoying tremendous growth. It is a value-driven brand. It has won several awards including Best Buy from the spirit journal. You can't get a better product for the money."
But will you spend more money?
That's the premise behind Coole Swan, a new Irish cream liqueur that will be coming to Massachusetts in the f all. The three partners, David Phelan, Adrian Walker and David Gluckman all have experience with spirits; Phelan worked on Carolans and then "at a director level on Baileys". Walker is an engineer/distiller who lives to work on exclusive spirits, the best he can make with money no object. Gluckman is a design hand who put together the Coole Swan look: uncolored cream, white like cream, in a bottle deliberately different, evocative of an old-time milk bottle.
"We went to the expense of getting the best cream," said Walker. "Why not show it?"

The idea behind Coole Swan is to go after the high-end part of the Irish cream category, a market segment that doesn't yet exist. "David called me and reminded me that we'd talked about a premium cream, the best of the best, no holds barred on costs of ingredients," said Walker. "We decided to go out, get the best, and create the best Irish cream." After trying all sorts of Irish cream, chocolate from Côte d'Ivoire and vanilla from Madagascar, Walker came up with Coole Swan.

Will it work? It seems to be working in Ireland and the UK, it seems to be working in test markets in New York City. If Phelan and company are figuring that their cream is going to rise to the top, there's already a big brown bottle of Baileys up there they'll have to get around, and the store backrooms are cluttered with also-rans. To paraphrase Damon Runyon, the race is not always to the swift, nor the sales growth to the iconic brand leader, but that's the way to bet.

THE SPIRITED IRISH
They say that God invented whiskey to keep the Irish from taking over the world. In truth, whiskey only has part of the restraining grip. The Irish have a tag team of spirits to contend with. Besides the beloved whiskeys, there are the cordials, like the up-and-coming Celtic Crossing and old reliable Irish Mist, and there are the Irish cream liqueurs, dominated by Baileys.

I've seen a lot more of Celtic Crossing in the last year; it seems to be everywhere, suddenly. "We're on a tasting campaign for Celtic," confirmed Castle Brands' Kelley Spillane. "All you need to do to sell the brand is to get the consumer to sample it. The Celtic consumer is typically female, over 3O. She is upscale and entertains at home a lot."
That's the kind of thing that would really piss off Mickey Tonhill. Mickey is the rough-edged spokesman for a new Irish whiskey shooter imported by William Grant & Sons, a 1OO proof speedball called The Knot. The spirit's been supported by a viral video campaign, mostly spread on YouTube, featuring Mickey, a shotglass, The Knot, and a sound guy who's got to be pretty quick with the bleep button when Mickey gets going about how to drink The Knot –straight up, without a lot of "acting like a – idiot". It's a funny campaign that's been very popular. The brand positioning is all about being a man's drink, according to a Wm. Grant spokesperson. The Knot is made in Ireland, from "a blend of Irish whiskeys", but there's clearly something else in it as well: some extra sweetness and spices, perhaps vanilla. Mickey himself is the real thing, from Ireland, but with no extra sweetness: he's a boxer, an Olympian from Belfast. The Knot's only available in Massachusetts, New Jersey, Wisconsin, and upstate New York for now; the success of the brand caught them off-guard on supply. Still, said my contact, "We're happy with where it's at. It's hard to get your hands on it. It's a new brand, we're nurturing it. The nature of the proposition and the product are unique, and we're taking a limited approach."
There are also some other spirits around the edges, like Boru Vodka. Boru is an unexpected product from Castle Brands – as Spillane put it, "Boru is the only imported vodka from Ireland. In a cluttered category such as vodka, being "the only" is a challenge." The new packaging is quite striking – a crystalline clear bottle with metallic martial accents befitting a spirit named for a warrior king – and the vodka itself has won awards for quality, according to Spillane. "The price point is very competitive when realizing the amount of awards the brand has garnered for quality," he said.