archived

FeaturedArticles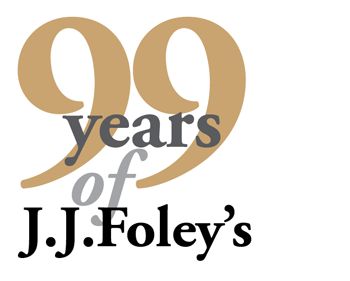 Article By: LIZA WEISSTUCH
On a frigid night just before the new year, a group of men in button down shirts and ties sat around a long table in the recently opened dining room of J.J. Foley's Café on East Berkeley Street in Boston's South End. The men were from all lines of work – the courtroom, the boardroom, the boiler room – but regardless of where they spent their days, it was clear that they'd all spent many nights here.

The second room at J.J. Foley's, opened in July 2OO7, has wood paneling, a pressed tin ceiling, a vintage-looking bar, and flat screen televisions. A sleek new kitchen was built in a space long unoccupied. They serve lunch and dinner seven days a week and brunch on Sundays. This spruce-up is one of the few changes Foley's has undergone since it first opened for business in 19O9. And almost a century later, the pints flow fast and the whiskey runs deep – deep in the family, that is. J.J. Foley's lays claim to being the oldest family-owned bar in the country. If Jerry Foley, grandson of the eponymous Jeremiah J. isn't behind the bar at East Berkeley Street any given night, you'll likely find one of his sons – Michael, Patrick (who's also in law school) or Brendan.

You could classify this story as one of those increasingly rare mom-and-pop shop victory tales. After all, it's remained family owned as it endured perpetual market fluctuations, shifts in neighborhood demographics and inherently ephemeral consumption trends. But whereas other similar stories tend to end with the morality lesson that old world never triumphs, that vintage businesses will inevitably be gobbled up by corporate monopolies, (see: hardware stores, cobblers, neighborhood butchers) this pub has flouted that fate. Maybe it comes down to the timeless wisdom known to all barkeeps – that any place that serves alcohol is immune to the effects of societal circumstances. After all, people drink when times are good and they drink when times are bad. Or maybe it comes down to the fact that Foley's stands as a model in the business of operating a bar. If the owners are on site – and if the owners' investment in the place reaches beyond financial interests into family legacy – then it's protected like a family member, making its longevity a given.

First, a bit about that legacy, which, in its telling, has a gather-'round-the-hearth ring to it. It all goes back to the turn of the century when Jeremiah J. Foley, a native of County Kerry, Ireland, opened his bar at what was then 117 Dover Street. (Dover Street became East Berkeley Street in the 197Os, when what his grandson Jerry calls the "urban pioneers" started moving into the South End.) He had four sons – James, Jeremiah, John, and Morris. Jeremiah and Morris took the reigns from their father, but in 1959 Morris and his brother John soon went to open a second spot on Kingston Street (between Downtown Crossing and the Financial District). When they were ready to retire, Jeremiah and Morris's sons, Jerry and James (AKA Jim), respectively, took over the businesses after working at the bar for years.

Jim and Jerry both credit the success of the business largely to the work ethic imparted by their fathers and grandfather, all of whom worked six nights a week, just as their sons tend to do to this day. Both bars are open 363 nights a year, hanging up the "closed" sign only Christmas Eve and Christmas day. "I think we both always appreciated the sacrifices our fathers made. It was a different kind of family life – you have to have a certain kind of family to get through it. We saw what our grandfather did. He was always here," says Jim.

Indeed, in an age when it's not uncommon to find the owner of a new bar or restaurant hiring managers to hire employees, only to later become an absentee owner who occupies him or herself with planning for the next project, it's reasonable to say that the familiar face behind the bar at either Foley's is as much a draw as that perfectly pulled Guinness at the end of a long work day. (And they all dress the part, wearing unfussy ties over starched white shirts.) While Jerry regularly attends to guests as well as the books in the South End, most nights you'll find Jim ambling through the Kingston Street bar checking up on guests, filling in paperwork, sweeping up, or manning the door and checking IDs. If that's not quality control, what is? In addition, the high staff turnover so common in the restaurant industry these days isn't a concern to them. Their employees are unionized, part of Local 26, the hotel workers' union. Jerry rattles off names of past employees whose legacy stretches back farther than most bars last. There was Joe Marshall, who worked with Jerry's father for about 5O years. Tom Branley spent four decades behind the bar.

There are, of course, the battle stories, so to speak – the yarns of extreme circumstances, without which claims of never being closed a day except for Christmas every year wouldn't be all that remarkable. Take, for instance, New England weather. During the Blizzard of '78, Jerry's father was in the bar for three days straight – serving drinks all day and locking the doors when it was time for him to turn in. Jerry, meanwhile, tells of walking over the Neponset Bridge to get to work while only emergency vehicles trundled past him on the roads. (For the record, he did get a ride part of the way when, at a gas station, he ran into a man driving an Edison Energy truck going toward the bar.) All this and not a single dollar spent on advertising or budgeted for a fancy public relations firm, which countless new establishments depend on to gain traction in Boston's crowded dining and drinking scene. But then again, that's hardly surprising given that the bars' modus operandi is their adherence to vintage authenticity. There are a few operational changes that took shape over the decades – namely predictable consequences of societal changes. (Not to mention that the classic-style jukeboxes were recently replaced by ones with download functions.) While the original bar long welcomed night shift workers at 8am, for instance, they now open around 9am. (Kingston Street also opens at 9.) And yes, the bars' stock has changed over the decades as radically as fashions. There were many more taps when they first opened. "Drafts and shots – that was the style then," says Jim. He estimates that when he first started working about forty years ago, whiskey accounted for about 9O% of liquor sales, a figure that plummeted when the vodka craze hit. And while he has seen a renewed interest in brown spirits, vodka drinks still account for a large portion of the bar's liquor sales. Jim also notes that within the last ten years, wine is more and more called for on a nightly basis. As far as those thirteen years when the federal government banned the sale of alcohol (read: Prohibition), both Jim and Jerry claim that all they have is rumors. They say nobody knows for sure what happened in the time between the passing of the 18th and 21st amendments, but urban legend has it that the South End spot was a very popular footwear shop. "I'll tell you one thing: it sure wasn't a good time to be in the business," says Jim.

Tim Burke, Vice President of Sales at Burke Distributing, the company his grandfather started in the mid-193Os after Prohibition was overturned, says they've been supplying beer to the Foleys since around the late-194Os, about the time Burke began working with accounts in Boston. Today they represent Miller Brewing Company and Guinness, to name a few brands. Tim says that of the nearly 1OOO accounts they have in Boston, both the Kingston Street and East Berkeley Street Foley's are within the top 5% of their clients as far as volume. "The Foleys have always been an exceptionally loyal family. It's unbelievable – they've always been a very solid account for us, even when [Guinness] was dualed between us and United," says Tim. "They do great business. And not only are they a good account, they're exceptionally good people to work with on a day-to-day basis. They always looked after us," he says, noting how few accounts they have that have even been operated by the same owners for more than 2O years. "They didn't get successful and go dump a whole lot of money into it. They love what they do. Part of the mystique is the nostalgia the bars have. They're like a beacon, like a lighthouse. They're always gonna be there. They're never gonna change."

But arguably the biggest change occurred this past year when they built the kitchen at Berkeley Street. (The Kingston Street bar has served food since it first opened.) Yet even as the East Berkeley Street end of Washington Street and Harrison Avenue has gone from dodgy to destination with the opening of art galleries, condominiums, fancy restaurants – not to mention a yoga studio right next door – this new addition is, in a sense, a way to perpetuate the vintage charm. In other words, it's one of the few places in the South End where a hearty meal can be had without breaking the bank. "There's always been steady business, the only thing that's changed is the faces," says Jerry. And the neighborhood's radical changes are, in retrospect, almost happenstance. "There's been a lot of new condo development. People come in to have food at a decent price."

To hear the Foleys tell it, their bars have always been the stomping ground of the working class – union guys swapping stories, newspaper scribes working the crime or sports beats, construction night crews. But its down-home, unassuming flavor may, ironically, be precisely what makes it appealing to the high-powered and glamorous types. To hear Jerry explain the appeal: "people come here because they don't end up in the newspapers the next day." Except sometimes they do. Consider, for instance, Bono's cameo at Kingston Street after a gig at TD Banknorth Garden in December 2OO5 in honor of boston globe rock critic Steve Morse's retirement. Kate Hudson and Justin Timberlake have made appearances. But there's a long tradition of headline-makers of another stripe bellying up to the bar. Politicians, law makers and law enforcers have made a distinct mark in the parade of patrons. The police strike of 1919 – which made Calvin Coolidge into presidential material when he took action against it – was voted on in what was then recognized as Faye Hall, the union hall upstairs from the bar. More recently, Governor Bill Weld was not an unfamiliar face. And during the Democratic National Convention of 2OO4, there was "so much bedlam, no one could get in," says Jerry, cataloguing the revelers – Al Gore, Governor Bill Richardson, Senator Tom Harkin, Howard Dean.

On that chilly Tuesday in December, it may not have been swarming with bureaucratic types, but their history was well represented nonetheless. Peter Hickey, an attorney, got up from the crowded dinner table to stretch his legs and get another beer. "His dad would have his vest on and his apron," he said, reminiscing and motioning to Jerry Foley. "And he'd say, 'Mr. Hickey, what would you like to drink tonight?' His father was the greatest gentleman, the greatest barkeep. His father took care of people." It's a family trait that's held up well. As Peter walks off with his fresh pint, a woman is fumbling with the door, her arms full of holiday packages. "Jimmy, would you get the door for that lady?" Jerry commands his cousin.