archived

FeaturedArticles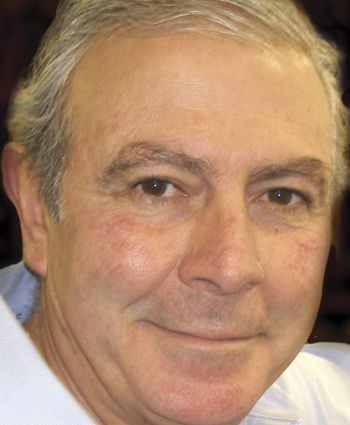 Article By: Fred Bouchard
ANTONIO PANI • 57 • Wine Buyer & Store Manager • Kappy's Fresh Pond, Cambridge, MA

Denny Morris, a Berklee colleague, buys wine at Kappy's Fresh Pond; he usually drinks $1O Cal cabs, but says Antonio Pani has sold him up to finer Priorats. Some salespeople keep up their careers with tastings and wine mags. Pani, a savvy, straight-talking Italian, sidesteps into art history and literature; he hones his inquisitive, scientific mind with evening classes at Harvard Extension, thus raising his floor-patter beyond weather-talk and winespeak into a world of culture and history.

KAPPY? This is not a Kaplan family Kappy's, but an independent shop owned by Larry and Ben Weiner, whose three other stores are MVP on Route 16 on the Somerville/Medford line; Lock Liquors in Malden; and Savemor on McGrath Highway in Somerville. They are good business people, in business for 25 years. Yes, we do subscribe to some extent to the 'buy 5O get 1O free' rule of marketing, but I prefer to buy on sheer merit. So we cater to the 'fast wine' customers as well as the gourmets.
WINE CONNECTIONS I was born in Pisa and spent years in Sardinia as a teenager. When I was a kid, my mother poured a few drops of red wine in our water glasses, just to color it. I rarely saw an Italian drunk, except one or two local characters in Cagliari. Sardinia – like Algeria and Morocco – had a huge bulk export market to France, who'd beef up anemic wines with powerful reds to avoid chaptalizing. I never overindulge, myself, and I worked in vineyards in San Gimignano and Sardinia. Winemakers came to me to taste wine because my palate could perceive and distinguish problems with the wine or barrels. I spent five years in Rome studying accounting, where I met my American wife. In the US, I worked in technical and accounting positions, but hated it. I imported Italian wine (Berlucchi of Franciacorta, some Brunellos and Sardinian wines) through a family company, Pani O'Brien. When customers failed to pay, I raised the red flag and got out. I worked in several wine shops, like Atlas Liquors, Charles Street Liquors, and here for the last three years.
UPHILL STRUGGLE During WWII, young Italian men were recruited to kill and be killed in places around the world – primarily Africa (Eritrea, Libya, Ethiopia). War veterans are nearly always indelibly ravaged – psychologically if not physically – by exposure to and committing atrocities. Italian veterans returned to find the entire infrastructure – civic and rural, social and agricultural – in ruins. They faced rebuilding cities, schools, churches, society. And, yes, they had to replant neglected vineyards from scratch – new vines to a great bottle of red can take twenty years. They also had to overcome an erroneous image put forth – always – by winning nations, of contributing practically nothing to recent European culture. Italians were viewed as a bunch of peasants, and Italian products were seen but little in America in the '5Os. Even the word fiasco – a round wickered wine bottle – has come to connote something that goes sour or bust.
REGAINED IMAGE All they needed was the opportunity to prove themselves: it took decades and a total revolution to reverse the situation. Fashion played a huge role: the excellence of Italian haute couture – shoes, eyeglasses, handbags – paved the way for acceptance of artisanal foods and wines: Parmigiano, prosciutto, Supertuscans. The winemakers, too, had the know-how, but when your vines are scorched and cellars bombed . . . You can achieve instant gratification with a computer program, but not in the vineyard! Today, America's urban centers at least have a pretty well Italianized palate, with pizza, pasta, coffee shops, even if the ingredients are far removed from Italy's. (On the other hand, Italy is getting Americanized with the worst of television, films, fast food.) This toughness of spirit will help today's Italians surmount the current wave of political and social malaise, to rise above politics as they have historically, in a spirit of endurance and innovation. At least Italian winemakers, many small-estate, middle-class farmers (some old nobility, too) are less subject to being scooped up by conglomerates as is California.
BACKGROUNDER Selling wines is not just about the products themselves, but knowing a little about history and geography. There are emotional and spiritual components as well, since people have shared wines with their grandparents and celebrated Mass and religious holidays (Thanksgiving, Passover) with wines. If you come to my house and I offer you a glass of wine as a welcoming gesture, even if the wine is horrible, the intent of a greeting welcome is implied. That moment is sacred.
CULTIVATE CREDIBILITY You must have credibility. It helps to have had hands-on experience with the winemaking process. I've done every single vineyard job: pruning vines in midwinter – a critical step in the process – picking grapes, crushing grapes, cleaned countless barrels before harvest. These are tedious, hard jobs that the consumer thinks are romantic. It was a bore, but it helps me sell wines today. People look at me and think, "Is this wine for real, or are you trying to fudge it?" People used to come in and put money on the table; nobody does that any more. People want to try a wine first, only then will they decide on a case. Making connections – even friendships – with customers is the real beauty of this work. We have customers from Beacon Hill, Watertown, Harvard U, New Hampshire.
NO LABELS I try not to buy labels, but ask that every wine stand on its own merits. You can't judge a book by its cover, nor a wine by its label. That applies to vintage years as well. I push for merit, and try to concentrate on small producers. They tend to produce much better wines than huge conglomerates, which tend to make too many banal, cookie-cutter varietals. There's nothing to talk about with them. This comes down to today's warier, wiser consumers as well; some will buy one bottle and if it doesn't measure up, they will not buy a second one. Post-Franco Spain has come into a hugely positive explosion of arts, cuisine, wine, culture. They broke the chains and are reaping the benefits. Especially Priorat.
ITALY'S BROAD PALETTE Italy has an amazing spectrum of 4OOO grapes, many of them ancient and rare, but some are making comebacks. And people try them and love them! I'm pleasantly surprised that Italy, even with the booming euro, is still coming up with many superb values for dollar. Many outstanding products for $1O to $15 are worth $4O compared to France or California. And not just from one or two regions, but all over: Veneto, Puglia, Campania, Sardinia. The best whites are the fantastically nuanced tufa soil wines like Fiano, Falanghina and Greco di Tufo, from Feudi di San Gregorio and others; they dance on your tongue! Sicily (Morgante Nero d'Avola), Sardinia (Argiolas, some of these wines are $6O to $7O but they're worth it), Abruzzo (Masciarelli Montepulciano). Let's not forget the reds from Maremma in Toscana. They are doing magic things with some international grapes, but also just 'plain' sangiovese. Sassicaia was laughed at when they planted vineyards in the swamp 3O years ago, but they were right! It takes guts and vision, and now everyone's on the bandwagon. Poggio ai Ginepri is a favorite; the 2OO5 is terrific. I started buying it before the big write-ups, and I can't keep it in the store.
TRUSTWORTHY IMPORTERS Here's a story for you. An Argentine of Italian parents who made millions in construction, went back to Abruzzo, bought up his grandfather's vineyards, and is producing outstanding Montepulciano called Il Feuduccio. He's still a construction magnate – this is a hobby – but the wines are magnificent! It's imported by Neil Empson: that's always a good sign, because he's a straight-shooter, not a mercenary. The same goes for Leonardo Locascio with Winebow; he selects his wines personally, and very well.
GRIGIO ALTERNATIVES When people ask for Pinot Grigio, I avoid a confrontation and respect their tastes, but I politely suggest that they "try this bottle and you're sure to be pleased and come back for more." And I point them to a Soave by Inama or Pieropan. Trebbiano and insolia can be lovely, too. These wines need to be pushed. It may be hard work, but to sell a bottle of wine that you know, can open a door for people.
WHOSE SHIRAZ? Trying to sell Shiraz from France or California is regarded as heresy by consumers who think the Aussies invented it. But I think the Australians are shooting themselves in both feet by marketing all these inexpensive cute-animal-labeled products. Now consumers perceive that all shiraz is worth not a penny more than $7.99. That means that mid-range and up shiraz (and by extension, all Australian big wines) are dead. Nobody touches them.
SPIRIT WORLD Grappas of caliber (Nonino, Poli) are too expensive for this market now. Selling a $3O Carpeno e Malvolti is tough enough, but a $6O Poli Moscato is brutal. And these new grappas from southern regions are merely imitations. By the same token, limoncellos that are not from around Naples also smack of fakery.
CONTINUING EDUCATION For years I've been taking courses at Harvard – History and Art History – for personal edification, not to get a job when I graduate! I've been a history buff all my life, especially Renaissance art history. Popes thought that to reach God – even to understand Dante's Divine Comedy – you had to go through math and philosophy. In their battles with the city-states, the church was losing ground due to the victory of science over ignorance, so they employed Florentine artists to regain lost prestige – Michelangelo, Donatello and the others. Even as they were persecuting the thinkers like Galileo, Giordano Bruno, Sarpi. When you see Raphael's rooms in the Vatican, he painted the great pagan writers and philosophers standing at the temple of Rome. But eventually, the artists left for England and France to avoid the Vatican's Inquisition.
PRACTICAL PHILOSOPHY Word of mouth is your best advertising. Presentation is 5O% of the sale. Taste nearly every wine; buy it only if it's worth the price. Don't disappoint anyone; be sure your customers come back. Do your best PR by patrolling the showroom.