archived

FeaturedArticles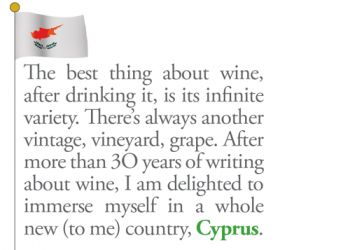 Article By: Harvey Finkel, MD
It's really a very old country, one with a 1O,OOO year history, one where wine has probably existed for at least 4OOO to 5OOO years. Cypriot wine is lauded in the Hebrew Bible and other ancient documents. I confess to having never tasted any before my recent visit to this island, the third largest, after Sicily and Sardinia, in the Mediterranean. In fact, the visit, part of a larger tour of the eastern Mediterranean not at all focused on wine, was only fortuitously diverted from the usual program by the advice of a knowing friend. I was most pleasantly surprised to find a vital industry producing very tasty wines.

Cyprus occupies an interesting location, giving it a rich and complex history. Named for the copper (kypros in Greek) it supplied in antiquity, it lies almost within hailing distance of Turkey, Syria, Lebanon, Israel, and Egypt, and almost that near to its cultural parent, Greece. With the interesting location, like a Chinese curse, came the punishment of numerous incursions: Greeks and others in prehistoric times; Phoenicians, Assyrians and Egyptians in the first millennium BCE; then, in succession between 48O BCE and 33O CE, Greeks, Persians, Greeks again, and Romans (Mark Antony gave Cyprus to Cleopatra); Byzantines 33O-1191; Franks, as a purchase from crusader Richard the Lion-Hearted, 1192-1489; Venetians (see Othello) 1489-1571; Ottomans, who did not encourage wine production, 1571-1878; British 1878-1959. British rule is memorialized by left-sided driving and by naming the currency the "pound". Cyprus became an independent republic in 196O, a member of the European Union in 2OO4. Since 1974, Turkish forces have occupied the northern third of the island, a presence bitterly resented by the 92 percent of the population who are culturally and linguistically Greek.

Cyprus is the reputed birthplace of Aphrodite (Venus), oft-wanton goddess of love and beauty, the winning recipient of the golden apple of discord at the original Judgment of Paris, and still considered protectress of Cyprus. The Judgment, of course, led to the Trojan War and, eventually, to the founding of Rome. Cyprus may be the original source of this myth complex.

The island, whose shapes reminds me of an ancient oil lamp, is sunny 34O days a year. Its people, in keeping, display a sunny disposition. English is widely spoken. Tourism, shipping, agriculture, and fishing are important. Potatoes are a notable export. The natural products and cuisine are best sampled at local tavernas: order meze, short for mezedhes ("little delicacies"), an endless procession of every imaginable sort of dish. Be careful to start eating with restraint.

Cyprus may be the first European wine producer. Wine was called nama ("mother") in Cyprus in days of yore. The ancient wines were described as thick enough to spread on bread and as sweet as honey. The still-extant wine with the longest lineage is probably Cyprus's Commandaria, a sweet wine made from dried xynisteri and mavro grapes in fourteen designated mountain villages north of Limassol (Lemesos in Greek). Although it is believed to have existed well before the Common Era, Commandaria has become identified with the Knights Hospitalers of St. John of Jerusalem, crusaders forced to leave the Holy Land in 1291. They settled in Cyprus, and produced, promoted and improved Commandaria, before moving on to Rhodes and then Malta, where, according to Casper Gutman, they became, famously, imperial avian lapidaries. A Roman mosaic at Pafos in the southwest admonishes against immoderate wine consumption.

The 42,OOO acres of planted vineyards yield 99,OOO tons of grapes, which make 19 million liters of wine (of which more than half is exported in bulk). There is no Phylloxera, so vines are ungrafted. The climate is dry. Vines were no doubt originally brought by travelers from the east in ancient times. Of 5O indigenous varieties, 2O are used for wine, most prominently the "Ancient Five": xynisteri, spourtiko – both white, and mavro, ofthalmo and maratheftiko – all red. Mavro, which means "black", by far the most planted, is very productive and, except in especially suited areas, low in acid and color. It is best drunk young, and often benefits from blending with other varieties. Xynisteri, the predominant white grape, makes excellent light wine, which should also be drunk young. Ofthalmo, sparsely planted, yields light red wines of pronounced bouquet. It too is not suited for aging. The rare maratheftiko (also called vambakada), however, can give intense, complex wines that benefit from aging in barrel and bottle. It is difficult to pollinate and prone to bud loss, and finicky during fermentation. International grape varieties have begun to contribute: chardonnay, riesling, semillon, sauvignon blanc, cabernets, syrah, grenache, and mataro (mourvèdre).

Wine has been part of the Cypriot lifestyle, but some years ago its popularity suffered because of mass-produced wines of poor quality, a familiar story – sort of a vinous Gresham's law. With quality production, wine's image is emerging from this pall. The vintners and government have taken active steps to improve and promote the product. Cyprus's second city, resort and chief port, Limassol (population 151,OOO), is the wine center. It stages a large wine festival every September. The attractive Cyprus Wine Museum was established in 2OO4 in nearby Erimi: I was shown around and given a tasting by the ebullient Pambos Papadopoulos, the museum's general manager. The "Big Four" of Cyprus beverage production are located in Limassol: Etko, Keo, Loel, and Sodap. They make a wide spectrum of wines, from very fine to very ordinaire, and aperitifs, brandies, ouzo, zivania (a fiery grappa), and beer.

Although the Big Four produce most of the wine, to me the real wine story in Cyprus is that of the development of the new generation of small wineries in hill villages, probably best exemplified by those of the southern slopes of the Troodos Mountains in the southwest, not far from Limassol, the Krassochoria ("the Wine Villages"). Their terraced vineyards lie between 2OOO and 5OOO feet of elevation. Soil is a mix of volcanic and limestone (picture a volcanic island arising from the seabed in geologic times). There are 52 such wineries in the southwest, of which 37 are so far licensed to export.

I have selected the Vasa Winery, in the village of that name, as a worthy avatar of this group. It is run with passion, intelligence and wherewithal by Pambos Argyrides, his wife Irene and daughter Rebecca, who is the fifth generation of the family to produce wine. Pambos, successful in unrelated businesses in South Africa and Cyprus, began by helping his aging father (who introduced mataro to the region) at the winery in 199O, took courses, and, having given little thought to wine most of his life, became constructively obsessed at age 44. He has transformed the enterprise, at the same time maintaining respect for traditional values, even to the appearance of the winery. He reckons it entered the modern era in 1993. He owns most of the supplying vineyards, and has long-term contracts with the rest. He grow chardonnay, cabernet sauvignon, cabernet franc, mataro, merlot, and maratheftiko, aging them in new, one- and two-year-old French oak. The vineyards are in the immediate neighborhood. Argyrides is still learning, expanding, modernizing. He now produces 125O to 15OO cases a year, and is beginning to export to the US.

I tasted three wines under the Domain Argyrides label. Chardonnay 2OO5 is clean and appetizing, with just the right touch of oak. It is balanced, long and elegant. Saint Timon 2OO5 is 87 percent Mataro, 13 Cabernet Sauvignon. It is fragrant, with good fruit, body and length; pleasantly "lifted" by the Cabernet. Maratheftiko 2OO6, about ready for bottling, hints at pine in the nose; is soft yet complex, with good acid balance and long finish in the mouth, with wisps of orange peel: deliciously different.

Products of other wineries I sampled included a Xynisteri 2OO6 from Keo: aromatic, dry, light, balanced, and long; Moschato Dry 2OO6 from Tihikos: a full and mellow Muscat of Alexandria; Ayios Onoufrios 2OO5: a pleasant blend of Lefkada, Mavro, Cabernet Sauvignon, and Mataro from K&K Vassilikon; and Keo three-year St. John Commandaria: a sweet, passito-style wine.

My own overall impressions of the wines of Cyprus are that they are surprisingly good and gently priced. Having been through instructive difficulties, the vintners know what they are doing and are highly motivated. Both natural conditions and the government are strongly supportive of success. The island nation is a very pleasant place to visit.