archived

FeaturedArticles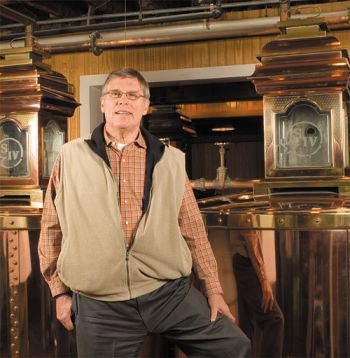 Article By: Fred Bouchard
BILL SAMUELS, Jr. • 67 • President & CEO • Maker's Mark Distillery • Loretto, Kentucky
Tall and rangy Bill Samuels is steeped in family history, local culture, yarns, jim-crack anti-promotion, all driven by a deep love of the taste of his family's 5O-year tradition of making fine bourbon. Samuels is lovingly supervising a rebuilding program at his venerable distillery, restoring buildings on-site and in the village, and converting an ancient rack house into a contemporary urban lounge and hospitality center. He wears his learning in many fields lightly, but uses all in his work: civil engineering (as above), physicist (best reason why he came home), law (can talk his way through a briar patch). His funny, candid, homespun, bone-dry yarning rambled on about family history, neighborly competitors and his single high-grade product. A stroll around the historic landmark distillery with Samuels was punctuated by tour groups, wax dips, aromas of cooked corn and creek-side spearmint, and the whiff of a buzz about an unscheduled visit by a black bear!
HISTORY LESSONS Our family's historic T.W. Samuels distillery near Bernheim Forest was built after Prohibition by my granddad; it closed with the others when Roosevelt mandated that all US distilleries convert to making industrial alcohol for the war effort. (Didn't matter that our still columns were too short to make 19O proof alcohol, only tall enough to make 13O to 15O proof whisky.) We threw up our hands, and Dad signed up for the Navy the next day; he was stationed at Hingham (MA) Shipyard 'til late '45. (Mom christened the USS Ramona with a Champagne bottle.) The distillery business collapsed, the building was left untouched from 1943 'til we started using the rack houses in the '9Os. So, the war put us out of the pedestrian bourbon business. When we came back, we came back with a new notion - a fresh plan - and essentially led the charge that ushered in the modern era of bourbon, and put Kentucky in the forefront of the cocktail culture. So even if it didn't seem right at the time, we thank Mr. Roosevelt for making bourbon today's hot brown category!
DIM BULBS This seven generation Bourbon dynasty was not always easy truckin'. As I researched the family I found several generations of incompetence. They carried my great-grandfather at both ends: his father when he was young, and his son when he was old. You could get away with that in the old days. Dad was the only odd-generation male who was reasonably competent; the others weren't criminal, just ineffective. Family business, other than small retail, is a thing of the past, unless you get sperm-lucky or bring your daughters in. First daughters tend to be aggressive; I thought mine had the knack. But it turns out my son Rob has it. When I was in graduate school in California, I worked at a test base at Aerojet General on the Polaris missile project. I made a large mistake, and the rocket broke loose from the test bay and went into the executive office building. That was a bad thing and a big one: it made the Associated Press and I got fired. At that moment I knew I needed to come back and help Dad. He didn't want me, so I went to Vanderbilt Law School in Nashville.
HAP HELPS OUT After law school, I wanted to go practice law and accepted a job at Bendix Company in South Bend. I only came back because of Hap, Dad's friend and actual competitor. Hap was Dan Evans Mottlow, great-nephew of never-married Jack Daniels and son of Lem, to whom Jack gave the business. Their distillery office was right across the street from my law school. On Friday afternoons, we'd go fish, play gin rummy, visit the distillery. Hap said, "You owe me for puttin' up with you for three years. So I want you to spend one year with your father's distillery. I think it's gonna work. Go back and poke around for a year, then make your own call." When Hap talked me into coming back, Dad was prepared: he had work for me that assured that nothing would blow up. He tried to be polite and said: "Tell you what, son. I'll take care of the distillery and the money, and you git on up to Louisville and find us some customers." Though I have a varied technical career, hardly any of it is in applied whisky-making. Working for Dad wasn't too bad, because he wasn't a control freak. He saw himself as a visionary but what he really was was an optimist. They're very different animals. Neither one of us thought that the business would be anything more than a hobby; he'd lied to me when he told me it was 'turning a corner'.
MOM'S HIGH MARKS My mom (Margie Mattingly) did some things extremely well, looking at the business from the outside with a consumer's and designer's eye. She had great taste in decorative arts, graphics, antique furniture, was a foremost authority on English pewter and the makers' marks. She designed our package exactly 5O years ago from a pewter bottle. From her collection of 18OOs cognac bottles, she took the wax seal idea as a visual cue. That's her Star Hill Farm seal, too. With her chemistry degree, Mom marched to the basement, threw out my photo lab, and set up a wax test kitchen. She used the deep fryer - no more French fries - and came up with a grabby, tamperproof red-wax dip that we use today, right on the bottling line. The squared bottle shape was a big departure, didn't fit in the bar wells. Dad caved in on the packaging - Mom was the stronger person - but was worried to death about getting the wax off. He finally paid people to insert a little 'pull me' tab while the wax was hot, rather than deal with lawsuits when bartenders went to the knife. My dad's distilling goals were to remove the whisky's bitterness and control consistency. When Dad was stuck on which grain combination to use, Mom struck paydirt again, leading the way by baking loaves of bread with various grains. The eventual surprise winner for whisky turned out to be red winter wheat (we use 16%) to go with the corn (7O%) and barley. Her touch can also be seen in the village restoration and our first press releases.
MARKET PLAN: 1967 Post-war bourbon wudn't a commercial product, but an expression of Dad's self. The hard part was communications 'cause Dad was adamant about not attacking people. Our global business was 17,OOO cases and 16 of it was in Kentucky. Bacardi and Smirnoff were on the move, and white wine followed in the '7Os. Bourbon was out of the race. A marketing plan was concocted by Louisville advertising guy Jim Lindsay and me. Our precepts: spread word of mouth; let product speak to consumers; make taste experience foremost (a hardheaded idea!). Our game plan: hover, never attack. Our position: Jack Daniels plus, aimed at mature tastes. Our success depended on Jack Daniels', as we'd get their spinoffs. Dad - disciplined, honorable and pure - could see our results, but not scrutinize our questionable, even reprehensible procedures. I was way more commercial than he, not wanting to disappoint consumers.
JOURNAL JUMPSTART What jump-started us nationally was Dan Govino's wall street journal article on my father and the distillery's historic status in 198O. Restaurants and watering holes perked up and started to contact us. We put our heads down and tried to keep up, and we're still at it 27 years later. In the late '8Os, local competitors began to make their own high-grade expressions of bourbon. Beam's launching its brilliant small-batch collection 2O years ago added gravitas to our staunch stance for product over growth. After the article, we had to: One, buy time. We had zee-ro distribution; my sister took phone calls. Keep buzz going until we had more to sell (one year back-up in the warehouse); Two, field requests from restaurants and bars and local 'distributors'. Bottle at a time; Three, spend time with media, listening to every phone call and letter; Four, Crank production! Never: lower proof below 9O, sell below 6 years, buy whisky, and Five, leak some product to major cities without discounting!
BOURBON BARONS There were really great mentors in this industry. I got a dose of working with Jack Martin (of the Heublein family, we say 'high-bline') who bought Smirnoff for $14,OOO. Mr. Sam Bronfman - he bought Seagrams before Prohibition - would come down to [Kentucky] Derby with bottles of Crown Royal as house gifts before anyone heard of it. Jim Beam was amazing, too, so good with kids. We lived next door and I'd spend after-school with The Colonel. He kept a gigantic box of Lincoln Logs under his bed on the ground floor (had a hard time with stairs). He'd say, "Build a fire station." He was born during the Civil War, and died when I was 7. Over at Heaven Hill, Larry Kass and Max Shapiro, the first Kentuckian to graduate first in his class at Harvard Business School.
EXPORT PROMO We're gonna send Rob up to Harvard Business School so he can take over when I go into semi-retirement. We put him in charge of export less than two years ago - essentially going from zee-ro to something - and it didn't take him long to figure out why: it's tiring. I'll do 3 to 4 big trips out of the country a year; our distiller just got back from Japan, Germany, London. We do half his travel, Rob does the other half. We didn't have any whisky for export 'til lately, and we kept putting off the marketing. Rob figured we'd best go where the inquiries came from: Australia, England, Japan, Germany. But it's still teensy: grown from 2% to 8% in two years. Stateside there wudn't much interest outside Kentucky 'til the '8Os. When I started, Kentucky was 95% of our market; now it's about 7%.
DON'T MESS with MAGIC We've had double-digit growth every year since 198O. That's low double-digit: since we don't buy whisky from others, have only one source of supply and only one product, we have to anticipate 6 or 7 years. Fortunately Dad had the foresight to anticipate increased production. We've always been leery of expansion, so what we did six years ago - in a novel yet simplistic (and expensive) way - is to duplicate the 18OOs distilling equipment so there's a mirror image distillery, doubling our output. It's not just 'don't mess with success'; it also acknowledges that we don't know exactly what's going on, 'cause when the alcohol is in vapor form, you're out of control. You think you've got control, because you can regulate temperature and pressure, but it dudn't take much to tweak it. The safest way to up production, was just redo what we did. We went to the engineering company that made the old equipment, and they dug out the plans and built another one. We're replicating a third one right now. The pot stills are the same dimensions. Three little distilleries, side by side, all making one whisky.
BEAT the HEAT We lease the Old Fitzgerald distillery's rackhouses because you can open and shut the windows. We maximize summer heat by opening the lower windows and shutting the upper ones. We don't do vertical blending, but do rotate every barrel. Vertical aging is better than flat, but that makes the material handling job difficult. We've got lifts, trucks and rickers (three ricks per floor). When I first worked here as a teenager, they hid the rickers, and told us we'd have to roll the barrels up an inclined plane to get 'em on the right level. That's in summer in 12O degree heat! I guess they wanted to impress me with the idea of going to college.
GEOLOGY RULES Water and grain are the keys to good whisky, notably corn and water 'familiar with each other', that is, coming from the same geological area. The water table is limestone shelf; shale layers allow a pathway and the faster the water moves the more it's super-saturated with calcium. Another key point: there's no ferrous oxide. This shelf goes up into Kentucky, S. Indiana, and tails off into Tennessee. (The Scotch Irish immigrants in Virginia and Pennsylvania knew how to make whisky. Governor Patrick Henry's first three land-grant offices were right on this limestone shelf. To get land free, farmers had to raise grain. Stills were all over the place back then, but today all the good whisky's made right back where it belongs: Kentucky, Tennessee. We're all playing by the geology rules now, a good thing for discriminating consumers.)
TRADITION REIGNS We do the same thing with our corn and wheat. We don't buy from grain elevators. We buy from farms as we've done for 5O years, in delimited regions with the same soil composition. Attention to detail gets harder as you get bigger. We tested soil samples, chose areas, and to this day we purchase our corn and red winter wheat from the same four farms. As we made two major expansions this decade, we must get our farmers to expand, too. The upside: we've controlled growth and have more demand than product; and downside: the distillery's a registered national historic landmark, so we can't make sweeping changes. Our old grist mill was replaced by a new one that uses not hammers (too much heat gives the corn beer a burnt sensation) but rollers, which grind coarser than a bakery mill.
TRUE YEAST This is another critical component. Dad kept our yeast alive in a water refrigerator for ten years when we were out of business. He wasn't sure if the family yeast was the right one, because we'd made mediocre whisky before. The fraternity of other distillers - Hap Mottlow, Jerry Beam, The Van Winkels, the Brown-Forman folks - were very helpful in sharing their yeasts, but eventually we went back to our own.
MASH & TUN To a blend of 7O% corn and 16% (most unusual) red winter wheat (rye is too bitter) and 14% malted barley, we add 25% of yesterday's tun leftovers [sour mash]. A little malted barley is added last because it cooks fast. We don't use a pressure cooker, which overcooks the wheat and barley. All we take from the mash is the carbohydrates; the rich wort (or spent beer) goes to hogs and cattle. We use only American white oak, grown in Missouri, Kentucky, Arkansas. Local coopers are Independent Stave and Bluegrass; take a tour if you can. We drive our coopers crazy because we don't trust their kilns for consistent heat. Our oak staves sit quarantined in a woodyard to air dry for a year. Other than a nail, nothing taints a whisky worse than a green barrel stave. It imparts a musty, pungent aroma.
FOURTH on MAIN When our former mayor not quite seduced a major developer to build an entertainment district in downtown Louisville in 2OO4, he countered by bringing famous local brands to the table: Louisville Slugger [bats], Kentucky Derby and us. Our presence was to help revitalize downtown, though we caught grief at first from neighborhood bars and restaurants. It's turned around now. We only asked, one, that it be the finest bourbon lounge in the country, not a saloon (they redesigned it), and two, no Maker's Mark paraphernalia; we want to showcase all the bourbons.
MARKET PLAN: 2OO7 We've just now begun to tap the international market; my son Rob has raised our ex-US sales from 2 to 8% since 2OO5. We're just seeding the market, but it's not a tease. This is all we got! Markets today are: California (85K cases, rising), Kentucky (flat at 65K), Texas, New York, Florida, Georgia, Oregon and Washington, Tennessee, Indiana, Virginia. Five years ago we started to experience an undiminished explosion of visitors: the market has literally come home. Kentucky Hospitality is the recent key to rebuilding the industry locally, and all the distillers are on board. We're changing and preserving all at once. We're upgrading two 188O rack houses at the distillery. One and a third will stay in use but two-thirds of the second is being transformed into a modern urban lounge with fancy bar, a Glassworks sculpture of a big Maker's Mark bottle spouting "Kentucky Shampain", copper colored pillars, brown maple rafters, room for 1OO, and a sound system for bands.
BOURBON TRAIL Internal growth within the bourbon industry has meant more and broader taste profiles. Our collective concentration on the pie has served to make that pie grow. "Bourbon Country" consists of 7 distilleries owned and operated by members of the Kentucky Bourbon Association. We make the product, still talk to each other, and we're taking our hosting responsibilities seriously. Seven distilleries are on board, with more to follow: Jim Beam, Heaven Hill (terrific Visitors Center!), Makers Mark, WIld Turkey, Four Roses, Woodford Reserve, and Buffalo Trace. Six county judges and Jim Woods, President of the Louisville Convention Center, are involved in creating the Bourbon Trail (like Napa with no train) starting from Louisville as our Gateway City. Fleshing out the hospitality fabric are B&B's in charming communities like Frankfort and Bardstown. Every venue's different. Communities embracing the concept include counties with no surviving distilleries but charming towns, Danville and Harrodsberg.
PRODUCT LINE=1 We've never made a second product; front palate finish is our main goal. We don't like big, bold bourbon. We're about whisky, not bells and whistles. We could never get comfortable with the idea that blending over-age and under-age whiskys could create the right product. Our SKUs are few (1.75L, 1L, 75Oml, 375ml, 2OOml [handful], 5Oml minis, mostly for Kentucky dry-county clubs) and inside is only Maker's Mark.
YELLOW WAX EVENTS Every bottle is hand-dipped right on the line by ladies who exert a little personal English. The wax is red, except for charity event bottlings, nearly all in Kentucky. Our local leading lady is Sally Brown (Forman), now 96 and strong as new rope, who set up W.L. Lyons-Brown Foundation, donated so far $1OO million for preservation, such as the palisades on the Kentucky River. Maker's Mark has raised $5 million for underprivileged children at U. Louisville School of Education (25OK), Markey Cancer Center at U. Kentucky, Thoroughbred Retraining Center.