archived

FeaturedArticles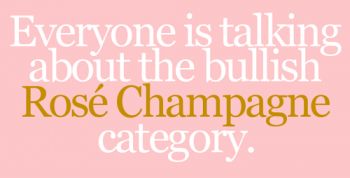 Article By: Bill Nesto, MW
In 2OO6 rose grew 7.11% over 2OO5. In the past, the Rose market was fickle, rising one year and decreasing the next. Since 2OO4 sales have rapidly climbed. Though nearly all major markets have shown unusual growth in the Rose category, the US and Japanese markets have become particularly enamored with Rose Prestige Cuvee. The Rose Champagne package is the ideal focus for catchy design.
Many producers are completely out of stock when it comes to Rose. The first time, I encountered this situation was two years ago. This was when the Champagne surge became evident. I had brought a small group of connoisseurs to visit Champagne Marc Hebrart. When I asked Jean-Paul Hebrart if some members of the group could buy Rose, he told us that his Japanese customers had completely cleaned out his inventory. More recently in September 2OO7, Didier Gallimard of Champagne Gallimard in Les Riceys, found himself in a similar situation as Hebrart. Gallimard owns 11 hectares of his own and buys in the grapes from 3 additional hectares. He makes 85OO bottles of 1OO% Pinot Noir Rose Champagne. He told me that his Japanese customers wanted 4OOO bottles of Rose but he could only supply them with 1OOO bottles. He is now increasing his Rose Champagne production. Back in the US, Stephen Brauer, Vice President and General Manager for Pernod Ricard USA (which includes GH Mumm and Perrier-Jouet), commented on the fever for Rose: "Rose continues to be a very popular style of Champagne and thus the demand for our Rose Champagnes exceeds the supply we have in the US." Changing scenes back to France, Jean-Francois Preau, Export Director of Mailly Grand Champagne, a significant Rose producer, told me the profit margins for Rose are higher than for other categories because there is not enough Rose for the market. He added that many houses were currently investing heavily in Rose production and marketing in order to take full advantage of the high margins. To do just that, Gallimard in Les Riceys has a project to build a special winery dedicated to Rose Champagne.
There are two basic ways to make Rose Champagne. The first way is by far the most common. It entails adding a little red wine to white vins clairs (still wines) to make the cuvee, the final blend, of still wines to which a mixture (the liqueur de tirage) of yeast and sugar and a little amount of wine is added so as to start the second fermentation in bottle. In this method, the red wine usually accounts for 6% to 1O% of the cuvee. Champagne is the only significant quality appellation in Europe in which a rose wine product is made by simply blending red and white wine. A similar, related method is to add the tinted, half-fermented wine bled off early in a red wine fermentation and mix it with white juice to make tinted vin clair for the cuvee. The liqueur de tirage is then added. This process, called the saignee (bleeding) method is usually employed by producers of red Coteaux Champenois (an AOC still wine made in Champagne) because the saignee juice taken away increases the proportion of red skins to juice in what remains. The result is a darker more tannic red Coteaux Champenois, just what the producer often needs in the cool climate of Champagne. The downside of this method is that the producer harvests his red grapes according to parameters necessary to make excellent red wine, not Champagne. As a consequence, the rose saignee juice is lower in acidity and less delicate and fresh tasting than juice which comes from grapes harvested earlier as would be optimal to make rose wine. Because red wine and saignee juice have powerful tinting capacity, lowish acidity and significant levels of tannin, Chardonnay wine with its pale color, high acidity and lack of tannin, often accounts for a substantial percentage of the cuvee that makes the Rose Champagne.
The other basic, but far less common, way is to directly make Rose Champagne to which white wine can be added if desired. The resulting rose vin clair is so delicately tinted that only a little Chardonnay can be added. A rose vin clair is best made by cold macerating Pinot Noir grapes in a tank press and then slowly and delicately pressing the grapes. Pinot Noir is the grape of choice, because Pinot Meunier grape skins are too pale in color to adequately tint the rose wine. This method however ties up the presses during the crucial harvest period. Another way to make rose vin clair is to cold macerate red grapes in tanks for about 12 to 24 hours, then move the grapes to the press and gently press the grapes. This helps free up the press during the busy harvest period, but requires extra tanks to hold the macerating grapes. The methods outlined in this paragraph are difficult because it is not easy to select the right moment to end the maceration. They also require a much higher percentage of red grapes than would be needed in the red wine addition method described in the previous paragraph.
Red wine additions result in a more stable Rose Champagne color. A traditional red wine fermentation (including the malolactic fermentation) results in more stable wine color but sacrifices aroma and acidity. The use of red wine and saignee also results in greater tannin extraction from the skins and seeds. The resulting astringency and bitterness have to be managed to make delicate Rose Champagne.
The cooler fermentation used to directly make rose vins clair better preserves aromatic precursor compounds. The Rose Champagne produced has a stronger Pinot Noir aroma. Acidity is higher because all of the grapes are harvested according to white vin clair parameters. There is also very little tannin extraction because the separation of skins and juice occurs before the evolution of alcohol.
Many red wine addition Rose Champagne producers explain that their style is better because of the color permanence and the lack of varietal character. I suspect that the real reason for their preference may be that for years many Champagne producers have looked on Rose as Champagne tinted to suit the tastes of unsophisticated consumers. Directly making rose vin clair entails more expensive and sophisticated presses, more vat space and more attention during the pressing. Until now, Rose Champagne has been a marginal product for the Champagne producers. Now with growing demand and the concomitant spotlight, I suspect that we will see more producers reexamining their Rose production methods. We will gradually see more rose vin clair Rose Champagne. I believe that Rose Champagne should be more than tinted Champagne. It should be Champagne made principally, if not completely, from Pinot Noir. It should clearly, but subtly, express Pinot Noir, just like Blanc de Blancs clearly, but subtly, says Chardonnay.
The Grand Cru village of Mailly has vineyards of Pinot Noir that have a more northerly exposure than those in the southerly facing villages of Bouzy and Ambonnay. This exposure sets the stage for Pinot Noir grapes with delicate flavors and high acidity. Champagne Mailly Grand Cru, a cooperative that dominates Mailly production, is one of the few producers that makes a significant amount of Rose by the direct rose vin clair method. Chef de Cave, Herve Dantan, macerates Pinot Noir in tanks before pressing. He selects the fruit from the cooperative's oldest Pinot Noir vines to use in making Rose. Mailly Grand Cru Brut Rose is outstanding, delicate, Pinot Noir-smelling Rose Champagne. It is a blend of 9O% Pinot Noir and 1O% Chardonnay. A large house that also uses this method for one of its Rose labels is Laurent Perrier.
Two startlingly different red wine addition Rose Champagnes are the Alexandre Bonnet Perle Rose and the Champagne Tarlant Brut Rose Zero. Alexandre Bonnet, a house in the Pinot Noir-dominant Cotes de Seine region is the largest producer of the rare still rose wine, Rose des Riceys. The house's Rose Champagne, Perle Rose, is 1OO% Pinot Noir. "We fight only for Pinot Noir", proudly asserts Alain Pailley of Alexandre Bonnet. At the other extreme, Champagne Tarlant coming from the village of Oeuilly in the heart of Pinot Meunier country, the Vallee de la Marne, makes a Rose which is a blend of 85% Chardonnay and 15% Pinot Meunier. No Pinot Noir at all is used. In addition, there is no dosage. "Sugar averages everything", asserts Benoit Tarlant. Tarlant focuses on no-dosage Champagne. Will no-dosage Champagne be the next fad?
Champagne Edmond Barnaut in Bouzy makes Coteaux Champenois red wine as well as Champagne. He combines the saignee method and the direct rose vin clair method to make Rose. The Edmond Barnaut Rose Champagne, a blend of 9O% Pinot Noir and 1O% Chardonnay, is a richly colored, red-fruit scented Rose.
---