archived

FeaturedArticles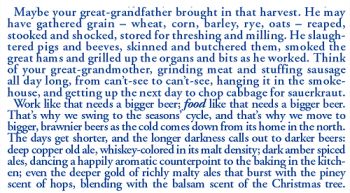 Article By: LEW BRYSON
Winter beers! Just the tonic for cold weather: big and hearty, sweet and spiced, something special to celebrate the holidays. Just thinking about them makes you feel warmer; you don't even need a sweater.
Brewers move to a different calendar. They do winter beers way before it's wintertime.
"It's a beautiful day right now," Jim Koch told me when I called to ask about the winter beers his Boston Beer Company would be offering this year. At the time, it was early September, sunny and breezy, without a cloud in the sky, and a spell of oppressive humidity had just broken. Farthest thing from your mind is winter beers, right?
"No, we're starting to brew them now," he said, laughing. "That's one of the curiosities of making seasonal beers, you're always way ahead of the season. We might do the first test brew of the Samuel Adams Octoberfest in February or March; it really is a Marzen. We're thinking about what tweaks we want to make to Summer Ale right now."
'tis the season! Brewers once made beers to the season because they had to. Oktoberfest beers were called marzen beers because they were brewed in the month of March - Marz in German - the last month cool enough for brewing beer without risking bacterial contamination. The last of these beers, long-aged in caves over summer months, would be consumed in early fall as the new season's beers were coming ready. The French biere de garde came from the same reasoning; a strong beer, meant to be stored over the hot months when beer could not be reliably brewed.
Things are different now. I went back to the very first story I ever wrote for this magazine, the winter beer story for 1998, and dug out a quote from Jeff Close, who was Catamount Brewing's wittily urbane VP for marketing and sales at the time. "Beer seasons these days have little to do with seasonal constraints on materials or technologies," he said, "and more to do with tradition and with temperature for consumption. Beers fit the human activities of the seasons. These beers are a marketing occasion."
It's true. With refrigeration and advances in microbiology, any beer can now be made at any time of the year. We don't need caves to keep beer cold as it ferments, we can hit boil times on the nose every batch, and stainless steel and caustic cleansers keep wild yeasts and bacteria well away from the beer.
But as Close said, our love of seasonal beers keeps them coming, and just when we want them. Despite the brewers' flexibility, we are still locked into the turn of the seasons that our ancestors knew: summertime is the time for fresh vegetables and fruits, fresh-slaughtered meats, and cold meals with light, crisp, crunchy character. When winter comes, we turn to the food that will be available all winter long, storable food: grains, roots, cabbage, potatoes, sausage, smoked hams.
The big lagers and weightier ales of winter are the equivalent of those foods: storable beers. Cold weather turns the mind to the food that makes beers like this sing. These beers yearn for fall and winter food, the delayed fruits of the frenzied harvest of September and October.
A feast for the senses!Winter beers - holiday beers - play on our senses and our souls. We smell them and we sigh with memory and anticipation. They do the same thing for the brewers. "We'll be brewing Winter Warmer in October," said Charlie Storey, head of sales and marketing at Harpoon Brewery. "The brewery smells great when we're brewing it. It's fun for us to brew it. It's a harbinger of the season, part of the annual cycle."
Jeff Horner was brewing up the fall seasonal at Cisco Brewers, out on Nantucket, the day I called, a pumpkin beer called Pumple Drumkin. "It's made with local cheese gourds, little pie pumpkins," he said. "There are a couple in the mash, most of them we roast and caramelize, and then put them in the fermenter. There's a blend of holidayesque spices added in small additions all the way through the brewing process." (Yes, it's the fall beer, but he made it sound so nice I had to put it in.)
Horner was looking forward to brewing their holiday beer, Celebration Libation. "It's got cinnamon, ginger and some other spices, and some good American hops," he said. "It comes out a coppery, reddish color, and it's got lots of crystal malts so it comes out with a nice sweetness. Stylistically? Maybe an American Red Ale, only backed off on the hops, with some spices thrown in. The ABV is about 6.5%, 7%. It ages well; we're pouring from the last of the 2OO6 bottles, and it's beautiful."
Not every winter beer is spiced, of course. Dan Lipke, the head brewer at Mercury Brewing in Ipswich, does two, the Ipswich Winter Ale and the locally-distributed Stone Cat Winter Lager. "We do about 1O times as much Ipswich Winter, it's the big seller," he noted.
The Ipswich Winter is like an old ale, but not quite. "I describe it as kind of a light old ale," said Lipke. "It's like an old ale, but not as sweet, not as strong. The alcohol is around 6%; not huge, but starting to get up there. We use a lot of Cara-Munich 12O, a dark crystal malt that will give those raisiny, treacly flavors. I've toyed with adding molasses, but I've resisted. We have a fairly attenuative yeast, so it's not real sweet. The Stone Cat is a traditional Schwarzbier: very dark but not super-roasty, and not too heavy, probably come out about 5.5%."
For Koch, though, the fun with the winter beers is all about the spices. "We've learned that a given spice has the same taste differences that hops do. We often think of spices as generic: 'Cinnamon' is cinnamon, it's a box you buy off the shelf in the supermarket. But it's not: cinnamon is no more cinnamon than hops are hops.
"We did a cinnamon tasting a few years ago," he said, warming to the subject, "of cinnamons from around the world. We brewed with three or four of the best of them to see which was the best for the beer. It turned out to be from trees grown near Saigon in Vietnam. Same thing with the orange zest. Spanish oranges are quite different from Middle Eastern oranges, which are different from California oranges.
"That's one of the really fun parts of brewing these beers," he concluded. "We can go all over the world, searching out the very finest examples of each of the spices. If you want the best stuff, you often have to get it early, sometimes from certain farms. The really good hops growers have people competing for their crops; same with spices."
All for you! Of course, one of the traditional reasons for brewing these beers is not just fun for the brewers, but as a special 'gift' for the customers, for the people who have bought the brewers' beer all year long. That's the rationale Fritz Maytag gave when he brewed what was probably the first winter seasonal of the micro/craft brewery era, back in 1975. (The following is from my winter beer story from 1999.)
"I liked the idea of an ale brewed for a festival," Fritz said simply when I asked him how the Christmas Ale (more formally known as Our Special Ale) got started. "We're not taking advantage of the season, we're celebrating it. I was adamant that it say "Merry Christmas" on the label. I called it a gift to our customers, not to make a profit. It has become profitable, but it wasn't for years."
Todd Marcus cites that as the big reason he makes Cape Cod Brewing's Berry Merry Christmas Ale, which he described as an amber ale with subtle overtones of cranberry, orange and clove. "We really have to do it," he explained. "We have to keep it interesting for the local folks who support us year 'round. As much as we gripe about brewing new beers, the local folks appreciate the effort we make to give them something special. If we just had the three beers all the time, well, okay. But it's nice to give them something. Sometimes we'll hand-bottle some 22s and give them out as gifts to our special accounts."
Harpoon Winter Warmer was the first seasonal beer from Mass Bay Brewing, as Harpoon was then known. "We introduced it in 1988," said Storey. "Winter warmers are a loosely defined style that has its roots in England, using spices like cinnamon and nutmeg, those rich spices. It was a flavor profile that defined the beer more than hops. It's borrowing from this established historical style. They didn't necessarily try to duplicate that 1OO%, but they did like the idea of a spiced ale. So they thought, let's try it."
It was pretty radical for 1988. "If people thought buying a Harpoon Ale was weird - and it was really an outlier at the time - if they thought that was weird," said Storey, "Winter Warmer was blowing people's minds. What was going on with this beer with cinnamon and nutmeg in it? It was off the charts. It puzzled some people, but it delighted some people. We stuck with it for the people it delighted, and it's still one of our most popular seasonals."
Bells are ringing! When it comes down to it, though, holiday beers are about holiday sales: a bigger ring from those silver bells in the register. The brewers aren't romantically blind to that. "We'll always do the seasonals," said Lipke. "It's a big boost. Those beers are a decent chunk of sales. We'd be missing out if we didn't do them. And it gives Ipswich fans a chance to see new products."
Koch provides a number of beers all at once in Boston Beer's Winter Classics 12-pack. "We've been doing the Winter pack for about 12 years, we sort of pioneered that," he said. "This year, we've got the Winter Lager, Cranberry Lambic, Samuel Adams Boston Lager, the Holiday Porter, Old Fezziwig, and Cream Stout. The change this year is that Cream Stout replaced Black Lager. We introduced the Porter last year, and people really liked that. Samuel Adams Boston Lager is a beer for all seasons, and the Cream Stout's in there to re-introduce people to it.
"It's a big season," Koch went on. "Across the alcohol beverage market, people trade up in the holidays. They're looking for something special, something unique, and they're willing to spend. For the retailer, something like the Winter 12-pack is a home-run. It's both high-margin and incremental, it's an impulse buy, and you don't generally have to discount them. They're add-ons. If you're a retailer, you want to put that in the impulse position: end of an aisle, stacked at checkout, even outside the beer department."
Tim Bush, the manager and beer purchaser at Colonial Spirits in Acton, likes the customers holiday beers bring in, especially his favorites, the Belgian holiday specialties like Delirium Noel and St. Feuillien Noel. "They attract general consumers and the higher end," he said, "and the customers are already asking for them. People pick at them through November, and they're buying huge amounts anyway in the holiday season. December is just unbelievable."
The general manager at Dara's Wines & Spirits in Boston, also named Tim, thinks holiday beers are definitely worth the extra effort of stocking and displaying them. "They make a nice add. In the holiday season, it's nice, and, especially in this area, which is full of college students. They like something special, something different."
Are holiday beer sales truly an add, or are the customers just getting something different? "You've got two things going on," said Koch, bringing up an interesting balance of forces. "One is the sort of simple cannibalization, buying one instead of the other. The other is that [the seasonal] creates interest in the flagship. It was very interesting when Heineken Premium Light came out last year. Base Heineken sales went up because of the additional attention it brought to the whole brand. Samuel Adams Boston Lager, seasonals, the Brewmaster collection: they're all up this year. The fact that we have all these beers makes people think, 'Wow, that's pretty cool, they make all these interesting beers,' and that reminds people how good the Lager is."
Storey agrees. "It's a net gain" having the seasonal sales, he said. "At any given time, we have a seasonal in the market place. We have four seasonals, so there's always one out there. Harpoon drinkers may drink Winter Warmer instead of IPA, but we see them switching back and forth, and don't really see that as cannibalization. It gives them a choice, a seasonal choice."
Well . . . maybe, said Bush. "It's difficult to observe whether they're add-ons," he said. "There's a degree of substitution; people can only drink so much. But they're having parties, having people over, so they need more, and you get add-on business that way. I think it just has to be more substitution than add-on."
Horner just knows what he sees, and that's pretty straightforward. "It's overall positive," he said. "The more beers we offer, the more total sales are up." Hard to argue with.
The party's over! All that's good, but . . . what do you do on January 2nd? Do you take down the decorations and count up how many cases of holiday beer you're stuck with? "It slows down considerably," Storey admits. "Our seasonal beer has a strong association with the holidays. In addition, beer drinking declines in January and February. Those are slow months in the beer industry."
"I think people are just fizzled out after having been through an eight week sprint from Thanksgiving to New Year's," Marcus said. "They're running around, meeting family, eating heavy foods - cranberry this, squash that - and they think, I've got to chill out, enough with the different flavors, and back to the old standards."
Jim Koch's got some rational advice: "Make sure you make your money in November and December! It's tough to fight the calendar," he said.
Oh, yeah? It ain't over 'til it's over, says Lipke. "We still brew Ipswich Winter Ale into January. The whole switch-off between winter and spring/summer beers really depends on the weather. If it stays cold, you can continue to sell it through April. A lot of winter beers are spiced, but ours isn't, and it's not a holiday beer. If it was much stronger and treacly, you'd probably see it more as a deep winter thing, but it's drinkable."
The beer manager at the Spirit Haus in Amherst, Cindy French, isn't going to give up either. "Some of them keep selling into February, beers like Sierra Nevada Celebration Ale. It depends on the style. Most customers just go back to drinking their regular beer. But we've got customers who just want something different all the time."
Cape Cod Brewing has an ace up their sleeve; a second winter beer. "We also do an English Old Ale," said Marcus, "a winter beer, and people gravitate to that in January. We barrel-age that, and people look forward to it. February and March are pretty cold and miserable, and people ask, 'When are you emptying the barrel?'"
Ah! Winter beers, a triumph of brewer's art over seasonal downstroke. They are a burst of excitement at a time of year when things are slowing down, they are an exciting difference for your customer, and a nice bump for your bottom line. As Charlie Storey concluded, "Brewing holiday beers is an attractive proposition."