archived

FeaturedArticles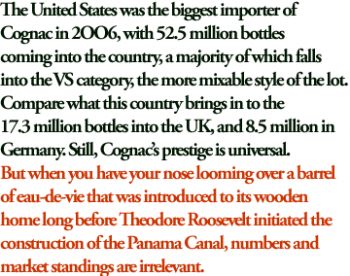 Article By: LIZA WEISSTUCH
Same goes for if you're strolling on the periphery of an idyllic vineyard where the "hiss" of a breeze off the Charante River sounds like nature's shorthand for "history". Standing in a cellar in Cognac - where fungus lingers on the stone wall and the angels' share seems almost perceptible on your skin - all that you can think about is the almost mythological aura of the stuff. "This is the real treasure. It's our oldest reserve," said Vincent Gere, director of Remy Martin Cognacs and Estates, indicating a barrel of eau-de-vie that's been lying around for 115 years. He's translating for Pierrette Trichet, who's been cellar master at Remy Martin for the last four years. The sole female cellar master among the major cognac companies, she has rugged features, a gentle smile and the nose of a bloodhound. Her job, after all, is to bring each eau-de-vie to its premium maturity. She caresses the 115-year-old barrel, "1891" written in dainty script along the side. If she's awestruck by how the atmosphere has been perpetually working its magic, sculpting the content's flavor and body, she barely shows it. Its details are painstakingly meticulous, exacting, but, in a way, almost seem like a matter of happenstance. That's the wonder of a great artist: she makes it look easy.
Remy Martin has 2OO,OOO barrels on a single property. Maybe the one Pierrette and Vincent singled out has seniority, but it's not too much more mature than the seemingly endless rows of tiercon barrels that fill the lower level and contain eaux-de-vie that are close to 1OO-years-old. Most of the contents are on their way to becoming merely a single building block of the illustrious cathedral that is Louis XIII, which is constructed of a delicate balance of 12OO eaux-de-vie that range in age from 4O- to 1OO-years-old. Not a few of them are packed with surprises, like one that's been resting for 93 years, which carries a strong flavor that's remarkably fresh and loaded with notes of dry and candied fruits. Vincent explains how this single distinguished liquid is necessary to fine-tune the assemblage. By comparison, an eau-de-vie aged for 2O years unleashes a rush of fruit flavors on the nose but hits the palate with a dry flavor and very little sweetness.
What is perhaps most intriguing about a visit to Cognac is witnessing the signature touches of each house's distillery. The laws regulating the spirit's appellation of origin were recorded in the early twentieth century and will remain as staunch as the Himalayas, but many houses apply their personal fingerprint somewhere between distillation and distribution (and, it's important to point out, that can be a very long stretch of time - a century, even.) Those marks not only give each cognac its distinctive flavor and character, it's also a way of perpetuating legacy. France has been in the headlines quite a bit in the past year with all the changes afoot in the country. Leadership has turned over and food regulations, like those that standardize the production of Camembert, are under discussion. Some Francophiles have begun to wonder if the nation's essence could even erode. A few days in Cognac is all it takes to understand that if the age-old techniques for making the noble spirit are any indicator, legacy is as unassailable as the national anthem. Remy Martin sets itself apart from the pack by the way they source their grapes. Founded by local wine growers in 1724, the company has maintained its loyalty to the grape growers, which presently number 1255, who supply the distillers. Each grower is also a shareholder. "We're not here to change things," said Vincent. "We're here to reproduce what's always been done."
A key to ensuring a cognac is reproduced consistently is by carefully monitoring the oak barrels. While large grain oak gives the eau-de-vie tannins as it ages and lends itself to a harsh, biting taste, small grain oak yields less tannin. But that's just a scratch on the rich wooden surface. A significant aspect of Courvoisier's property is the cooperage that sits five miles from its warehouses. Courvoisier hand selects about 5OOO oak trees every year for purchase, some of which are up to 2OO-years-old, for barrel production at its cooperage. The tree trunks are split in a multi-step process that begins when a blade on a giant contraption that resembles an electric guillotine cleanly slices through an immense trunk. After further cutting, the coopers are left with only about 2O% of the wood for making the staves for barrels. (The rest is used as firewood for energy sources.) Each stave is aged in the fresh French country air for three years and weathered by the elements. As far as I'm concerned, that's what gives cognac its Gallic essence.
Like all the other houses, Courvoisier, a Beam Global brand, stakes its name and heritage on its consistency. But that hardly precludes them from introducing new products to keep a firm grip on consumers' interests. Courvoisier's legacy is heavily based on its associations with Napoleon. The general was a faithful customer of Emanuel Courvoisier, who began his illustrious career as a wine and spirits merchant. (His son, Felix, would go on to formally establish the business - read: brand - in 1843.) On June 17, 1814, though, Napoleon ordered a ration of eau-de-vie from Emanuel, which was allegedly remitted to his artillery company. It's speculated that it was Courvoisier cognac that made its way to the island of St. Helena where Napoleon spent his years in exile. The British soldiers came to refer to it as the "the cognac of Napoleon". To this day it bears the insignia of his silhouette. The stuff of Courvoisier's heritage is also the stuff of its future. In 2OO4, 2OOO bottles of the Courvoisier Succession JS were produced. This limited edition blend marked the bicentenary of Napoleon being crowned Emperor of France on December 2, 18O4. It will be available in the US in 2OO8. The packaging, a direct link to Napoleon, is a cleverly miniaturized model of one of Napoleon's chest of drawers. The real thing is housed in the Courvoisier chateau in Jarnac. The packaging of Succession is a replica down to the tiny model of Napoleon's key to the chest, the tip of which is shaped like an "N".
"Napoleon was, in his time, a modern guy, a man who came up with innovations for reasons," said Jean-Marc Olivier, Master Blender and President and Managing Director of Courvoisier. "We're also a modern company. It's important to conserve tradition with quality products, but it's also important to provide innovation to the consumer, and to reach younger generations." To ensure the latter, he references Courvoisier's associations with pop culture (see Busta Rhymes's "Pass the Courvoisier") and cocktail culture. "It's a pleasure - we're totally involved in it . . . I'm sure if Napoleon lived today . . ." And with that he trailed off with a mischievous shrug.
There are rumbles of change at the grand Quais Hennessy. Sort of. Actually, the company, which owns three distilleries and 6OO acres of vineyards in Cognac, is merely authenticating how they're on track with the globe's contemporary interest in green cultivation. The buildings along the river, which the enterprising Richard Hennessy first rented in 1765, house the Hennessy offices and museum. As part of Moet Hennessy Louis Vuitton's commitment to cultural sponsorship, the museum features exhibits that would easily fit at the Guggenheim. A Picasso show, for instance, "Tribute to a Torero", recently showcased work the master created for his close friends Luis Miguel Dominguin and his wife, Luci Bose, the Italian actress. This past June, Hennessy was certified in compliance with the requirements of ISO 22OOO, the Food Safety Management System standard. The prized international certification for food security, it's recognized by 12O countries. That comes on the tails of Hennessy being awarded with ISO 14OO1 certification in 2OOO, a recognition of company's commitment to the environment and its personnel. According to Thibaut Le Mailloux, who handles international communications for Hennessy, by virtue of the cognac industry's methods of production, essentially - whether intentionally or not - it's increasingly moving toward biodynamic operation. "If you play too much with chemicals, you're going to get sterile soils," he said. In other words, it would seem that by adhering to custom, the industry is ahead of its time.
Martell boasts an elaborate visitors' center in a converted aging warehouse. With engaging, proudly retro displays set up in the style of the Museum of Natural History or a science museum, the center offers expansive displays with well-edited text accompaniment outlining the company's nearly three-centuries of history and key figures. It also houses an extensive collection of the brand's vintage advertisements though the decades, an intriguing cultural study in its own right. Other displays shed light on the harvest, distillation and aging. Antique machines and mechanisms are on view, but the center is just a stone's toss from the center of Cognac's downtown area, which is peppered with a rather au currant collection of restaurants and stores. This juxtaposition seems to reflect the company's approach and market standing. Given that it's estimated that about 7O% of cognac consumed globally is currently mixed, Martell has tapped into the mixology craze and in spring 2OO6 released Martell Noblige, an exceptionally dark-hued cognac that is paving the way for a new designation in the category: "Qualite Superieur". With its deep mahogany hue and light floral flavor notes that suggest pear and lemon, it lies somewhere between VSOP and XO. The blend, which retails for about $44, is ideal for mixing in cocktails and offers an aromatic depth that a VSOP doesn't.
Noblige is comprised of a substantial amount of eaux-de-vie from the Borderies growing area. Those grapes lend themselves to the round, elegant floral notes that are expressed in the blend. Pascal Cibrot, Chief Blender, refers to Noblige as having "respect for Martell style". As can be inferred from Pascal, the grapes from Borderies have always played a major role in Martell's cognacs. While it looks like Noblige will find a comfortable following among savvy bar chefs and mixologists, those who prefer super premium cognacs neat should take note of Martell Creation Grand Extra, which is sold in an exquisitely designed arch-shaped bottle that is almost a symbol in itself: a bridge between the past and future.
A scant few hours in Cognac is enough to make even the most hard-core techie appreciate the virtues of antique processes. I think of it as analogous to maverick young jazz musicians who've been steeped in the standards throughout their training but are keen on putting their own spin on customary melodies. Just as, say, Branford Marsalis may play a rendition of "A Love Supreme" that sounds very little like John Coltrane but is in every way a tribute to him.