archived

FeaturedArticles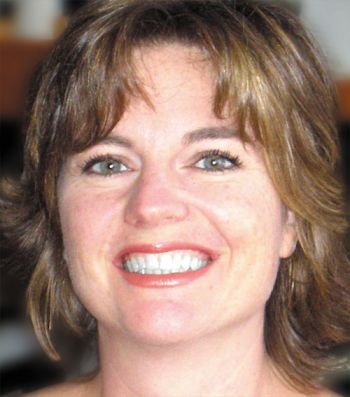 Article By: Fred Bouchard
LAURETTE COSSABOON • 38 • Buyer & Sales • Ball Square Fine Wines • Somerville, MA

---

Who could have imagined the magical influence the training program at Disney World would have on the retailing of wine and spirits in Davis Square in Somerville?

---

HOW I GOT MY START I'm from Walworth in upstate New York, near Rochester. We had one blinking light. I was 19, at Finger Lakes Community College majoring in travel and tourism, when I got recruited by Disney World, who was hiring for the opening for the Grand Floridian Resort, and I moved to Orlando.

NOT MICKEY MOUSE Disney in 1988 was very diverse in staff and clientele. At the Grand Floridian, the Disney flagship, I was waiting on contest winners who were barely making ends meet to crown royalty - and everyone in between. When I served the Princess of Bahrain, she would only eat off our finest china. Her entourage had a whole wing of a floor; no men could go in; armed guards checked every package, poked every dish. A friend waited on Princess Diana and her little boys on a chartered yacht; there was a media frenzy of crazed Americans.

EVERY GUEST is KING We were intensively trained in Disney culture and what it meant to be a Disney employee. Disney's big thing was Customer Service, and other companies worldwide were coming in to see how they did it. Key personnel held seminars. There were no customers, only 'guests'. You treated them - from the first of the morning 'til the last at night - as if they were the only persons walking through the door. Not like family, understand, because you want to keep that nice level of professionalism. That was difficult, especially at the Grand Floridian, because people asked endless questions about VIP guests. Grooming and graciousness were part of it. You tried to create as many magical moments as you could, since for many it would be their only trip to Disney World. It was very expensive, and all about the show, on-stage and off-stage. Cursing, smoking, gum chewing were all taboo. If you saw anything on the ground, you'd pick it up - I still do! If anyone wanted a family photo, you volunteered to take the shot.

SOMMELIER DAYS We opened up a new concept Disney restaurant called Citricos. Every "cast" member who had customer contact knew how to pair wines with every dish the chef created. He was from Alsace, and a terrific chef; he'd always urge us to 'think about the flavors'. Dishes were intensely flavored, and featured local citrus and warm-water fish. The Court of Master Sommeliers [CMS] and Robert Kracher Imports trained us for the last few weeks. When Opryland Hotel opened the Gaylord Palms (4 star, 4 diamond) in Orlando, I was on that opening team.

PASSING TESTS I caught the bug and got thirsty for more. Pre-opening ramp-up time was intense, but I stayed on and helped develop training for the next wave. We got certified when we took all the CMS basic certification exams. There were basic questions about the industry, world regions and grapes. There was some tasting, but no blind tasting exam. Of course, the CMS is much more service-oriented than the Master of Wine program. Since I've been doing more retail, I've gravitated more toward that side of training.

READING in the GARDEN While at Disney, I became a garden geek and worked at Home Depot and got state certified in their horticulture department. That tied into the wine thing, as the more I learned about grape growing affecting the end product, the more interested I became in the Master of Wine program. And I'm a history buff, too - read a lot. When you learn about the historical regions, like Chateauneuf du Pape being a refuge for the Popes in Avignon, the more it piques that interest of learning and how wines and dishes of an area were literally made for each other.

TRAVEL AGENT My first job in Boston was as a travel agent, but the industry has changed since 2OO1. Security is big, people travel differently, book their own trips on-line. I loved Bermuda: a small but beautiful and interesting place. People are well-educated, and very well-traveled, as they get island crazed. They wait for 'seat sales' to pop up and go all over the world.

WINE and SPIRITS I was working here part-time, then became full-time as a buyer. When I tended bar at Disney, their attitude was: "Learn everything you can." There were spirits training classes; they brought in a portable still. We'd try to taste differences between 5 tequilas, 5 vodkas, 5 of everything. This is more fun on the retail side. At a bar, you make somebody a drink, but in retail, you tell people all you know about the spirit, and people love to tell their friends what they learn from you.

STORE AIDS For our size, we have a raft of SKUs. We have the wide selection we do because our clients ask for niche products and we go and get them. We could just go with stock items, but we like to find out-of-the-way things. We use some shelf talkers, but it's mostly conversation. Somebody just asked me about wines from Peru (I know nothing); we can't wait 'til Eastern Bloc wines start rolling in. We have many Greek and Romanian customers, but surprisingly few Portuguese. We have little storage space, but take many special orders.

ROLODEXING Romanians like their native wines, others like the Pacific Northwest. I can't keep enough different South Western French wines in the store; we phone or email a bunch of people when they come in. We have flavor profiles on certain clients. I zero in on people's palates also by keeping record of what they buy and follow up if they liked it. It's easy to do what the customer tells you; I do a lot of listening.

SOFTWARE Spirits 2OOO is our current software, and we're fine-tuning a program called EnoFile.* Customers can come in and swipe their card and look at their purchases. If they try a bottle, they can write up and share their notes online at home, or with us and other customers. It was designed for wine, but we're stretching it to include beer and spirits, too. It will help with inventory control, as well, with all our SKUs.

GREAT TASTINGS We hold tastings on Fridays between 4:3O and 7:3O. Our grand tasting is once a year in October, right here in the store, as we gear up for the holidays; it's bigger every year. One customer asks in advance so she can get the day off from work! Approximately 14 distributors represent their product. We have a few hand-crafted beers, Dogfish Head in the past. Sometimes launching new spirits, like Starbucks Coffee Liqueur. Chris' mother, Joanne, a native of Greece, spends weeks cooking up platters of spanakopita, kasseri pie, pastitzio, kourabiedes and baklava for this giant event. We bring in extra help to serve up finger food and slivers from our cheese case, and open up about 75 different wines. Tasting sheets with every wine are printed out for note taking. Sales are high for the day and people come in later to select and discuss their favorites based on their notes. Turnout can be well over 2OO. It's all day Saturday, October 2O, with much residual goodwill rippling through the holidays. A lotta work, but a lotta fun!

CUSTOMER SYNERGY It's kinda tough space-wise. We have add-on racks. We squeeze in as much as we can. There are wines that I don't put on the floor and hold for special customers. They come in with their notebooks and Blackberrys asking questions. We have to stay on our toes, and not only taste almost every wine that comes in, but follow them from vintage to vintage. I might say [to owner Chris Lianos], "I don't like this wine, but I think I know who would."

AVOID the OBVIOUS Because this area is working-class, we can't stop carrying heavily advertised pop brands. Companies are shaking up a bit, with the liquor side getting more interesting as distributors consolidate. It pushes us to do more with aperitifs and interesting liqueurs. Our sake section has tripled in a year, quite a bit of it high-end boutique items. But we can't quite phase out Yellowtail and 1.5s are ever popular.

ON the BALL But this area's also becoming gentrified, with old houses broken into condos, and professional influences from Boston. It's learn as we go with Chris, who's owned the shop five years. We take a lot of pre-sells, based on last year's business - we took our first Bordeaux futures. We attract foodie folks, who make a dish and want that right wine. Germany and Austria have exploded beyond Dr. Loosen and Kerpen - lots of small producers are becoming favorites. The labels can still be a nightmare, but people are showing patience, and we've become a go-to shop. We may tackle Terry Thiese's portfolio a little more this year.

COGNACS Some come in for their yak-and-coke, but for those looking for something extra, I like to show Pierre Ferrand. A good friend was looking for a special bottle for a friend born in 1977 - we discussed port, but I said, "How about a vintage armagnac?" We'd done a pre-sell on some vintage spirits, and we happened to have a '77 Cerbois. You have to do more research and talk, it's not for everybody. Some say it's better than cognac, distilled only once in a continuous process, and retaining more character. Upper level Hennessy and Remy always sell well. Martel Cordon Bleu is one of my favorites - the nuttiness makes it stand out. We can't do much with Richard and Louis XIII off the shelf with our clientele - I sold more of that at Disney by the glass. Leressingle is for those who don't want big name brands, Planat for those who like the taste of cognac but not the price tag. We'd like to have a Ferrand tasting this year, maybe November. Germain-Robin from Napa does okay, though most people still think traditional.

HOLIDAY SPIRITS For Calvados, we have a standard and a 1O year. Grappas are big around the holidays, Alexander's sangiovese, Trere, Castello la Leccia and Nardini flavored all do well. Our Limoncello goes beyond Sogno - people ask for small family-owned boutique houses. Bradley Jarvis, Master of Scotch, came in for a single-malt tasting, burning his peat and all. People came and took notes. A high-end tequila tasting was a success, too. We've added a small cigar section last year, two humidors, by request.

GO-TO GUYS Steven Chevalier of Ideal and Lindy Campbell of Boston Wine are always finding us niche wines, spirits and unusual dessert wines like cassis and pastis. Ideal supplies consistently good wines for our conscientious caterers, like A.J., or Gerry Pierce at Peasant Stock. Since Boston Wine was bought by Winebow, we've had unprecedented pricing opportunities. Their book has increased quite a bit, and they still have the fine Spanish and German wines we've done well with.

FINGER LAKE WINERIES They're doing a lot to upgrade New York State wineries. I still love to dance around those wineries with a good friend from Keuka. I really enjoyed The Red Newt - their beautiful little bistro uses local agriculture. Atwater is another favorite. Most of the good ones sell all their wines at the cellar door so they're hard to find elsewhere. One year while at Niagara on The Lake [Ontario] I tasted ice wines. After all those years by the Finger Lakes I finally went to the other side!

BEST TRAVELS When I visited Napa a few years ago, I loved Shafer Vineyards - a very green, organic winery (bat houses, song-bird houses, integrated pest management) that gave a real sense of place. I tapped my resources and we got a private tour and barrel tasting! I'm trying to learn more about Italy - love their cooking and hope to visit.

LAST READ I like to tap into the books. People who trained me in the CMS at Disney - Andrea Immer, Doug Frost - are now writing books, and I love to read them. A customer gave me wine & war, how they shuffled the wine around to keep it from the Nazis. I like decanter, a British magazine that really works for me and what we have in the store. You have to peruse wine spectator a lot - wine enthusiast a bit.

PHILOSOPHY Coming from a service rather than retail background, I say customer service is #1. You make customers one at a time, and lose them the same way. We want this to be their wine shop. You have to listen to your customers, find out what they want, and give it to them. We send out 13OO emails a week and continuously ask customers for their feedback. I'm not going to get rich doing this, I do it because I love it. I could make a living doing something else, but I might not enjoy coming to work every day. My passion for wine translates to my customers, for sure.
---

*ENOFILE WEBSALES Ball Square's website at present appears modest in format, but is becoming increasingly innovative and interactive. Site-browsers may search for wines in stock by type (color, style), region (country, province), grape varietal, or winery. Moreover, Lianos and Cossaboon are now hosting a site where customers (and others) can post their wine profiles, picks, etc. and exchange views . . . Customers may ask to be alerted when favorites (Molly Dooker, South Australia), scarce (Beaux Freres, Willamette Valley), or seasonal (spring roses, fall meads and Lustau sherries for the holidays) items arrive. The new system will be up and running this fall. Hale Communications will be assisting with the initial roll-out, any media coverage and brochure marketing.

Chris Lianos, 4O, Ball Square Fine Wines' Owner, spent 13 years in retail before opening his first shop in 1993 in Waltham. He bought an ordinary package store in Ball Square in 2OOO and closed for a year to fully renovate it, with the idea to reach a new customer base, as Davis Square was thriving and expanding. Chris' passion for Greek wine shows in the shop's extensive selection of 11O Greek wines, perhaps Boston's most inclusive.

"By keeping up with the wine industry's constant changes in environmental, cultural and business trends, Laurette and I try to provide broad-based expertise for our clients. We're as up close and personal with the bottles on the shelves as with the people who walk in the door or call in with special orders. We taste and evaluate as many wines as we can to ensure standards of quality from the producers established and unknown, and wines from vintage to vintage," says Chris.