archived

FeaturedArticles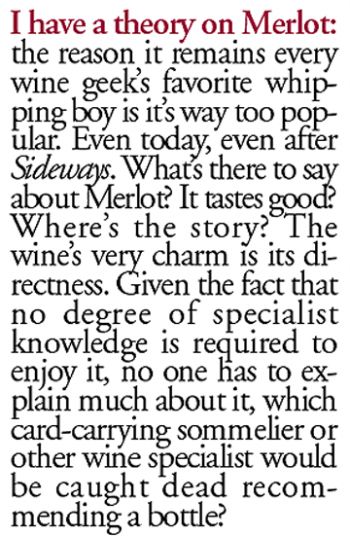 Article By: SANDY BLOCK, MW
There are, of course, other reasons Merlot is out of favor with the cognoscenti. There is an awful lot of mediocre, thin, flavorless wine in bottles today with Merlot on the label. The grape's trajectory through the market has been nothing short of meteoric. Since the overall wine business is governed by the same forces - fear and greed - that influence the fate of other products in our economy, it's no surprise that once Merlot went from obscurity to extreme fashionability, there was no shortage of marketers looking to cash in. The reason Merlot caught on in the '8Os was because the whole country had suddenly begun to wake up to red wine. Due to its softer tannins and milder acids, Merlot became known as an easy-to-drink transition wine. This stimulated a huge rush to plant. Consumers proved that they would buy virtually anything as long as it said Merlot. Prices rose, inventories sold quickly, and this occasioned more planting, more over cropping, more flavor dilution and a surge of increasingly boring wines.
A rising tide of virtually indiscriminate buying sweeps along better producers who are tempted to raise prices, because their wines too are selling quickly. Since you can't fool all of the people all of the time, Merlot eventually, and predictably, fell victim to a top down inspired backlash. What had gone around came around and the result was a sudden logjam of Merlot. No longer the fashion statement it once was, sales backed up, prices moderated, and marketers began chasing other trends.
Which brings us to the current situation: dollar for dollar, pound for pound, good quality Merlot is a value. As in, at a comparable price, of let's say $15 to $25, it's often better than Cabernet Sauvignon or Pinot Noir. This, at any rate, is what my most recent series of blind tastings indicate. You often get a more mature wine, with more concentration and length of flavor. Why? Because in order to be competitive in a scenario of shrinking demand, the producers have to be better in order to survive. Here are the cream of the most recent crop, listed in ascending order of preference.
Now that sales are a bit slow, it's to our advantage to seek out the more mature examples. The better ones will put the assertion that Merlot is simply a mellow, light wine without much stuffing to the test. Not that there weren't a slew of faceless, nameless, boring Merlots in my tastings as well. The good ones, mentioned above, stood out but the reality is that you can't just pick a Merlot at random and expect it will taste anything other than generic. These better quality wines, however, constitute a great buying opportunity.
BENZIGER SONOMA, 2OO4
Benziger is at the forefront of the loosely defined movement for sustainable winery practices in California; the estate has recently been certified as biodynamic and the majority of growers that the winery purchases grapes from are subscribing to one form or another of sustainability on their farms, whether it's natural methods of pest control, composting or recycling water. That said, this is a lovely, supple wine, which is the reason to drink it. With an aroma of cola, red berry and root vegetables, it's smooth and juicy on the palate, with black cherry, slightly chocolatey flavors. It's a quintessential low acid, soft tannin merlot with satisfying fruit expression. $17
TRINCHERO FAMILY MONTEREY, 2OO4
This wine, from the family that brought you Sutter Home, has a really positive plum-like, slightly smoky aroma. It's bold and mouth filling, with warm gritty red berry fruit and a grand finale finish of edgy spice. More substantial than you'd be led to expect from the modest price, it's on the borderline of being a bit too powerful to enjoy without food accompaniment. I would serve it with a cut of juicy red meat right off the grill, or some hard cheeses. $12
PAVILLION NAPA VALLEY, 2OO4
I've never heard of this producer, but this is quite a wine for the price. It has a fresh red fruit aroma accented with cinnamon and a creamy round texture. Soft on the palate with luscious berry flavor, it's a bit higher in tannin than expected, but the fruit is so well extracted that everything is in balance. A Merlot whose ripe flavors you could enjoy with barbecued ribs. $16
BURGESS CELLARS NAPA VALLEY, 2OO4
This under-appreciated winery has been in the Merlot business for a long time. Made from grapes grown on a single estate vineyard in Napa's Oak Knoll district, the 2OO4 Burgess has a subtle smoky, mocha like aroma which shows the influence of the French cooperage in which it was aged. Very sensual in style, packed with round, soft, ripe creamy fruit, this Merlot finishes with another touch of chocolate and some lingering warm exotic spices. $22
TANGLEY OAKS "LOT #7" NAPA VALLEY, 2OO4
This is a big wine with a velvety smooth feel on the palate. It has a complex aroma of plum, herbs, cocoa, vanilla bean, and lots of ripe red berries. Richly extracted and full in body, with soft refined tannins and acids, it has a very satisfying assertive flavor one rarely associates with Merlot. Serve this powerhouse blind with a great cut of meat and your guests may be surprised. Pleasantly. $22
PARCEL 41 NAPA VALLEY, 2OO4
This rather unromantically named wine had a distinctive smoky bacon, minty aroma. It's a bit intense on the palate, with rich chocolate-like black fruit extracts and undertones of spice and berry. Very lush with great length of spicy flavor for a wine in this price range. Serve it with grilled lamb chops rubbed in rosemary. $2O
STEELE "CLEAR LAKE" LAKE COUNTY, 2OO3
This wine was a consensus favorite, taking top honors by a wide margin. Everything about it was distinctive. The aroma featured anise, a touch of pepper and dark chocolate. There were flavors reminiscent of raisinettes, which to a true choco-holic like myself are hard to resist. To continue the candy flavor analogy, there was a definite licorice accent that went on into the finish. Ripe, concentrated, balanced with relatively strong tannins and alcohol, this wine has everything you could expect in a fuller-style Merlot. The fact that it is approaching 4-years-old should not be discounted. Merlot as good as this improves in the bottle. $2O