archived

FeaturedArticles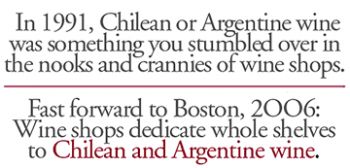 Article By: BILL NESTO, MW
Though value wines, under $1O a bottle, remain the essential hook for the US consumer, there are wines costing $5O or more, such as Almaviva, Clos Apalta and Lota from Chile and Caro from Argentina, as well at all price points between.
What has changed? Why do Americans love these wines so much? Will the boom continue? It was time to revisit the continent under me, where my winter is their summer, my spring their fall. In October 2OO6, I returned to Chile and made my first pilgrimage to Argentina.
I expected the Chilean wine industry to be totally renovated. It was. My big surprise was how state-of-the-art and spanking new Argentina's wine industry appeared. In both countries, the old historic wineries have been restored to attract wine tourism. While Chilean wineries have a conservative look, the Argentine ones sport innovative design framed against the towering Andes. Bodega Zapata Catena has erected a Mayan-Temple-like building to house its offices and vinification tanks. The O Fournier facility looks like a flying-saucer nestled in a bed of vines. Salentein's circular chais evokes the Parthenon. Wineries in both countries have the very latest equipment and employ expert consultants from France, California, Italy, and Australia. Tasting rooms and gift shops seem Napa-inspired. Chile and Argentina are both making investments in wine tourism. From February 15 to 18, 2OO7, the Park Hyatt Mendoza will launch its own version of California's Highlands Inn's Masters of Food and Wine. Todd English and Ken Oringer are two of the fair's star chefs. The skyscrapers of Boston are just beyond the Mendoza horizon.
The Chilean vineyards have undergone great change. The jungles of vines of yesteryear have been replaced with manicured phalanxes of vines. Vertical shoot positioning, a thin curtain of vegetation hung on wires, has replaced the sprawling California T-trellis which I had seen 15 years before. Vines number about 55OO per hectare now, double what had been. Doubling the vine density and halving yield per vine give the same overall yield, but a higher quality crop. Drip irrigation has replaced flood irrigation. Drip irrigation, like stealth weaponry, precisely delivers aqueous payloads to vine roots. Vineyard managers can use it to control plant growth and ripening. The vineyards in Argentina generally are younger in age. Planting here has occurred at a feverish pace. The same vineyard technologies are employed here as in Chile. Viticulture, like winemaking, is now international.
Varietal selection varies somewhat between Chile and Argentina. Bordeaux consultants set 19th century Chile on a French course and Chile's varietals show that influence. Cabernet Sauvignon remains king, but Carmenere is in ascent. In the early 199Os, French ampelographers pointed out that many of the vines thought to be Merlot were actually Carmenere - a rare, very old Bordeaux variety. Wine made from unripe Carmenere smells and tastes like a 5O-5O blend of green vegetable soup and wine. Chilean producers had harvested Carmenere with the Merlot. Since Carmenere ripens much later than Merlot, the result was vegetal "Merlot" wine. Chilean "Merlot" consequently got bad reviews in the press. Now that Carmenere is planted separately and picked later, it gives very different results. It is a deep purple colored, black-currant scented wine with a soft thick texture. Chilean Merlot, its image besmirched, has moved into the background. Chileans increasingly use Petit Verdot and Malbec in wine blends. Planting and using Shiraz in blends or making Shiraz varietal wine seems the current fad. I say Shiraz, not Syrah, because its inspiration is very Oz. High-ripeness harvesting and pre-fermentation maceration obscures varietal smell identity. Less ripe Syrah wine smells like blackberries perfumed by freshly manufactured rubber bands, used coffee-grounds, and wet campfire - hardly a recipe for international appeal! Winemakers as if to give even more homage to the Australians, bury their Shiraz under heavily toasted oak. Pinot Noir fascinates and challenges Chilean winemakers. Making good Pinot Noir is how they can show their mettle. This is about finding the right sites for the variety and that challenge is before them.
Concerning white varietals in Chile, there has been a transition from Chardonnay to Sauvignon Blanc. Chilean winemakers seem bored with Chardonnay. In cooler coastal areas, it does make fine wine. Thankfully, Chilean wineries are releasing unoaked versions, but these only appear at entry level brand tiers. Sauvignon Blanc seems poised to become Chile's signature white varietal. Just as Chileans long confused Merlot with Carmenere, they mistook Sauvignon Vert, an ancient Bordeaux variety also known as Sauvignonasse, for Sauvignon Blanc. Sauvignon Blanc is the more explosively aromatic and hence the more entertaining of the two. Given that most of the export Sauvignon Blanc comes from vineyards that are recently planted, this confusion has been solved. The Sauvignon Blanc in our retail stores is for the most part Sauvignon Blanc. Cousino Macul throws another Sauvignon into the arena, in the form of Sauvignon Gris. This is a more citric and less vegetal smelling cousin of Sauvignon Blanc. Riesling, Gewurztraminer and Viognier get peripheral attention and rarely make it to our shore.
The varietal mix in Argentina reflects its blend of immigrants. Early Spanish immigrants were joined in the 19th century by as many Italians. Spaniards brought Tempranillo, Grenache and Torrontes. Torrontes is Argentina's most planted white variety. Italians brought Bonarda. As usual, French varieties had a strong presence. Malbec, from Southwest France, has in the last few years garnered enough attention for it to be called Argentina's signature variety. It has passed Bonarda to become Argentina's most planted red variety. Cabernet Sauvignon also has a strong presence in Argentina. Merlot, Sauvignon Blanc and Chardonnay are more recent immigrants, but are present in every producer's portfolio. Viognier, more recent still, is presented here and there.
In its pre-Columbian home in Southwest France, Malbec makes a coarse, red-fruited wine. The clones used in Malbec arrived in Argentina in the 19th century and are, by winemakers' accounts, much better raw material than modern French clones. Malbec in Argentina makes deeply colored wine which is soft and low in acidity. Higher altitude sites raise the acidity and improve wine aroma and color. Bonarda makes a deeply colored red wine with rustic, Syrah-like flavors. Though Argentina has a reputation for fine Cabernet Sauvignon, I prefer the Merlots I tasted. Tempranillo does better in the warmer climate east of Mendoza. As in Chile, winemakers test their own mettle and expertise by taking on Pinot Noir. In this, they are even farther from the Holy Grail than the Chileans. Torrontes yields a Muscat-smelling, but low acid and bitter, wine. Some wine journalists and members of the trade have advocated that Argentine producers should focus marketing efforts on Torrontes, pairing it with Malbec, like king and queen. I, however, prefer Argentine Viognier. It has freshness and lightness of body. If the variety is grown at high altitudes and the fruit is protected from Argentina's blinding sun, I don't see why great Viognier can't be made here. Sauvignon Blanc makes wines with fresh aroma and lighter body. Nice but not special. The Chardonnays, Argentina's most popular export white, lack the saturation in the mouth that coastal Chilean versions deliver. The recipe for Chardonnay is as it is in Chile: the more intense the fruit, the more new oak is applied. Though Argentine Chardonnay is well made and a good value, the impetus to drink it lacks inspiration and adventure. There is good Chardonnay all around the world.
Though consumers' sense of regionalism currently extends only so far as the Maipo and Casablanca Valleys in Chile and Mendoza in Argentina, wine producers in both countries are hunting for new and better growing areas. In Chile, interest has either focused on areas closer to the Andes Mountains or to the Pacific Ocean. Near the Andes Mountains offers more day-night temperature variation. This is important for bright wine color, powerful bouquet and solid natural acidity. The Alto Maipo, that part of the Maipo Valley abutting the Andes, is considered the best zone for Cabernet and Merlot. Most vineyard sites near the Andes have western exposures. These exposures in the late afternoon can put too much sun and heat pressure on maturing grape skins. Apalta, in the Colchagua Valley, 1OO miles to the south of Maipo, has unusual south and southeast exposures. The soils too are very stony. These factors have been shown to be very positive for Carmenere. In valleys which open up to the ocean, Sauvignon Blanc, Chardonnay and Pinot Noir are the varieties of choice. Coastal hills afford these areas just the right amount of protection from the cold, humid ocean winds. The Casablanca Valley gained notoriety in the 199Os, first for its Chardonnay and then later for its Sauvignon Blanc. Good Merlot also comes out of Casablanca. In Chile, the Leyda Valley and San Antonio Valleys, both cooler than Casablanca, make outstanding, acid-laced wine. Wine producers are seeking vineyard sites in Leyda and San Antonio valleys. The continental-cool Bio Bio Valley, some 25O miles or so south of Santiago, may in the future yield some great Pinot Noir and cool climate white wines provided that harvests come in before the Bio Bio's characteristic early autumn rains. Another new "prestige" zone is the Limari Valley almost as far to the north of Santiago as Bio Bio is to the south. This valley opens up to the Pacific Ocean. On the map, it has an uncanny resemblance to California's Salinas Valley. Though Cabernet Sauvignon and Merlot dominate exiting plantings there, winemakers feel that this area is better suited to Syrah, Chardonnay and Sauvignon Blanc. Many Central Valley producers are buying land there or making local contracts with growers. The soil is calcareous and contains generous quantities of fossil sea shells. This is a contrast to the sandy-granitic soils of most of the Central Valley and surrounding areas.
In Argentina, the province of Mendoza is the epicenter of the wine industry. Historically, most of the vineyards were to the southeast of Mendoza on irrigated flats. These vineyards suit warmer climate varieties such as Tempranillo, Bonarda and Grenache. Torontes is planted heavily there, but the wines lack elegance and acidity. In search of cooler climates and higher day-night temperature variation, producers have planted in valleys at higher altitudes and closer to the mountains. Some of the highest vineyards in the world are here, immediately to the southwest of Mendoza in the Lujan de Cuyo and further southwest in the even higher Uco Valley. The Lujan de Cuyo contains many of Argentina's best wineries. Within the Uco Valley the wineries are fewer and newer; and in that valley, the areas around the towns of La Consulta and Tupungato contain particularly high altitude sites that are attracting a lot of attention from producers. These higher sites give the typically low-acid Malbec its best opportunity to build up acidity. In addition, these cool climates preserve fruit aromas and enhance color. The highest vineyards are also used for Sauvignon Blanc, Chardonnay and Pinot Noir, while Cabernet Sauvignon, Merlot and Syrah populate the lower elevations. The highest vineyards of all, though, are in the Colchaqui Valley in faraway Salta Province of Argentina's north. These lie at over 5OOO feet above sea level. Historically this area is noted for its fine, elegant Torrontes, which is a different clone from the one used in the Mendoza area. There are also many red grape vineyards there and Salta may become equally noted for its reds. The Rio Negro Valley surrounding the town of Neuquen is Argentina's most southerly vinous outpost. Altitudes are lower here, but strong cool breezes coming from the south brake ripening. The wines here have higher natural acidity but less body. Though certainly suitable for white grapes, there is hope that this could be the site for Argentina's best Pinot Noir and Merlot.
What attracted Americans initially to Chilean and Argentine wine was good quality at a very low price. The image that all Chilean wine was cheap slowed down Chile's growth up-market during the 199Os. While the number of Chilean labels has increased on retail shelves, their price points and their image has remained low. Since that time, Chilean wines have moved up-market in image and in price in the US market. The increasing prestige of red wines from the Maipo Valley and from Apalta and the white wines from the Casablanca Valley have helped establish a quality image. Spare-no-expense "icon" wines have further gilded associations circling everything vinous and Chilean. Just last October, Cousino Macul, one of the few remaining estates to be family-owned-and-managed since the 19th century, firmly bonded Chile's tradition with the 21st Century with the launch of its "icon" wine, Lota.
In the last five years, wines from Argentina, have invaded wine shops in the United States. Malbec has become a battering ram for the whole Argentine category. Neil Deininger, New England regional manager for TGIC imports, asserts that the only red varietal more popular in the US market than Malbec is Pinot Noir. The US consumer so far has nothing white and Argentine to latch onto. A nascent Argentine Icon wine category, led by Domaines Barons de Rothschild/Nicolas Catena CARO Mendoza red wine, suggests that Argentina is eager and ready to enter the big leagues.
The Chilean and Argentine industries are following the world wide trend to harvest their red grapes as late as possible. High alcohol, thick wine is what the influential critics and hence the market values. While Carmenere can keep its aromatic profile at high ripeness levels, a less aromatic variety like Malbec tends to lose it. I also see a similar effect on Chilean Syrah. At the high ripeness level at which it is picked, it lacks varietal character. It doesn't help that Chilean and Argentine producers tend to over-oak. The rule of thumb they employ for red wines as with Chardonnay is: the more intense the fruit, the more the new oak-contact. As a result, as one tastes up the brand tiers of red wine and Chardonnay, the oak flavors consistently cover the fruit. The Chilean and Argentine wine industries are brand driven. Individuals making individual wines are a rarity in either country. Both industries could use the creativity and inspiration that only vignerons, high-quality individual driven grower-producers, can generate.
The Chilean export market at the moment is not in a growth phase. The strength of the Chilean Peso has limited Chile's ability to compete in export markets and to increase or maintain profitability. Its national market is price driven. Chileans consume less and less wine every year. The stagnant domestic market has not helped the Chilean wine industry offset the strong Peso. When the dollar becomes stronger, Chile's wine exports will bounce back. Argentina's currency, however, is weaker than the dollar. The Euro overpowers it in value. Foreign investors, particularly from France, are investing heavily in Argentina. The weak Argentine Peso and investment capital has helped support a rapid expansion of Argentine wine into the all important US market. A more durable asset for both wine industries is the remarkable climates that they have for viticulture. Both industries furthermore are unencumbered by the layers of internal regulations that are present in Europe. Economies of scale are possible in both countries, particularly in Argentina. This has enabled Chilean wine producers and, even more so, Argentine ones, to offer excellent value for money.
As new terroirs are discovered and planted, Chilean and Argentine producers will more successfully match their varieties to terroirs. White wines, which need cooler climates to intensify their flavor and structure, will likely see the most improvement. In particular, the Chilean Sauvignon Blancs from Casablanca, San Antonio and Leyda valleys that will reach our shores in the coming years will be very exciting. Argentina is farther away from finding its white wine identity. The matching of Carmenere to terroirs such as Apalta in Chile and Malbec in the Uco Valley in Mendoza has improved these varietals. Their images in overseas markets are on the rise. As a result, consumers may, within 5 years or so, begin to recognize the names of these prestigious wine zones. Terroir may become more visible to consumers. Chilean and Argentine wine will likely occupy even more "terroir" in our wine retail stores.
The following are the best wines that I tasted
in preparation for this article. The information is presented in the following order: name of producer, primary name identifier on label, varietal if a varietal wine, country, region, vintage, approximate retail price, blend constituents if a blend, and thumbnail description including indication of good value.
CABERNET SAUVIGNON
Vina Santa Carolina "Barrica Selection", Cabernet Sauvignon, Chile, Maipo Valley, 2OO5, $13 (dense but with good acidity, good value).
Vina Santa Carolina "Reserva de Familia", Cabernet Sauvignon, Chile, Maipo Valley, 2OO4, $18 (elegant, fine tannins, good value).
Casa Lapostolle "Cuvee Alexandre", Cabernet Sauvignon, Chile, Colchagua Valley, Apalta Vineyard, 2OO4, $25 (solid, fruity, delicious).
Santa Rita "Floresta" Apalta Cabernet Sauvignon, Chile, Colchagua Valley, 2OO4, $45 (delicious, complex, from 1OO-year-old vines).
Santa Rita "Casa Real" Cabernet Sauvignon, Chile, Maipo Valley, 2OO3, $55 (softer in the mouth than the Floresta).
Bodega Salentein "Salentein" Cabernet Sauvignon, Argentina, Mendoza, Uco Valley, 2OO3, $2O (intense fruit, lean, good value).
Ventisquero "Queulat" Cabernet Sauvignon "Gran Reserva", Chile, Maipo Valley, 2OO4, $16 (thick, sweet, tart, very ripe, fine tannins).
Ventisquero "Grey" Cabernet Sauvignon, Chile, 2OO4, $25 (opaque, very ripe style, thick and soft tannins).
Santa Rita "Reserva", Cabernet Sauvignon, Chile, Maipo Valley, 2OO4, $13 (licorice, blackcurrant, oak dominant, solid on palate, fine tannins, good value).
MERLOT
Bodega Salentein "Reserve" Merlot, Argentina, Mendoza, Uco Valley, 2OO3, $55 (perfectly ripe, elegant, complex).
Rutini Wines "Felipe Rutini Reserve" Merlot, Argentina, Mendoza, Tupungato, 2OO4, $18 (smoky, slightly vegetal, rich, tannic, structured, good value).
Rutini Wines "Felipe Rutini Reserve" Merlot, Argentina, Mendoza, Tupungato, 2OO5, $18 (dark, young, fruity, very ripe, chocolate, prunes, dusty tannins, good value).
Vina Casablanca "Nimbus Estate" Merlot, Chile, Casablanca Valley, 2OO5, not available in the US (rich, fine tannins, good acidity).
CARMENERE
Montes "Purple Angel", Chile, Colchagua Valley, 2OO4, $6O (Carmenere 92%, Petit Verdot 8%) (deep purple, blackcurrant, mint, toasted oak,chocolate, soft, thick, light fine tannins).
Vina Santa Carolina "Reserva de Familia" Carmenere, Chile, Rapel Valley, 2OO5, $18 (oaky, thick, nice acidity, fine tannins).
Vina Santa Ema Carmenere "Barrel Select", Chile, Cachapoal Valley, 2OO3, $12 (deep color, toasted oak, blackberry, earthy, soft, good value).
MALBEC
Felipe Rutini Malbec, Argentina, Mendoza, La Consulta Vineyard, 2OO4, $16 (cherry, fine lingering tannins).
Bodega Salentein "Primus" Salentein Reserve Malbec, Argentina, Mendoza, Uco Valley, 2OO3, $55 (fruity and thick in the mouth).
Bodega Catena Zapata "Catena" Malbec, Argentina, Mendoza, 2OO5, $2O (gamey and rustic in the nose, super ripe and thick on the palate, good value).
Rutini Wines "Felipe Rutini Reserve Malbec", Argentina, Mendoza, La Consulta, 2OO4, $18 (deep garnet-purple, cinders, licorice, low-moderate astringency, good value).
Rutini Wines "Felipe Rutini Reserve" Malbec, Argentina, Mendoza, La Consulta, 2OO5, $18 (opaque, Port-like, fruit-loaded, chocolate, thick, fine tannins, good value).
TEMPRANILLO
Familia Zuccardi "Q" Tempranillo, Argentina, Mendoza, 2OO3, $2O (licorice, spicy tannins).
PINOT NOIR
Vina Leyda "Leyda" Pinot Noir, Chile, Leyda Valley, Las Brisas Vineyard, 2OO5, $22 (fragrant, spicy, structured).
SYRAH
Ventisquero "Grey" Syrah, Chile, 2OO3, $25 (blackberry, lots of oak, tannic).
2 Brothers "Big Tattoo" Syrah, Chile, Colchagua Valley, 2OO4, $9 (blackcurrant, eucalyptus, toasted oak, thick in the mouth, good value).
RED VARIETAL BLENDS
Montes "Alpha" Chile, Colchagua Valley, Apalta Vineyard, 2OO3, $22 (Syrah 88%, Cabernet Sauvignon 12%) (smoke, blackcurrants, blackberries, simply delicious, good value)...Cousino-Macul "Finis Terrae", Chile, Maipo Valley, 2OO4, $2O
(Cabernet Sauvignon 6O%, Merlot 4O%)(licorice, thick in the mouth, oaky, delicious to drink, good value).
Cousino-Macul "Lota", Chile, Maipo Valley, 2OO4, $65 (Cabernet Sauvignon 85%,Merlot 15%) (just released Icon wine, combines elegance with power).
Rutini Wines "Felipe Rutina Apartado", Argentina, Mendoza, 2OO4, $5O (Malbec 6O%,Cabernet Sauvignon 3O%,Merlot 1O%) (Very ripe,soft).
Achaval-Ferrer "Quimera", Argentina, Mendoza, 2OO4, $45 (Malbec 35%, Merlot 3O%, Cabernet Sauvignon 25%, Cabernet Franc 1O%) (thick and oak, not a "terroir" wine but delicious).
Vina Santa Carolina "VSC", Chile, 2OO3, $26 (Cabernet Sauvignon 6O%, Syrah 25%, Petit Verdot 15%) (Strong oak, thick, fine tannins, very tannic)
Vina Almaviva S.A. "Almaviva", Chile, Maipo Valley, 2OO4, $56 (Cabernet Sauvignon 72%, Carmenere 28%) (minty, black currants, new oak, round, alcoholic, fruitcakey).
Bodega Norton S.A. "Privada", Argentina, Mendoza, Lujan de Cuyo, 2OO4, $21 (Malbec 4O%, Cabernet Sauvignon 3O%, Merlot 3O%)(toasted oak, cola, chocolate, very ripe fruit smells, heavy, ripe, low tannins).
Familia Zuccardi "Zeta", Argentina, Mendoza, 2OO3, $45 (Malbec 54%, Tempranillo 46%) (ripe, tannic).
Rutini Wines "Felipe Rutini Encuentro", Argentina, Mendoza, Tupungato, 2OO4, $35 (Malbec 53%, Merlot 47%) (red fruits, chocolate, round, tart).
"Clos de los Siete" Argentina, Mendoza, 2OO4, $2O (Malbec 5O%, Merlot 3O%, Cabernet Sauvignon 1O%, Syrah 1O%) (oak dominated, blackberry, spicy).
Baron Philippe de Rothschild "Escudo Rojo", Chile, 2OO5, $15 (Cabernet Sauvignon, Carmenere, Cabernet Franc, Syrah, Petit Verdot) (deep color, finely knit aromas, Carmenere-accented).
SAUVIGNON BLANC
Vina Casablanca "Nimbro" Sauvignon Blanc, Chile, Casablanca Valley, 2OO6, $14 (fragrant and juicy, good value).
Ventisquero "Reserva" Sauvignon Blanc, Chile, Maipo Valley, 2OO6, $11 (soft, tropical fruit, intense, good value).
Santa Rita "Reserva" Sauvignon Blanc, Chile, Casablanca Valley, 2OO6, $11 (green grass, citrus, tart, good value)
CHARDONNAY
Rutini Wines "Felipe Rutini Reserve" Chardonnay, Argentina, Mendoza, Tupungato, 2OO5, $18 (deep yellow-gold, oaky, banana, round, buttery finish).
Santa Rita "Medalla Real" Chardonnay, Chile, Casablanca Valley, 2OO5, $17 (deep green-yellow, buttered toast, creamed corn, lean but full).
Pascual Toso "Toso" Brut, Argentina, Mendoza, $1O (1OO% Chardonnay refreshing soft sparkling wine, good value).
VIOGNIER
Bodega Catena Zapata "Alamos" Viognier, Argentina, Mendoza, Tupungato, 2OO6, $1O (exotically scented but not clumsy on the palate, good value).
Gascon Escorihuela "Gascon" Viognier, Argentina,
Mendoza, 2OO6, $13 (honeysuckle, a bit bitter).
SAUVIGNON GRIS
Cousino-Macul Sauvignon Gris, Chile, Maipo Valley, 2OO6, $12 (grapefruit, sour but soft, good value).
RIESLING
Cousino-Macul "Dona Isidora" Riesling, Chile, Maipo Valley, 2OO6, $1O (fragrant, jasmine, leechee, grapefruit, sour but soft, good value)
TORRONTES
Familia Zuccardi "Santa Julia Tardio", Argentina, Mendoza, 2OO6, $13 per 5OOml (Torrontes 85%, viognier 15%) (apple, peach, Muscat, tangerine, sweet, tart)