archived

FeaturedArticles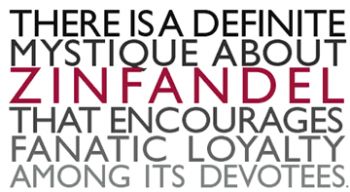 Article By: SANDY BLOCK, MW
This is the big red that you can open up and drink without having to worry about whether it's "ready" or not. It provides direct sensual pleasure that is usually not cloaked behind barricades of tannin. And it's not for everyone. The potent, sometimes dizzying alcohol levels tend to put many wine drinkers off. Indeed some versions of the variety can almost strike one as caricatures. Particularly to European tastes, experiencing what has been called elsewhere the "Turley-ization" of Zinfandel, the impulse to push fruit extract, ripeness and body to the maximum, sometimes constitutes an unpleasant shock. So to be able to enjoy this big, intense red wine with alcohols generally approaching if not exceeding 15% is seen by some as a badge of membership in a somewhat macho, yet esoteric club.
At the same time there are a number of myths about Zinfandel that have kept appreciation of the grape somewhat narrower than it should be. One is that it doesn't age and is always best consumed a few years after the vintage; another one I've heard expressed is that Zinfandels all somehow taste the same; a third holds that the grape can make a wine of massive power but no subtlety or finesse. During a seminar and dinner at the Boston Wine Festival I presented several years ago, we had 18 different California examples, each from a different AVA, each with a distinct character and flavor profile. To me it was conclusive illustration of the grape's versatility and ability to reflect in very dramatic ways the conditions in which it is grown. In particular the bottlings from the many "old vine" plantings throughout the State showed unmistakable "terroir" characteristics. Because of this transparency, the rage for vineyard designation in California has affected Zinfandel more so than any other red variety besides Pinot Noir. Historically some of the finest producers of the grape have offered a multitude of bottlings made in limited quantities rather than one or two blended cuvees.
As to the aging question and the idea of elegance rather than raw unbridled, a visit last summer to the renowned Lytton Springs vineyard in Dry Creek Valley and a tasting there with the celebrated "three R's" of Zinfandel, (Paul Draper of Ridge, Joel Peterson of Ravenswood and Kent Rosenblum of his eponymous winery) dispelled those myths in short order. Some of the wines reviewed at right had significant bottle age and showed how appropriate maturation can transform the grape's signature bold grapey characteristics into flavors that still exhibit abundant fruit, while revealing new layers of complexity and elegance only hinted at in youth. The ones listed were all fabulous wines, highly worthy of collection and consumption. They are listed by producer rather than in any hierarchy of "favorites" as trying to distinguish among them would be splitting hairs at best.
Ravenswood "Belloni Ranch" Zinfandel
Russian River Valley, 2OO4
Joel Peterson's tutelage under the legendary Joseph Swan in the early and mid 197Os helped develop his early appreciation for the European classics and constituted a seminal influence in developing the Ravenswood style, with its historic emphasis on, as he today puts it "wines that come from a place." This cool climate Zin showed a wealth of floral, black plum aromatics and a concentrated somewhat pruney flavor along with poignant sharp-edged acidity. With vines approaching 1OO-years-old and, consequently, very low yields coming from its predominantly sandy soils, the Belloni's level of flavor concentration was impressive. At the same time the tannins soft and understated, making this an ideal starter Zinfandel, even in its youth, for the uninitiated.
Ravenswood "Teldeschi" Zinfandel
Dry Creek Valley, 2OO4
From the warmer climate red clay soils of the northeast Dry Creek Valley, this wine is also made from vines mostly nearing the century mark. It had a deeper ruby-bluish color, with super-ripe chocolatey aromas and a black dried cherry, velvety rich flavor accented with sweet spices and gritty tannins. This is just a beautiful wine: lush, evocative and quintessentially Dry Creek.
Ravenswood "Old Hill Ranch" Zinfandel
Sonoma Valley, 2OO4
Peterson's third Sonoma Valley bottling showed the smoky, tarry side of Zinfandel, with an interesting undertone of cooked vegetables. Like Belloni this was also a big heavily extracted wine with blackberry and chocolate flavors and strong ripe tannins. At this point it was much tighter than the other two and I felt it needed some cellaring.
Ravenswood "Old Hill Ranch" Zinfandel
Sonoma Valley, 1992
This mature Old Hill Ranch showed intriguing leafy, herbal, tobacco-like aromas nuances along with sensations of mushroom and damp earth. Considerably softer and mellower than its youthful counterpart, it still had plenty of lively black fruit and a long velvety finish.
Rosenblum "Maggie's Reserve" Zinfandel
Sonoma, 2OO3
This was my favorite among the three 2OO3 Zinfandels that Kent Rosenblum presented, each of which showed intense colors, and sweet chocolate tones that I felt in this wine were balanced by a combination of very ripe jammy red cherry fruit and a distinctly creamy texture. Originating from Sonoma Valley's Samsel Vineyard, again predominantly from 1OO-year-old vines, the aromas are heady and the flavors are so ripe there is an impression of sweetness here as well, but the wine comes across as extremely well balanced.
Rosenblum "Carla's Vineyard" Zinfandel
San Francisco Bay, 2OO2
Rosenblum uses a lot of heavily toasted American oak barrels for maturation and the effect in this wine is to blend beautifully with the Contra Costa County fruit. Originating from a sandy soil plot in suburban Contra Costa it seemed almost elegant in comparison to the 2OO3s from Sonoma. Drier but still very ripe, with chewy mocha-like flavor concentration and a finish of smoky peppery red fruit, it showed what an extra year in the bottle will do to tame Zinfandel's intensity.
Ridge "Geyserville" Zinfandel
Alexander Valley, 2OO3
Paul Draper suggested that the AVAs as currently constituted are far too broad geographically to make sense. To illustrate he said that Geyserville happens to be an unusually foggy Alexander Valley site that is actually cooler on average than Dry Creek Valley, despite the former's reputation for having the warmer climate of the two. This wine exhibited a lovely red berry fragrance, with floral, sweet herb essences. Even in youth a wine of great finesse, its pure cherry, silky fruit was supported with a soft texture and very well integrated tannins.
Ridge "Geyserville" Zinfandel
Alexander Valley, 1995
This was a stunning wine, one of the absolutely finest Zinfandels I have ever tasted. Minerally with a slightly tobacco-like, Provencal herb bouquet (sage, lavender and rosemary), the textures were smooth and polished with no rough edges. Lush and cherry-like, featuring a suggestion of ripe cheese, it had remarkable flavor length. Fully mature, there were no indications at all that this wine would need to be consumed any time soon.
Ridge "Lytton Springs" Zinfandel
Dry Creek Valley, 2OO4
This delicious young wine had smoky but subtle stylishness, with understated vegetal, mineral and ripe black cherry aromas. Smooth though perhaps a touch grittier than the Geyserville, it showed a hint of chocolate and sweeter spices. Chewy and elegant at the same time, the dark fruit lingered for quite a while in the finish. To call it "claret" style would be to invoke a prop that Zinfandel no longer needs, but that is definitely a word that came to mind tasting it. For what it's worth, this was my absolute favorite of the current releases, although all of the wines here are highly recommended. Finding them is a different story. Because all are released in limited bottlings, and demand his so high, there is not a lot to go around.
Ridge "Lytton Springs" Zinfandel
Dry Creek Valley, 1995
The older Lytton Springs showed quite a bit of color development and aromatics featured leafy, green fruit, brown spices and cherry. Concentrated and ripe, with fuller, earthier flavors than its youthful counterpart, it was still vibrant and quite spicy with a satisfying cocoa-like accent in the finish. Whereas I found the 1995 Geyserville a stunner, this outstanding wine is made in a refined and elegant mode.