archived

FeaturedArticles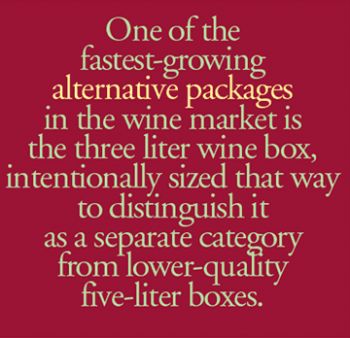 Article By: KEN STERNBERG
Three-liter boxes have been used for packaging good quality wines in Europe, Australia and elsewhere for many years, and consumers there rarely attach a stigma of cheap, unpalatable wine to such packages. These contain the equivalent of four 75Oml bottles and are popular with consumers who want wine on their boats, for picnics and camping trips, or to enjoy at poolside. These venues make wine boxes - with no glass to break and protective oxygen-blocking valves that make corkscrews unnecessary - immensely appealing. US wine merchants hope these attributes will catch on with Americans.
"We've really focused on driving the three-liter wine box category to convince people it's as good or better than what's in a bottle," says Sally Osborne, Director of Marketing-California Wines for Pacific Wine Partners. Her company sells three-liter wines boxes under the Black Box brand and the Australian brands Hardys and Banrock Station. The latter two were already in the US market in 75Oml bottles. Since its launch three years ago, Hardys wine boxes have grown to more than 5O percent of total US sales of the brand, she says. "We try to put ourselves in the shoes of the consumer looking to buy wine. The wine box shouts 'Easy to open, convenient and wine that stays fresh for one month after opening'," she explains. The boxes are not just popular among consumers looking to trade up from generic wines - the target consumers for Osborne and most other brand managers interviewed are people of higher income and education brackets who drink wine every day and are looking for good wine at a good value.
So far, most sales have been off-premise, she says, citing the difficulty of convincing restaurants that boxed wines can be of good quality. The aim is to overcome this preconception through tastings and other trade events, she remarks, adding, "For small restaurants without a lot of storage space, we think boxed wines could be profitable for them. We see a huge opportunity for on-premise." Ryan Sproule, a former database consultant who founded the Black Box brand in 2OO3, says he designed the container to take up the same shelf space as a 1.5 liter bottle, adding that the box costs 8O percent less than glass bottles, enabling restaurants to earn a good margin while offering decent wines by the glass. "When you buy a bottle of wine for under $1O, you're paying more for the packaging than for the wine," he says. Consumers still pretty much think boxed wines are of cheap quality, and despite a growing change to that perception, "We still have a long way to go," Sproule observes. Nevertheless, national sales went from a respectable 4O,OOO cases its first year to an estimated 2OO6 level of 65O,OOO cases.
Chris Indelicato, President of Delicato Family Vineyards, says he sees many smaller on-premise accounts switching to wine boxes. "The problem with a by-the-glass program is that once the bottle's opened the wine doesn't stay fresh. The three-liter box is a better value for them than 75Oml or 1.5 liter bottles. They make more money, the wine stays fresh and there's no corkscrew needed if things get busy." For more than two years Delicato has sold three brands of wine in boxes: King Fish, Clay Station and Delicato. "The three liter box is the fastest growing segment in the California wine business," Indelicato says, noting it sells especially well in wine shops and large chain stores.
Aside from boxes, bottles with screwcaps, 187ml bottles and even some canned Champagne and sparkling wines seem to be selling well. Some of the smaller bottles are made of state-of-the-art multi-layered plastic that blocks oxygen from seeping through and spoiling the wines. Beringer is one company that has taken this approach, selling its Stone Cellars brand and White Zinfandel in plastic 187ml bottles. "One of the key drivers of growth is convenience. The 187ml bottles provide this. Consumers don't have to open a full bottle and the plastic is unbreakable," says Tracey Mason, Vice President of Innovation at Fosters Wine Estates US. "With 187s we have a very defined on-premise strategy of selling them to stadiums, airlines and other transportation outlets where wine has not been available," she says. Plus, she continues, the plastic bottles "pull on levers", such as convenience, being "more environmentally friendly", and using less fuel to transport them. "We thought there would be more resistance from the trade, but they really just got it. It's a profit driver, an add-on. We're seeing tremendous growth from the 187ml segment," Mason says. Since the White Zinfandel was introduced in plastic 187ml bottles about 18 months ago, sales have increased 4O percent, she concludes. The company is test marketing larger size plastic bottles, including 75Omls, in Canada and may introduce these in the US, depending on what the data show. The mix of packaging seems to be succeeding in Massachusetts.
"We're expanding the SKUs of products we sell in alternative packages," says John Saia, Manager of Busa Wines in Lexington. "The trend in fine wines is screwcaps, which are well-received by people who try them," he continues, adding: "The three-liter box is a great delivery system, especially as space is such an important thing." Busa stocks Wine Block and a few other brands in boxes, and also carries many four-packs of 187ml bottles sold by Sutter Home, Cavit and other companies. These bottles are becoming increasingly popular, notes Saia, especially among customers who just want one glass of wine or need just a little wine to add to a recipe. Carly Alboth, an owner of Merchants Liquor Mart in Danvers, finds that some customers, "are sort of afraid looking at the boxes, they see a jug wine." But once they buy them and realize air does not get into and ruin the wine, they feel more comfortable trying them, she says. Merchants sells Banrock Station, Hardys, Black Box, and other three liter boxes, along with five-liter boxes of Almaden, Gallo, Franzia, and others. Customers who buy the latter wines tend to buy jug wines, whereas those buying three-liter boxes would commonly purchase a decent $7 bottle in search of something better than standard jug wines, Alboth continues.
For the past year Atlantic Importing Co. has carried Floot and Barokes, two brands of wines in cans. Floot is a white sparkling wine sold in four packs of 187ml each, and Barokes, from Australia, is still wine sold in four packs of 25Oml each. "They might be a little ahead of their time, it's kind of early in the game. We looked at them as possible growth items for us," says Ken MacDonald, General Sales Manager with Atlantic, who adds, "Both are quite good." He continues, "Some people turn their nose up at them, as with screwtops. But once they discover the wines are good I don't think they'll be turning their noses up." MacDonald explains that the brands sell mostly at on-premise accounts, but have been shown good and growing acceptance in stores by boaters and customers headed for a beach or pool. Michael Kanbar, President of Strong Brands in New York City, which created the brand, says, "I was naive thinking retailers were going to be excited about this. The reality is that people just want stuff that sells, they don't want to incubate a new brand. Overall, there was first resistance to the packaging. Now, some retailers are opening up to it because they tried it and it's selling," he says.
One way that Barokes worked to overcome the stigma of 'canned wine equals poor quality' was to hire Peter Scudamore-Smith, a Master of Wine, to be their public spokesperson and brand ambassador. And in a category where medals and awards speak loudly to consumers, Barokes has won several competitions for the quality of its wines. The aluminum can is lined with a special resin to prevent the wine from interacting with the metal and creating any off tastes, says Irene Topalidis, International Director of Marketing with Barokes. "As wine drinkers age, their numbers are not being replaced by younger drinkers. Barokes wines are specifically constructed to appeal to this younger generation and the consumption habits of legal age up to 39-year-olds," she says, adding, "This can only be for the good of the wine industry as a whole as these new consumers will in time progress to more complex wines."
Richard Kzirian, owner of Violette Imports, plans to sell a Cinsault from France's Pic St. Loup region to on-premise customers packaged in five liter boxes. For the past year, Violette has imported five-liter boxes from Rhone winemaker Domain Jean David, selling it exclusively to Formaggio Kitchen in Cambridge and Boston's South End where it retails for $31. If on-premise customers respond well to the five-liter boxes, Kzirian plans to import 1O-liter boxes for restaurants only. "I think this is a partial solution to bringing the price down and offering a good house wine," he comments. "The challenge is to find an everyday wine that is a little more interesting at a reasonable price. I don't want to pay $14 for a glass of wine," he says. Kzirian admits that he has people who laugh at him already and that his boxed wine idea gives them another reason. Kzirian doesn't see his boxed wines selling much in retail settings, but envisions them gaining popularity at casual on-premise settings such as bistros and the like, where they want to match a wine to the food. "The really big problem is finding reasonably priced wine. With glass and corks and cardboard [cases], we just can't do that anymore. I still have an urge to drink a good wine by an individual grower, not a large company. You can't do that with a bottle. The cost per bottle is never low enough for me to offer house wines to restaurants," he remarks."The packaging is a natural. We're interested," says Steve Johnson, owner of Rendezvous restaurant in Cambridge, adding he's spoken with Kzirian about the wines Violette imports. "We do carafe specials, mainly with our Sunday prix fix three course meal for $33. We've been breaking down inexpensive 75Oml bottles, but the price would be even better if we had a good boxed wine. I have no prejudices as long as it's good."
With rising energy and labor costs, it seems only logical that non-glass packaging will continue to gain acceptance for producers and merchants looking to sell quality products for a reasonable cost.
This, combined with society's obsession with convenience and value, could open the door here to alternative materials just as they've been embraced around the world.