archived

FeaturedArticles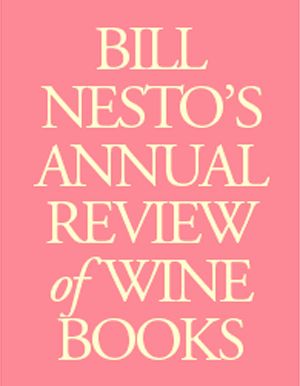 Article By: BILL NESTO, MW
THERE HAS to be SUBSTANCE and spirit in a book to occupy real estate in my library. A good example of a book that delivers on substance is Jamie Goode's The Science of Wine. Explaining the scientific basis underlying wine tasting, viticulture and vinification is necessary for those of us who look for reason behind wine appreciation. Another substantial book, in fact 84O pages of substance, is The Oxford Companion to Wine. This tome sits within my arm's reach ready to enlighten me on any subject connected to wine. Two books oozing with spirit are Hugh Johnson's A Life Uncorked and Kermit Lynch's Inspiring Thirst. These two veteran wine patriots imbue wine education with a sense of adventure. Sara Matthews, in Washington, The State of Wine, communicates not with words but with photos. Each photo uncovers the history, sociology and spirit of the land.
Wines, however, cannot utter words or appear in images easy for the eye to understand. They speak to us directly in difficult to understand - though easy to enjoy - smells and flavors. It takes patient coaxing to reveal the substance and spirit in the glass. For this, books are invaluable. -BN, MW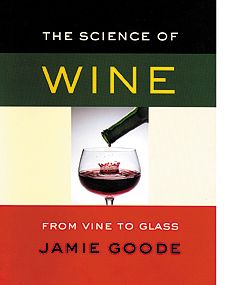 There is a huge crevasse between worlds of wine-appreciation education (usually a blend of elementary wine education, a party, and sales or self promotion) and wine scholarship (usually evidenced only in the scientific fields of oenology and viticulture). A bridge over this crevasse is Jamie Goode's book, The Science of Wine. Phrases such as clonal selection, reduction, lees contact, biodynamic viticulture, and micro-oxygenation have become part of the jargon of wine sales and wine appreciation without every really being understood. Few of us have the time to take science courses that would make these terms more understandable to us. What we need is a book that explains it all in language that is not too technical. Goode does just this in this book. The topics he selects are the ones most relevant to the wine industry and wine appreciation today. Understanding the book, however, does require concentration and a sizeable chunk of time.
2OO6. University of California Press.
ISBN: O52O248OO7
Hardcover. 4OO pages. $35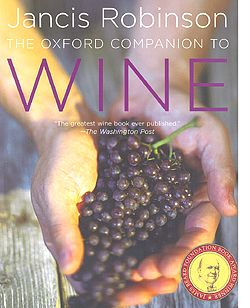 The world of wine is becoming larger and more detailed. Jancis Robinson has collected specialists in many fields connected to wine - and in many countries - to write sections of this encyclopedia-organized tome. Her contributors have brought their entries up-to-date. Admittedly few of us will ever need to know what ochratoxin A means. Nonetheless we know there is some tome where we can find out about it in a clinch. One refreshing design change that has occurred is that the book has gone color. Headings are now in bold red instead of bold black. Most of the old black-and-white photos have been replaced by color. Maps are few and far between and are usually in grayscale. Perhaps color maps will appear in the next edition. This 3rd revision seems to be more transformed than the 2nd edition. It may therefore be a good time to update your library. This is a book for wine professionals or seasoned and intrepid connoisseurs.
2OO6. Oxford University Press.
ISBN: O1986O99O6
Hardcover. 84O pages. $65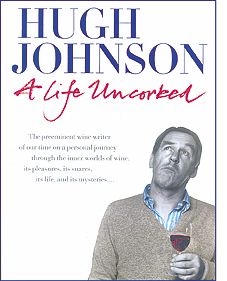 The first wine book I ever studied was Hugh Johnson's World Atlas of Wine. It was, in its day, monumental. It immediately gave wine a stature that it had never had. It towered above all other books on the subject in the amount of detail. It gave wine an international stature. It also underlined that wine essentially was more about places than personality or grape variety. Another monumental book was his Story of Wine. In that book, Johnson took us through a journey in time and place. I got the sense of the man particularly when he referred to contemporary events and to people whom he knew. Judging by his prose, I found him casual, friendly and endlessly British. But there were also some disappointing books such as Hugh Johnson's Modern Encylopedia of Wine and Tuscany and its Wines. I felt that I had lost the man. These books seemed driven by branding rather than his persona. His decision to partner with Jancis Robinson in future editions of the World Atlas of Wine was a good idea in that it assured that it would continue to be well done, but depressing to me because it was a sign that Johnson was passing on the baton. Without great expectation, I began reading his ''life in wine", I say "life in wine" because he rarely talks about his private life or his other interests such as gardening. His personal experiences with wine show him to be much more than a distant wine critic. In fact, he absolves himself of the word "critic", preferring the word "commentator". He recounts what the French publishers call him: an "un vulgarisateur". He uses his own lighthearted adventure into becoming a part-time French vigneron (vine-grower, producer) as a vehicle to describe winemaking. He uses his experience designing and selling wineglasses as a vehicle to tell us about wine service. When he starred in a television version of A History of Wine he got the opportunity to travel all over the wine world. His stories about these adventures and others form the basis of his atlas-format driven explanation of the world's wine regions, personalities and wines. We learn about the Tokaji region from his partnership in a company, The Royal Tokay Company. We get the world of wine from Hugh's perspective, which is after all, what we came for. I finished the book feeling I could call him "Hugh" - at least in my imagination.
2OO6. University of California Press.
ISBN: O52O2485O3
Hardcover. 384 pages. $35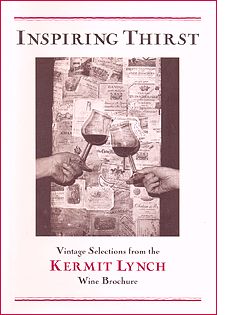 In 1972, Kermit Lynch, an aspiring rock musician, opened up a wine shop in Berkeley, California, on a shoestring. A recession had forced several established importers and distributors to release high quality wines at rock bottom prices. Though his resources were limited, Lynch found himself in the fortunate position of being able to secure wines that retailers normally have to plead for. The wines purchased, he began mailing price lists to potential clients. He discovered that consumers needed descriptions of the wines to help lubricate their decision-making. So he began adding tasting notes and commentary to his mailers. His mercurial writing style and uncompromising point-of-view turned out to be as entertaining as it was informative and persuasive. His clients anticipated his prose as much as tasting the wines he wrote about. The book includes excerpts from Kermit Lynch's newsletters from the years 1974 to 2OO3. In the early years, the commentaries seem little more than sales pitches. By 198O, however, Lynch begins to find his voice. We begin reading quips such as this one for 1978 Bandon Rouge of Tempier: "Were I asked by an Eskimo, 'What is Domaine Tempier?' this is the bottle I would uncork because the 1978 is so typical and perfect an expression of Tempier's unique qualities." As the entries move closer to the present, the entries become longer and longer until there are passages which do not sell specific wines but which comment on a topic such as the wines of Pommard or Thomas Jefferson's love of wine or an experience such as "An evening with Aubert de Villaine". He also gives other pens space in the book. There are passages by author Richard Olney and by friend Lulu Peyraud, chef and wife of the charismatic patriarch, Lucien Peyraud. The Peyraud family owns Domaine Tempier in Bandol. Lynch includes an obituary of Rhone winemaker Robert Jasmin, whose life was cut short when he was run-over by a car. Lynch ends the obituary:" I would have expected him to kill the car." Reading Lynch's book Adventures on the Wine Route, published in 199O, may be good preparation for Inspiring Thirst. Gail Skoff's black-and-white photos add image to word in a way that expands and deepens the experience of the text. This is reading that transforms an interest in wine into a passion for it.
2OO4. Ten Speed Press.
ISBN: 158OO86365
Hardcover. 4OO pages. $4O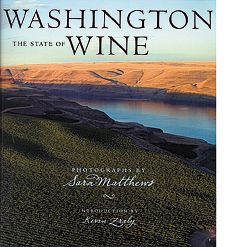 Sara Matthews travels the wine world capturing it in her camera and then publishing eyefuls that transmit what words cannot. She organizes her photos of the Washington wine industry in topics: Local Color, Missoula Floods, Vineyards, Work, Winemaking, Wineries, and People. Her landscape photos, though visually beautiful, tell me that Eastern Washington is composed of rolling hills made naked by an absence of water or made green by irrigation. I have tried to understand how the landscape of Eastern Washington was impacted 15,OOO years ago by massive floods, called the Missoula Floods. Her attractive photos with pithy informative captions help describe how this happened. Such photos include a huge chunk of granite dumped in the middle of field by a glacial ice dam, cross-sections of soil that show layers of silt deposits and rounded stones, and naked lava flows sticking up like chimneys into the sky. Many of the vineyard photos tell me about the key role that workers of Mexican ancestry play in the vineyard. Yet a huge and lonely mechanical harvester pictured at dawn in a vineyard tells me that this is an industry that could work in a different way. In the winery, Matthews turns beads of water and frost clinging to the dimpled jacket on a stainless tank into abstract art. We see varieties of buildings that house the wineries. Even the newly constructed ones emphasize traditional farm-building motifs. The portraits at the end are of people who own wineries and work in the industry. They leave us with a sense of the humanity of the place. If we look at these pictures, we can not only bath in their beauty and creativity, but also learn a lot. Washington: The State of Wine would make a great gift for a lover of Washington wines.
2OO6. Graphic Arts Books.
ISBN: 1558689532
Hardcover. 112 pages. $19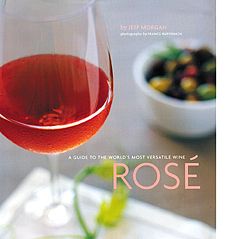 A reader in search of more enlightening information about the world of rose wines should consider, as an alternative, Jeff Morgan's Rose, A Guide To The World's Most Versatile Wine. Morgan's book looks and reads like an engaging primer. It introduces us to the unique culture of rose in France as well as to other European, New World and sparkling roses. In addition to beautiful photography showcasing the palette of rose colors, the book also includes food-wine pairing recipes and a tasting guide for future reference. It is a book that the reader will return to with renewed delight as with a favorite cook book. As different as they are, Extremely Pale Rose and Rose, A Guide both speak to the rising popularity of rose wine and its aesthetic appeal. France Ruffenach adds color photos that are attractive but do not give me more information about what Rose is.
2OO5. Chronicle Books.
ISBN: O811843556
Hardcover. 12O pages. $19.95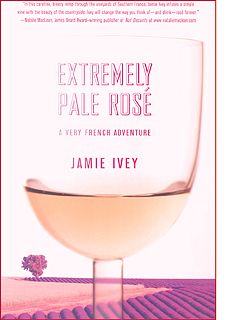 In his first book, Extremely Pale Rose, A Very French Adventure, James Ivey takes the reader on a search for the palest rose wine in all of France. Part travel adventure, part rose primer, the book is a first hand account of a six month long quest of three Englishmen (the author, his wife and a bon vivant friend) to find a rose paler in color than the wine of a doyenne of rose producers they encountered on a summer holiday in Provence the previous year. The author (quitting his job as a lawyer in London) and his wife take up the bet of the rose producer either to discover a paler rose by the following harvest, or find an importer for the producer's rose wines in the UK. While the premise on first blush (pun intended) holds out the possibility of charm and romance, it serves as a thin plot device for a story of life on the open wine road. Rather than beginning in the Cote de Provence, which is known for its pale roses, the author and the other two principals travel throughout all of France's major wine regions in search of the rosy grail. They only reach Provence at the end of their trip. In the process, the reader meets wine producers from Champagne to Corsica, and in almost each chapter is introduced to a different rose (along with a new term of viticulture or vinification in passing). The book is not aimed at wine connoisseurs or wine professionals. It reads as a story idea for a screenplay (think Sideways crossed with the new film adaptation of Peter Mayle's A Good Year). As an introduction to the world of French rose, a glossary would have been helpful for some of the technical terms sprinkled throughout the book in italics.
2OO6. St. Martin's Press.
ISBN: O312349564
Hardcover. 3O4 pages. $22.95