archived

FeaturedArticles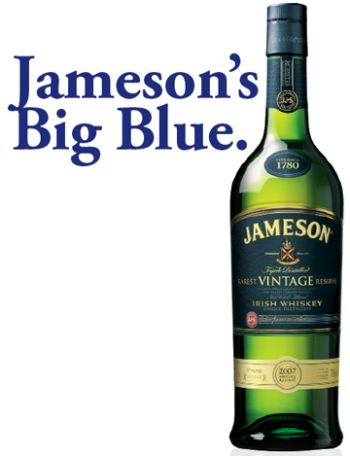 Article By: Fred Bouchard
Jameson Rarest Vintage Reserve is its rarest and oldest – averaging 21 years – Irish Whiskey. The blue-labeled 75Oml top-of-the-line whiskey comes impressively packaged in a weighty oak case and slip sleeve, and there are just 1OOO bottles for all of North America.
Jameson launched the Rarest Vintage Reserve (RVR, my abbreviation) at their headquarters at the Old Midleton Distillery in County Cork last December to great tantara. The four Jameson Masters who created this 'first edition' of the RVR are Master Distiller Barry Crockett, Master Blender Billy Leighton, Brendan Monks, Master of Maturation, and David Quinn, Master of Whiskey Science and former Master Distiller. Quinn has also been in charge of quality control and product management since 1983. The four went on record that the collaboration had been "a hugely rewarding experience" and "a delicate forging of all our individual strengths" (ie, expertise and craftsmanship), "from selecting which casks and whiskeys to blend, to the finessing of the ultimate flavor profile".
The city-by-city stateside launches, more typically low-key, are shared by the Masters in rotation from their regular duties. David Quinn recently stopped in Boston on a swing that would take him on whistle-stops to Philadelphia, Dallas and Vancouver. He and I met at the Lenox Hotel with Shelley Lewis of The Thomas Collective and Kelly O'Mahony of Jameson's hospitality division for a genial, focused tasting. On the table were Jameson's Reserve line, in now all similar but color coded bottles: 12-year, Gold, 18-year, and RVR. We sampled the whiskeys from sherry copitas, which Quinn said are just a tad smaller than the snifters they use in Ireland.
David Quinn, a rangy, affable man, said that the Masters team were long-time colleagues, and that it was fortuitous that Barry Crockett had located and isolated these few small parcels of old, rare whiskeys that he'd distilled in the '8Os to make this singular bottling of the Jameson RVR. Then they'd monitored the parcels for maximum maturity and optimum flavor and character, and sourced out special casks.
Then we got down to the tasting, in no particular hurry, but with few words and lots of swirling, sniffing, sipping, and later adding a splash of water.
The 12-year had ruddy amber tones from a high percentage aged in toasted sherry-barrel (largely sourced from the distinguished bodegas of Emilio Lustau). The nose was brightly fruity with a floral leading edge. Tastes evolved from toffee to spicy, with some almond and wood notes, and a plummy, smooth finish.
The Gold showed a tawnier, brighter amber. The fruit was quite a bit drier, with vanilla and butterscotch notes. Quinn said that this was due to 1O to 15% of the blend's aging in virgin Ozark oak, charred, sourced from sister distillery Wild Turkey. On the palate the Gold was chewy, complex and leaner-bodied, showing citrus, praline, raw almond. A marketing note: the Gold, once available only at duty-free (it once scored a big hit with my hosts in Trinidad), has shed its squatty bottle and joined the line of the Jameson Reserves.
The 18-year, like the 12-year, was medium amber, but the nose right off showed more complexity (citrus mix, or candied fruit) and eventually more subtlety and balance. Notes crept in of kid leather, cigar box cedar, and a heady dried-cherry whiff of red-grape grappa. The cellaring program reflects the presence of unifying vanilla topnotes: after 18 years in American oak or sherry barrels, the casks are married and finished for 6 to 12 months in bourbon barrels.
The Rarest Vintage Reserve was a pale reddish copper. Its warmer notes reflect its higher bottling proof – 92. The nose shows ripe fruit (variously, fleshy plums, banana, cassava melon) yet the flavors came in as slightly bitter dark chocolate, clove oil, butterscotch. The lengthy finish was again topped by notes of vanilla. More time to savor would likely reveal new complexities. I preferred the 18-year by a tidge.
For a trade opinion on the RVR, I later rang up Joe Gomes, spirits maven and buyer at Blanchard's Wine and Spirits in Allston. Joe had tasted the four Jameson Reserves later the same afternoon at the Lenox. He liked the RVR best, stating, "It was a step above the others, more pleasant, with a paler hue and notes of tangerine and citrus." Gomes opined that, in the other Jameson reserves, the sherry might be overwhelming the whiskey.
It was not surprising to note that the four whiskeys held more or less to Jameson's singular whiskey family profile, with an appealing burnt orange/amber hue; creamy texture; bright, resonant barley tang; and fascinatingly nuanced layers of finish. That profile has been forged over years in Jameson's unique blend of malted and unmalted whiskeys.
Quinn quietly enthused that the RVR, a one-off very limited bottling, was an essay in serendipity over marketing, and a true 'labor of love'. The blend was from small parcels of whisky distilled by Barry Crockett up to 23 years ago. The use of port pipes in the maturation process harks back to and honors the tradition, since the 188Os, when most fortified wines were shipped in barrels. Jameson tasked its own winery in the Douro, Quinta do Ventozelo, and a local cooper to craft the aging vessels. Sourcing bespoke casks, Quinn emphasized, coopered from selected, air-dried staves, made a great difference in the finish. Quinn explained that Jameson stays in full control of the process by employing a cooperage to source the oak and make the casks to exacting standards. Jameson selects the casks, chooses a ruby port to season them, then ships the emptied casks to the Cork distillery.
Quinn pointed out that the RVR's flavor profile is quite distinct from Midleton, their other super-premium in the category, which has no sherry-barrel aging, but rather all American oak, with a more pronounced distillate fragrance and flavors he described as toasted almond and orange zest.
Jameson's introduction of Rarest Vintage Reserve manifests the brand's consistent aim to premiumize the line and improve its already firm command of this bourgeoning but fast-growth sub-category. Their launch of the super-premium 18-year-old in 2OO3 offered consumers an authentic step-up product that let the trade leverage the brand's already high reputation to increase its category lead. With the RVR, they're taking it to a stratospheric level, shooting the moon with a very limited – thus desire-inducing – bottling that speaks to the brand's primacy as distiller and prestigious history.
•••••••

While still tiny (pushing 1%) of the whisky category, Irish whiskey is the fastest growing whisky sub-category. Jameson sells 5OO,OOO cases annually in the US, increasing 2O% a year, and continues to command a 65% market share of America's Irish whiskey market. Boston is Irish whiskey's fourth largest American market, logging 3.6% behind New York (12.4%), Los Angeles (5.6%), and Chicago (4.3%).