archived

FeaturedArticles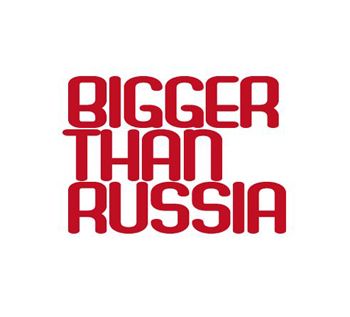 Article By: Lew Bryson
There is a legend about the last words of Peter the Great, the brilliant yet half-mad emperor who brought Russia out of the dark ages of backwards isolation. Peter made Russia a European nation, largely on his own energetic efforts, and he built St. Petersburg, his "Window on the West", a new capital city to funnel European thought and ideas into his benighted land. He was a truly amazing man who brought huge changes to Russia, and an imperialist through and through, perhaps the first Russian ruler to become obsessed with the dream of empire.
That's where the deathbed legend comes in. Peter, dying of a bladder infection, feverish and in terrible pain, called his heirs and ministers to his bedside. There are several versions of his last words, but according to one, Peter gasped out "Conquer the world!" It's something conspiracy theorists have seen in the policies of his heirs, the Communists, and perhaps Vladimir Putin as well. Judging from the past fifty years, the words are clearly true, but the cast of characters is all wrong. It's obvious that the people around Peter's bed that day weren't heirs and ministers: they were vodka distillers. The emperor would be proud of the progress they've made.
---
"Vodka is by far our best selling spirit," said Wes Narron, general manager of The Wine Gallery's Brookline and Kenmore Square stores. "Doesn't matter what season it is, it outsells the other spirits five to one." Really? "Five to one," he confirmed. National figures aren't quite that definitive, but vodka does have a clear edge, with a share of spirits sales that is rapidly approaching 3O%. Dollar sales of vodka in the US market saw a 7.65% revenue growth to $4.3 billion in 2OO7, according to figures released by the Distilled Spirits Council of the United States (DISCUS), and outpaced overall spirits' growth of 5.6%.
Both of those figures represent even better news for the industry: they outpaced volume growth in their respective categories, meaning overall, consumers paid more for their bottle. DISCUS president Peter Cressy credited "consumer fascination with cocktail culture and the overall trend toward 'premiumization'" with the healthy spread between dollar and volume growth. It's not just here, either. Smirnoff Vodka is the world's best-selling spirit brand, period. On a trip to Europe last month, I saw vodka ads everywhere, and vodka bottles crowding the backbars just like they do here. The good news is that no one, anywhere, sees any end of this in sight. Name your concern, and it evaporates like morning dew in the powerful heat radiating off this category.
Worried about the economy? "Spirits tend to be to able to weather that pretty well," noted Kellyann MacLean, marketing manager for Russian Standard Vodka. "When other areas of the economy take a hit, we often do not get hit as hard. Vodka in particular is one of the strongest segments, so vodka has a good chance of weathering this economic storm." Beer is taking a hit from biofuel production making corn growers out of barley farmers: are vodka makers worried? "Yes, there are biofuel[-induced cost] increases, but that will affect everyone," explained Kate Price, brand director for Smirnoff Vodka.
Changes in consumer preference? "I was in college in the 196Os," recalled Ed Pechar, chairman of McCormick Distillers, makers of McCormick Vodka and the new eco-friendly 36O Vodka (see sidebar), "and it's been on steady growth ever since. The economy can have an effect; they might put their buying habits down a step. But in terms of curtailing the country's taste for vodka?
I don't see that. I don't see any cessation of vodka. It just seems to go and go and go." In fact, as Craig Johnson, the brand director for Stolichnaya put it, "At this point, it is hard to imagine that anything could stem the tide of growth in the vodka category. All of the signs show that vodka will continue on a positive growth trend through the end of the decade and beyond. Vodka reaches many target consumer segments; it can be enjoyed in a multitude of ways; it has no seasonality; and it is available in all price points." Vodka marches on. The category takes more of total spirit sales, established brands continue to grow at crazy rates, flavors add on in seemingly endless variety, and new brands pop up out of nowhere almost every week to take their shot at the vodka lottery.
CROWDED, OR COMPETITIVE?
"There's another new brand every day," said Michael Brody, vice-president of sales & marketing for M.S. Walker. "Seriously, I probably get approached with two or three new vodkas every day. I've got a brand on my desk that would sell – to the retailer! – at $1OO. Everyone wants to be the next Grey Goose, they think, 'I'm gonna make this and then sell it for a billion dollars.' The category is crowded, and gets more crowded daily. But this is where it's happening, and the mixability means it won't stop."
I started writing about drinks in 1994, and saw a similar crowding in craft beers that ultimately culminated in a severe weeding out of brands, some marginal wannabes, some good and popular that just couldn't play the game – like Catamount. Analysts blamed "consumer confusion" over a multitude of brands; they couldn't decide what to buy, so they fell back on a few basic choices, or left the category altogether. I'm not completely sure I buy that – there were a number of factors involved, and that one was the most nebulous (although quite a few business books sold on the idea) – but you definitely see the same kind of thing with vodka. "You can walk the length of a supermarket-sized store, and not run out of vodkas," said Ed Pechar. "You can cover 1O feet of shelf space with just one brand." Anyone reading this knows that's true, so how come vodkas aren't affected by this phenomenon? "They're all similar in taste," said Brody. "You can have a whole gamut of tastes in beer: from light to need a knife and folk. Vodka is odorless and tasteless and colorless: it runs from smooth to smoothest! You're not going to find anything but the flavors in it. So you've got a similar taste, whether it's a $6O bottle from Russia, or a $12 bottle we produce in our plant in Somerville.
"How you sell on the top end is how you market the brand, you have a story to sell," he said. "But the average consumer can't discern the real differences. In malt whisky, you get a different taste profile; small batch bourbon, the same thing. There is no big taste difference in vodkas." Several people in the industry also mentioned the fact that vodka already had some solidly-established brands before the explosion happened. Craft-brewing had Sam Adams and Sierra Nevada, but they also suffered from the whole newness of the category: craft beer was still being defined. "[With] such large reference brands, Smirnoff, Absolut,
Grey Goose," said Kate Price, "all of which have strong loyal followings and each of which defines a segment of the category – premium, super premium and ultra premium –the consumer can easily understand what to compare these new entrants to. As all of these large brands are really excellent product, new entrants and boutique brands don't really bring anything new to the category. After all, the mark of a good vodka is odorless, colorless and tasteless."
GOOD STORY? GOOD VODKA?
Lieb, not surprisingly, put his finger directly on the issue that drives vodka's success: "the right product credentials." It's not a surprise because he's the Grey Goose man. Absolut may have created the premium vodka category, but GREY GOOSE created super-premium, and 'absolutely' dominates it with the great "product credentials" that creator Sidney Frank defined. Grey Goose has a beautiful bottle, it is made to the highest standards of quality (as, to be fair, many vodkas are), and it is made in France, an origin that imbues it with an automatic elegance. Brilliant. "Education and innovation will be keys to continued growth," Lieb responded when asked how Grey Goose intends to keep up its phenomenal growth rate; it is doubling in sales approximately every three years. "We need to keep teaching our product story that explains why Grey Goose is the world's best tasting vodka. The brand has a unique history coming from France and being the first vodka to utilize a maitre de chai. It was the first vodka to embrace bottle service and has established itself as not just a vodka brand but as a lifestyle brand. Further development in these areas will help long term growth."
You have to tell your story, and that's what makes the brand, in vodka perhaps more than in any other category. It can be something as simple as the wrapping: the name and the bottle design. "SILK stands out because of our unique packaging and our ultra smooth taste," said Mark McKethan, noting the slippery-smooth connection with the brand's name. "Continuing to appeal to our target consumers through a comprehensive marketing campaign is the key to our continued success."
Even simpler than package is price. That's the pitch for SOBIESKI Vodka, according to Imperial Brands president Chester Brandes, who noted that the Polish vodka could have launched at a premium price and promptly gotten lost on the shelf. Instead, they launched at $1O.99 with a splash of promotion, and did 7O,OOO cases in their first five months. Brandes figures after they establish a loyalty, they can slowly raise prices. But the solid marketing support will continue: Imperial is owned by the Belvedere Group, a billion dollar French company. Sobieski is backed by that, and as Brandes said, they come to the market "fully loaded" and ready to spend what it takes to establish a brand. Mike Brody has Sobieski at M.S.Walker, and he's happy about it. "It's a great package, a great product," he said, "and they're coming in under Smirnoff a bit. We're seeing a lot of segmenting of the market. That's where all the growth is coming."
RUSSIAN STANDARD, another new brand that has come charging out of Russia, has embraced its nationality as its identity, and it's working; impact listed it as the world's forth-fastest growing brand last year. "Russia is the homeland of vodka; ask any consumer," said MacLean. "Our ingredients come from Russia, it is distilled in Russia, it's bottled in Russia, and we're number one in Russia. Russians drink us. We have a lock on authenticity compared to other brands in this marketplace." That lock caused some discontent in the market recently, as Russian Standard disputed Stolichnaya's "Russian-ness", pointing out that the vodka is bottled in Latvia. The problem wound up before the Better Business Bureau, which ruled that Stoli was indeed authentically Russian, but that Russian Standard could note that Stoli was filtered and bottled in Latvia, a solution that seems to have placated everyone involved. "We are pleased since it validates what consumers have known all along," said Craig Johnson, "that Stolichnaya is the genuine, authentic premium Russian vodka, distilled in Russia from Russian grain and water."
FLAVOR OF SUCCESS
One thing Russian Standard does not have is flavors, probably the most noticeable part of the vodka market. I remember flavored vodka when I was tending bar in the 198Os: nasty, neon-colored stuff, thick with sugar. That's all changed now, and flavored vodkas get the billboards. "The flavors are about 1O% of the category," said Mike Brody, putting things into perspective, "and citrus is about 9O% of the flavors. The others are exciting, but basic vodka is still the business. Still, it's a category that's right on the consumer's mind. You see LDAs and you see the oldest person in the bar drinking it. It's just amazing." Kate Price is riding a huge success with Smirnoff's Twist flavors. "Flavored vodkas are an important part of our business and our growth model," she said. "And yes, that model has evolved somewhat over the last few years. Many new flavors are seeing shorter and shorter growth arcs. Making sure consumers know what to do with the new flavors are key to their success. At the same time there are some flavors – for example, Citrus and Raspberry, that are there for the long term and behave more like an unflavored vodka, with loyal user bases."
Stolichnaya has had great success with flavors as well. In fact, Gary Sullivan, owner/partner at the Sapphire Restaurant Group and its Rocca Kitchen & Bar in Boston, finds the Stoli flavors even more successful than the original unflavored brand.
"They have a lock on the flavors. Bartenders hate flavored vodkas," he said, and chuckled. "But flavors are very important.
The most important is a citron of some kind. They'll call for a citron martini." Sullivan has ten house drinks, specialty cocktails. "Every bartender has things they like to make, and that's great," he said. "But I know that my cost of goods was going to go up, and I want to keep a full space. You need that bar active. So I have to choose products they're going to enjoy, and yes, six of the ten specialty cocktails include vodka. I sell more vodka than any other spirit."
Van Gogh Vodkas are specializing in flavors these days. "We have seventeen," said brand founder David van de Velde, which should be enough for anyone, but van de Velde is always thinking. "I was the original importer for Ketel One, the co-designer," he said. "Then we sold it and I retired for a week. That's when I started Van Gogh, because I wanted to go in the direction of flavored vodkas, which in 2OOO wasn't very big.
I felt that we could bring a much more refined product to the market, with less sugar and more refined flavor. It's not easy pushing your way into the liquor industry, but we're doing well. We have been growing about 35% a year,
a beautiful growth pattern." Van Gogh offers flavors like coconut, pineapple, acai-blueberry, and two types of coffee, Espresso and Double Espresso; a triple is coming soon. "We crack the beans; you cannot grind them," he explained, "ground beans clog the filters. So we crack them, and marry them with high-proof alcohol and just a little bit of sugar – the flavor will adhere to the sugar, and the sugar will bond to the alcohol – for six weeks. We filter the coffee pieces out and re-distill the high-proof vodka in a little pot still, and that's the base for our flavored vodka. The principle is the marrying; we don't use flavorings and chemicals, we use real beans and fruit and chocolate.
"We have seventeen flavors," he noted, "and I wouldn't say they're all successful. But if you have five that are successful, that's good. You don't have to have all of them, but they're all there. It's a never-ending cycle. I'm always having new things in mind. If you come in #1 out of the chute, usually you maintain a 5O% market share."
There are other perspectives on flavored vodkas, like the perspective of the retailer. "Flavors are more a nuisance," said Wes Narron. "The suppliers keep expanding product lines with different flavors. Some of them are terrific, and some of them are crap. You have to taste them, and you have to keep in touch with your consumers: which ones are they trying when they go out. But I don't want to have something just because it's selling in some strip club. "Smirnoff just came out with White Grape and Passionfruit: why?" he asked. "I'm going to carry the White Grape, because it's better than the other grape flavors. You can't carry everything. My clientele is looking for the high-end, so that's what I'll carry: Charbay, Hangar One, Citadelle. Any flavor they put out, I'll carry it, I trust it."
SELLING IT
How do you sell these vodkas to your customers? Knowing the stories is important: Lieb and Saeger emphasized knowing the distinctions between brands as crucial, "especially in a cluttered category," noted Saeger. Kate Price and David van de Velde both suggested having one section for new products –
"You have to be open to the future," said van de Velde, "people want new things." – but Price cautioned that you "be selective about the new and boutique brands that you shelve – every inch of shelf space is precious." Though as Brody said: "How do you turn down a brand, when it could be the next Grey Goose tomorrow? Tough decisions, such a big category! "It's important to educate staff on the vodkas," said MacLean, "so they truly understand what the unique selling propositions are, and I would challenge that not every brand has one; we do." It may not actually matter all that much. One of the hallmarks of vodka's success is that selling it is practically a hands-off, stand back proposition. "It's rare that customers look for a recommendation on vodka," said Wes Narron. "Scotch, cognac, even tequila they may ask about, but they know what they want on vodka. It's their brand. It's easier for them to make that choice and just go with that."
Step back. Let them choose. As Mike Brody said, "This is where the action is, and no one knows where the top of the mountain is!" Maybe, in the end, vodka will do what Peter the Great's heirs and ministers never could. For now, it looks like the future is colorless, odorless and flavorless: the future is vodka.
EVERYTHING CLEAR?
Those of you familiar with my other articles for beverage business are probably expecting an explanation of vodka at this point; it's kind of a signature thing for me, and that quote is a great lead-in. But . . . I don't want to insult anyone's intelligence. Vodka is about as simple as it gets with distilled spirits, and I don't see a need to quote the federal regs about the characteristics: everyone knows them, from the brand managers to the wholesalers to the store mangers. Hell, the part-time kid on your register on weekends probably knows them: vodka is a neutral, clear spirit that owes as much to the flavor of the water it is diluted with as it does to any other component of the process. It's usually distilled from grain, but pretty much anything with starch or sugar – potatoes, apples, grapes – can be fermented and distilled into vodka; and at some point, it probably has been.
36O – GREEN, BUT NOT ORGANIC
The first thing you notice about 36O Vodka is the bottle . . . or maybe the twine. In a segment where bottle design is second only to that in the grappa category, vodk bottles are distinctive, but 36O's heavy-gauge wire swingtop cap and heavily-embossed glass logo gets your attention. And there's that loop of rough twine around the top,holding . . . what, an information packet? Cocktail recipes?
"That's a mailer," said McCormick Distillers chairman Ed Pechar. Take it off, open it up, and that's just what it is, a postage-paid mailer, inviting you to "Close the Loop" and send back the swingtop. "People are re-using the bottles, and they really are sending the closures back." It's emblematic of the whole idea of 36O: eco-friendly sustainability. McCormick has jumped over organic and grabbed what looks to be the subsequent rising green trend: sustainable, local, low-carbon footprint production. "The company had been in the midst of a major green movement, recycling, working with the suppliers," Pechar explained, describing a successful and popular company restructuring to go as green as possible. "And one of our bright young men said, 'Why don't we do a product with a green nature?' 36O went from idea to shipping in 8 months. "We got an idea, a design, and worked with suppliers," he continued, "and now we've got the 85% recycled glass bottle (7O% post-consumer waste), 1OO% recycled (1OO% post-consumer) label, soy-based ink, and the returnable closure. The shipping case is re-usable, and it's better than the file boxes you can buy at Staples. The still is state-of-the-art, probably the only one of its kind in the US. It forces the emissions back into the still as an energy source. It's 2OO% more efficient than a standard still. All the grain is produced within 95 miles of the still."
But it is not organic, a misconception I had to struggle with while talking to Pechar. He said that the idea behind 36O is more suited to the kind of large-scale production McCormick does; their McCormick Vodka is the third-largest domestic brand. "Organic is separate from what we're doing," he said. "For example, if we had to rely on organic food in this country, there'd be a lot of people starving. To go organic for the sake of organic, we don't see the value of that over what we're doing. We're talking sustainability."
The vodka itself needs no improvement. "36O is quadruple-distilled, then filtered three times through coconut charcoal and twice through reverse osmosis filters," Pechar said. "We think it is the cleanest, purest vodka available." The sample I tasted was appealingly clean and crisp in the nose, with just a hint of the clean paper smell that I cherish in good vodkas. It sips smoothly, with no burn or harsh flavors, and has a nice, plush, creamy texture, with a clean finish and no off-flavors detectable anywhere. But there are plenty of well-made vodkas. You need more to sell a brand, a story, a package, a provenance. Pechar thinks sustainability will make 36O's case to caring consumers. "If you buy this, you're doing some small thing to help the carbon footprint. Everything we can do to say this product is not going to harm anyone in an environmental way, we've done. We think we thought of everything, but if we missed something, let us know. We'll do it."
A-B TAKES THE HARD ROAD
When you're one of the world's largest brewers, with a long, successful history of serving the customer with what they want, and making your product the best way you know how, what do you do when the customer decides they want to drink vodka? Anheuser-Busch decided that the customer knows best, so they've developed a vodka: Purus. "Purus is Latin for 'clean, genuine, refined'," said John Giarrante, an innovations manager in A-B's New Products/Innovation Department. "It reflects the vodka's unique ingredients and distillation process." Purus (say "Pure us") is made from Italian Alpine water and 1OO% Italian-grown organic wheat, cultivated without pesticides or commercial fertilizers, grown on a small group of family farms in the Piemonte region. "Our packaging is green as well," said Giarrante. "It is a 1OO% recyclable bottle, representative of a single drop of water off the Italian Alps. We used tree-free labels, soy inks, and water-based adhesives. The cork closure is from a sustainable cork farm."
The vodka is distilled in the Piemonte region as well, at a small, family-owned distillery. "We were in search of a 1OO% organic wheat product, and they were brought to our attention," said Giarrante.
The concept and formulation came from A-B, not a previously-made product that they bought or licensed. It is distilled five times, and filtered through 1.7 million square meters of activated charcoal. Purus first rolled out in Boston in November, 2OO7, one of three trial markets (NYC and Washington, DC are the other two). "We're in distribution in high-end clubs, restaurants and specialty grocery and liquor stores," Giarrante noted. "It's really too early to say when we might expand availability, but we've had very positive response from consumers and the retail trade."
This is not A-B's first foray into spirits: a twin-package liqueur concept called Jekyll and Hyde has mostly gotten lost on the shelves. But Purus has an innate advantage – it's a vodka – and may well do better. "We have a long history of innovation," said Giarrante. "We're rolling out spirit offerings, and we'll continue to leverage our core competencies as a global beverage company."
---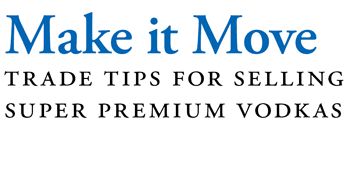 by Nick Mautone

Make it Move
trade tips for selling super premium vodkas


We have seen an explosion in the premium and super-premium category. Every month, it seems, there is a new and high priced vodka sitting on the shelf at the local bar, restaurant or liquor store. These vodkas are marketed under many guises. What makes them deserving of the higher price? Why are they so special? That's fodder for another article. As a restaurant operator what's key to me is how to sell super premium vodka at the price I need to make a profit. The simple answer is this: appropriately managing and marketing them as a category and proper staff training.
Let's handle training first. It's shocking to me that most bartenders have never tasted many of the actual products on their bar. Given that, how is someone to know the difference between Grey Goose Vodka and some other super premium? The answer is simple comparative tasting with your staff. My bar staffs are shocked when I bring them a glass of lightly chilled Grey Goose and talk about its elegance, the hint of citrus notes, the hint of almond and even the buttery finish. What's even more shocking is their surprise when I put forth another vodka (or 4) for comparison. They simply cannot believe the difference in flavors and tastes and textures. Yes, vodka does have flavor. You know what happens every time I do this? My sales of that category go up. And at the higher price point of super premium spirits, so do my profits. Simply stated: To move inventory, train your staff on the nuances of that category and the profiles of each brand within.
How do you manage and market a category? Simple. Stock your bar appropriately with only those spirits you are actually prepared to train your staff on. Keep inventory tight on those items that may not move as quickly and keep in stock more of those items that you know will move. I have a simple method of keeping my super premium spirits moving while enhancing the staff training. After tasting my staff on the products I group spirits together by flavor profile. For example lighter bodied vodkas are grouped together first, followed by fuller bodied vodkas, followed by spicier tasting vodkas and then other types if necessary. I keep all the flavors of a brand together to maximize the brand potency and do not have too many redundancies in flavors and selections. I do this for all spirits and cordials. What you will find is that the staff then has a simple reminder to enhance their training. If the guest needs a recommendation and if they forgot the actual flavor of a vodka they can "deduce" it from the bar map and layout. Simple, easy and profitable!

Skol,
Nick Mautone


NICK MAUTONE is the Brand Ambassador for Grey Goose Vodka, Author of raising the bar: better drinks better entertaining (Artisan 2OO4) and the owner of Mautone Enterprises LLC Hospitality and Management Consulting. Mr. Mautone is a highly acclaimed beverage expert and operational consultant, and regularly travels the country assisting in the development, operational setup and the re-branding and retooling of restaurants, bars and hotels. He can be reached at nick.mautone@verizon.net