archived

FeaturedArticles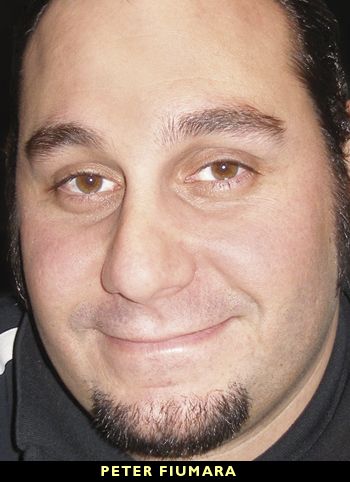 Article By: Fred Bouchard
PETER FIUMARA • 35 • Owner • Good Life Bar & Vodka Lounge • Boston, MA

Boston's downtown and our state's vodka segment both have undergone recent revitalizations, and The Good Life is in the middle of the action. The Fiumara Brothers bought the cozy corner spot on low-rise Kingston Street at Downtown Crossing in 2OO5 – across from J.J. Foley's and Kingston Station – with a vision to carve out a white spirits mecca, and, given their chillers stocked with over 15O vodkas and the after-work mobs mid-week, they're well on their way.

The CONCEPT My brother Christopher was going to Richmond University near London in the '9Os. When I went to visit him we went to a Polish vodka bar in Kensington called Wodka. So you walk in, first thing they do is bring you a frozen shot of Zubrowka with that blade of rare bison grass in it, it's like roaming over the prairies. We were like, 'awesome!' We thought how great it would be to open our own vodka bar and serve shots and martinis from all over the world. And we said, 'Someday, let's do it!' When we bought Good Life in May 2OO5, we kept the name (which we like) but reinvented the business and space. I rebuilt the bar upstairs, refurbished the restaurant, and gutted the basement for our Vodka Lounge.
The SCENE Christopher and I love entertaining and hosting. Our grandfather owned Pietro's (named for me!), a family restaurant in South Beach, Miami, for twenty years. We want to be multi-faceted: we run a full bar upstairs and down, our triangular dining room has white-cloth service. We draw businessmen for lunch and the afterwork crowd for dinner and drinks. Later, we morph to a lounge/club scene: deejays spin in a five night rotation of house, hip-hop, soul, with live bands one night and jazz on Mondays; to tip our hat to The Good Life's original Rat-Pack theme, veteran pianist Al Vega played some nights. Now our series of one-off parties brings a constant crowd of new faces in: '8Os one night, deep house another, old school hip-hop.
It's an ever-shifting canvas.
SUPREME WHITES Vodka accounts for easily 4O% of our beverage revenues. Our current restaurant spirits list has 25 vodkas, 5 gins, 7 rums, 9 tequilas, 2O scotch blends and malts, 12 other whiskeys, 5 brandies, 25 cordials. We have a rotation of 28 wines, all available by glass and bottle and a dozen beers. Our drinks card offers signature cocktails, 12 martinis and 12 cocktails. But then our Vodka Lounge downstairs has about 15O products on a geographically organized list. And we rotate 4-vodka flights, like: Flavored, New England, Russian Delights, World.
HOT BRANDS Ketel One, [Grey] Goose, Absolut. We have vodka in the well, but nearly everyone names their brand. There's a lot of money to invent and push brands these days, but your front line of attack is the bartenders. These guys and gals taste it, develop palates, sell it, all day long. You come into a vodka bar and you ask, "Hey, what's good? What's new?" or "I like Grey Goose, what else ya got?" They will have answers. Vodkas come and go, we try to keep after distributors to keep the ones we like in stock.
RUSSIAN GEMS Zyr is a house favorite. All our bartenders have fallen in love with it, and our policy is to let them sell what they enjoy most. It's delicious, whether straight up or in a dry or dirty martini. It might be the best on the market. What I like about the taste is it's very crisp and clean. The label rep's marketing approach was not to try to bowl us over with superlatives, but to let us taste and judge on our own. That laid-back approach worked in their favor. They're more of an underdog than, say, Ketel One. Then there's Jewel of Russia Ultra, it's a true top-of-the-line vodka – full-bodied and rich – so straight-up clean you can knock it back neat; it's worth the price.
LOCAL BRANDS Cold River from Maine is different, I like that potato earthiness and batch variation. Somebody who's into bone-dry martinis may be very particular and not like that variation. There's another potato from Idaho, Glacier. Vermont Silver (made with milk) and Gold (with maple syrup) are awesome in a White Russian, Black Russian, Caucasian, but maybe not the best stand-alones. Very sophisticated distillations. Triple Eight from Nantucket – we carry the cranberry, the orange, the straight: good stuff, good guys. They've been here.
OTHER FAVORITES Tito's Handmade from Texas comes over a little like tequila, with six distillations and onion-skin color. Reyka from Iceland is popular, with its distinctive lava rock filtration. Square One, organic, has a following. Zubrowka, with that buffalo grassiness. We just ran out of Wokka last night: sake vodka, what a unique taste!
FLAVORS GALORE Flavored vodkas keep coming on and on. It started with Grey Goose Le Citron and Absolut Citron. I don't think it's out of control; experiments are great. I think Van Gogh's doing the best job: their flavors are super-intense, like pre-mixed drinks. Banana, Blueberry, Double Espresso, Apple, Raspberry – a dozen or so. You gotta try'em. They're from Holland, and know what they're doing. Hangar One from California is very popular, made in an old airplane hangar, mouth-filling flavors and explosive colors. Excellent orange, unusual lime, citron (Buddha's Hand), even a wasabi, fabulous in a bloody mary! Many are limited runs. They have the more pure, natural fruit tastes of infusions.
STAFF TRAINING There's a gap between what is touted as the next best thing (through advertising and marketing) and what is really the next best thing. We have staff tastings regularly for our regular six or seven bartenders (I bartend occasionally, too). The reps come in and tell their story, and we taste products. They're always self-training too, curious to sample this, that, have each other try a new thing. The best way to learn it is to try it, get an idea of how it tastes and try to describe it yourself. I want us all to be honest, sincere and realistic. Compare, contrast, create is the idea.
CREATING DRINKS Lauren, our bartender, makes a drink she calls the Emo. Real easy: Stoli Blueberi, lemon juice and a little simple syrup. We ask our bartenders to get creative, make drinks they'd make at home, give them credit on the list. We insist on the freshest juices, purees and just-cut fruit. We make them in-house daily.
GRADUATION UPSTAIRS Vodkas that do well in our lounge usually will migrate to the upstairs bar as well. When people request it enough down here, it'll have legs to go to our upstairs bar, too. That is to say, they're popular not necessarily in the public eye, but within our establishment. Hangar One flavoreds, Zyr, Cristiana, Reyka. Absolut put out this limited edition of mango and black pepper and donated the proceeds to New Orleans' rebuilding effort. We bought a couple of cases and it took off.
WHITE FLIGHTS We've done tastings for groups of 1O to 2O who show interest. We'll select 4 or 5 and show the flight in a given order, usually neat and very chilled or frozen. We'll give them a little history on each vodka, serve our chef Michael Scelfo's home-made potato chips and some olives; we're looking into little pickled tomatoes that the Russians love. People think when you give them a shot of vodka they have
to knock it back. No, it's better to sip and appreciate, let the flavors emerge, and it won't kill ya.
COOKIN' with VODKA Michael makes a sauce with the Zyr vodka, uses Herb's flavored vodkas (dill, rosemary, fennel, cilantro) for salad dressings. The dill makes a terrific Bloody Mary; it's a little like Akvavit. Michael likes the Italian vodka, Mezzaluna, which is round and smooth.
NO SIGNAGE We redesigned the Good Life logo to our liking as a sort of glass with a swizzle stick in a black circle. Beyond that – and a few Grey Goose napkin caddies – we avoid advertising, and let the drinks do the talking. Sit down and talk to the bartender, don't stare at neon. We want to be organic, let people relax, be themselves, not be overwhelmed.
OUTREACH EFFORTS We just helped a good patron to raise funds in a marathon for Second Step. [A benefit was getting under way for Children's Hospital during our interview; another for Share Our Strength is slated for May.]
RECENT TRAVELS I got married last fall so Colleen and I are off on a belated honeymoon to France. French vodkas? Oh, sure, Ciroc, Perfect, Idol, and of course, "The Goose".
PHILOSOPHY of GOOD LIFE This is like a house party, but not in your house. We're family owned, and run it like our living room. Our 'families' arrive at lunch, dinner and late at night. Different branches, but they all know each other, intersect and are comfortable here.