archived

FeaturedArticles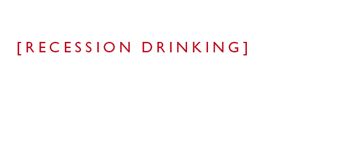 Article By: David Singer
A recent wall street journal article noted some possibly alarming content about the economy in the coming years. The article was titled "Stocks Tarnished by Lost Decade". According to the article, stocks have traditionally been one of the best investments. Conventional wisdom, according to the article, has been to invest in a broad range of stocks and hold on to them. However, this has not been the case in the late 199Os or so far in the new millennium. The article compares today to the "lost decades" of the 193Os and 197Os. Not only are we in a recession, we could be in it for a long time. Now, when you start getting into detailed economics, I am so far out my comfort zone that I am camping out on the Asylum's front lawn. So why I do raise the topic?
We in the hospitality business should already be set for a recession and, if not, should start doing so, now. An economic storm is here and those not following the mantra of the Lord Baden-Powell (read: "be prepared" for those non-boy/girl scouts) these times will be very difficult. If the wall street journal is not your favored bearer of news, consider this: Paris pawn shops for the first time in their history will be accepting wine in exchange for cash. The capital of some of the best wine of the world is now accepting wine to be pawned. Nervous times indeed. Even if you are lucky to have a regular group of clients that buy the top five percent of wine, they will generally be buying much less or not at that tier at all in the upcoming months, or perhaps even years.
When people start getting nervous about money, the proverbial belts tighten. Fewer people go out to restaurants or go to their neighborhood wine shops. When they do, they are really looking for bargains – now more than ever. The mixed blessing and curse is that some want the same quality level or at least the same flavor or style of wine as what they were drinking before. The curse is that expectation, and proprietors needing to meet it; the blessing is that clients can be more open than ever to try new wines from all over the world. Having the luxury of looking at the most recent fifteen-dollar/ninety-point wine in a magazine is no longer a total viable option, because so many of our clients will be focused in that price point, there simply will not be enough wine to go around. This is where your talent comes into play, and speaking for myself, this is where a lot of pleasure in this business comes from. Looking for these diamonds-in-the-rough is one avenue where distinction from your competition is going to be very important.
In many of my articles I harp over and over again about the importance of cultivating regular clients. It's times like this that it is easy to see why. For restaurants, multiple options for wine by the glass are certainly one way to have a sustainable beverage program. Some of your clients will forgo ordering an entire bottle all together. Having many options to entice your clients such as flights – or even expanding your half bottle selections – can have a noticeable difference. Furthermore, if you have not yet invested in some form of preservation for your wines by the glass, do so now. Even if you do not have the investment for a point-of-sale system, you will certainly see a difference in your beverage cost at the end of the month.
Both outlets should watch the distributors closeout lists very closely. This is why taking detailed tasting notes from those huge portfolio tastings is very worthwhile. A wine that would be sold at "X" price may not be an acceptable price point for your clientele. Now that the same wine is available at the discounted "Y" price, it can create an excellent opportunity for increased sales while giving the appearance of selling at "reasonable levels". Wine shops and restaurants can further use these lean times as an opportunity that, on the surface, can be somewhat conflicting. If the budget allows, this can be a time of looking ahead to the future. With the near inevitable lack of movement for some high end wines within distributors, this is a time for building depth. With a number of very good vintages around and forthcoming, some of your client's favorites could be resold in the future for equal to a vintage, say, three years from now. The advantages of this are that the wine will have some bottle age and you can offer a wine of possibly better quality at a much higher profit margin. Many of your top five-percent clientele will appreciate that wines with age are available. Naturally this carries a risk in a recession; the decision to make it will depend on the establishment's economics.
Many businesses that have been around for a long time will tell you that nearly all storms can be weathered; you just need to be prepared for them, and perhaps try to derive some creative benefits.