archived

FeaturedArticles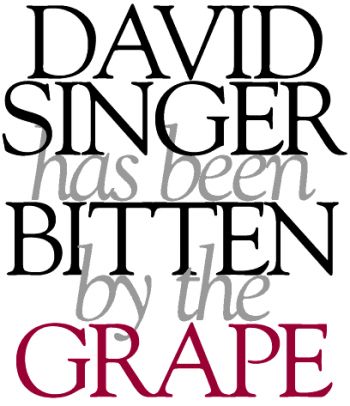 Article By: Kim Foley MacKinnon
"My passion for wine started in my 2Os," says Mantra Restaurant's Sommelier David Singer, who is barely in his 3Os today. While working as a server in Toronto and attending college, he always wanted more information about the wine he was serving. Singer says that his five questions led to 2O and so on. He was effectively "bitten by the grape" as he likes to say, and finally decided to "do what I love." He switched from a focus on political science and psychology at Trent and York Universities and enrolled in the sommelier program at George Brown College, a hospitality school in Canada. He graduated in 1997 with honors and has not wasted any time in the seven years since.
After graduating, Singer somewhat boldly and optimistically sent out his resume to everyone on the Wine Spectator's annual Grand Awards list in the US and was lucky enough to land at Felidia, in Manhattan, as the Assistant Sommelier. He was taken in hand there by wine director Dan Perlman, who became his mentor. "He gave me my first job," says Singer. "He was generous with his time." This is key, according to Singer, who stresses that mentors are an invaluable resource to learning the trade commenting, "Everything is not in a book."
From Felidia, Singer went to Veritas, and then on to famed Le Cirque 2OOO, where he again was Assistant Sommelier. He also worked with Chef Laurent Gras of Peacock Alley at The Waldorf Astoria Hotel, where he served as Sommelier d'Hotel. Somewhat fittingly, the first three restaurants Singer worked at all won Grand Awards from Wine Spectator during Singer's tenure, and The New York Press named him "Best Sommelier in Manhattan" in 2OOO.
Having achieved success and acclaim in Manhattan, Singer accepted an offer to move to New Orleans in 2OO1 to oversee the wine program at the Windsor Court Hotel. That same year, he earned an Advanced Sommelier degree from the Court of Master Sommeliers. Singer then followed his heart to Boston, where his fiancee was living in 2OO2. He landed at The Federalist in the XV Beacon Hotel, and for 18 months worked as the floor sommelier. But, eventually Singer wanted the chance to run his own program. He moved to Mantra in May 2OO4, where he is the currently the wine director, as well as assistant general manager. The 2OO-plus seat restaurant located on Temple Place in Boston's Ladder District offers an upscale menu and more than 3OO labels on the wine list.
---
SELLING the SOMMELIER
Singer likes Boston, and finds it to have a pretty wine-savvy clientele. In terms of wine knowledge, he says, "It has the potential to be on the same level as New York or San Francisco." He adds that he thinks Bostonians seem to have a "good foundation and are willing to experiment." But he laments the fact that not many area restaurants have sommeliers here, as opposed to New York or wine country in California. "It's seen as a luxury position. You have to have a chef and waiters, but even pastry chefs are luxuries," says Singer, adding, "Sommeliers are seen as even more of a luxury, because a general manager is expected to have some knowledge." Just as a chef can presumably make desserts, a manager can choose wines, but clearly neither is able to focus exclusively on that one area. Sometimes the prospect of hiring a sommelier can be a hard sell to owners who don't want to add one more salary to the budget of running a restaurant. Singer explains that some of the benefits a sommelier can offer are a more interesting wine program, which leads to more sales, as well as an educated staff, which also leads to more sales. Singer does see a change occurring though, with more restaurants looking to have an expert on hand. "It's happening slowly," he says. As more and more customers are becoming savvy about wine, staff members have to keep up.
EMPHASIZING EDUCATION Education is a part of the job that Singers relishes. "I love the teaching element, being face-to-face, whether to a customer or servers," says Singer, who has put together a written program in wine education for Mantra's approximately 4O front-of-the-house staff, which meets once a week. For example, in one session Singer gave to the staff, he handed out a seven-page packet called France and Its Regions, An Introduction part Deux (Burgundy and Alsace). The basic overview has a map of the wine regions of France and details different aspects regulations, what grapes are in what regions, classifications, and so on, with a focus on Burgundy and Alsace. It is a good grounding in what anyone serving wine should know. Beyond merely describing flavors, Singer is making sure that his staff knows why different grapes taste the way they do and where exactly they come from. "It wine is an integral part of restaurant," Singer says, adding that not teaching servers about wine is "like not training the staff on food." He comments, "I love teaching. It's the joy of the job." At almost every position he's held, Singer has stressed wine education to the staff, often planning and implementing the programs himself. His expertise is not limited to just wine, however. He recently spent a class discussing beer where he went over the beer making process, ingredients and varying styles with the staff. When selecting Mantra's beer list David made his decisions with the restaurant's menu in mind and went with brews that had depth and acidity. For example, he chose the Trappist Chimay Rouge for its great spice notes and Paulaner Hefeweizen that, with its high yeast content, is well suited to fish dishes. Beer is increasingly being paired with all kinds of cuisine, particularly spicier dishes, and there is a pronounced emphasis on beer education taking place in restaurants.
"I want them to be interested and have a passion," says Singer of the staff. In no way is his attitude condescending, though. "Pompousness has no place. The more you know, the more you don't know," he says. He describes wine as just another element of a meal. "Wine should be in the glass." He likes to tell people, "Remember, wine is a condiment." This unaffected attitude is something he brings to the floor with him as he makes his rounds among diners. "If I see someone poring over a list, I'll approach them," says Singer, but he gives people space and time without pressure. He'll ask what ballpark price range the customer would like to stay in and go from there. He takes time to go over the wine list. He finds out what wines customers like and what they usually go for. He will spend several minutes tableside discussing options, if that's what a client wants, or he'll give a few suggestions and move on.
NEW CHALLENGES The French/Indian influenced menu at Mantra has proven to be a new experience for Singer, where he points out: "Intense California-style wine does not work." Singer explains, "In a nutshell, heavily oaked wines will do one of two things - overwhelm or clash - with the subtle flavors the chef is working with." He has been tweaking the list to complement the food. "It's challenging in a good way. It's certainly fun," says Singer who has been focusing on Syrahs and Pinot Noirs to "bring out the Indian flavor" of the food. Eventually, Singer is planning on a series of wine pairing dinners, as many area restaurants do, but he is waiting for the next menu change (which happens seasonally) to design the program.
Pairing food and wine is one of the aspects of his job that Singer enjoys most (inventory is his least). He likes to try new dishes as they are created by the chef, saying that he'll, "pop a couple corks" and experiment. Singer believes there's "a magic between great wine and food pairing." At staff menu tastings, he will encourage the servers to see what works with the food. He urges them to "tell me why" in an effort to get them thinking about the combinations of flavors.
At Mantra this fall, Singer designed his own twist on the popular wine flight program that many restaurants offer. Select wines are available by the half-bottle, whether or not they come in a half-bottle. Singer explains: "I love half-bottles. And there's just not that many." Having ordered special decanters to accommodate his new program, Singer says, "It allows you to be more flexible. More wine pairing is possible." Mantra is offering 15 half-bottles, along with its 23 choices of wine by the glass.
INVOLVED in the INDUSTRY Outside of the restaurant setting, Singer has educated the public in various ways, having written occasionally for publications such as the Harbus, a Harvard Business School publication, Italian Cooking and Living, and Sante magazine. "I'd like to write more," says Singer, who has also spoken at various charity events and classes, but his focus right now is Mantra and studying for the final part of the Master Sommelier (MS) program.
Singer took a moment to explain why he is pursing the MS degree rather than the Masters of Wine (MW) program. Most people in the field choose one or the other depending on their careers. Only two people in the United States hold both degrees. Besides the time involved, the programs are very different. "The Masters of Wine is an exceptional program," says Singer. "It differs from the MS. The MS has a restaurant slant - the MW doesn't have any of that." If your focus is on working with people in a restaurant setting, as Singers does, the MS makes more sense.
A broader food and beverage education is part and parcel of the Masters of Sommelier program. For example, knowledge of spirits, beers and cigars are required in addition to wine. The knowledge that Singer has gained he has put to use in training his staff. In the end, everyone from a server to a customer gets some benefit from a sommelier's extensive training. Occasionally, Singer will put together a blind tasting for some local wine professionals, including some who are studying for the MS course. This is a loose group as there is no formal organization in Boston for wine pros. At one point there was a Boston Sommelier Society, but it has been defunct for some time, although Singer has heard of attempts to bring it back. "I wish there would be a more solid group," remarks Singer. He says that he would love to see more people going for advanced degrees and certainly a group of like-minded people would be helpful to each other.
When asked if he has any tips for would-be sommeliers or other wine enthusiasts, Singer says: "Drink. Drink a lot, But drink constructively. Try and find a mentor. Get to as many tastings as possible. Get involved." That said, Singer does offer a good starting point for novices. "A great introduction to wine is Wine for Dummies, co-written by a Master of Wine," says Singer. "It's easy, very informative, with lots of humor."
on a PERSONAL NOTE So what does the sommelier himself like to drink? At home, Singer has on hand mixed cases of wines from around the world. Some examples of this are 1982 Calon-Segur, 199O Ceretto Prapo Barolo, a lot of Red Burgundies and some William Selyems Pinot Noir from different vineyards. If he's invited to a dinner party, he'll usually bring Champagne. "Who doesn't like Champagne?" he asks. "For special occasions, I also like giving Canadian Ice Wine to wish them another sweet year." As for favorite wine lists in town? "The Fed. The depth and breadth on the list is wonderful." Singer also likes Troquet, on Boylston Street in Boston's Theater District, where the list gives the temperature the wine is served at, which he thinks is fun. He also admires the wine flight program there.
That the customer is always right is a motto Singer takes to heart. While complaining about difficult customers is a universal theme in the food industry, Singer doesn't play that game. "It's never about you," he says. "It's never personal. It's a hard lesson to learn." He describes his job very simply: "It's about taking care of people. It's about fun."
---
---
CHOOSING a PROGRAM
MASTER SOMMELIER or MASTER of WINE?
the MASTER SOMMELIER David Singer is working toward obtaining Master Sommelier status, but some may wonder what that means exactly and what is involved. Here's a snapshot of the Court of Master Sommeliers' history and its requirements. More details can be found at courtofmastersommeliers.org.
The Court of Master Sommeliers was established to encourage improved standards of beverage knowledge and service in hotels and restaurants. The first successful Master Sommelier examination was held in the United Kingdom in 1969. There are currently 6O Master Sommeliers in the United States, just 11 of whom are women. Of the 6O, just two are also Masters of Wine - Ronn Wiegand and Doug Frost.
There are three stages to attain the top qualifications of Master Sommelier: an Introductory Course (a two-day educational course, followed by an exam), an Advanced Sommelier Course (a three-day educational course, followed by an exam) and the Master Sommelier Diploma (similar to the Advanced Course, but higher scores are required). In the final exam, it is interesting and telling to note a specific requirement given: "Throughout the examination, the candidate should exhibit a high standard of both technical and social skills, demonstrating the courtesy and charm of a Master Sommelier. It is essential to demonstrate the ability to SELL."
MASTER of WINE The Masters of Wine program at the Institute of Masters of Wine (www.masters-of-wine.org) "exists to promote the highest level of educational achievement for the wine industry," according to its website. The first MW exams were held in 1953 in the UK. Today the program is open to anyone, and there are 278 members worldwide. Its focus is on wine and the wine world and less on the restaurant world. Just one example of the difference between the MS and the MW programs is the requirement of a written dissertation to obtain a MW.
LEARNING LOCALLY The Elizabeth Bishop Wine Resource Center is an educational facility at Boston University's Metropolitan College that was established for the study and promotion of wine and other spirits in order to educate people about wine as a beverage. Its purpose is to explore all aspects of wine, including viticulture, enology, wine history, economics, distribution and marketing, the pairing of wine with food, and the psychological, physiological, and cultural phenomena of wine consumption.
The Center offers a Wine Studies Program consisting of a core curriculum of four levels of coursework and expertise. Beyond the personal enrichment gained through any of the four levels of wine study, achieving certification in Levels 2, 3 and 4 will enhance one's opportunity to work in the wine industry. Sandy Block and Bill Nesto, both MWs, are instructors. Boston University/Elizabeth Bishop Wine Resource Center's website is www.bu.edu/lifelong/wine.