archived

FeaturedArticles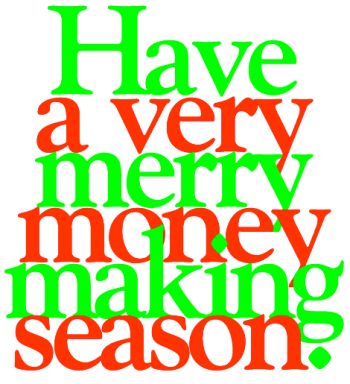 Article By: Maia Merrill
While stores can certainly count on an automatic bump due to sheer volume of shopping, these are still tight financial times and competition between stores is stiff. From unique grab-and-go gifts to enhanced customized service, there are numerous ways to ensure that your store stands out during the Yuletide crunch. Indeed, for many stores the holidays are a make or break time of year as revenues from the season can account for as much as up to 4O percent of annual sales. Investing some time into designing an aggressive and inventive promotion plan can both bolster strong sales and help build up new regular clientele for the coming year.

---

GETTING the WORD OUT If there's a time of year to advertise, this is it - these are the holidays and there's a much larger demographic of shopper to reach. Additional money for holiday advertising should be factored into the budget at the beginning of the year so there are no surprises or excuses when it comes time to invest. In addition to print ads, methods such as email, flyers, in-store signs, and newsletters are all relatively inexpensive and highly effective. Seasonally themed invitations - via either email or regular mail - to regular patrons notifying them of upcoming events such as sales and tastings typically yield great turnouts. A store website is another attraction for consumers during the holidays, as they can surf and shop ahead of time. This is especially useful for stores that carry additional merchandise such as cigars, food and glassware. Yankee Spirits in Sturbridge has a comprehensive website, www.yankeespirits.com, with specials, news of upcoming events, manager's picks and more. Another good example is Gary's Liquors in Chestnut Hill, www.garysliquors.com, that has links to news and specials. If you don't have a database of customers yet, start building one now, as it is an invaluable marketing resource.

Making sure your business customers are aware of promotions and specials can result in big holiday orders. Email is very useful for stores with a large base of corporate clientele. With its location near Copley Square and the Back Bay, Huntington Wine and Spirits has found emails and newsletters to be very successful on a corporate level where planners have little time to shop around, says owner Steve Rubin Making your prices known to them cuts their work down.

---

a CUP of GOOD CHEER Holiday-themed tastings featuring beverages such as eggnog, seasonal brews and wines generally result in strong sales for those featured spirits. Depending on time and space available, tastings can range in style, from a casual open-house event, with a table set up and samples available, to a private tasting (if there is a separate room available) with more substantial fare and samples served in glass instead of plastic. There doesn't have to be a big sales pitch with the tasting - just giving someone a small sample to sip while shopping can be enough. At Yankee Spirits they run tastings year 'round, but put a special emphasis on the holidays with their annual in-store Grand Tasting in the beginning of November. A kick off to the holidays, the tasting features over 15O wines and food from area restaurants and vendors. After that they are booked through the season with wholesalers doing tastings. Christine Zecker, Director of Retail Sales, comments, "With our location in Sturbridge, we are really a destination store and see a lot of traffic during the autumn. Tastings work very well for us and we get a great turnout during the holidays."

Tastings present a good opportunity to cross-merchandise. Wine and cheese is always a pleaser, but more creative offerings such as dessert wines with fruits and chocolates or winter beers and smoked meats are certain to be appealing. While some stores prefer to conduct their own tastings, co-hosting an event with a vendor has its advantages, especially if you're short on time and staff. From the vendor's perspective tastings are invaluable as they get the product into new consumers hands. John O'Reilly, Division Manger for Future Brands comments, "There is a significant percentage of people who only shop for alcohol at Christmas. It's so important to get them to taste products at this time of year as this might be the only opportunity to reach them directly."

---

UPGRADED SALES and SERVICES People are much more inclined during the holidays to upgrade their brand purchases, making this a great time of year for the premium and super-premium brands. Anne and Bob Selby, of Kappy's in Peabody and Danvers, say that single malt scotches and high-end bourbons do very well during the holidays. Dan Demeo, Territory Manager for Allied Domecq Spirits in Massachusetts, remarks, "On certain brands, such as Canadian Whiskey and cordials, we can due as much as 4O% of our business during October through December." While customized service is always appreciated, it is especially important at this time of year. People are willing to spend more on a purchase but want to know that they're getting their money's worth. In addition to having extra staff to help ring and stock, it's a good idea to have a strong presence of knowledgeable experts on site to answer questions and offer advice. There's no point in spending $1OO on a bottle if it doesn't match the tastes of the person being shopped for. Anne says that they step up their in-store staff presence at Kappy's for beer, wine and spirits experts at this time of year. At Yankee, Christine says, "We have one manager who is very scotch and cigar savvy, one manager who specializes in spirits, another in beer, and a knowledgeable wine consultants on site."

Along with additional sales people in the store, brand reps will often increase their visibility during the season. Alex Steppacher, Massachusetts On-Premise Brand Manager for Future Brands, says, "We aim to be visible year 'round, but during the holidays we really make an effort to go to stores more to help with shelf stocking, answer questions and provide support for the stores."

---

ENTICING with EXTRAS Increasingly, stores are branching out by offering diverse services such as delivery, gift baskets, gourmet foods, and complimentary gift-wrap. Vinnin Square Liquors, in Swampscott, has two aisles devoted to unique gift baskets, corkscrews, countless varieties of glassware, decanters, wine holders, and other cocktail accessories. While available all year, these items are great for holiday purchases.

Take advantage of your built-in expertise and offer party planning or consulting services. From corporate parties to big in-home holiday fetes, Anne Selby at Kappy's does a substantial amount of party planning and holiday party orders, though she does note that the emphasis is shifting away from corporate. At Huntington Wine and Spirits, Steve says that one of their most successful holiday features is their credit card styled gift card. While it's always available, the store promotes it aggressively during the season and it is one of their best sellers.

Over the last couple of years gift baskets themed around alcohol have become very popular - whether as a grab-and-go item or a customized special order. Yankee Spirits offers both pre-made and custom order baskets. Christine Zecker comments, "Our pre-made baskets tend to have a heavy emphasis on branding. For example, one basket might have a golf theme with golf balls, tees, snacks, and beer while a movie basket might have popcorn and a DVD in addition to alcohol." At Kappy's gift baskets are popular as well, and Anne says, "We have one person, Brian Moore, who annually designs a series of attractive holiday baskets that range in price from $4 to $25."

---

GIFT PACKS A substantial part of holiday merchandising involves pre-packaged gift box sets from suppliers. It used to be that a bottle packaged with a couple of glasses was the extent of the holiday gift packs. But just as stores must get creative, so too do brands find that they need to outdo their competition in this department. Incorporating current trends into packaging has proven to be successful. This year, one of the hottest trends out there is poker. To play off of this, Future Brand's Knob Creek Bourbon features a poker-themed gift set with a deck of cards and poker chips along with the bottle. And in keeping up with the martini craze, Van Gogh Vodkas' gift pack will feature their vodka along with 1O flavored minis and a CD with thousands of cocktail recipes. David van de Velde, President of Luctor International, importers of Van Gogh Vodkas, says, "We try to maximize sales by being unique. We tell/show consumers how to use our product by including our martini recipes CD with our holiday gift pack. They become their own mixologist-bartender." Vodkas and martinis remain extremely popular, and Steve Rubin predicts that any vodka/martini themed gift packs will sell well this year. He also states that wines in gift boxes and anything that comes in a stocking are great sellers. In fact, he sees too little of that type of merchandise coming in these days. However, Steve does feel that the trend is moving away from gift packages, noting that many stores just don't have the space and customers really seem to really enjoy designing their own baskets. Also, many of the pre-packaged sets are heavily logo-ed and that can be a deterrent for some shoppers.

---

DISPLAYS with PANACHE Displays are another integral aspect of holiday merchandising. Stores want to create an inviting and festive ambiance and brands want as much exposure for their products as possible. This is the time of year when large, often ornate, displays come from suppliers but many stores have mixed feelings on big displays. Space is at a premium. For many it comes down to a preference of what look the stores wants during the holidays. Some retailers do all of their own decorating and design displays with an emphasis on high-end cordials, scotches, Champagnes and holiday beers. At Vinnin Liquors, Store Manager Joe Fiore says that they tend to stay away from big displays, preferring to do it all themselves. They also communicate to their suppliers what sorts of gift-packs they are looking for so there's no confusion.

Pre-planning is another way to deal with the influx of holiday merchandise. Christine at Yankee Spirits says, "We plan all year, and book our holiday merchandising a year in advance." Christine also offers some advice to retailers saying, "Change your displays! Sometimes stores never change their displays and it gets stale. It's so important to make it new and exciting, especially if your customers are regulars."

---

LASTING RELATIONSHIPS PAY OFF This issue of relationships between retailers and suppliers is a very important one. Many retailers note that they often get visits from reps they rarely see throughout the year that show up in time for the holidays pushing their latest promotions and displays. Then, as soon as the holidays are over, they disappear. Steve Rubin says, "We have our strongest relationships with those who work with us all year." Dan Demeo with Allied comments, "Relationships are extremely important to our success at ADS. We have tremendous coverage with our distributor partners and our own dedicated Allied Domecq Off-Premise team. Our philosophy is to be there for the retailers 12 months a year with consistent POS support for the floor and the shelf." Maintaining and fostering strong working associations all year will go a long way in the end.

---

The holidays present great opportunities. Plan early, get creative and communicate your wishes to suppliers. There's plenty of holiday business out there, it's up to you to make sure you have what the customers want and ensure that they know you have it.