archived

FeaturedArticles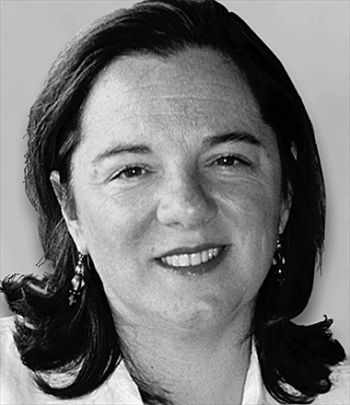 Article By: Fred Bouchard
Here's a woman who's deftly balanced her career as wine import executive with motherhood - two babies after 40! In imports since 1989, Helen Gallo Bryan is an inspiration to her peers at Winebow and industry-wide. We met at Meze Estatorio, Paul Delios' cheerful Greek restaurant facing the Zakim Bridge in Charlestown, where the Mediterranean wine list has many Winebow selections.

---
HELEN GALLO BRYAN • 44 • NORTHEAST VICE-PRESIDENT • WINEBOW, NEW JERSEY
---

GETTING STARTED I worked in restaurants through college, studied French, biology, and music theory in Alsace. In the early '80s, I worked for Gallo - no relation! - around New York for eight years on national accounts, even on-premise, reporting directly to the winery. I was a maverick, tried to convince them to diversify. I had a great career with them, learning everything I know today about pricing, marketing, programming, working with distributors.

IMPORT HEAVEN As wine director for Domecq, I worked brands like Quinta do Noval, Marques de Arienzo, Schlumberger, La Ina, Carlos I. At Palace Brands we had Croft, Mouton Rothschild, Delaforce, and a great Italian book - Ceretto, Felluga, Caparzo, Monsanto, Mastroberardino, Anselmi. I fell in love with Italy - it's numero uno for food and wine. I brought this knowhow to Winebow in 1998, and love it, love it! I feel like I'm running a small regional company within a company. I do everything here: finance, market, train, price, pay bills, sell wine. Everything stops at my desk. I inherited a $1.9M territory - by 2003, we'd reached $6.4M. I've had a great ride moving under-performing brands and fixing regional distribution problems.

LONG-SIGHTED STRATEGY Winebow grew from being 'shipment oriented' to being 'depletion driven' - shipments being sales from importer to distributor and depletions sales from distributor to retailer. We care about store level sales, because in a perfect world, shipments equal depletions. My job is keeping our distributors in inventory. I'm responsible for building container orders. I work directly with purchasing directors and in-house brand managers, like Larry Bassett (United), John Slocum (Slocum & Sons), Alan Cox (United NH). I tell them what they ought to buy, get them promos from European producers, plan pricing, and set brand strategies.

BIG VENTURES Recently Winebow founder Leonardo LoCascio took on equity partner Freeman Spogli. They're not in wine and spirits - I think Leonardo preferred a fresh, passionate partner. Did he sell out? Not at all! This means seed money to do great things both in national imports (my area) and distribution, aligning with like-minded wholesalers in states (NY, NJ, DC) where Winebow acts as both importer and wholesaler with an international portfolio.

HOT WHITES Prosecco has exploded - I couldn't believe there are a thousand producers! Some hot whites are Argiolas Costamolino, Botromagno Gravina (monopole), Giacosa Arneis, and Anselmi San Vincenzo. Ricardo Cotarella, consulting enologist extraordinaire, made at Falesco a Vitiano bianco from - get this! - Verdicchio, Vermentino and Viognier. In Alto Adige, Tramin's Willi Stürz won winemaker of the year, and two wines got Gambero Rosso's tre bicchieri. Everybody's crazy for Sicily - Morgante and Regaleali.

HOT REDS People aren't buying high-end reds unless it means something. The classics, we sell out; for the Bruno Giacosas and Roberto Voerzios people look for seconds! High-end Chianti, Tuscan and Umbrian international blends are hurting, but Brunellos and Rossos are still hot - I could've sold triple my Fanti allocation. 2002 might be a poor vintage, but there'll be some terrific Rossos. Syrah is seeing big plantings in Italy - it grows well, and everyone loves those sweet tannins.

HOT PROPERTIES Basilicata, a 'hot' region since Mel Gibson, is home to our new property Cantina di Venosa. It's not in this market yet, but the main grape, Aglianico del Vulture, is considered, with Nebbiolo and Sangiovese, as one of Italy's three noble red grapes. LoCascio has bought property in Bolgheri with Marilisa Allegrini, called Le Sondraia. It abuts Gaja's vineyards. Alberto Antonini, their mutual choice to be winemaker, makes Seghesio's wines in California, one of those flying winemakers with clients in South America, California and Australia. Puglia, Italy's wine lake, is improving quality as northern producers are buying a piece of the south to launch new projects. Chris Ringland, our consulting enologist at La Corte, is the only Australian to get 1OO points from Robert Parker. Our Marche properties are lots of fun, too: Saladini Pilastri and Colonnara.

COOL BOSS Leonardo has kept an open door to me from the beginning to discuss wine matters. Since I'd worked with Capezzana, he asked me about Carmignano (Italy's historic 'Supertuscan' since 17OOs) before we took on Pratesi, a fine family estate there. He'd call to talk about Piedmont vintages. Sometimes he'd ask about my day-to-day business, which might drive me crazy, but at least I know the boss cares! He's a really good person - pro family, pro women. At a national meeting when I was seven months pregnant, he called me up to the front and made me a vice-president. It was exciting, but I felt even better that he'd made me an example, sent a positive message to the young women in our company. After I had my second son, he called up and asked, "How's Oliver?" He was checking on our physical and mental health.

EDUCATING EVERYONE Depletion strategy is concerned with education: distributors, restaurant staff, retailers, end consumers. Winebow's huge on education. We just hired a woman from Society of Wine Educators to work on education exclusively. That's why my New England staff is up to five. In these days of dauntingly huge portfolios, we can't expect distributors to do everything for us. Leonardo hired an army of 5O district managers to represent our wines, and educate trade and consumers. In Massachusetts, Bob McVicker and Ann Williams, concentrate on presenting our mid- to high-level hand-sell products. We've entered into very tough franchise agreements with distributors to represent our wines in this marketplace. If we come out with a new wine, they need to cover for us, and not cry, 'Oh, no more SKUs! Enough product line extensions!' Otherwise, we have to look elsewhere, and a tit-for-tat relationship is not a good one.

KEEP it SIMPLE I'm halfway through a master's course in gastronomy at BU's culinary school. I'm a founding board member for BU's Elizabeth Bishop Resource Center, and it fits very well with Winebow's outreach. In my seminars, I always talk about wine with food. You have to. And people want to hear stories! I can talk forever about fixed acids, residual sugars, oak barrel grains. But what do they ask me about at the end of the day? 'Where can I buy this? What about artificial corks? Why do I get sulfite headaches? Is it organic? What's the winemaker's wife's name?' Salesmen are a jump up from that - give them three solid selling points and let them loose to the trade. Take Anselmi: one - hillside vineyards, two - low yields, and three - single vineyards with chapels.

HOT SPIRITS Though I prefer to sell wine, spirits are great fun. Geeky wine guys love high-end artisanal spirits, especially when you can tell them that dollar profitability for Jacopo Poli grappa in two weeks topped, say, a whole month of Vitiano.

SIZE MATTERS United got Winebow into Massachusetts restaurants based on our volume brand Pinot Grigios, Stella and Zenato. I was shocked to find New Hampshire doing over 5O% of sales in 1.5s, and we haven't a single magnum in that market. I hope to change that soon! Massachusetts is driven by 75Oml trade. Speaking of diversifying sizes, I'm seeing unprecedented requests for 375s. Piedmont doesn't make them, Tuscany and Puglia very few. Via Valverde - Paolo Diecidue's new North End restaurant - offers 4O to 5O half-bottles; Peter Nelson of Wine Bottega had me help select the list.

PRICING STRATEGIES If I could sell wine out of my trunk in the North End, I'd sell more wine, because everyone would think he's getting a 'good deal'. Wherever you go, people want to think they're getting something for less than the published price. This despite the fact that people know it's a three-tiered system, with markups at every level. I think our pricing is fair. We don't ask a lot from our distributors, we work with them to grow brands. We program 1OO items a year, nothing too high end. (We program Falesco's Vitiano, but not Montiano.) It's always a crapshoot; with the up Euro, price increases hit our already tight margins. If we then have to yank price supports (depletion allowances), that impacts budgets for advertising, promotion, newsletters, winelists.

BEYOND ITALY Winebow does handle a few artisan properties outside Italy: I going to Scotland to visit Bruichladdich (brook-laddy), an Islay single malt property that was Distillery of the Year, run by ex-Bowmore distiller Jim McEwan. We're looking long-term at growing the national side of our import business to include value areas like Spain. Don Woodall, Winebow's National Sales Manager, feels that Spain is positioned about where Italy was 1O to 15 years ago, with consulting enologists. We're starting to test-market some Spanish ventures in New England.