archived

FeaturedArticles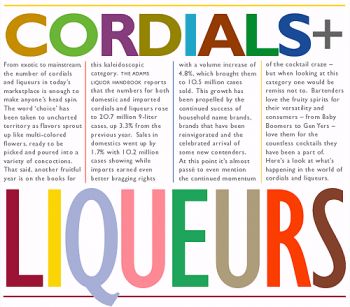 Article By: Aimsel Ponti
THE IMPORTS
Jagemeister's brownish red pulls in major green. The number one import, again, Jagermeister grew almost 28% in 2OO5. Amanda Lechner, Marketing Brand Manager of Jagermeister for The Sidney Frank Company, chalks the success of Jagermeister up to several things. "Perseverance over the years as well as innovation and creativity in our marketing and promoting has been key," she says. This has been helped by the advent of the Jagerbomb, a Jagermeister with Red Bull cocktail. In fact, Lechner calls its popularity nothing less than tremendous. The presence of the Jagermeister Tap Machine continues to be another valuable tool for the brand. Jagermeister continues its presence in the music industry and at last count is sponsoring over 6O bands around the country. They also sponsor Naylor Racing, one of the National Hot Rod Association's (NHRA) pro-stock teams. Jagermeister's fans continue to be between the ages of 21 and 31, and the ice-cold shot is still the preferred way to drink it. She wasn't giving anything up in terms of what's in store for 2OO7, though she did allude to some major surprises.
Baileys goes beyond the original. The "if it's not broke then don't fix it" is an adage that doesn't fly with a brand the size of Baileys who realized they could only rest on their laurels for so long. So they took the logical approach and talked to their consumers. The end result was the creation of Baileys Mint Chocolate and Baileys Caramel. "Those are the flavors that, for our consumers, were most relevant to them and that's why we're launching them," says Ami-Lynn Bakshi, US Brand Director of Baileys for Diageo. Bakshi explains that the duo of new flavors is being supported via stand-alone advertising in addition to consumer sampling. One of the latest trends that has caught Bailey's attention is consumer's attraction to the Drinkable Dessert. "Chefs and mixologists are really experimenting with flavors and ingredients and looking to create innovative liquid desserts - it's a fantastic fit," remarks Bakshi. Baileys has also started to offer, on-premise, Baileys Chocolate Cups - a one and a half ounce chocolate cup to fill with Baileys Original, Caramel or Chocolate Mint. Plans are in motion to have the cups available for the off-premise consumer in time for the 'O7 holiday season.
Drambuie's spirit lives on. Drambuie is the fabled liqueur created in the eighteenth century as the personal drink of Prince Charles Edward Stuart of Scotland. After a number of declining years, the brand is again experiencing growth. Giles Hanson, a representative from Maloney & Fox Public Relations, theorizes that many forces converged from both the business and promotional side to put Drambuie back in the limelight. "When the brand decided to re-launch about a year and a half, quite a few things were brought in," he notes. For one thing, TV ads have been running since October of 2OO5. "A lot of their commercial budget has gone into TV and it's been very successful," says Hanson. Drambuie also ran a series of private events called "The Drambuie Den", which consumers obtained invitations to via the brand's website. The location was kept secret and revealed via e-mail. "We ended up having something like 3OO people a night come in and sit down, lounge and relax," remarks Hanson. "The Den events offered things like shoe shines, massages, on-the-spot shaves - all geared toward a more modern interpretation of something classic." Hanson adds that the goal for Drambuie is to embrace its history and legacy, while also familiarizing a whole new generation of drinkers with it. "I know that sounds cliche, but it's traditionally been seen as that dusty bottle on the shelf and as only ever being drunk on the 19th hole on a golf course by people who are my father's age," he quips. Hanson also states that Drambuie is not interested in being positioned as a drink for pounding or doing shots of. "It's definitely retained the kind of refinement towards a male audience between the mid to late 2Os to late 3Os, that's where the focus has shifted to." As for the popular way to consume Drambuie, Hanson points to the Drambuie & Soda, which is served as a long drink. This past year the Drambuie Fizz was introduced, it's a shorter cocktail and is a take on the Caipirinha, a cocktail made with Brazilian rum, limes and sugar syrup. "We feel that one of the things that people like about Drambuie, and probably the thing that unites everybody regardless of how they like to drink it, is the fact that is has a very unique taste they haven't necessarily had elsewhere," surmises Hanson.
Hpnotiq is still casting its spell. Few brands in the cordials and liqueurs category have seen such a meteoric rise to fame as France's Hpnotiq, which is imported by Heaven Hill Distilleries. It's the cool blue magical liqueur that arrived like a super nova in 2OO2 and within a year of that had sales numbers through the roof. Since then the numbers have leveled some, but they still maintain an impressive fourth place position among imports. Although falling slightly this past year, Justin Ames, Brand Manager at Heaven Hill Distilleries, isn't losing any sleep. "We knew there was no way we were going to keep expediential growth continuing," he says. Ames explains that Heaven Hill chose to reinvent the brand while continuing to feed the Hip-Hop world. "It seems to be working," remarks Ames. The popularity of Hpnotiq stems a lot from the younger generations fixation on flavor and their, as Ames puts it, "sweeter palette". He states, "You can see that generation as it progresses really embracing flavored liqueurs which has been very good for us." Ames underscores the three-tiered message that Hpnotiq aims to convey: "We've been talking about mixability, the broad appeal of the brand and awareness." What's surprising however is that Hpnotiq actually has a very low awareness and Heaven Hill's been addressing this through a national ad campaign in magazines such as rolling stone and in style. 2OO7 brings with it the "Sip the Ocean Blue" campaign, which centers on a mermaid theme. "We go into an account with the theme for a promotion where it adds a little more memorability and also a little bit more interaction with the consumer," says Ames. "The data that we have on our awareness is that even though Hpnotiq is selling lots and lots of bottles, our awareness is still very low, and what that means is there's huge upside potential for this brand," explains Ames.
Kahlua's headed toward a comeback. While still the number one coffee based liqueur in the world, Kahlua's numbers went down slightly in 2OO5. Presently it is number three in the imports category. Time will tell to see what impact its acquisition by Pernod Ricard USA will have on the brand. Patrick Carroll, Senior Brand Manager for Kahlua, comments that there's a lot in store for the brand, saying, "Kahlua has a full plate of advertising and marketing initiatives in store for 2OO7 including a very aggressive broadcast schedule for three new 'Everyday Exotic' TV ads." Something that will certainly help the brand is its longstanding name brand recognition. Carroll remarks, "Kahlua is unique in that it is not just another ingredient but rather the base in many popular cocktails including the White Russian, Black Russian and Mudslide." On the local front, Kahlua will be a primary sponsor of New England Flower Show in March.
Tuaca was heaven sent from Italy. Tuaca, a vanilla citrus liqueur, has been around since 1958 and is produced in Liverno, Italy. There's a US military base over there and after World War II, or so the story goes, American servicemen discovered the brand and brought it back with them. Brown-Forman began importing Tuaca in 1999 after purchasing a 45% stake in the brand. In 2OO3 they finished the deal and are now the sole owners. Erin Schlader, Managing Director for Developing Brands for Brown-Forman, says, "The brand, when we began importing it, was about 38,OOO cases. In the US over the last twelve months it's sold 125,OOO cases. It's grown quite well." In fact, Tuaca has won the Adams Media Fast Track award twice. As for the best way to consume it, Schlader recommends just chilled straight up. He also mentions the Tuaca Lemon Drop and Tuaca & Pineapple as other popular drinks. In terms of growth, Schlader says, "Bartenders have been really responsible for the growth of the brand." Their one major PR push is The Tuaca Body Art Ball, which ran in 18 cities around the country. These are private industry events that feature local artists in each city body painting Tuaca performers who in turn perform a choreographed runway show set to synchronized lights and music.
Amarula is the exotic import from South Africa. The folks at Brown-Forman also mentioned their Amarula, which they began importing four years ago. "Amarula is one of the few premium brands that has a different product story to tell," says Erin Schlader. It is of South African origin and is made from the exotic marula fruit. Schlader remarks that it's been growing in double digits.
Disaronno goes from the Renaissance to retail success. Invented in 1525 as a gift of love during the Italian Renaissance, Disaronno Originale had a superb year with close to a 5% increase in sales. Why such an impressive year? Emil Jattne, Brand Manager for Disaronno for Bacardi USA, has a pretty good idea. "People have always enjoyed the rich, smooth taste of Disaronno on the rocks, often as an after-dinner sipping liqueur. Now, through advertising and promotional efforts, people are discovering new ways to enjoy it and more occasions where it can be served," he explains. On that note, Jattne refers to the "Ice Cube" TV spot, which he says has been particularly effective in promoting the brand's versatility. This year look for some Valentine's specific programming from Disaronno as well as year 'round cocktail suggestions and holiday specific packaging. Disaronno is yet another beneficiary of the up-drink phenomenon and Jattne is aware of this. "People have expanded their epicurean world and are continuing seeking out new and different taste experiences. The cocktail craze combines this pursuit with a social aspect," he says.
Grand Marnier and Cointreau are cocktail ingredient royalty. Driven by the everlasting popularity of mixed drinks, particularly margaritas and Cosmos, Grand Marnier and Cointreau both posted substantial increases this past year. Consumers and bartenders alike embrace both brands for the aforementioned mega drinks while also finding them homes in other cocktails and, in the case of Grand Marnier, a snifter by the fire. Ian M. Crystal, Senior Brand Manager for Grand Marnier at Moet Hennessy USA, highlights several contributors to his brand's performance. "Growth has come from both the retention of existing consumers as well as the recruitment of new ones. Both initiatives require the use of advertising, on- and off-premise brand building tactics and steady investment," he says, adding, "Grand Marnier has continued to talk to and engage bartenders, retailers, distributors, and others in the industry. There is recognition that these people are the gate keepers and an important component in the success formula for the brand." Building on the popularity of the Cosmopolian and consumers gravitating towards high-end spirits and liqueurs, Grand Marnier has teamed-up with Belvedere Vodka to promote the Grand Cosmo. Over 2OO sampling events have been conducted throughout Boston. To encourage at-home mixologists, the Grand Cosmo is supported with a range of off-premise POS. Turning to Cointreau, Roberto Cruz, Senior Brand Manager for Cointreau at Remy Cointreau USA, also gives a nod to the omnipotent margarita and Cosmo. In terms of their approach, Cruz operates from two angles. "Cointreau engages in a two-prong strategy to promote the brand, starting with building brand image and awareness through advertising, PR and numerous sampling events at premium venues across the country," he states. To that end, Cointreau rolled out their "Lips" campaign which featured four ads each depicting a set of lips matched to a Cointreau cocktail. Furthermore, a series of "Be Cointreauversial" parties have been hosted by vogue with celebrity hosts in trendy hot spots. "The other important prong to the strategy is to engage bartenders and bar owners in order to drive recommendations and menu listings in lounges, restaurants, clubs, and bars," comments Cruz. This past year saw the introduction of a 1.75L size and plans for big distribution for 2OO7 are in place.
Chambord has new owners with new goals. Chambord was purchased by Brown-Forman in June of 2OO6 from Charles Jacquin et Cie. "It's an interesting brand," says Erin Schlader. Schlader went on to tip his hat to Charles Jacquin for a job well done, and says that Brown-Forman plans to further develop it. "There's a tremendous amount of equity that we think is yet to be really leveraged. We've been doing a lot of research and, to be honest with you, we're trying to understand who the brand lover is, how they adopted the brand and how they consume it," he explains. Therefore the immediate task at hand is to educate their distributors as well as their own people on how to mix and drink it. "It can be a pretty empowering brand. Once you put a bottle in someone's hands and a few recipes, the creativity really just begins," notes Schlader. One of the mainstays of Chambord has been the Chambord & Champagne cocktail which Schlader says will continue to be leveraged as well as the Chambord Vodka Soda. They also hope the Chambord French Martini will spark some new interest. "The flavor profile tends to get into a lot of different drinks, everything from shots to after dinner drinks," he adds.
B&B/Benedictine enjoys a long reign. Believed to be one of the oldest continuously made liqueurs dating back to 151O, Benedictine is made with 27 plants and spices in a cognac base. In 1863 it was acquired by Alexander le Grand, the company that still produces it today. Part of the intrigue of this liqueur is that at any one time, only three living people are privy to the secret recipe, though many have tried to crack the code. B&B is Benedictine that has been diluted with brandy resulting in a less sweet taste. A chat with Monica Garaitonandia, Marketing Manager for Bacardi USA, reveals the appeal in the US to both brands. "Americans have become interested in robust and complex flavors. They have also become interested in rediscovering classic cocktails such as the Sidecar and creating them with a new twist. Both trends are positive for B&B as well as Benedictine," she says. "B&B marries the vigor of fine cognac with the subtle bouquet of Benedictine," she adds.
AND NOW FOR THE DOMESTICS
De Kuyper's on top. With the launch of two new flavors and their "Bump it Up" program, De Kuyper is way out front as the number one selling brand of domestic cordials. They offer upward of 6O flavors, including the two latest in the Pucker line: Strawberry Passion and Berry Fusion. Amy Underwood, De Kuyper Brand Manager for Beam Global Wine & Spirits, shares details on the two new rollouts. "Response has been very positive. I think with the strawberry it's sort of the very mainstream, mass appeal flavor that we just didn't have in the Pucker line. With Berry Fusion, it's being received very well for the opposite reason. Its flavor profile is very unique and the color is unique," she says. The "Bump it Up" program was launched at the beginning of 2OO6 and its premise is: if you know how to use one Pucker flavor, you know how to use them all. "With 'Bump it Up', we sat down with every standard cocktail we could think of, then we splashed in every single Pucker flavor and taste tested them," says Underwood. The ultimate goal of "Bump it Up" is to give people home bartending confidence. "It's overwhelming, which I think is one of the reasons people often rely on their standard safe drinks for at-home entertaining like beer and wine. I think more people would offer flavored martinis if they knew how easy it is to make them. It's really about mixing at home and educating consumers on how to mix at home. We need to demystify it," she states. Underwood says that one of the plans this year is to group the De Kuyper products into families based on taste profile in order to make the extensive cordial section of most liquor stores more manageable for consumers. She wouldn't reveal any other specifics for 2OO7, other than to say expect more than one flavor launch.
Hiram Walker is making some noise. The 36 flavor line of Hiram Walker cordials holds the number three spot for domestics. "We've had an interesting year because Pernod Ricard purchased Allied Domecq, so the past year has really been a transition for the brand," says Ron Zussman, Hiram Walker Brand Director. Zussman is however quite optimistic about the change. "Pernod definitely views Hiram Walker as a key product line in its portfolio and we all recognize that with cocktail culture, a lot of the flavored schnapps and other bar essentials and flavored brandies are really driving that culture." The brand went through something of an overhaul recently, during which there's been repackaging, the reformulation of some of the flavors and the introduction of new ones, including Pomegranate Schnapps. "It was launched in September and the response has been overwhelmingly positive in the trade and we think that we are really solving a need," says Zussman. "There's a consumer demand for pomegranate flavored cocktails," he adds. Tangerine and Mango are the two other recent additions to the collection. "We think these are future flavors. If you look at some of the research, tangerine and mango are up and coming flavors and we're the only company today that puts out a tangerine and mango schnapps with all natural flavors," says Zussman. "We don't have a candy taste; we're very much true to what's on the label," he adds. For 2OO7, expect the brand to release at least one new flavor while keeping a close eye on flavor trends. "Our job is to really understand what flavors are going to blossom into popular flavors. Consumers are always looking for the next flavor, the next big thing, so we wouldn't be doing our job if we weren't listening for what the consumers want and make them want to try new flavors, try new cocktails," says Zussman.
Southern Comfort is starting things up. Southern Comfort saw a 4.2% increase in sales in 2OO5, marking its seventh straight year showing growth. Brown-Forman spent over four and a half million dollars in advertising in 2OO5 and 2OO6, keeping the ball rolling with TV, print, billboard, and internet advertising. Tim Rutledge, Southern Comfort Brand Director for the Americas for Brown-Forman, says that the main reason for this success is a little cocktail known as the SoCo & Lime, which is served in both a shot and a long drink format. "It's one of the hottest drinks in the marketplace," he comments. Rutledge was quick to point out the power of the SoCo nickname. "Through this cocktail, younger LDA folks are starting to call Southern Comfort 'SoCo'." The TV ads, aimed at consumers from LDA to 29, has the tagline of "Start things up with SoCo". To help promote the drink off-premise the brand does displays of Southern Comfort alongside club soda and Rose's Lime Juice. Because of Southern Comfort's New Orleans roots (created by M.W. Herron, a New Orleans bartender), Brown-Forman shifted its charitable efforts in response to Hurricane Katrina - donating to three different relief organizations. Elizabeth Conway, Southern Comfort Public Relation Manager, explains: "The SoCo Music Fund was created to help awareness and funds for the musicians in New Orleans. We also partnered with Habitat for Humanity as well as the New Orleans Musicians Hurricane Relief Fund."
Pama's a ruby red phenomenon. Pomegranate has been in high fashion for the last few years. Whether it's the bottled juice, a cosmetic ingredient or the scent of a candle, pomegranate is hot. Martinis made with pomegranate juice have won many people over and it was just a matter of time before a pomegranate liqueur was introduced. Heaven Hill Distilleries took the lead with Pama. It's made with tequila, vodka and California grown pomegranates. Few fruits have as much historical presence or mystique as the pomegranate; it has a tie to just about every major religion in the world. Anyone who's ever read Greek mythology knows that Persephone, daughter of the goddess of harvest, Demeter, was lured to Hades' underworld kingdom when he offered her a pomegranate. Though saved by Zeus, Persephone had eaten the seeds of the pomegranate, so she was bound to return to the underworld each year. That time when her mother grieved became winter, and the seasons were created. The cocktail possibilities with this in mind are endless.
Brand Manager Reid Hafer comments on the creation of the brand: "We read the spirits journals and all types of consumer publications and we started to see pomegranate juice popping up in cocktail recipes and we could start to see the trend of pomegranates getting hotter," she explains. "We were the first to market, but something that makes our product so unique is that it is made with all natural fruit juice so that when you taste it, you really feel like you are eating a pomegranate," says Hafer. From a mixability standpoint, Hafer points to Manhattans, margaritas and mojitos as three examples of where Pama has found a home. The Pama Martini and the Pama & Champagne have also made their presence known. In terms of demographics, Hafer remarks, "I think it is a bit sophisticated for the 21-year-old crowd, but the 25- to 35-year-olds are really enjoying flavorful cocktails and the natural fruit juices so I think that is really our core." As for a tagline, Pama is going with the two word approach of "Pomegranate Perfected". They'll also be employing the phrase "The world's first true pomegranate liqueur". At present, the brand is advertising in vanity fair, vogue, gq and in style. Upcoming issues of some of these magazines will feature "scent strips," similar to perfume samples.
Starbucks asks, "How do you like it, black or with cream?" In February of 2OO5, Starbucks launched its Coffee Liqueur and followed this up with Cream Liqueur early in 2OO6. "We've been very happy with both. The coffee liqueur in its first year surpassed the 1OO,OOO case mark and it won numerous awards including the best new spirit product introduction from market watch," says Stacey Simmons, Brand Manager of Starbucks Liqueurs for Beam Global Wine & Spirits. Cocktail wise, they've taken a two tiered approach first by taking some traditional cocktails and then elevating them to a more premium level. Drinks like the White Russian have become the Ultimate White Russian. Starbucks is also looking to make their mark with original recipes. Last summer they did a promotional tie-in with the Jennifer Anniston film "The Break-Up", which was inspiration for the Break-Up Martini and the Make-Up Martini. This being Valentine's month, it's only fitting to mention such drinks as the Broken Heart Martini and the White Chocolate Kiss Martini. Simmons says that the target demographic for Starbucks Liqueurs is 25- to 39-year-olds. "We're skewing a bit towards women, but also the men who drink with these women," Simmons comments. She went on to say that the age demographic is really just one part of their approach: "We're really looking at our consumer in terms of psychographics; what they do, where they go, where they get their inspiration from on a daily basis." As for the overall success of the brand, Simmons attributes it mostly to quality, saying, "The fact that both liqueurs are made with 1OO% Starbucks coffee and then blended with the finest spirits is a key selling point." Simmons finishes the conversation with an official prediction for next summer: "The hot drink will be the Starbucks Mojito, which instead of using rum, you use Starbucks Coffee Liqueur." Incidentally, the base spirit of Starbucks Liqueurs is rum so it might not be that far of a stretch.
Godiva is decadence defined. Godiva liqueurs, with its four variations of chocolate flavors, went up by an impressive 9.5% last year. America's sweet tooth played no small role. "The chocolate martini is increasing in popularity and with Godiva as the ultimate ingredient it has contributed to our incredible year," says Jeff Parrott, Senior Brand Manager of Godiva for Diageo. Godiva Chocolate's relaunch also helped drive consumer awareness, and Parrott says this drove excitement for both the chocolate and the liqueur. As for demographics, Parrott says they're targeting females between the ages of 25 and 35 and that's across all four flavors. (Original Chocolate, Milk Chocolate, Mocha, and White Chocolate.) Moreover, the trend of dessert-oriented martinis becoming mainstays on menus continues. "These martinis are a new twist on traditional desserts. The Truffletini is well positioned to take advantage of this," remarks Parrott. In fact the Truffletini is one of the cornerstones of Godiva's current advertising campaign. They're also looking at some new packaging ideas for 2OO7.
Voyant Chai has plenty of spice and everything nice. Chai is the multi-spiced tea that's been a staple in southern Asia for centuries. It worked its way into American coffeehouses a few years back as consumers become enamored with its unique taste that comes from cinnamon, cardamom, ginger, nutmeg, and a number of other spices. From the chai latte to the chai iced tea, US consumers love their chai. So it seemed only natural that someone would produce a chai spirit. Voyant Chai liqueur, launched in late 2OO4, has made its way into over 4O US markets. Robert Back, Vice-President of Operations for Bacmar International LLC, explains that Voyant Chai has gotten the attention of several national restaurant chains. "In the past six months we've gotten into Il Fornaio and Tavistock Restaurant Group, we're on the recommended list at P.F. Chang's and we're a featured cocktail in Bubba Gumps," Back says. So far, Voyant is the first and only chai liqueur on the market and hopes to set the precedent. "I have this theory; the first on the market controls the market. Hazelnut is Frangelico, raspberry is Chambord, melon is Midori, and Irish cream is Baileys. So I always tell people you have got to create a high quality product that stands on its own," surmises Back, adding, "Nowadays there's a plethora of brand introductions. It's very important for brands to stick to quality because in the end, the consumer will always buy for quality.
In the final analysis, the unwavering thirst for cocktails by a myriad of consumers continues to keep the industry on its toes. The bar is being constantly raised with consumer expectations - and cordials and liqueurs are smack dab in the center of it. Brand managers were falling over themselves when speaking about the "cocktail craze" and America's preoccupation with it. It transcends the word "trend" and enters into a whole other realm; a place where flavors are being dreamed up, cocktails are being invented and the next big thing lies in wait around the corner. This does raise an interesting question: When does something stop being a trend and just become part of everyday life? The answer is one that no one is in any hurry to find.
ON- and OFF-PREMISE INSIGHT
I took to the streets of Boston and visited Beacon Hill Wine & Spirits, Ruth Chris Steak House and Jer-Ne at Ritz Carlton Boston Common Hotel. At all three locations, I showed up unannounced and was allowed to stick a tape recorder in someone's face and chat about the category while they rang up sales or mixed cocktails. Over at Beacon Hill Wine & Spirits on Charles Street, manager John Gamble took me around his small but carefully stocked store. Speaking on the best selling liqueurs that his shop has seen, Gamble pointed to the tall, thin and elegant 375ml bottles of Mathilde's framboise (raspberry) and peche (peach) liqueurs. "A lot of people are using them in their mixed drinks because they're higher quality liquor. They'll also help out with Champagne, which is really the appealing factor," he explains. As for other popular cordials that the store stocks, Gamble rattles off Campari, Chambord, Sambuca, as well as Sogno-Sorrento Limoncello. My next stop was at the Ruth Chris Steakhouse on School Street. Bartender Kevin Bradley was quick to mention, and pour me some, Belle de Brillet, the cognac infused pear flavored liqueur from the Alsace region in France. Bradley says it's usually served neat. Belle de Brillet is a super premium and Bradley says he's seen drinks priced between $9 and $15. In terms of other cocktails, Bradley says the Cosmo is still big, as is the Nutty Irishman and the espresso martini made with Godiva's White Chocolate Liqueur. As I was savoring the last sip of the Belle de Brillet, Bradley said that it's the younger generation that is steering the cocktail ship. "The older crowd is set in their ways; they know what they want. They come in and they order the cocktails that they've been drinking for thirty years. It's the young drinkers that want to try all the new things." The last stop of the night was at Jer-Ne Restaurant and Bar, located on the street level of the Ritz-Carlton, and senior bartender David Phelan was able to steal a few moments. "Mojitos are very big here, Cosmopolitans have been big for a while - thank you, Sex and the City - and apple martinis are big," he reports. With regard to the cocktail frenzy, Phelan sees no end to it. "I thought the change in smoking laws might slow it down. It did a little bit, but only for a while." Other popular drinks that Phelan whips up on a regular basis are the Posmo, which is a pomegranate martini, Baileys on the rocks, White Russians, and the Nutty Irishman. In the spirit of Valentine's Day, Phelan says he mixes something called The Big Kiss, which is made with White Godiva, vodka and grenadine. A short time after the Bostonian interview stroll, I rang up Rich Daly, the manager of Andover Liquors to see what he could say on the category. His best sellers came as no surprise. "The top selling one is obviously Baileys. Baileys, Grand Marnier and Kahlua are probably the top selling ones," he says. Daly adds that the two new Bailey's flavors, chocolate mint and caramel, are doing quite well. "They're very good, they're being very well received. They were one of the test markets here last year and then they went national," he comments. Daly also speaks of martinis and the ever-widening variety of flavors, including chocolate. Sorrento's regular and cream limoncellos also continue to perform well at the Andover store as does Hpnotiq. As for recent chatter on a new flavor, Daly says key lime has been on people's minds. "We just got in this stuff called Ke Ke Beach Key Lime Liqueur. Somebody asked me to get it for them, they're using it for key lime martinis," he says. Daly's customer says he rims the glass with graham crackers and it's "awesome".