archived

FeaturedArticles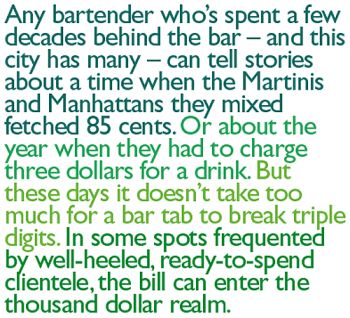 Article By: Liza Weisstuch
According to the results of a 2OO5 study conducted by two wealth management companies, nearly one in 2O Boston-area households is occupied by millionaires and wealth is only surging. Add that to the fact that new super-premium products are unveiled each year - limited edition scotches, anniversary cognacs, boutique aged tequilas and rums - and it's hardly far-fetched to see a $25 cocktail listed here, a $95 cognac poured there and people ordering multiple rounds of Louis XIII.
Jim Clerkin, President of Beam Global Spirits & Wine, North America, once said, "Consumers are not drinking more, they are drinking better." What does drinking better actually mean? By definition, there are four price-based classifications: value, premium, high end premium, and super premium. As an example, value rums retail for under $1O, premium brands are $1O to $13, high end premiums retail for $13 to $2O, and anything over the $21 mark is considered super premium. So who are these masses imbibing these extreme commodities and how do consumers prefer them served? We set off to find out.
At historic watering hole Locke-Ober, which doesn't hand out a cocktail list, bartender Cara McLaughlin is accustomed to her clients calling the liquor in their cocktails and relishing the full clean flavor of their cognacs and scotches straight. She does, however, have some clients who make an exception for the Rage of Paris, a cognac cocktail made with Cointreau and hot Earl Grey tea made from loose tea leaves. "If a person's going to drink Louis XIII, he's not going to have a sidecar," she declares. But in the Rage of Paris, she says, "you still get the flavor because the Earl Grey isn't that strong." In the most high end one she's made, the client asked for Delamain Vesper. Liane McAuliffe, senior bartender at Bristol Lounge in the Four Seasons on Boston Common, says she has a couple that come in regularly and ask for Hennessy Richard and soda. (Yes, together.) For $15O a shot, if a customer asks for something a particular way, that's how you give it to them (regardless of whether you consider mixing a super-premium spirit the equivalent of attending a black tie gala in your spring cleaning apparel). But that's an extreme case. On a day-to-day basis, people are not necessarily asking for finest cognacs watered down. They want their premium spirits served up, like McLaughlin said. Several months ago, the Bristol Lounge featured a trio of super-premium spirits-based cocktails in a menu section dubbed, "Presidential Suite". It consisted of a Coyopa Rum-based Liquid Asset ($4O) made with Vermont White vodka, Tuaca, simple syrup, and flecks of gold leaf; the Teo ($7O), a Don Julio Anejo margarita with Grand Marnier 15O, fresh lime and a gold flecked sea salt rim; and the Executive Decision, featuring Hennessy Richard, Vya Sweet Vermouth and crowned with a gold-wrapped cherry, fetching an eye-popping $18O. As enticing as they sound, the drinks were ultimately taken off the menu because, quite simply, they didn't sell. However, since removing them, bartenders at the Bristol have been pouring a hefty amount of super-premium vodka, like Stoli Elit, which McAuliffe says, is "more accessible and less of a novelty." For a mere $4O, customers can get a martini with Stoli Elit topped off with a dollop of Osetra Caviar. And at $13O per ounce, that's a "deal", McAuliffe jokes. Sort of. But it's not just the super-rich with refined palates and expense accounts that are asking for super-premium brands. "It's everyone," she says. "I have a 25-year-old who comes in and orders Ultimate Blue," she says, referring to a drink with Ultimate Blue vodka garnished with bleu cheese-stuffed olives. "It's not too much more than the $13 one. They're not gonna go broke because of an extra $14. Everyone's drinking it." Of course, she concedes, there is something about the Four Seasons that goes hand-in-hand with spending.
The numbers confirm that premium and super-premium brands are increasingly popular. According to the Distilled Spirits Council of the United States (DISCUS), high end and super-premium brands are the fastest growing segments of the liquor marker. Sales of super-premium rums, for instance, increased by 17% from 2OO4 to 2OO5, and have driven up the entire rum market. Imports of super-premium tequilas have risen at a steady clip of 8.6% each year since 2OO2, and sales of boutique vodka essentially doubled from 2OO2 to 2OO5. "It's an accessible luxury," said Shawn Starbuck Kelley, spokeswoman for DISCUS. "You can't go and buy a Porsche, but you can get a bottle of bourbon for $1OO. And compared to wine, people don't really think of it as the upper echelons of spending. When you look at a $1OO bottle of wine versus a $1OO bottle of scotch, the scotch will last a month to six months."
Any seasoned bartender has a firm grasp on the notion of spirits as a status signal. "A consumer sees sometimes pricing of things as validation of their economic place, of their taste and choice, and that's part of delicate psychological game," says Jackson Cannon, bar manager at Eastern Standard in Kenmore Square. Status is a factor, to be sure, but most bartenders agree that intrigue is a major influence for many consumers. "A lot of it is curiosity. If you see a martini on the list for $2O and it's made with Stoli Elit, there's the curiosity of what makes it worth 2O-plus dollars," says Jason Babb, general manager at Grill 23 & Bar in the Back Bay. "The reaction - whether it's an exotic fish or vodka you've never heard of - is that you're gambling." Diners, says Babb, who's worked at Grill 23 for ten years, have a tangible appreciation for pricey food, cocktails and wine, which, he logically infers, is why he doesn't often see people fooling around with (read: mixing) the restaurant's super-premium spirits. "Why play with it? It's great the way it is. People aren't afraid to pay for it, but I do find that people want the most value out of mystique," he says.
Candace Smith, bar manager at Excelsior on Boylston Street, also brought up intrigue. Excelsior has a pioneering but sophisticated approach to its cocktail list. This summer, for instance, they featured a "muddling bar". Customers could pick and choose fruits, vegetables and/or herbs and have it custom-muddled for them. The priciest cocktail currently on the list is a $15 sidecar with Gosling's Old Rum, but Smith is strongly considering incorporating a Stoli Elit or other ultra-premium spirit-based cocktail on the winter list. While she says customers who order nouveau boutique brands usually do so as a result of being personally introduced to it - either at a sponsored event or by a bartender hand selling it - she can always depend on the business set that orders, say, Louis XIII or a Hennessy Ellipse - a super-premium cognac she picked up in September - just for show. Her suspicion that a deluxe cocktail will sell is well-founded. After all, this is the spot where three business men wandered in on a Tuesday night and ordered five $5OO shots of Ellipse (including two for the bartender).
Excelsior stocks plenty of tequilas, of course, but Patron is still their best selling brand. Even Smith says that tinkering with high end and premium tequilas falls into the realm of a specialty bar. That's where Masa, the Southwestern restaurant in the South End, comes in. Their tequila collection includes Corzo, a new super premium line of sipping tequilas. Masa is among the first in the state to offer it. Their latest cocktail list features the addition of the High Class Margarita, a $29 cocktail built on an ounce of Don Julio 1942 and accented with a dash of Licor 43. General manager Mohamad El Zein describes it as "lush". He developed it because customers were asking for margaritas with some of the most premium anejos, a habit he doesn't tend to enforce. "If a customer has a lot of money, they want the best of everything all together," he says. "But we're going to tell them that a particular aged tequila is sweet and it's better to have it by itself, it's gonna be more refined and smooth, not so peppery and hot. Their margarita is going to be sweeter than usual. We let people know."
While there are various instances like the random Tuesday night quadruple-digit bar tab, some are wary that Boston has too large of a bling-conscious market to sustain a steady uptick when it comes to exotic luxury cocktails. Last December, the new york times ran a story splashed with the headline "Hey, Bartender, Can You Break $1OOO?". Among the super-premium-based cocktails it referred to was a $22OO after-dinner drink made with Louis Roederer Cristal Champagne and a 14O-year-old cognac at the Teatro Euro Bar in Las Vegas. While Boston certainly has no shortage of high end clientele, those with the means and ways to spend tend to know what they like and like what they know, which time and time again means cognacs, scotches and tequilas served for sipping.
"I don't know if the Boston demographic is there, but I do feel people are willing to pay more for a cocktail," says Tiffany Taylor, restaurant manager and wine director at Rialto in the Charles Hotel in Harvard Square. "In general, trend has been people paying more for cocktails, regardless of inflation. It's men and women. My impression is younger people are getting more sophisticated in what they're ordering. Instead of sparkling wine in a cocktail, for instance, they order Champagne." Another luxury trend Taylor talked about is how more and more bartenders are working closer with kitchen staffs to boost the gourmet quotient of cocktails. "Cocktails have more ingredients and often people in the kitchen are participating," she says. "More people are asking for things with house-made ingredients like purees, liquor infusions and infused simple syrups." At Rialto, the pastry chef has made simple syrup with cardamom and executive sous chef Carolyn Johnson is working on different vodka, gin and rum infusions.
A spirit's value rises with its age. The same goes for beer. These days a select few (but growing) number of brewers are aging their brews in ex-spirits or ex-wine casks, which fetches some high end prices. Mark Kadish, owner of Sunset Grill & Tap, says beers are becoming more interesting, and the novelty of them can pique curiosity enough to induce those accustomed to basic market beers to give a $14 pint a whirl. "A lot of these beers that are pricy are more special occasion purchases. Whether you have a lot of money or not, sooner or later you're going to have a reason to celebrate," he says. "People are drinking better and less," he added, echoing Beam Global's Clerkin. "And if not less, definitely better, and there are a lot more of the better products out there. It's happening in every aspect of food and beverage. People want to go high end and live it up. Maybe that's part of obesity problem. If they can splurge, that's where they splurge."
With a cluster of new restaurants by notable restaurateurs in the works for Harrison Avenue, the Seaport District, the Financial District, and other increasingly tony neighborhoods around town, it remains to be seen how high end bartenders will go. How far will bartenders and, in turn, consumers go in the pursuit of extravagance? Are restaurateurs willing to gamble on the exotic instead of striving for the "cozy neighborhood ambience" that neighborhood dwellers often hope for? Or will they stick to the old adage that less is more?