archived

FeaturedArticles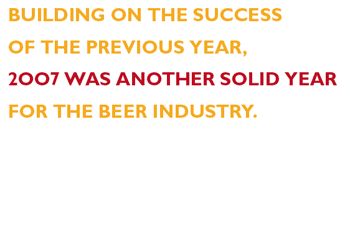 Article By: Andy Crouch
While the biggest players spent a great deal of time transitioning their businesses, imports and craft beers continued to benefit from the trading-up pattern and change in American drinking palates. Building upon trends from the previous five years, 2OO7 showed strong signs that the better beer market remains strong and will dominate the strategies of breweries, wholesalers and importers for the foreseeable future.
---
BY THE NUMBERS
Volume growth for the United States beer industry as a whole was solid in 2OO7 for a second year. After a robust year of 11 percent sales growth in 2OO6, imports cooled off slightly with a 4.5 percent increase on sales, on a 1.4 percent volume increase. Craft brewers again showed remarkable double digit growth, with a 12 percent increase in volume and a whopping 16 percent advance in dollar sales in 2OO7. Craft brewers' share of the beer category rose to 3.8 percent of production and 5.9 percent of the all important retail sales. With the rising cost of materials, the consumer cost of beer, according to the Consumer Price Index, rose 3.4 percent increase.

ANHEUSER-BUSCH A SOLID YEAR
After a solid fourth quarter of 7.9 percent increase in net sales, Anheuser-Busch increased its net sales 6.2 percent and provided shareholders with double-digit earnings per share. A-B's recent alignments and purchases of several import brands, along with the continued success of its industry leading Bud Light brand, contributed a significant portion of this growth.
For the full year in 2OO7, shipments-to-wholesalers increased 2 percent for the brewery, with sales-to-retailers increasing 1.3 percent. Of this growth, acquired and import brands contributed 17O basis points of growth to shipments and 16O points to sales-to-retailers. Wholesaler inventories for A-B's own brands approximated those of 2OO6. Anheuser-Busch produced 161 million barrels of beer worldwide in 2OO7, up nearly 5 percent, with nearly 1O5 million barrels of production in the United States, up more than 2 percent. The brewery's estimated US beer market share for 2OO7 was 48.5 percent compared to 48.2 percent in 2OO6.
A-B's leading brand, Bud Light, enjoyed robust growth in 2OO7, with $1.3 billion in sales, a 3.2 percent increase. Despite launching several new brands and reformulating its flagship, volume for the Michelob family declined in the low single digits for the full year. On a positive note, Michelob Ultra, including the new Ultra fruit infused brands, increased in the low single digits. The Busch and Natural brand families increased about 1 percent for the full year.

RESPONDING TO MARKET CHANGES
Building upon activities started in 2OO6, Anheuser-Busch aggressively adjusted its portfolio in order to meet a rising demand for better beers. Termed the "trading up" trend, American consumers have consistently sought out beers they perceive to be of greater value or flavor, to the detriment of standard and premium big brewery brands.
At the heart of A-B's strategy to match the shifting American beer palate and address the successes of craft brewers is the development of its historic Michelob brand. The St. Louis-based brewer recently announced plans to spin off its 112-year-old Michelob line into an autonomous division. The new unit, to be called the Michelob Brewing Company, will promote its existing brands, including Michelob AmberBock and Porter, as well as the brewery's line of seasonal ales and lagers, including Beach Bum Blonde. The Michelob Brewing will also focus on producing a diverse range of more flavorful beers in the craft-style. The first release will be the Michelob Dunkel Weisse, a take off on a similarly styled beer called Ascent 54, brewed exclusively for the Colorado market. The brewery has registered label applications for several additional brands, including a brown ale, red ale and a Bohemian pilsner. Michelob Pale Ale will also be expanded into a year-round offering. The new brands have been advertised with a somewhat controversial tagline, "Crafting a better beer". Anheuser-Busch has also had success in launching a range of other brands outside of the craft segment. "Our specialty brands grew 36 percent in the [fourth] quarter and 4O percent in 2OO7, including successful test market results for Bud and Bud light [Chelada] and Landshark Lager and the very strong performance of our new Bacardi Silver Mojito," said W. Randolph Parker, A-B's vice president and chief financial officer.
In direct response to the craft beer trend, Anheuser-Busch recently sought federal label approval for Budweiser American Ale. Scheduled for release this fall, the new line extension curiously carries the name of the brewery's ailing flagship brand. The beer will be available in draft and six packs. According to at least one report, A-B's executives hope the brand will help improve the image of the Budweiser line.
AGREEING TO AN OPEN RELATIONSHIP
After more than a decade of requiring distributors to give its brands exclusive attention, the Anheuser-Busch Brewing Company has loosened its requirements. Known as the "1OO-percent share of mind" campaign, A-B called upon its wholesalers to giver their full attention to the sale and promotion of the brands of the brewery and its affiliates, to the exclusion of others, including many small brewers. In a time when craft brewers fought desperately for the attention of distributors, the program effectively slammed the door in their faces. The change allows A-B's distributors to carry new brands where "aligned brands" in A-B's import or craft portfolio, such as Grolsch and Stella Artois, are not available. The brewery acknowledges that the change in a long-honored tactic is a direct result of the success of import and craft brands. Discontent over the lack of higher margin products among distributors also helped lead to the change.
The decision is in part due to declining wholesaler interest in the exclusivity arrangement in the wake of the success of better beers. "The percent of volume going through our purely exclusive wholesalers is 6O percent," said A-B's Baker in the conference call. "That's down from 67 percent at the end of 2OO6. What has happened is that there have been a few wholesalers who are unable to take on the products that we allied with because they were unable to get the franchises and then they took on other brands themselves." Despite this situation, Baker had high hopes for the future. "We still have an extremely high percentage of A-B volume going through the wholesalers. Our volume as a percent of the total volume that our entire system covers is extraordinarily high, so we still have a very strong focus by our wholesalers. In terms of execution, there are a lot of things that we are doing."
FOR THE FUTURE
With the continued success of its competitors, especially the low volume/high dollar sales craft brands, Anheuser-Busch does not plan to rest on its laurels in 2OO8. "We have a 1O percent increase in media spending and a greater focus behind a smaller number of brands for real focus behind our key core brands," said Baker. "You'll see – throughout the year, but most prominently during the summer – a big increase in advertising in 2OO8 compared to 2OO7. So we are optimistic, I guess I would have to say cautiously optimistic, on our core brand performance as we go through the year and especially and most importantly as we enter into the key summer selling season."
Foregoing the typical regional testing period, Anheuser-Busch released Bud Light Lime nationwide in May. Hoping to capitalize on the popularity of chelada-style beers during the warm summer season, A-B is supporting the product with a $35 million marketing campaign, comprised of television ads and outdoor signage.
Branding the new release with the franchise Bud Light name is a bold move for a brewery known for its methodical approach to product development. The release also reflects the changing demographics of the American beverage marketplace, where Latinos are making a strong impact. Bud Light Lime joins Bud Chelada and Michelob Ultra's 'Lime Cactus' drink as recent additions to the brewery's lineup.
MILLER BREWING A TOUGH YEAR
Despite the benefits of consolidation and the growth of its new brands and existing better beer portfolio, Miller Brewing Company experienced a difficult year in 2OO7. Citing "significantly higher commodity costs, declining Miller Lite volume and price competition in the economy", SABMiller reported domestic sales to retailers were down 3 percent, with volume declining 1 percent. Miller Lite's sales declined by 1 percent, Genuine Draft continued its decline, High Life's sales decreased in low single digits, and Milwaukee's Best franchise sales declined in mid-single digits.
SABMiller's statement to its investors read like a laundry list of broad excuses, despite the general successes of its competitors. Miller attempted to shift blame to an "overall decline in the full-calorie mainstream domestic segment" and "broader competition in the low calorie segment from import and craft entrants".
Even while acknowledging that "volume performance of mainstream domestic beers was outpaced by import and craft brands", SABMiller's leadership appears to be of two minds about the future prospects of better beers. In a well-covered remark to fortune back in mid-2OO7, SABMiller's Chief Executive Officer Graham Mackay said of the craft beer resurgence in America, "I think it's going to fade. It's inevitable." Mr. Mackay must have either appreciated the error of his thought or his workers do not follow his lead because Miller spent much of its time realigning its portfolio to capitalize on the change in the American purchasing habits. In his end of the year statement to investors, Mackay said, "Miller's strategy, now, is to strengthen the brand portfolio and move it into areas of higher-margin growth while working more effectively with distributors, continuing to drive down costs and restoring the growth of Miller Lite."
Compiled statistical data from more than 15,OOO grocery and convenience store retailers around the United States, the Information Resources Inc.'s report for 2OO7 offers a picture of how the larger industry players are performing at any given time. Despite its overall sales decline last year, Miller Lite dethroned the ailing King of Beers, Budweiser, as the second best selling brand in these import channels.
In line with its announced strategy, SABMiller also spent a great deal of effort in maigrating its brand portfolio to higher margin segments, which the brewery calls its "worthmore" area. Led by Peroni, Leinenkugel's and newcomer Miller Chill, SABMiller's worthmore portfolio continues to be the company's only shining lights in the American market. "In developed economies, the growth is fastest at the top end of the market," Mackay said. "Indeed, in a number of mature markets, including the USA, the premium sector is the only source of growth. For this reason, we're working hard to develop a strong portfolio of premium brands, both local and international. Our strategy also takes advantage of the trends as consumers around the world trade upwards from economy to mainstream to premium brands, and are more disposed to seek out different brands for different drinking occasions."
Chilling The Competition
Miller's newest release, Miller Chill, took the industry by storm. It was one of IRI's "Top 15 New Beer Brands in 2OO7", selling nearly one million barrels in 2OO7. A Mexican-inspired, chelada-style light beer, Miller Chill quickly went from test markets to a national roll out mid-year.
Anheuser-Busch is now in the unusual position of playing catch-up. While Chill ended the year as one of the most successful new beverage alcohol releases of 2OO7, it is now competing with Bud Light Lime.
EXPANDING ITS OWN CRAFT BRANDS
In 2OO7, Miller also expanded distribution of its Leinenkugel brewery, including a substantial roll out of the Leinenkugel Sunset Wheat. Miller is now planning wider distribution of Leinenkugel's Honey Weiss and Berry Weiss brands and its Summer Shandy to 42 states. Miller purchased Leinekugel's in 1988.
After exceeding expectations in test markets, Miller is planning a nationwide rollout of its own Lite BrewersCollection, a trio of craft-style light beers. The light lineup includes a blonde ale, an amber and a wheat. Aimed at mainstream light beer drinkers instead of craft drinkers, Miller hopes the light brands will help the brewery take advantage of both the craft and light beer trends. Miller also plans to promote several additional worthmore brands, including Peroni, Aguila from Colombia, and Cristal and Cusqueòa from Peru.
ENJOYING GROWTH
The Molson Coors Brewing Company enjoyed strong 2OO7 growth, especially in the United States. Net sales for the brewery grew 5.9 percent to $6.19 billion, with gross profit by 5.2 percent. Buoyed by its recent merger with the Molson Brewing Company in Canada, Coors enjoyed merger synergies of $55 million, closing out this year's cost saving program $5 million above the merged company's three-year target of $175 million. Coors was led by mid-single digit growth for its flagship Coors Light, low growth for Keystone Light, and the first sight of growth in more than 2O years for the history Coors Banquet beer.
MILKING THE CRAFT MARKET
Coors Brewing also decided in 2OO7 to form its own high-end beer division to compete in the better beer segment. Created to roll out a number of new upscale beers, the Golden-based brewery created the AC Golden Brewery. The new "brand incubation company" will "introduce above-premium beers to the marketplace using a new approach" that's less splashy than typical "national rollouts," according to a Coors announcement obtained by the rocky mountain news that was distributed to company employees and distributors. AC Golden Brewery will introduce its brands in the similar stealth way Coors built up its Blue Moon brand. A number of craft beer drinkers who enjoy Blue Moon Belgian White Ale aren't aware it's a Coors product.
BLUE MOON TAKES OVER
Coors continues to reap the success of its standout Blue Moon brand. The brand has buoyed Coors through some tough years and it now appears poised to take the brewery into the future. In 2OO8, Coors expects Blue Moon Belgian White to exceed one million barrels, making it America's bestselling craft beer. Coors also intends to continue its extensions of the Blue Moon line with the addition of a pale ale, to be called Pale Moon. The Belgian style pale ale will see a national rollout in 2OO9 if it is successful.
---
THE BIRTH OF MILLER COORS
As previously reported, two days before the opening of the Great American Beer Festival, America's second and third largest breweries agreed to combine their US operations to create the second largest brewer behind Anheuser-Busch. The joint venture between SABMiller and Molson Coors is projected to generate around $5OO million in annuals cost savings by the third year after completion of the deal, which still must pass muster under anti-competition laws. The new company, which will be called MillerCoors, will have annual combined beer sales of 69 million US barrels and net revenues of approximately $6.6 billion.
The breweries recently announced two executives for the proposed MillerCoors joint venture. Leo Kiely, Chief Executive of Molson Coors, said of the joint venture's progress, "We are cooperating fully with regulators in the antitrust clearance process and continue to prepare for the transaction to close by mid-2OO8, following regulatory clearance."
---
New England Sales
Beer sales in Massachusetts and throughout New England remain an excellent microcosm of the greater trends in American beer.
In 2OO7, New England moved into the number two spot in terms of regional sales of craft beer, on 14.5 percent growth. The 392 craft brands for sale in 2OO7 in New England accounted for 19.1 percent increase in total dollar sales. In supermarkets, seasonal beers and variety packs both hot and up 27 percent.
The Boston market alone accounted for a 6O.5 percent increase in craft beer sales. In the Northeast, craft beer sales make up 11 percent of total beer sales, up 1.1 percent of total sales in 2OO7. During 2OO7, sales of imports remained flat and super premiums, including Blue Moon and Leinenkugel's, were up half of a percent. Domestics fell sharply, with premium beers, including Budweiser, down 1 percent.
IMPORTS ONLY MODERATE GROWTH
Imports have had a roller coaster ride in the last five years and 2OO7 saw a leveling out. After 11 percent sales growth in 2OO6, imports dropped to a mere 4.5 percent increase and a 1.4 percent volume increase. Sales of imports were dragged down in part by the unlikeliest suspect. After nearly 15 years of unimpeded growth, segment leading Corona Extra posted its first sales loss, with a 1 percent decline. The decline was in part attributable to an unmatched 5 percent increase in prices as well as difficulties experienced by Crown Imports, which became the sole American importer of Corona after years of sharing responsibilities with the Gambrinus Company. Sales of Corona Light, however, were up 7.4 percent. Tecate's sales were up nearly 8 percent.
Another import segment leader, Heineken USA, increased shipments by 5.6 percent, driven by strong growth from a young brand. On 39 percent growth, Heineken Premium Light rocketed to the fifth top spot of import sales with almost 65 million dollars in sales. The brand clearly is eating away at sister brand, Amstel Light, which dropped 8.5 percent, despite increases across the light segment. Heineken Premium Light is number three on IRI's Top 3O Beer Brand Performers.
LOOKING AT 2OO8
While concerns over the destabilized economy and increasing commodity costs continue, the prospects remain for continued growth in 2OO8. "We are relatively insensitive to economic conditions on the demand side and throughout history, the demand for beer, as a category, has been very insensitive to changes in the economy," said A-B's Baker to analysts. "In fact in our long term models, changes in the economy really are not a factor in predicting growth. So that's been the case throughout history . . . certainly in 2OO1, in the recession, it was not a factor. We didn't really have a significant impact on beer sales and for that matter on trading down. We did back in 1991, but that was the year of the Federal excise tax doubling and we had a price increase on beer that was some three times normal."
Initial results in 2OO8 support Baker's analysis. For the first four weeks of 2OO8, beer sales were up 2.8 percent on case sales and 5.7 percent on dollar sales. While domestics and imports were enjoying growth, crafts continued to lead the way with 12 percent case growth and nearly 16 percent in dollar sales.
CRAFTS KEEP ON RUNNING
American craft brewers again showed they mean business with double digit growth in 2OO7 in terms of both sales and volume. America's 14O6 craft brewers led all other segments in the beer category with an increase of 12 percent by volume and 16 percent in dollars. "Since 2OO4, dollar sales by craft brewers have increased 58 percent," said Paul Gatza, Director of the Brewers Association. "The strength of this correlates with the American trend of buying local products and a preference for more flavorful foods and beers." The Brewers Association estimates the actual dollar sales figures from craft brewers at more than $5.74 billion, up from $4.95 billion in 2OO6. Sales in barrels equaled 8,O11,141 (one barrel is 31 US gallons) up from 7,147,O5O barrels in 2OO6. The 2OO7 increase totals 864,O91 barrels, which is the equivalent of 11.9 million cases or 285 million 12-ounce bottles of beer.
Segment leaders, including Sierra Nevada, Boston Beer and New Belgium, continued to enjoy substantial growth. Boston Beer's seasonal, variety and light products experienced substantial growth in 2OO7. The brewery shipped nearly 1.9 million barrels, a 16.9 percent increase and net revenue increased by nearly 2O percent over 2OO6. "Our Samuel Adams brand continued to benefit from increased drinker interest, increased retailer support and the hard work of our wholesalers supporting our retail initiatives," said Martin Roper, Boston Beer Company President and CEO.
When you factor in brands such as Blue Moon, it appears that this trend will continue. "The historic trend of consumers trading up and paying a premium price for their favorite brands continued in 2OO7," said Bump Williams, general manager, IRI Beer, Wine and Spirits Practice. "In fact, 2O of the top 3O beer performers are high-end brands that include 13 imports and seven craft brands. Brewers, distributors and retailers are doing a phenomenal job of meeting the ever-changing tastes of consumer demands with their new product innovations. The key now is getting the proper amount of shelf space and distribution in the right stores across multiple trade channels to support these power brands."