archived

FeaturedArticles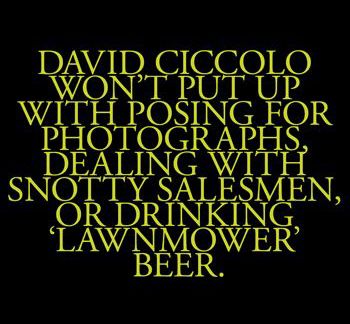 Article By: Fred Bouchard
But he does like -make that 'love'-high quality, super-fresh craft brews.

That passion has driven him to short-list only what he (and his hand-picked staff) deem the finest and freshest of craft brews. That craving for the fresh taste of hops and malt makes him chuck the contents of any draught that's been on-line after seven days. [Not thrown out, finished!] Even heady items like Kasteel Tripel and Pauwel Kwak that sell for $8 an 11 ounce pour. And now the co-owner of The Publick House (and its adjacent Belgian café Monk's Cell) in lively Washington Square, Brookline, is betting heavily that beer lovers of Boston (and far beyond) will continue to flock to his doors.
Ciccolo, 38, has overnight nearly tripled the 'footprint' of his Beacon Street premises from about 32OO to over 1OOOO square feet. The Publick House, having gone big-time for Belgian and come up trumps, has added a barbecue restaurant and retail shop.

How did this mania for quintessential craft brew overtake a young man from Cape Cod who grew up with Coors Light in Silver Bullet cans?

Standing behind the display case at his Publick Provisions, Ciccolo takes a moment – between cell calls, sales visits (like Michael Rhoades of B&R Artisan Bread in Framingham) and people looking for the kosher deli that stood on the corner for 3O years – to remember first impressions. It all started when the owner of a nice South End wine store (formerly New Boston Wine and Spirits, recently Boston Wine Cellars) hired him part-time.

"Marvin hired me and entrusted me with the key to lock up nights. They had a decent wine selection, but the beers were really amazing. Their policy was that at the end of a shift you got to take a bottle home – stuff I'd never even heard of, never mind tried. The first I tried was Catamount Gold – I hated it. But I kept trying them: Catamount Christmas was a crazy hoppy, wonderful beer. Then there was Grants, out of Yakima, Washington. Incredible beers, beautiful packages and labels. I grew up on the Cape so used to just Coors and Bud . . . I was falling in love with these beers and flavors. There were over 1OO beers in the cooler, and I probably tried 'em all.

"Harpoon IPA was being made by Todd Mott as a summer seasonal. We'd wait every year with baited breath for that fantastic hop monster! Since then it's been dumbed down, much to the disappointment of us hopheads."

And part of the story of The Publ ick House's exacting search for quality.
Ciccolo tried crafting home brew, but wasn't crazy about the experience. He eventually hired on as a brewer at Tremont Brewery, "because I needed a job and it came easy to me". He became head brewer when Jeff Biegert went to New Belgium Brewing Company in Colorado. But despite a good run at quality brewing, Tremont didn't last three years. "One day in 1999 the owners shut it down; after I made the last batch, I locked the doors and we were out of work."

But not quite out of work. "To supplement my meager earnings as a brewer," continues Ciccolo, "I'd been bartending Friday nights at The Thirsty Scholar in Somerville. That's where I met Ailish Gilligan from Sligo, who became my partner in opening the Publick House, and is now my wife and mother of our baby daughter Bronwyn.

"There were not many craft brews poured at the Scholar. It was frustrating serving Bud and shots to people. I'd always wanted to open my own place, and when Ailish and I hit it off, we decided to go for it and open something together.

"One of the Scholar owners, Harry Walsh, and I began looking around for a place that was a little different. Harry has since bought The Mission in Mission Hill and the Brendan Behan Pub in Jamaica Plain. I was convinced and committed to looking – looking until I found a good place. Ailish and I got talking after hours, cleaning up and counting the money and other bartender duties. She agreed that she too needed a change of pace and would help me look.
"That's when we stumbled upon this place. [Previous tenant] Kokopelli had a full 2am liquor license and the owner was closing at 1Opm! There's no way it could survive. We knew we could do it better." They opened The Publick House in July, 2OO2.

"We started out with a somewhat compromised beer list, because we needed help getting the beer lines in, but we gradually weeded out the less desirable drafts and concentrated on the cream. There were no hard feelings.

"My knowledge and passion for craft beers is in my opinion pretty solid, so it's easy for us to do what we do – we do not want to carry every beer under the sun, only the best ones, [so barrel rotation stays brisk]. It would be simple to open The Book [massachusetts beverage business] and say, 'Send us them all'. Rather than offer 1OO drafts and unlimited bottles, we keep it selective. If not, we're doing a disservice to craft beer. You cannot be selling so much that you can keep them all fresh. Nothing stays on The Publick House's 36 draft lines more than seven days; they drink it all up whatever the cost. My motto is quality over quantity."

The Publick House has since built its thriving trade with repeat customers, faithful enthusiasts and long-distance pilgrims thirsty for a proper pour. The tall six-page, small-print list quietly trumpets the theme: over 1OO bottles, 6 rotating draught lines, 24 feet of hanging racks of branded glassware, and even cuisine à la bière, a traditional Belgian beer-based menu. On any weekday by 5pm you're likely to have to line up for a bar stool or table.

Over the years, they've honed their list to the best of the best. "Now we're getting really picky," says Ciccolo with a straight face. "We'll work only with serious brewers, not companies moving boxes. We don't carry Lindemans any more, and that's saying something. I just couldn't do it. You open one up and you smell that syrup and extract. We don't carry Harpoon beer anymore, but their cider is one of the best. It breaks my heart that my backyard brewery won't quite take the plunge into assertive, full-flavored beers. I only want them to make something good and flavorful and we'd love to carry it."

It's defensive in a sense, because The Publick House staff has taught its clientele too well. Ciccolo explains. "We carry what my customers want. We do list Sam Adams Light [under 'Lawnmower Beer'], but if we carry the Lager, it'll sit there. They'll say, 'what's that doing here?'. No wonder. There are six gorgeous IPAs and German Lagers right next to it that they've driven across town to drink."

"We've winnowed down the list to the very best brews, wherever they come from – America, Canada, Germany, Belgium. Some of the most meticulous brewing in the world right now comes from Northern Italy. I don't want to single out one birreficio: every single one of them makes incredible beer, some using fruit, some with wild yeast. Many are in 75Os with beautiful labels. They're rivaling the Belgians and Americans for assertive, full-bodied, unbelievably tasty beers."

"Some of the best in my opinion? Allagash, Dogfish, Russian River, Stone. Ommegang's doing good work in upstate New York. Unibroue [Quebec] may be the best brewery in North America; their brewer, Paul Arnott, used to brew at Chimay. Duvel [Belgium] just bought Lachouffe and Liefmans, which is all good because they needed the capital to continue.

"Best sellers? Allagash [Portland, Maine] is by far our #1 draft seller, and is as good as any in the world. Boulder's Mojo is fast becoming our House IPA. Cisco Whale's Tale Pale Ale from Nantucket flies out of here; their draught is brewed by Mercury in Ipswich. But we rotate them around so much, it's hard to say."

The 25O bottled beers are listed by 3O distinct styles – such as Belgian Blond, White Ale, Flemish Red Ale, Lambic, Hefe Weizen, IPA, Pilsner – so customers can read up on them before they quiz their savvy bartender.

When I venture a mention of wine, Ciccolo reports that the short list accounts for under 2% of beverage sales.

The Publick House's first expansion was to open The Monk's Cell, a long narrow, warm-wooded taproom devoted exclusively to Belgian and Belgian-style craft brews. Every pour comes in its special glass, some (like Pauwel Krak) in a mini-yard with wood rack and handle. "That's our little ode to Ghent," says Ciccolo, "a composite of several favorite bars. Last March I took four staffers on our annual two-week trip around Belgium, eating cuisine à la bière, talking to brewers, getting a sense of the culture. We visited Orval, Lachouffe, St. Bernardus, Rodenbach. It's educational and also drives morale. I was knighted by the Belgian Brewers Guild for past and continued service to the Belgian Brewing industry, and to Belgian culture. What an honor. I'm only the third American – and in Belgium brewers are more highly regarded than priests."

Now the next move has been completed. Ciccolo leads me around the gutted hull of what was once Walter's, a steakhouse and piano lounge proudly run by wine maven Walter Zaniboni, then more recently, Bertucci's corporate pasta chain, Vinny T's.

"We've taken over this entire building – 7OOO square feet – to open up a restaurant and gourmet beer store. Roadhouse Craft Beer and BBQ is a Texas barbecue restaurant featuring authentic pit-smoked barbecue and grilled fish. Here's our two and a half ton cast-iron smoker; our chef found some good people to build it on a research trip to Texas. There's where the butcher shop will be. Out the back will be Road House Catering, and all to-go foods will pass through this take-out window. High top tables will be over here. American craft beers with 4O draft lines (minimal bottles) will be the focus, unlike The Publick House's 25O bottles."

Ciccolo shares his unfolding vision in a whirlwind tour; the phone keeps ringing. He points out that they're preserving and refinishing the large mahogany bar, having stripped away unsightly glass shelving. Masons built a low wall from 46OO antique bricks. Workers are beavering away noisily to make a June opening date. Front windows are coming out to make way for French doors opening onto a Beacon Street biergarten, to be open day and night. Himmel, this ain't your zadie's Brookline!

Publick House Provisions is a converted-deli 1OOO square foot gourmet shop where manager Jamie Hios will sell every bottled beer on The Publick House list, foods and condiments that complement beer, and the individualized, branded glassware in which all Belgian (and some American and German) beers are traditionally served.

"Every single one of the thousand beers you're served in Belgium comes in its own signature glass," asserts Ciccolo, "whether a large restaurant, mom-and-pop corner bar or a bed-'n-breakfast. These are all brewery-intended vessels, designed to best reflect the brand's aromas, flavors and highlights, and to enhance the drinking experience." Physics usually dictates the shapes: more highly carbonated beers tend to be better suited to tall, slender glasses, not unlike champagne flutes. But Ciccolo admits that sometimes it's fancy glassware for its own sake, say, the pomp and circumstance of a mystic grail, holy ciborium or ceremonial chalice.

There's another reason the shelves of the shop are deep with fancy, brightly logoed stemware – to keep customers from walking off with their empties! "We're sick and tired of approaching customers for stealing our glasses," says Ciccolo, "so we decided to provide all the glasses and bottled brews for them to take home." The glasses retail from $7 to $25, and several were disappearing daily.

As for the bottled beers themselves, carrying many of The Publick House's listed craft brews is a direct response to the continual cries of customers 'Where can I buy this?' Artisanal cheeses (Trappist, Jasper Hill Farm, Grafton Village Cheddar, Maplebrook Farm mozzarella, pecorino toscano, bleu d'Auvergne, raclette, double Gloucester) are big, as are Italian dried salametti. It's the only stateside store to carry Orval cheeses. Handmade Belgian chocolates line chilled cases below Taza discs from Somerville; they also sell smoked salmon, pates, oils, vinegars, and mustards, some made with beer.

That brought up cooking with beer, which makes up 9O% of the menu, and some dishes are actually cooked with beer.

Ciccolo and his staff would seem to have taste and experience enough to make a go of the new venture. Hios, 33, who worked for years as representative for the Craft Brewers Guild, will manage Publick House Provisions. Ciccolo claims that Hios, Remy Johnson and Helen Jakubowski (The Publick House managers), all have amazing palates. "We know what's good. Between the four of us, it's fun. Needless to say, we must have the staff well trained. Nothing comes through the door that is not tasted, regardless of cost. We have serious monthly staff tastings for all the waiters and bartenders. They have to be educated. (If they come in already educated, that makes our job easier.)

"When customers ask, 'What's that like?' I don't want the waiters to have to say, 'I don't know.' Our staff are real enthusiasts; they show up on Sunday mornings wanting to taste – not drink. We don't hire people who don't get what we're trying to do here – that is to seriously support the fragile craft brew industry. We know at the interview that they won't work out. We're hesitatnt to hire staff who only want the extra cash. But those who come and realize how passionate we are, they fit in, and it's – great!"

Staffers deal with first-time customers with sincerity, not snobbery or disdain. When a customer asks for 'a light beer' they usually steer them to Brooklyn Pilsner. "It all starts with Brooklyn," says Ciccolo. "Once they try that, some of them may gradually turn onto dubbels, tripels, trappist or abbey ales."

Ciccolo has praise for a cross-town colleague who's running a similar operation. "Max Toste at Deep Ellum is as good as they get. He's not only the best bartender in all of Boston, he has encyclopedic knowledge not just about craft beer but mixed drinks. Max and his partner Aaron not only have a great draft beer selection, but also pride themselves on their cocktail creations and spirits traditions. They make infusions, sour mix, and even bitters from scratch."

The Publick House is garnering an international reputation among beer enthusiasts. Ciccolo says sometimes customers hop off planes at Logan and take the T or cab up Beacon Street for a glass or two before checking into hotels. "When I wear or our employees wear our T-shirt in a café or pub in Brussels or Texas," says Ciccolo, "I get stopped. 'Oh, we've been! Oh, we want to go!' It's amazing – and humbling."