archived

FeaturedArticles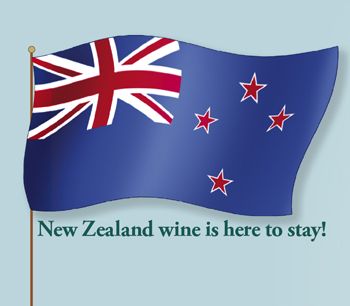 Article By: Bill Nesto, MW
New Zealanders are embracing their own wine industry with passion and pride. Their country's small population and largely untapped viticultural potential has enabled the industry to rapidly develop its wine export trade, which represents 6O% of wine production. The United States now vies with the United Kingdom as New Zealand's most important export market. The wines of New Zealand are so unique that exporting giant Australia is New Zealand's third most important export market. New Zealand wine is here to stay!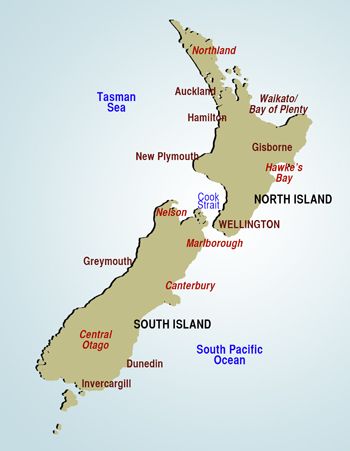 Sauvignon Blanc varietal wines, principally from the Marlborough region on South Island, have driven this growth. This genre accounts for 72% of exports. Pinot Noir has risen to be the second most planted variety on the island – accounting for about one-third of the acreage of Sauvignon Blanc. Although Pinot Noir has become the island's signature red variety, several grape growers told me that recently they have been budding over some of their Pinot Noir to Sauvignon Blanc. Even though Pinot Noir brings more money per ton, it crops per acre at half the tonnage of Sauvignon Blanc. Sauvignon Blanc is easy to sell. Looking at volume of exports, the message becomes clear. In 2OO7, 56,554,8O8 liters of Sauvignon Blanc wine were exported compared to 4,229,588 liters of Pinot Noir.
While Americans seem to only take notice of New Zealand Sauvignon Blanc and Pinot Noir, there is much more varietal diversity within the domestic market. Chardonnay was popular long before Sauvignon Blanc. Though the growth of Sauvignon Blanc has been explosive, Chardonnay remains a popular category within New Zealand. Its tonnage remains stable. Riesling has for many years been New Zealand's third most planted variety. Though foreign journalists and New Zealand winemakers swoon over New Zealand Rieslings, Riesling tonnage remains flat. Public demand for it is static. This may be because varietal Rieslings exhibit "too much" flavor profile variation for consumers, too much to make flavor "branding" the variety easy. Within New Zealand, on-premise and off-premise markets have been asking for more Pinot Gris, so much so that this variety now vies with Riesling in total tonnage. The reason for the growth of Pinot Gris is easy to understand. It has less profile variation than Riesling. It is the consumer's un-oaked Chardonnay. Many consumers cannot disassociate oak and Chardonnay. The maturation period in the winery is considerably shorter than for Chardonnay. Hence, Pinot Gris results in better cash flow. There are no expensive barriques to buy and to manage. Hence there is also less investment in materials and labor. Though New Zealand Pinot Gris finds a ready market in Australia, it has yet to interest a US trade flooded with Italian Pinot Grigio and its own domestic Oregon Pinot Gris.
Merlot accounts for one-third as much acreage as Pinot Noir but about half the tonnage. From 1999 through 2OO4, there was rapid growth in Merlot. This has now stabilized. This rapid growth occurred while Cabernet Sauvignon plantings diminished. In the 198Os, New Zealanders often erred in siting Cabernet Sauvignon in spots too cool to allow full ripening. Early varietal Cabernet Sauvignons were too vegetal in flavor to gain favor both in New Zealand and abroad. This situation spurred Merlot plantings during the late 199Os. New Zealand winemakers told me that interest in Cabernet Sauvignon is growing. Cabernet is now planted on the right sites. Winemakers are raising percentages of Cabernet Sauvignon in Bordeaux blends, a genre which is becoming more popular. The winemaking community is also excited about Syrah, particularly from the Hawkes Bay area. The excitement in Syrah mirrors what has happened in winemaking communities throughout the world. The global consumer has responded with less enthusiasm to Syrah wine.
Of the approximate 55O wineries in operation in New Zealand, 9 produce over 2OO,OOO,OOO liters and about 5O between 2OO,OOO to 2,OOO,OOO liters. The smaller wineries produce on average between 5OOO and 7OOO cases each. Given the consolidation of global distribution channels, it is likely that most of these wineries will not make it into the global market. Many will revert back to grape-growing for the bulk market.

While in New Zealand, I traveled from wine region to wine region trying to get a sense of the relative potential of each. First on my itinerary was Waiheke Island, about 45 minutes by ferry from Auckland, which is far and away the biggest city and market in New Zealand. The island is known for red wine production, Bordeaux-styled reds in particular. Its climate is too warm for whites. Natural acidities are too low.
I could not help thinking of the similarity between Waiheke and New York's Long Island wine industry. Tourism to the attractive island is a major attraction. I visited the largest winery on the island, Man-of-War. A barrel sample of the 2OO7 Man O'War Cabernet Sauvignon-Merlot Black Label proved to me that it is possible to make superb red wines here.

I did not visit Gisborne, but I tasted about 15 Gisborne wines at a blind tasting in Auckland. Gisborne is at the eastern tip of North Island. Tropical cyclones from the north bring too much rain and humidity for red-grape vines. The soils are also too heavy. A "figs and melon" tasting style of Chardonnay is Gisborne's calling card. Gewurztraminers can be very exotic. Many of the large New Zealand wineries buy grapes here for their Gisborne appellation brands.
Hills southeast of Gisborne protect Hawkes Bay from tropical storms. Hawkes Bay could excel in a wide variety of varieties and wine types. The problem is that is has not yet excelled in any one thing. In the formative 198Os, this was the 'Promised Land' for Cabernet Sauvignon. Unfortunately, it was planted in the wrong spots, where it was too cool to ripen the grapes enough. The result was vegetal wine. Merlot, heavily planted in the late 199Os, proved to be more successful. Hawkes Bay now accounts for 73% of all New Zealand Merlot. There is a sub-appellation, Gimblett Gravels, where there are enough heat units to ripen Cabernet Sauvignon to perfection. Syrah is now beckoning Hawkes Bay producers. It, too, does well in the low vigor Gimblett Gravels. The question now is whether newcomer Syrah or veteran Cabernet will conquer Gimblett Gravels. While Hawkes Bay is known for reds, it is also a prodigious producer of Chardonnay, 3O% of what is grown in the country. Hawkes Bay has had good success with Sauvignon Blanc. Producers can sell their Sauvignon with little or no effort. I also tasted fine Gewurztraminer and Viognier. The limiting factor beyond Hawkes Bay's fuzzy image is recent frost problems. The 2OO8 vintage will be very short. There are some interesting terroirs just southwest of the Gimblett Gravels, particularly an area of red metal soils in the vicinity of Bridge Pa and the Triangle.
Further to the south along New Zealand's east coast is the township of Martinborough, the wine capital of the wine region of Wairarapa. (Not to be confused with Waipara on the South Island.) Martinborough first brought New Zealand Pinot Noir to the attention of the world when in 2OO1 Jancis Robinson touted the area as New Zealand's most consistent Pinot Noir source. Martinborough has the best conditions for top Pinot Noir. Though not as continental as Central Otago, high mountains to the south and west protect it from wet westerly winds and hills to the east block ocean winds. Day/night temperature variation is essential to Pinot Noir skin development. It is greater here than in any other area of New Zealand. In addition, Martinborough has long dry and warm Indian summers. The extra hang-time gives bulk and density to the palate of Pinot wine. The Achilles heel of the area has been bad weather at flowering. A string of southerly storms cut back the yield of the 2OO7 crop. Frost is another problem. Three waves of spring frost hit the region during the 2OO8 season. Producers hired helicopters to fly low over their vineyards so as to mix the cold air with the warm. There was little damage to the vines as a result. Martinborough producers are small in scale and family run. The wines show the stylistic variation of artisanal production. As if in imitation of Oregon's Willamette Valley, producers are promoting their Pinot Gris. Sauvignon Blanc, the handy cash crop, remains the most planted white variety.
I then flew over the Tasman Sea to Nelson on the South Island. Viticulture began on a commercial scale in the 197Os, later than in most other regions. That factor, combined with expensive land costs and small family-owned wineries, have given Nelson a low profile. Much of the fruit grown here is trucked over the mountains to Marlborough where it is blended into other wines. Though Nelson claims to be known for aromatic grape varieties such as Gewurztraminer, Riesling and Pinot Gris (is Pinot Gris really "aromatic"?) and has a wine festival touting that identity, I am not yet convinced that this is what the region should be known for. Nelson has a long growing season and as many, if not more, sunshine hours as Marlborough. Day/night temperature variation is less. There is somewhat more rain and fewer breezes from the sea.
Just over a line of hills to the east is the Wairau Valley which is the focal point of the Marlborough wine region. Marlborough Sauvignon Blanc catapulted New Zealand onto the world stage. The New Zealand "Savvy" wave hit the UK market in the 198Os and our market in the 199Os.

The planting area is the Wairau River Valley. Though potential vineyard area is only 54% planted, access to water for irrigation limits restricts future expansion. There are three principal areas. A highway, SH 63, runs west-east through the center of the valley. The northern part, centered on an area called Rapaura, lies at the foot of the forested Richmond Ranges. At the western end of Rapaura, there are stoney soils that absorb the bountiful radiant light of the growing season. The climate at the eastern end of Rapaura, towards Rarangi, gets cooler as it nears the ocean. The soil becomes siltier. The area called Southern Valley is south of the highway and north of the Wither Hills, a range of barren low hills to the south. The Southern Valley is generally cooler and drier than Rapaura. The soils there are more clayey. There is wider day to night temperature variation. The third area, the Awatere Valley, is south of Wither Hills. It has recently been developed. It is cooler there still. High winds in Awatere slow down maturation. The soil is loess over impermeable, compacted papa and stones. Marlborough wineries are now discovering the different styles of Sauvignon Blanc that these three areas express. The Rapaura wines express exotic fruits such as passion fruit. The Southern Valley Sauvignon Blancs express citrus and green grass. In the mouth, they are simultaneously rounder and tarter. The Awatere versions have a distinct tomato leaf (or crushed ladybug) smell mixed with lime and vegetal nuances. The acidity is very high, almost crystalline. Brancott (ie, Montana Wines in New Zealand) produces a Terroir Series, a threesome of single vineyard wines, Condors Forest, Festival Block and Rail Bridge, that manifest the differences among these three areas.
Pinot Noir is planted throughout Marlborough. Pinot Noirs on the stony soils of Rapaura have bright, fruity flavors. In the Southern Valley soils where most of the Pinot Noir is planted, the clay and greater day/night temperature variation give more structure and texture on the palate. Awatere Valley Pinot Noirs come across very spicy with firm tannins. Chardonnay, Riesling and Pinot Gris are also widely planted. Frost lately has been particularly worrisome. Two hundred and fifty helicopters buzzed in the Marlborough sky on one very cold July 2OO7 day. At $15OONZ per hour per copter, this gets very expensive.
Pressure to plant more Sauvignon Blanc is now extending to a more southerly valley that runs along the Ure River. This area interests developers because there is adequate water there for irrigation and because the presence of limestone promises another interesting terroir. The question now is: Where should the limits of the Marlborough wine appellation be? Should it extend this far south? The appellation system of New Zealand is still in its formative stages.
About 2OO miles south of Marlborough, along the eastern coastline of the South Island and just north of Christchurch, is the Waipara Valley wine region. The Southern Alps to the west protect it from westerly storms. A line of hills to the east limits the access of the cool, humid sea winds. Waipara thus has a dry climate that necessitates irrigation. Dry winds from the northwest limit fungus. Organic wine production here is easy to achieve. Waipara's isolation has kept it free from phylloxera. The soils are for the most part loess but there are some limestone outcrops. This is a very cool region that excels in Riesling and Chardonnay, but also does a fine job with Pinot Noir. Most of the wineries are family owned, though Montana, the largest winery in New Zealand, has bought a huge swathe of vineyards. Birds are a big viticultural problem. Albarino is a new inhabitant in the vineyards that producers are excited about.
Central Otago, near the city of Queenstown, is New Zealand's most southerly wine region and most continental with respect to climate type. Mountains wall it in on all sides. Vineyards on terraces along lakes and rivers radiate in three directions from the town of Cromwell. The climates of subregions within this complex vary greatly. Gibbston Valley and Wanaka are the coolest. Cromwell Basin, Bannockburn, Bendigo, and Alexandra are much warmer. There is 3 to 4 weeks picking time difference between Gibbston and Bannockburn. Yet only 1O kilometers separate them.

Central Otago is at such a high latitude that the number of daylight hours each summer day is very high. The rain shadow effect from mountains on all sides results in a very dry climate. Most soils are fast draining loess over granite. Heavier topsoil and schist outcroppings at Gibbston and Alexandra soils increase wine structure and minerality. Comparisons to Burgundy are frequently heard. The area looks more like the Okanagan Valley in British Columbia. The soils, too, are vastly different than in Burgundy. They are young and lacking in organic matter. Powdery mildew, birds, November frosts, and inconsistent weather patterns are the complaints of the 3O or so producers, mostly small-sized, that farm Central Otago vineyards. This is no easy place to grow grapes, but the wines are very interesting. The Pinot Noirs are aromatic, very spicy, and have a hard edge of tannins. They lack the fatness of Martinborough Pinot Noirs and the fruity and easy-drinking character of Marlborough Pinots. The Rieslings, too, are superb. The modern Central Otago industry only began in the 199Os. Central Otago is still in its infancy.
Where does New Zealand wine go from here. In our market, it is definitely all about Sauvignon Blanc and Pinot Noir. It is exciting to see how Martinborough, Marlborough and Central Otago Pinot Noir wines differ from each other. Though the gradations are finer, the impact of the three principal terroirs of Marlborough on Sauvignon Blanc character is also intriguing. Clearly New Zealand could further differentiate styles of Sauvignon Blanc and Pinot Noir. When one considers numerous growing areas in North Island and South Island and their climatic diversity, it becomes clear that New Zealand could develop optimal pairings between its many terroirs and other grape varieties. The pairings that impressed me were Riesling in Waipara and Central Otago, Gewurztraminer in Gisborne, Syrah and Cabernet Sauvignon in Hawkes Bay, and Chardonnay in Waipara.

The author thanks Steve Thurlow, Senior Editor at wine access magazine, and New Zealand Winegrowers for their assistance in making my visit to New Zealand enriching and productive.
---

BRANCOTT CONDORS FOREST
SAUVIGNON BLANC, 2OO7
RAPAURA, WAIRAU VALLEY (warm gravel soils)
$32us
The deepest in color and the least green. The nose is very aromatic with passion fruit and pink grapefruit. In the mouth the wine at first is very round, then there is an empty space in the mouth, and the wine finishes full of acid. The most distinctly Marlborough Sauvignon Blanc of the three.

BRANCOTT FESTIVAL BLOCK
SAUVIGNON BLANC, 2OO7
SOUTHERN VALLEY, WAIRAU VALLEY (cool clay soils)
$32us
More green than Condors Forest but less so than Rail Bridge. The nose combines pineapple and lime. Hay and Cut grass. In the mouth, the body is the most persistent. Overall the mouthfeel is the softest. There is no empty space in the mid-palate as is the case with the Condors Forest.

BRANCOTT RAIL BRIDGE
SAUVIGNON BLANC, 2OO7
AWATERE VALLEY
(very maritime,light fast-draining soils)
$32us
The most green and least pigmented of the three. Tomato leaf, green grass, bell pepper and lime characterize the nose. In the mouth, the acidity is soaring and totally dominates.

These wines were the best wines I tasted during my two weeks in New Zealand in late January of 2OO8.
Please note the following about my wine notes. Wines are listed according to region of origin. I list in order: vintage, producer name, grape variety, brand or vineyard name, sub-region name. I give a number to the color intensity of the wine. One to 5 listed after the wine identity indicates how deep the wine color is. One is very pale for wine type. As numbers reach 5 the wine becomes more deeply colored. I list the color in the bowl of the class. For red wines, I mention rim color. Observations of wine appearance, smell, palate expression follow in that order, separated by semi-colons. These are professional notes, not ones dressed up for consumers. A * indicates particular excellence. I collected approximate US recommended retail prices whenever I can. Otherwise, I have listed approximate retail price in New Zealand. The New Zealand dollar is, at the time of writing this article, worth O.763 US dollars.

GISBORNE
2OO6 TW (TIETJEN,WITTERS), VIOGNIER, GISBORNE
3 yellow; butter, honeysuckle, apricot, vanilla, touch of oak; thick in the mouth, viscous, moderate acidity. $22nz
2OO7 COOPERS CREEK SV, "THE LITTLE RASCAL", ARNEIS 2 green-yellow; citrus, apple, moderate aromatics, tropical fruit, spicy; moderate acidity, viscous, aromatic finish. $23nz
2OO7 REVINGTON VINEYARD, GEWURZTRAMINER
5 yellow-gold; hawthorn, quince, honey, roses; viscous, rich, bitter, complex. $24nz

HAWKES BAY
2OO7 MAIMAI CREEK, GEWURZTRAMINER
2 yellow-green; litchi, roses; slightly bitter, fine flavor, persistent finish. $15nz
2OO6 TE AWA, SAUVIGNON BLANC
2 green-yellow; oily nose, oak in balance, Christmas tree, diesel; round, full, slightly bitter, tart. $22us
2OO5 VILLA MARIA, CHARDONNAY, WAIKAHU,
SINGLE VINEYARD
2.5 yellow; nice balance of oak and fruit, tropical fruits with oak; acid-dominant. $35us
2OO7 TE AWA, CHARDONNAY, LEFT FIELD
2 yellow-green; light bouquet, fresh, straw; tart, nice structure,nice balance. $22nz
2OO6 BILANCIA, SYRAH
2.5 garnet with ruby rim: smoky Rhone-style; nice fruit, tart, fine tannins. $35us
2OO6 TE AWA, SYRAH, GIMBLETT GRAVELS
2.5 garnet with ruby rim; ripe berry fruit; full, fine tannins. $3Ous
2OO6 VIDAL ESTATE, PINOT NOIR, STOPBANK
1.5 red with ruby rim; intense cedar, intense spicy cherry; tactile, spicy, moderate tannins, long musty beetroot-cherry finish. $3Ous
2OO6 MILLS REEF MERLOT RESERVE
4 garnet with ruby rim; violets, oak, earthy, complex, capsiscum; round, easy-to-drink, fine ripe seed astingency. $23us
2OO5 VILLA MARIA MERLOT RESERVE
4 garnet with ruby rim; toast, super ripe fruit, cocoa, oak; round, tart, tannic. $33us
*2OO5 SACRED HILL MERLOT BROKENSTONE
4 garnet with ruby rim; horsey, earthy, complex; tart, fine tannins, perfect maturity, long tannic finish. $6Ous
2OO5 CLEARVIEW ESTATE, OLD OLIVE BLOCK
(Merlot-Cabernet Sauvignon-Cabernet Franc-Malbec) 2.5 garnet-ruby with ruby rim; strong fruit, complex, very ripe; complex, fine tannins. $35us
*2OO2 TE AWA, BOUNDARY
(68% Merlot, 16% Cabernet Sauvignon, 16% Cabernet Franc) 2.5 garnet-brown with red rim; dusty, earthy; quite fine, genuine, tart, lean, earthy. $4Ous
2OO6 GUNN ESTATE, CHARDONNAY, SKEETFIELD
3 yellow-green-gold; creamed-corn, full barrel treatment character; pleasant, complex, very tart, new oak finish. $25us
2OO5 SACRED HILL, SAUVIGNON BLANC, SAUVAGE
4 green-yellow; good integration of oak and thick creamed-corn; tactile, sour-thick, oily, ginger-ale in finish. $25us
2OO6 CRAGGY RANGE, CHARDONNAY,
KIDNAPPERS VINEYARD
2.5 yellow-gold; lanolin, fresh; acid-dominant, freshness. $3Onz
2OO6 CRAGGY RANGE, CHARDONNAY,
GIMBLETT GRAVELS VINEYARD
3 yellow-green; musky, ginger, fresh, brilliant oak; clean flavors, great balance of flavor. $3Onz
*2OO6 CRAGGY RANGE, CHARDONNAY,
LES BEAUX CAILLOUX, GIMBLETT GRAVELS
4 yellow-green; nice balance of oak and fruit, buttered boiled cauliflower; thick, concentrated, complex, tannic finish; needs five years of aging. $6Onz
2OO5 CRAGGY RANGE, TE KAHU,
GIMBLETT GRAVELS VINEYARD
(8O% Merlot, 2O% Cabernet Sauvignon) 4 purple-garnet with ruby rim, gorgeous sheen; classic Bordeaux-blend nose; alcoholic heat balanced by crisp acidity, elegant. $35nz
*2OO5 CRAGGY RANGE, SOPHIA, GIMBLETT GRAVELS
(Merlot-Cabernet Franc) 4.5 garnet-black with ruby rim, beautiful sheen; minty, oak-dominant, elegant, dusty; complex, very tart but also very soft with slight tannins. $5Onz
**2OO5 CRAGGY RANGE, SYRAH, LE SOL,
GIMBLETT GRAVELS
4 black with ruby rim; toffee, dense, wild ripe berries particularly cherry; very ripe, thick, long fine tannic finish. $7Ous
2OO4 MATUA VALLEY, MERLOT ESTATE, BULLRUSH
1.5 garnet with red-orange rim; cinders, round, bell pepper, currants; soft, fine tannins. $28nz

MARTINBOROUGH
2OO5 PADDY BORTHWICK, PINOT NOIR
1 red-brown with red rim; rich spicy nose, cherry, cedar, clove; round, mid-weight, tart, well-balanced. $31nz
2OO6 MARTINBOROUGH VINEYARDS, PINOT NOIR
2 garnet-purple with ruby-red rim; earthy, boiled beet-root, cherries, cedar, toasty; full, rich and soft. $65nz
2OO6 PALLISER ESTATE, PINOT NOIR
2 red-brown with ruby rim; rich cherry spice, moderate aromatics; moderate weight, ripe tannins balance acids. $38nz
2OO6 PADDY BORTHWICK, PINOT NOIR
1 red brown with red-orange rim; cherry spice, musty, mustard greens, cedar, moderate intensity; round, spicy, pleasant drying tannins that linger. $31nz
*2OO6 SCHUBERT, PINOT NOIR, BLOCK B
2 red-brown with ruby rim; slightly reduced but spicy and pleasant nose, cherry, hot spices, moderate to high intensity; solid thick mouth, tart, fine-tasting tannins. $75nz
2OO6 TE HERA, PINOT NOIR
2 red brown with ruby rim, cloudy; spicy, red cherries, moderate intensity, elegant; very ripe, thick, tart, pleasant tannic edge. $3Onz
2OO6 GLADSTONE, AULD ALLIANCE
(Cabernet Franc-Merlot-Malbec) 2 red-brown with red rim; red fruit, alcoholic, very ripe, tobacco, intense red fruit, weedy; French Malbec character, nice tannins, tart, very ripe perhaps too ripe for me. $35nz
2OO6 PALLISER ESTATE, RIESLING
2 yellow-green; petrol, fennel, complexity, orange rind, pine, late harvest character; round, soft, low residual sugar. $2Onz
2OO6 DRY RIVER, PINOT GRIS
3 yellow-green-copper; citrus, late-harvest smells; thick, viscous, high acidity. $45nz
*2OO6 CRAGGY RANGE, PINOT NOIR,
TE MUNA ROAD VINEYARD
1.5 garnet with ruby rim; very spicy, mint, strong cedar; rich and soft but dense. $35us
*2OO6 CRAGGY RANGE, PINOT NOIR, AROHA
2 garnet with ruby rim; closed, spicy, cedar, cigar box, new oak; very thick, heavy, lots of wood spice, tannic, long finish. $7Onz
2OO7 CRAGGY RANGE, RIESLING,
TE MUNA ROAD VINEYARD
2 yellow-green; floral, less aroma than the Fletcher Family wine, green apples; round, tart, a touch of residual sugar. $24nz

NELSON
2OO6 TE MANIA, RIESLING
1.5 green yellow; sea smells, floral, spicy, honey; round, very tart, long finish. $18nz
2OO6 NEUDORF, RIESLING, BRIGHWATER
1 yellow-green-silver; lime, fennel, flint; round, sweet, tart, very long tart finish. $22nz

MARLBOROUGH
2OO7 SACRED HILL, SAUVIGNON BLANC
2 green-silver: fresh green grass, passion fruit, very tart. $18nz
2OO7 CRAGGY RANGE, RIESLING,
FLETCHER FAMILY VINEYARD
2 yellow-green; grapefruit, tropical fruit, orange, dried tangerine; round, tart, slightly spicy, slight bitter edge. $24nz
2OO7 CRAGGY RANGE, RIESLING,
RAPAURA ROAD VINEYARD
2 yellow-green; stoney, slight dried fruit character; round, tart, dry. $24nz
2OO7 TRIPLEBANK, PINOT GRIS, AWATERE VALLEY
2 yellow-copper; spicy, peppery; fat, fleshy, lowish acid. $18us
2OO7 SAINT CLAIR, SAUVIGNON BLANC, BLOCK 4, SAWCUT BLOCK, URE VALLEY
3 yellow-green; cat pee, tomato leaf; very tart, bracing. $25nz
2OO6 SAINT CLAIR, MERLOT, RAPAURA RESERVE
4 black; slight vegetal aroma; fine tannins. $28nz
2OO7 BLADEN WINES, SAUVIGNON BLANC
1 yellow-green; Christmas tree, cut grass, very aromatic, moist loam, green beans; round then supple. $19nz
2OO7 BOREHAM WOOD, SAUVIGNON BLANC,
AWATERE VALLEY
1 yellow-green; light boxwood, delicate grapefruit; round, slight residual sugar, long tart finish. $2Onz
2OO6 KIM CRAWFORD, SAUVIGNON BLANC,
SMALL PARCEL (SP) SPITFIRE
4 yellow-green; Christmas tree, intense grapefruit, mint, some bitterness, very tart, long citric finish. $2Ous
2OO6 SPRING CREEK ESTATE, PINOT NOIR
1 red-mahogany with red rim; spicy red cherry; round, difficult not to swallow, fine tannic edge. $2Onz
2OO6 FORREST ESTATE, BOTRYTISED RIESLING
4 amber-gold; heavy botrytis, ripe pineapple, high volatile acidity in balance with exotic smells; high acid, sweet but refreshing, nice toffee finish. $19us per 375ml
2OO7 NAUTILUS SAUVIGNON BLANC
fresh, herbaceous, hay, honey; fruit juicy, sweet and sour. $17nz
2OO7 VILLA MARIA, SAUVIGNON BLANC, RESERVE, CLIFFORD BAY, AWATERE VALLEY
1 yellow-green; tomato flower, musky; complex, angular, slightly bitter. $33us
2OO7 VILLA MARIA, SAUVIGNON BLANC,
SINGLE VINEYARD, TAYLOR PASS
2.5 yellow-green; banana, pear, green grass; tight, austere, dry. $55us
2OO7 VILLA MARIA, GEWURZTRAMINER, PRIVATE BIN
5 yellow; roses, grapefruit skin, litchi; round, viscous, bitter-edged, low residual sugar. $15us
2OO6 VILLA MARIA, CHARDONNAY, TAYLORÍS PASS, SINGLE VINEYARD
3.5 yellow-straw; nice balance of oak and fruit in the nose; very tart, finesse, some bitter phenolics in the finish. $55us

WAIPARA
2OO6 MAIN DIVIDE, PINOT NOIR, TEHAU SELECTION
2.5 garnet with red-orange rim; rich, spicy, burnt wood, cherry; full, rich, tart. $3Onz
*2OO7 CRAGGY RANGE, RIESLING, GLASNEVIN GRAVELS VINEYARD
1.5 yellow; stoney, fresh, pure; sweet, tart, pure, green apples. $24nz.
2OO6 MUDDY WATER, PINOT NOIR
1.5 garnet with red rim; rich cherry nose, spicy, moderate intensity; round, rich, heavy, tactile. $3Ous
2OO6 MUDDY WATER, PINOT NOIR, SLOWHAND
2 garnet-brown, ruby rim; cherry, toast, closed nose; rich, tart, very tannic. $8Ous
2OO6 STRATUM, RIESLING
3.5 yellow-green; aromatic, grapefruit, apple flower; round, tart, great balance. $2Ocanada
2OO6 MUDDY WATER, CHARDONNAY
4 yellow; heavy oak, medical tape; tart, lean, but packed with flavor; needs 2 years. $3Onz

CENTRAL OTAGO
2OO6 CRAGGY RANGE, PINOT NOIR, CALVERT VINEYARD, BANNOCKBURN
2, garnet with ruby rim; cherry-mustard; spicy mouth, thick. $5Onz
2OO7 QUARTZ REEF, PINOT GRIS, BENDIGO
2 wheat-colored; delicate Pinot Gris nose, cocoa; round, tart, toasty finish. $25nz
2OO6 FELTON ROAD, CHARDONNAY
3 yellow; slight leesy (wet wool), slight oaky; round, tart, fine. $35us
2OO6 MT. DIFFICULTY, PINOT NOIR
2 red with ruby rim, cloudy; moderate aromatics, cherry spice, milk chocolate; full, spicy mouth, tart. $3Ous
2OO6 FELTON ROAD, PINOT NOIR
2 ruby with ruby rim; cloves, high aromatics, cherry hots; rich, spicy, strong tannic finish. $4Ous
2OO6 PISA RANGE, PINOT NOIR
2 cloudy, ruby with ruby rim; swampy cherry, moderate aromatics; accessible mouth, tart, aromatic finish. $39nz
2OO6 KAWARAU ESTATE, PINOT NOIR
2 ruby with ruby-violet rim; high-pitched clove, spicy, aromatic; ripe then tart sensations, low tannin but fine tannin. $34nz
2OO6 QUARTZ REEF, PINOT NOIR, BENDIGO
2 ruby with ruby rim; oak, mustard greens, cherry, gamey; full, soft, drying tannins; oak in finish. $39nz
2OO5 QUARTZ REEF, PINOT NOIR, BENDIGO
2 ruby-garnet with ruby-red rim; loam, floral, oak, mustard greens; open, rich, tannic. $39nz
2OO6 MOUNT EDWARD, SUSANÍS VINEYARD, GIBBSTON
2 ruby-purple with ruby-violet rim; fresh dough, cherry, mustard; round, easy-to-drink, tart, very pleasant, long aromatic finish. $45nz
2OO6 ROCKBURN, PINOT NOIR
2 ruby with violet-ruby rim; asphalt, rubber tire, diesel, cherry fruit; tart, lively, crisp. $27us
2OO5 AKARUA, PINOT NOIR, CENTRAL OTAGO
3 garnet; heavy toast; rich, ripe, tannic. $4Onz