archived

FeaturedArticles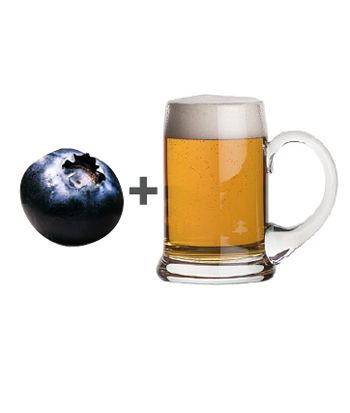 Article By: Lew Bryson
I was at a summertime beer festival, about ten years ago, and I dropped by the back of the booth of a brewer I knew and asked him how things were going. His straight-faced answer: "Well, the lesbians are really liking the blueberry ale."
I must have given him a look, because his eyes widened in innocence, and he swept his arm towards the front of the booth. Three women, one of whom was indeed wearing a t-shirt that said "Yes, I am a lesbian!" were cheerfully swigging beers that had a faint purplish-blue tinge to them.

"Told ya," the brewer said.

The lesson? Blueberry beers have a wide appeal that confounds everyday beer demographics. Alan Pugsley's Shipyard brewery in Portland, Maine, makes one of the best-selling blueberry beers, Sea Dog Blueberry Wheat, and he's noticed the same thing. "It has a wide market," he said, "about 5O/5O male/female. There's no typical drinker."

Carla Trejo-Springer, a spokesperson for Mercury Brewing in Ipswich, put her finger right on the blueberry beer button when I asked her who drank their Stone Cat Blueberry. "People think of it as a chick beer, but it really brings in the non-beer drinkers," she noted. "It's a great segue beer to the Stone Cat Hefeweizen. It's good for the line-up."

WESTERN MASSACHUSETTS' GOT THE BLUES
Don't make assumptions about blueberry beer. Ned LaFortune, co-founder of Wachusett Brewing in Westminster, learned that back in 1999. "We all saw the proliferation of fruit beers in the '9Os," he said. "They took up shelf space, they came, and they went. I was of the philosophy that fruit beers had had their time."
But Wachusett's accounts kept telling them they should do a blueberry beer, LaFortune's sales manager kept telling him that if they made one he could sell it. They'd seen the success Shipyard was having with Sea Dog Blueberry in western Massachusetts.
(That's a story, too. "It did reasonably well," said Pugsley; Shipyard was brewing the beer under contract at the time. "Then it suddenly started to move in western Massachusetts. Within 6 to 9 months it was going crazy on draft and in bottles. We scratched our heads and said, 'What's happening with this, let's take a look.' We put it out in other markets and it picked up quickly.")
"So we listened," LaFortune said, "and skeptically did it. We took a keg of our Country Ale, doctored it with "Brand X" blueberry extract, and took it up to an event at Wachusett Mountain. We dropped some blueberries in the glasses, and it flew.
"That did it," he said. "That and a statement we saw in beverage business, from Mark Kadish at Sunset. They asked him "What sells?" and he said, "Blueberry beer." We rolled it out as draft for a year, first. It caught on enough that people wanted to take it home, and the accounts put their thumb down on us. 'Get us Blue,' they said. We did a Blueberry 12-pack, and it pulled the Country Ale and IPA behind it. Then we did the six-pack, and it's been amazing. It's our biggest seller. I didn't want to do a blueberry beer, I told you that before. But it's become one of my faves."
Blueberry beer isn't always the ticket to big-time craft brewing success. I talked to Scott Lutke in 1999, when he was running Underground Brewing in Marlborough. His Blueberry was popular: "We just did the Northampton Brewfest, and most of the weekend we were 25 people-deep at the blueberry line. We blew through about 8 kegs." His demographic was similar: "My original thought was that women would love it, but guys are drinking it too. You don't get your die-hard micro drinker, but it was 4O/6O men/women at the festival, and mostly older guys, 4Os, 5Os." But like other brewers, he just didn't have the luck – or the skill – to make it work.
The same thing happened to Sea Dog, of course. They were getting a good reputation in Maine with their brewpubs, then decided to go big-time, leading with the blueberry, and contracted with Shipyard in 1999. That worked out better for Shipyard than it did for Sea Dog; Pugsley's bigger brewery bought them out in 2OO3. It turned out to be a good move, though it wasn't clearly so at the time. "It was something different for the portfolio," Pugsley said, "it seemed to make sense. And the sales at the time were reasonable."
And now? "It is far and away the flagship of the Sea Dog line," he said. "It's our strongest beer outside of New England overall."

A CUSTOMARY TASTE
That's an interesting point, because while it appears that the first blueberry beer in modern times was the Bluebeery Ale brewed by Marin Brewing in California (which won a GABF medal way back in 199O), New England has a lot of blueberry beers. A quick look at the list of blueberry beers at the beerAdvocate website reveals a concentration of blueberry beers in two areas: New England and the upper Midwest.
No real surprise, though: that's where the blueberries are. That's exactly why Coastal Extreme Brewing in Newport, Rhode Island, started brewing their Rhode Island Blueberry Ale, according to President Brent Ryan.
"We were looking for an ingredient we could source in Rhode Island," he said. "They don't grow malt or hops here, but they do grow blueberries. We use real Rhode Island blueberries to give it the blueberry flavor. Every year, when the crop comes in, we get 1OOO pounds. We borrow a nearby winery's press and press the juice. Crushing blues is like crushing grapes; it looks like grape juice. We've created a system where we can pasteurize it in little kegs, and we store it in the cold room."
The same kind of thing happened at Atlantic Brewing, up in Bar Harbor, back in 1993, only a bit more serendipitously. Founder Doug Maffucci tells the story of how things started, back when Atlantic was an even smaller outfit than it is now.
"We did it sort of by accident," he said. "A blueberry picker came by the brewery with a pickup with 4OO pounds of wild Maine blueberries in the back. He offered me a price, I said no, he offered a lower price, and I said okay, I'll take 'em. Hey, I figured, it's sugar, it should ferment. I never saw him again."
So, great story, popular beer, everything's good, right? "It was a nightmare!" Maffucci said. "We juiced all the blueberries by hand in a Cuisinart, it was a mess, it stained everything. We said we'd never do it again. Then it came out of the tank and it was just crazy. We took it to the first Maine Brewers Fest, and the governor-elect tried it and loved it, said it was the kind of Maine product people should be making. We had to make more." The beer experiences the same sales pattern as the Sea Dog blueberry; it is Atlantic's biggest seller outside of Maine.
One thing no one's quite sure about is who first started putting blueberries in the glass. I know that when I had my first blueberry beer, a pint at the original Boston Beer Works across from Fenway back in 1994, there were five or six berries in the glass, riding the bubbles up and falling back down in a mesmerizingly relaxing manner. It may well have been first done there.
Wherever it was first done, it's done all over now, and it drives the brewers crazy. "The big thing for the brewpubs is they put the blueberries in it," says Ryan. "So people are always asking us, 'Do you put blueberries in the bottles?' Yeah, I drop the berries in each bottle by hand. It's not something we can do!"
(It gets worse. As part of the research for this story, I asked the members of beerAdvocate what the first blueberry beer they remembered was, and the floating berries at Fenway came up almost immediately. And someone said, "Now they spoon in the blueberries after they pour it. Didn't they used to come right out of the tap?" Somewhere, a brewer's head is exploding . . . )

HOW DO THEY GET THE BERRIES IN THERE?
If they don't stick the berries in the bottles, how do they get the blueberry in the beer? There are almost as many different ways as there are beers.
Maffucci doesn't use a Cuisinart anymore. "It's a little easier to make now," he said. "We have the producers juice it for us. The juice goes in the boil and in the bright tank. You get a light fruit aroma. It's primarily a beer, with a fruit finish. It's not over the top."
Ryan said Coastal Extreme puts the juice right in the fermenter. "We add it in the fermenters because it's got sugar in it, and it ferments out," he said. "It's the only source of blueberry flavor.
"A lot of brewers use the extract," he explained, when I asked him why he insisted on using juice. "But with that . . . stuff, you don't get the depth of flavor you do with real juice. They try to break down a flavor to certain compounds, and blend those to get the flavor. But like most other things in the world, there are millions of compounds making those flavors. When you make the extract, it makes an artificial shallow blueberry flavor, sweet, and like blueberry, but no depth. We started out with the idea of using the Rhode Island berries. We looked into it and it was expensive. So we tried the extract, but didn't like it. We sucked it up and got the berries."
Wachusett uses concentrate . . . just like LaFortune predicted. "It's expensive as hell," he said, "but it's really fresh and has this peppery thing on the end. It's great. We brought in about 25 different concentrates and extracts, because we knew we couldn't do fresh fruit on a full-scale basis. We tested them all, we did titrations in Kevin [Buckler]'s office, but before we even started, I said, "That one, that's gonna be the one, you know it is: because it's so damned expensive, it just figures." Well, I was right; it was the concentrate, and that was the one that was clearly the best.
"It's an all-natural concentrate," he said, "it's mashed blueberries with some of the liquid removed. There's no 'extract' taste. We add it early on, it goes in the fermenter."
Pugsley uses a mixture of extract and juice in Sea Dog. "It's put in post-filtration," he said, but cautioned that "The key is to be subtle, as it is with all our beers. All things in balance make good beer, in my opinion."
All these beers are subtle. They are at heart fairly light ales – golden, amber, wheat – with just a bit of blueberry to them, weighing in around 5% ABV. That's not the case with a surprising entry from Anheuser-Busch: Wild Blue, a whopping big 8% lager with a solid shot of blueberry flavor and aroma. Even the foam is purple. That may be a first: craft brewer subtlety, A-B extreme.
"This beer is the real deal," said Jill Vaughn, Wild Blue brewmaster. "With a distinct color and flavor, we've crafted a beer that truly stands out. I think it will surprise people, especially those who like to experiment when it comes to new drinks." Given the beer's source, dense purple color and alcohol level, I think it's safe to say that "surprise" may be an understatement.

WHY BLUEBERRY?
There are plenty of other fruit beers, and like Ned LaFortune said, they come, they go. The ones that stick are raspberry, cherry and blueberry (pumpkin beers are really more a matter of spices than the fruit). Blueberry just happens to be more popular in New England.
Why do people like blueberry beers in New England? It's clear to Ryan. "If it's where blueberries are grown, people will warm to blueberries. People know when they come out, and they're making pancakes and pies."
"We have a lot of people that comment on that, that they're really fond of blueberries as a fruit," said LaFortune. "I think it's exposure. We have fresh blueberries around in the season. There are always frozen blueberries available, even in my tiny little local market. My daughter won't eat pancakes without blueberries in them. It's a good fruit for you, with the anti-oxidants."
There are other reasons blueberry works, he adds, beer-related reasons. "It's not highly acidic," he said. "Why wouldn't an apple work in a beer and a blueberry does? Maybe because some apple flavors are like some off-flavors in a beer. But the blueberry esters complement beer."
On top of all that, the blueberry seems to flow better.
"Our bottling line mechanic says it really works well in the bottler," LaFortune said. "The IPA foams like crazy. The Blue's our lowest-hopped, and it runs best in the equipment, it just flies."
Does it fly in the winter, or is this a summer beer? Almost all the beers in this piece are year 'round, although most started as summer beers. Stone Cat Blueberry still is, said Trejo-Springer: "We make it year 'round, but it absolutely spikes in the summer."
Of course, as Pugsley points out, "It's like everything: summer's big. But actually, the blueberry's strong year 'round. It really is. We do get the occasional e-mail asking if the blueberry's 'out yet'. We set them straight.
"It's a point of difference for us," he said. "It's hitting a different consumer than would be drinking Export or IPA. You're not eroding your customer base, you're building a new one."
LaFortune agreed. "It's a point of differentiation for us in this market," he said. "The IPA market is just saturated.
I love our IPA, it's an awesome dry-hopped beer, but we can't compete in Boston with Harpoon. That's okay, that's their beer, that's how it should be. But Blue is ours. We've met wholesalers in Rhode Island, and they're pounding on the door: they want Blue and the Green Monsta. I'll tell you, we're in double-digit growth because of Monsta. We have to wait and see about the hops pipeline to see how that's going to go. But Blue's our big volume beer. That's what goes in the biggest tanks here."
LaFortune chuckled. "And it's awesome in the morning," he said. "When we go on a ski trip, we'll start the day with a couple Blues and a blueberry muffin."
There's no typical drinker. Don't make assumptions about blueberry beers. Remember: 5O/5O, male/female. Anyone walking through your door could be a blueberry drinker. Be sure you're ready for them.