archived

FeaturedArticles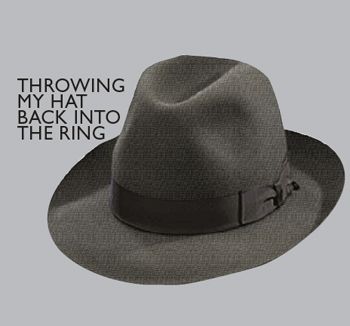 Article By: David Singer
I will soon be putting my money – or my earning of
it – where my mouth is.
Starting the end of July, I am going back to my roots and picking up my Tastevin with corkscrew in hand again. An opportunity just too good to pass up has presented itself, and so it is time to get back into the profession that fueled my passion for wine in the first place.
Being the lead or a part of a team charged with re-designing or creating a wine program for a property is certainly nothing new to me. But to create a hotel-wide program from top to bottom for a property that has not yet even opened its doors has my creative juices in a barely restrained maelstrom. As I write this my start date at the Mandarin Oriental Hotel is still a couple of months away. But some ideas that have been swimming in the gray mush of my reputed higher functions for years are finally coming to peek at the light of day. Some have been discarded because they were not appropriate to the property I happened to be working in, others because they just never completely coalesced into a workable plan.
Being a consultant with my own business has had a number of benefits. One has been the forgiving nature of an easy-going boss when it comes to taking the afternoon off to play a little hooky. I just look at myself in the mirror with a brief frown. Seriously though, the control and flexibility around my time and how I spend is has been remarkable. Being home to have dinner with my family every night has been a joy.
I also had the benefit of learning a lot about myself, about what I do when left to my own devices, required to manage my priorities in a wholly independent role. It's amazing what surfaces when there's no boss driving your agenda, no standard work schedule to stick to and no workplace culture or norm curbing your habits.
First I discovered that I can write. As much as I enjoy writing is has never been an easy task. I've always struggled with writing. I thought this meant I shouldn't do it.
Second I found out that I'm a very task-oriented person.
Third it turns out self-promotion isn't one of my strengths. I can sell a good wine to someone who is interested in drinking, make someone passionate about wine or speak to hundreds of people about my favorite subject while generating a laugh or two, but I don't like to sell me.
And I have a confession to make. As part of the job interview process, I was asked by the Food and Beverage Director of the hotel to put together three different wine programs for three different restaurants, and something very interesting happened. My computer had trouble keeping up with my dancing fingers upon the QWERTY keyboard that is today's mighty pen. The zeal for my profession has never wavered, but this opportunity has rekindled some of that joie de...vin that I felt earlier in my career.
If the chef at the Mandarin is doing what I think he is doing, though at the moment nothing is finalized, the program is going to be, needs to be, very multifaceted. This is beyond Ambonnay to Zweigelt. More like Amontillado to Sercial with a good amount Daiginjo. The best part of this? He gets it – a chef that gets the magic of food and wine pairings. Some chefs I've worked with are baize to down right combative in working with the local wine geek. A few have been interested and the even rarer breed, active in the process.
So what is the point of all this introspection? Well, with the new job on the horizon I will have taking a little time off from my monthly beverage business column. The amount of work in my near future, as you can well imagine, will be pretty consuming. More than once the question has been raised if I miss working in restaurants. A year ago I would have replied, "I miss the good table." Which is not referring to the table that ordered the thousand dollar bottle on my wine list, though having that on my P and L sheet at the end of the month is never a bad thing. It is at times the rare table that really gets it. Guests that know the following: the difference between eating and dining, good wine and understand the magic of a wine pairing. Sometimes this was a process of building trust with a repeating client to be able to recommend a pairing with the chef's latest dish, even if it might be out of their comfort zone.
Today, I miss tables such as that and the complete package. The creative process of building a program, great pairings and having a server where the proverbial light goes on and you know they will be bitten by the grape very soon. If I can use an unintentional pun, getting back to your roots is sometimes where you find joy. See you in 2OO9.