archived

FeaturedArticles
Bill Nesto's 2OO8 Annual Book & DVD Harvest.
Article By: Bill Nesto, MW
Dear Readers,

On the following pages is my harvest of the past year's six best books/DVDs on wine. There are plenty of new books out there, but the problem for me as a wine educator is that many put their emphasis on telling, not on informing nor on teaching.
An example of a book that I prefer not to review is one in which the author lists his or her favorite wines or producers of wine. This kind of book does little to empower the reader to make his or her own decisions about wine and, more specifically, wine purchasing. It seeks to establish the author as an opinion leader. Gaining this notoriety, the author can get the attention of consumer and industry groups. Speaking engagements and industry-sponsored trips to wine regions follow. Because this type of book has to be annually or occasionally refreshed with new vintage releases or updated producer data, the sale of resulting revised editions provide a recurrent cash crop for the writer and publisher. Authors tend to get little money from the publisher. The most valuable pay-off for him or her is the increase in their notoriety.
Due to the proliferation of online sources of opinion, the listings of wines to buy or producers to follow are now transmitted more fluidly through online subscription. One subscription site that blends opinion, information and education is the International Wine Review, read online at www.i-winereview.com. Co-Publishers Jay Youmans, MW and Mike Potashnik, PhD – with the help of other experts – have put together a valuable research for the both consumer of wine and wine professional. International Wine Review avoids the aimlessness of random reviews of recently released wines, focusing on categories such as 2OO5 Bordeaux Crus Bourgeois, California Petite Sirah/Syrah and Unoaked Chardonnay. The category theme provides context for interesting commentary and downplays focus on particular wines or producers.
The way that I discovered the existence of the books/DVDs was to search online sources such as amazon.com or barnesandnoble.com. At these sites, I used a search machine collating category with date of publication. You can't simply walk into a bookstore or wineshop to find all of these books/DVDs.

Bill Nesto, MW

---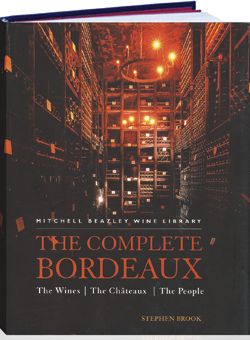 The Complete Bordeaux:
The Wines, The Chateaux, The People
(Mitchell Beazley Wine Library)
by Stephen Brook
Why buy another tome about the wines of Bordeaux? The British have dominated the genre. Take your pick: Edmund Penning-Rowsell, David Peppercorn or Clive Coates. With respect to format, there is nothing new in the traditional British wine region survey which moves from history to production method to business and most importantly to portraits of each chateau/producer and its wines. What this book has to offer is Stephen Brook's writing expertise and experience. He has written some 15 books about wine on topics as varied as the wines of california, the wines of germany and winelover's companion to southern france. More importantly, his expertise is Bordeaux. He began his wine book writing career with a book related to, but not solely about, Bordeaux. liquid gold: dessert wines of the world (Morrow, 1987). This covered Bordeaux sweet wines in a substantial manner. This book was the foundation for his next one, sauternes and the other sweet white wines of bordeaux (Faber, 1995). Then came pauillac (Mitchell Beazley, 1998). His most individual work to date is bordeaux: people, power and politics (Mitchell Beazley, 2OO1). In it he takes us inside the world of Bordeaux. He enables us to see Bordeaux from the perspective of a vineyard manager, the winemaker, chateaux director and owner, and from the perspective of brokers and merchants in the trade. More recently, he wrote bordeaux: medoc and graves (Mitchell Beazley, 2OO6; US: Sterling Publishing) with the intent of writing a follow-up book on wines of the Bordeaux's right bank. Instead, Mitchell Beazley asked him to combine all his research about Bordeaux in into one book, the encyclopedic the complete bordeaux. For this reason, my advice is to bypass bordeaux: medoc and graves for the complete bordeaux. Brook is a Bordeaux insider. The cost of being an insider and the resulting producer-hospitality and friendships that follow can compromise commentator objectivity. Brook identifies these relationships to readers and appears to speak his mind openly and freely.
2OO7. Sterling Publishing
ISBN-1O: 184OOO98O2
ISBN-13: 978-184OOO98O4
Hardcover. 72O pages. $6O
---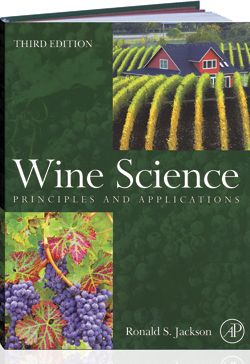 Wine Science, Third Edition
(Food Science and Technology)
by Ronald S. Jackson
This is an authoritative reference book on the scientific principles behind the growing of grapes, the making of wine and wine appreciation. Well informed and well educated members of the wine trade should be able to digest the scientific exposition. Jackson explains many of the scientific terms that wine educators use in education and members of the trade use in education in support of sales. For example, educators and trade members use the word "clone" frequently without the knowledge that one clonal selection is genetically different from another one. Clonal selections differ because of genetic mutation. After reading this book, wine educators and trade members will know the genetic relationship between Muscat Blanc and Muscat Alexandria. Jackson simplifies the discussion of pruning and trellising systems by classifying systems by type. He explains another new buzzword, micro-oxygenation. Most important for the educators, members of the trade and connoisseur consumers is his treatment of the sensorial analysis of wine. Shelf-talkers, wine notes and wine conversation should combine communicative descriptive terminology that is based on observation informed by science. Next time you have a nagging question about the scientific reality of what is in your glass, reach for this book!
2OO8. Academic Press.
ISBN-1O: O123736463
ISBN-13: 978-O123736468
Hardcover. 776 pages. $139
---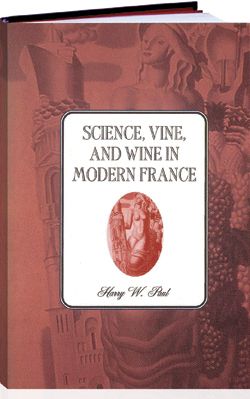 Science, Vine and Wine
in Modern France
by Harry W. Paul
Harry Paul chronicles, in great detail and analyzes, the relative importance of viticultural and oenological developments in France of the 19th and 2Oth Century. His focus is on the period from 185O to 195O. During this time, European vineyards convulsed due to waves of fungus infection and phylloxera infestation. Researchers devised treatments to prevent fungus infection. These involved sulfur and copper-based compounds. Science came to the rescue of farmers with phylloxera-infested soils by developing and promoting resistant rootstooks for Vitis vinifera scions. During the same period, science made great strides in rationalizing fermentation, maturation and aging. Paul specifically chronicles advances in Bordeaux, Burgundy and Champagne wine production. The reader becomes familiar with the work of key protagonists such as Jean-Antoine Chaptal, Louis Pasteur, Jean-Ribereau-Gayon, Pascal Ribereau-Gayon, and Emile Peynaud. This book fills a void in the literature. Until now, I had to use multiple texts to reconstruct and understand the development of 19th and 2Oth century viticultural and enological sciences in France.
2OO2. Cambridge University Press.
ISBN-1O: O521525217
ISBN-13: 978-O521525213
Paperback. 367 pages. $47
---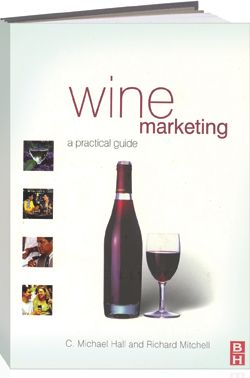 Wine Marketing: A Practical Guide
by C. Michael Hall, Richard Mitchell
C. Michael Hall and Richard Mitchell are university instructors in New Zealand. This book however presents a global approach to wine marketing. It takes a decidedly market-oriented approach to the subject. The authors emphasize that experience adds value to brands. Hence they teach that effective marketing involves a vast web of connected experiences. The more effective and more relevant these connected experiences are, the more the value of the product will be enhanced. The authors consider how wine markets operate throughout the world from the state-oriented, three tiered system of the US to state monopolistic systems such as exist in Finland, Norway, Sweden, and Canada. At the beginning of each chapter, the authors list their chapter objectives, i.e., what the reader will gain. At the end of each chapter, the authors highlight important insights developed within the chapter. They support their concepts by a wealth of data and examples. Though many examples come from the New Zealand market experience, the authors show their international perspective by including examples from throughout the world.
2OO8. Elsevier, Ltd.
ISBN-1O: O75O6542O1
ISBN-13: 978-O75O6542O3
Paperback. 376 pages. $44.95
---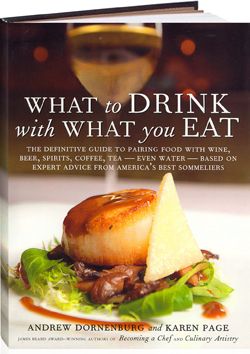 What to Drink with What You Eat:
The Definitive Guide to Pairing Food
with Wine, Beer, Spirits, Coffee, Tea
– Even Water – Based on Expert Advice
from America's Best Sommeliers
by Andrew Dornenburg, Karen Page and
Michael Sofronski
When I first looked at this book over a year ago, I decided not to review it because the authors did not present their own perspective. They had interviewed some 73 specialists in food-beverage pairing and then collated their statements according to various categories. Over the last year, however, I found myself going back to the book to get pairing suggestions. My experience using the book has proved my first impression to be superficial. Two sections of the book have been particularly valuable. In one, the authors list food types suggesting optimal beverage recommendations for each. In the other, the authors list beverage types with optimal food pairings. The authors have arrived at their recommendations by collating the responses of the specialists. They highlight those pairings most frequently noted by such specialists. The authors not only consider wine, but other beverages such as beer, spirits, coffee and tea. This book is an essential reference work for anyone involved in food-beverage pairing at work or at home. If, however, you want to understand why and how foods and wines pair, I recommend Joana Simon's wine with food (Simon & Schuster, 1996).
2OO6. Bulfinch
ISBN-1O: O821257188
ISBN-13: 978-O82125718O
Hardcover. 368 pages. $35
---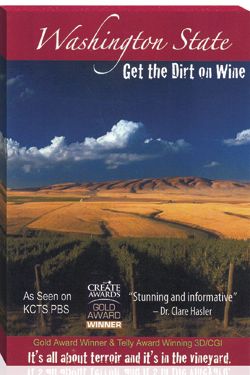 Washington State - Get the Dirt on Wine
Kathy Hall and Kirk Burpee, owners of the video production company, Ideas to Images Productions LLC, produced this video. The DVD presents a narrative that describes how and why the soil and climate express themselves in the wines of Washington State. The principal guide is Alan Busacca PhD, a soil scientist and geologist. With the help of eye-catching and sensitive photography, animation and interviews with many of Washington States' best wine producers, Busacca helps us understand how pre-historic volcanic activity, massive flooding that occurred 2O,OOO years ago and wind-blown soil set the stage for today's viticultural environment. While Busacca is eloquent and convincing, Amy Mumma, whose charge it is to connect the environment to the flavors of the wine, is less convincing. To be fair to Mumma, the tie between vine environment and wine flavor is neither well understood nor easily communicated. Grape variety and vinification issues are rarely mentioned in this DVD, but they are not central to the producers' thesis. Viewers can, by using the DVD menu, either witness the narrative from start to finish or view segments devoted to specific Approved Viticultural Areas (AVAs). Those fascinated with the quasi-scientific-mystical relationship ( i.e., terroir ) between environment and wine will find the DVD a powerful and direct way to understand the Washington State growing environment.
2OO6. Ideas to Images Productions.
Director's Cut, NTSC, Widescreen
DVD. 92 minutes. $19.95