archived

FeaturedArticles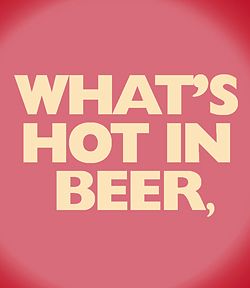 Article By: Lew Bryson
If you want to know what's hot in beer,ask someone who sells it. Like a lot of the people who are reading this story. There's a certain amount of humbleness involved in writing this annual story. It's all about asking you what's selling well, then turning around and telling . . . you . . . what's selling well.

It's circular in the extreme, and if it weren't for my years of experience as a medical librarian – gathering tons of information written by doctors and giving it right back out to other doctors – I'd feel quite odd about it.
But the fact is, just like the brainy hyper-educated docs who stopped in the library, no one knows everything. There might be something selling well in Concord that could be selling just as well in Holyoke if you only knew about it, or had a tip on how to present it, or find the customers who want it. This is all about sharing information so you can find out what's hot, and what might turn hot for you, finding things out from other folks in the business.

TURN UP THE VOLUME?
Or you might find out something from Ohio. I was driving through Ohio recently, on my way to visit distilleries in Kentucky for an upcoming article on whiskeys, when I saw a Busch beer billboard. I can't recall the last time I saw a Busch billboard, and I wondered if it was a guess at things to come, positioning the brand to be at the front of consumers' minds as they 'downshift' in a contracting economy.
Miller Brewing CEO Tom Long (also president of the new MillerCoors joint venture) sees that happening already. In a May conference call for reporters, Long said Miller was starting to see some shifts to Miller High Life and Milwaukee's Best. "We think it's primarily driven by decline of disposable income and pocket money that American consumers are feeling right now," he said, noting that the company expects to sell more lower-priced beers this year if gas prices continue to rise.
Like a stock trader selling short, there are ways to keep the market moving in a tough economy. Rich Daley, general manager at Andover Liquors, hasn't seen the shift to lower-priced beers yet. "But it's coming," he said confidently. "I definitely bought in on the less expensive stuff – Pabst, Keystone."
It's interesting to note that there was a study out a couple of years ago that found that when beer prices went up overall – as the result of an across-the-board tax increase, for instance – beer purchases tended to go up, driven by sales of bargain-category beer. Consumers downshifted to a lower-cost category and found that they could now afford to buy more beer, even after the tax increase. That's science at work; you might want to keep an eye on bargain sales and order accordingly.

IS CRAFT IMMUNE?
Every craft brewer is looking at that downshift too, and the mantra is "affordable luxury". It's reaching the point where we're going to find out whether the mantra is true, and people view a $9 sixpack of craft beer as that little something extra they can still treat themselves to, or whether it's just whistling in the dark, and "affordable luxury" is going to turn into "can I afford food and gasoline this week?".
"Price increases are the trend," said Kai McMurtry, beer manager at the Wine Gallery in Boston. "It's something customers bring up to me on a daily basis. It keeps going up, and people are noticing and they're buying differently. They'll come back to the beers they're steering away from, but I'm seeing sticker shock right now."
You might want to thank the Brewers Association that the sticker shock isn't greater than it was. They've been doing a great job prepping the market for price increases with a constant flow of press releases about the truly shocking increases in materials costs for brewers: hops price increases of better than 1OOO%, malt price increases of 7O%, and a continuing rise in the cost of glass, healthcare, and the energy necessary to fire brewing kettles and chill aging tanks. Customers read about coming price increases, heard about them on the radio, even saw TV news stories about them, and when they came – and kept coming – the reaction was much less than it could have been.
Imports took a hit when the dollar tanked, but domestic price increases are taking that pressure off. "Imports are selling better now," said Daley. "The micro prices have gone up because of the supply prices, and they're more in line with the imports. There's interest in the more sophisticated Belgian beers."
Some places you'd never think there was an issue. Ask Nick Gregory, the business development manager at Redbones, the well-known (and well-respected) beer bar off Davis Square, what's hot, and he'll tell you: "Craft, craft, craft," he said, "micro, micro, micro. Even the big guys are getting into it, there's this Miller Lite Craft collection that's in test markets."
Gregory sees a two-way split on crafts, with both directions getting plenty of buzz. "There's a whole mid-tier of beers that were 'micro' and are now moving to bigger production: Sam Adams, Sierra Nevada, Harpoon," he said. "They're becoming more comfortable with the general crowd, more popular. The broader audience is drinking Harpoon and Ipswich. They're also drinking Sam Summer right now, and drinking a lot of it."
The people who were already there, though, are looking for smaller breweries, and they're out there. "We're happy with the small batch companies like Sixpoint (Brewing of Brooklyn)," said Gregory. "They have their hands right on the controls. We had Will Meyers from Cambridge Brewing out to do a beer dinner, and he brought a chili-chocolate porter. He will take those risks because he's got a small batch, and he knows he can move it."
Kai McMurtry sees the same kind of interest in the truly rare beers. "There are some brewers new to the market that came in at higher pricepoints, Pizza Port and Lost Abbey from southern California, for instance," he said. "There was some sticker shock initially, but they've picked up. We're talking about a very good beer."
Gregory wants to get his hands on beers like that. "Getting beer from San Diego – Pizza Port, Ballast Point, Lost Abbey, Green Flash – is an interest of my customers, and that's definitely a trend," he said. "But that's going to have to wait for better connections, setting up the trucking."
The buzz that these rare beers generate on beer enthusiast websites like beeradvocate.com and ratebeer.com can be deafening. As I write this, the release of Portsmouth Brewery's Kate The Great Imperial Stout is all any beer geek in New England is talking about. The problem for a retailer is getting significant amounts of these prized brews. Everything, it seems, is on allocation . . . that's pretty hot stuff.
McMurtry's boss at Wine Gallery, general manager Wes Narron, noted a couple local crafts that have developed a strong following, if not the wild attention of something like Kate The Great. "We got a new beer in about a month ago," he said, "that's just been going crazy: Mayflower Brewing, in Plymouth. The guy at the brewery is a long-time descendant of a Mayflower passenger (a cooper who was brought along to build and repair barrels: John Alden). They have a Porter, a Pale Ale and a Golden Ale. Our customers have really taken to it. They only sell in sixers, at $8.99.
"The Opa-Opa is selling very well in growlers," he added: "Red Rock Amber, Belgian White, IPA, and Raspberry Wheat. And about anything Smuttynose puts in a big bottle just flies off the shelf."

HOT WEATHER HITS
But craft, even the more popular brands, is still a niche, and the volume brands rule the roost. What's happening there? According to the folks I talked to, not much. "It's pretty normal, nothing major, a little trade-down, but not much," said Mike Collins, the beer manager at Curtis Liquors in Cohasset. "Coors Light's up a little, but not too much; Bud Light's down a little, but not much."
Nationally, of course, the talk is all about the major deals: the Miller Coors joint venture, the InBev/Anheuser-Busch buyout showdown. It hasn't affected sales much, although Coors has done very well across the board in the past year: Coors Light was up 5.4%, Coors Banquet up 6.6%, Keystone up 11.2%, and Blue Moon rising a full 66.9%, according to A.C. Nielsen data released in May. They thumped their major competitors in all four categories, and it's being attributed to – can you believe it? – ads and marketing that focus on the beer rather than on lifestyle or humor.
The bright spot for the other two of the Big Three has been bright green: lime. Miller Chill has apparently come out of hibernation and is posting good numbers again. "Chill is doing very well," Collins said.
But it's the new lime in town, Bud Light Lime, that may shine brightest. "Bud Light Lime is doing extremely well," said Collins. "For a couple weeks we couldn't get any. It's just coming back now."
"The biggest surprise right now is Bud Light Lime," agreed Rich Daley. "Everybody's drinking it, it's a great package, and you can't keep it on the shelf. It's not Bud Light people buying it, it's a combination of malternative buyers and the Corona crowd."

SPECIALIZATION
That might seem like the whole market: craft, bargain, mainstream brands. But there are some niches that are even smaller than craft beers. Organic beers looked to be pretty hot last year, but that trend has apparently cooled quite a bit.
"People keep talking about the organic beers," said Wes Narron. "The Peak Organic Amber and Wolaver's sell okay, but they don't really come in looking for them. They're looking for quality at a good price." Nick Gregory's just not seeing the interest over at Redbones, either.
What is on fire, though, is a true niche product: gluten-free beers. People with celiac disease – a hereditary disease that's estimated to affect as many as 1 in 133 Americans – have an autoimmune response to gluten, a protein that's found in wheat, rye and barley. Even the small amounts of gluten that remain in beer after the brewing process can ravage a celiac's small intestine. Gluten-free restaurants are starting to open; I met a recently-diagnosed celiac chef last summer who was transforming the menu at his noted London restaurant to offer substantial amounts of gluten-free meals.
Beer is a dangerous drink for celiacs. The small number of gluten-free beers were hot last year, when retailers talked about people cleaning them out of these products, and it hasn't changed; if anything, they're more popular.
"I can't name a customer who is more excited about a beer than the people looking for gluten-free beers," said Narron. "They'll literally take a cart and grab every sixer on the shelf, and then go tell their friends. We have the Redbridge, Bard's Tale and this new brand from the UK, Green's. It comes in 5OOml bottles, and they have a Quest Tripel, a Mission Amber and a Pathfinder Dubbel. They're made from millet, rice, buckwheat, and sorghum. They're about $6 a bottle.
"I had one customer get some of those," Narron said, "and come back and tell me, 'I thought I'd never drink a beer again, and you've got not just mass-produced stuff, you've got interesting stuff!'" Even the "mass-produced stuff" can be surprising, apparently. I was talking to an importer recently (who asked not to be quoted on this), who said they thought that Redbridge, the Anheuser-Busch gluten-free beer, actually tasted a lot like Palm, the Belgian pale ale; or, at least, how Palm used to taste in the good old days. Now I want to go out and try one!

BITS AND PIECES
Wrapping things up, the amounts of beer people are buying is starting to shift. "The big packages are still the 3O- and the 18-pack," said Daley, "but I think you'll see them scaling back from that because of the money. I'm also seeing a lot of mixed 12-packs. People like variety. There's very few loyal beer drinkers left. A-B's still 5O% of the market, but someone will come in and get a six of Bud and a six of something whacky. People who are over 5O will buy 1OO% Bud, but under 5O, they're aware of different tastes, and they're buying beer to drink with food."
You might want to direct those foodie drinkers to www.greatbrewers.com, a website put up by an alliance of wholesalers in four states, including L.Knife & Son, Seaboard and the Craft Brewers Guild in Massachusetts. There's a "Virtual Beer Sommelier" feature for pairing beers with a wide variety of foods, but that's just the beginning. There's a beer glossary, a "Beer Scholastic Aptitude Test", a description of the brewing process (and a packaged beer profit calculator). There's a new feature coming for printing out shelf-talkers, too. Quite the handy beer education tool.
Nick Gregory is online all the time, because what's hot changes all the time. "I have to keep up, are you kidding?" he said, laughing. "I'm on beerAdvocate every day, and if we see a trend, I'll try to get it. San Diego beers, we just sold a great cask of Stone Cat IPA, and Dogfish Head is maybe moving out of the small brewery perception into that bigger transitional category. That's what's going on today in Davis Square. Today. Tomorrow it'll be different."
Hot or not, some things never change. "Hot? As I've said earlier, it's always limes, ice and Bud sixpacks," said Wes Narron. "No matter what or when, that's what you'll sell the most of."
Now . . . that's definitely something you already know. But it doesn't hurt to tell you again, if only to remind you that what's hot right now may not be hot in October, and you want to make sure you've always got the basics covered.