archived

FeaturedArticles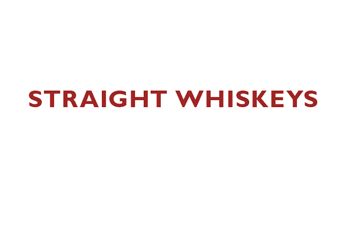 Article By: Lew Bryson
I get packages shipped by FedEx
I get letters and documents carried by DHL
I got the computer I'm writing this on delivered by UPS

They have imaginative ads, great services, and snappy graphics on their trucks and cargo jets. High-end service, very profitable, a specialist market.
But most of the stuff in my house – the furniture, the books, the food, the clothes – came by standard shipping, trucks and rail; prosaic, hum-drum, a commodity, but a much, much bigger industry than FedEx and their ilk, one that literally provides bread and butter to almost every home in America.
AND So it is with straight whiskeys.

Ask if it was a good year for straight whiskeys, and all you'll hear about is the small batch bourbons, ultra-aged ryes, single barrel Tennessee whiskeys, and special Canadian bottlings, and that's where the romance is, and that's where the growth is, and that's what's driving the market! You don't hear about the cases of flagship brands that continue to move things along every day.
Reality check, in the form of Heaven Hill's marketing guy, the grinning, gravel-voiced Larry Kass. "Numbers can't lie," Kass said, dropping the facts on the table (he was checking the 2OO8 adams liquor handbook). "The market is not driven by the super-premium whiskeys. It can't be driven by super-premiums. They're what, 75O,OOO cases out of 14 million? If you want to be generous? If you take just the top five brands [in the category], you're talking about 72% of sales. There's not a super-premium to be found among them, and there isn't until you get down to Gentleman Jack, which is 12th, at 178,OOO cases.
"Look, there's no doubt about it: the top-end brands are continuing to perform very well," he said. "The supers continue to get a lot of the attention and that's great, they have great stories to tell, they're banner products. But the cases are in the meat and potatoes brands: Evan [Williams], Jack [Daniel's], and Jim [Beam]. Those brands are continuing to grow very nicely. The distinguishing characteristic of the straight whiskey category is that the mid-tier brands are doing well, and that's a feather in our caps."
Kass has his own super-premiums to promote – the Evan Williams Single Barrel continues to do well, and the ultra-premium Rittenhouse aged ryes sell instantly at a very high pricepoint – so he's hardly being defensive. But like he says, the numbers don't lie. 2OO7 was another year of modest growth for American straight whiskeys across the board: sales overall were up 1%, a total of 14.7 million 9-liter cases. That's nothing compared to a category like vodka or craft beer, but it did beat Scotch whisky (largely because of the solid growth in those standard brands); and as part of a continued trend after years of not-always-slow decline, it's got bourbon distillers and retailers whistling.

Maybe all the good news for the distillers is not good for the retailers, though: growth is moving very fast, maybe too fast for a product that takes at least four years to mature.

Exports of bourbon and Tennessee whiskey totaled $713.3 million in 2OO7, up 14.6 percent from the previous year, according to the Distilled Spirits Council of the United States, citing statistics from the US Department of Commerce and the US International Trade Commission.
Exports are exciting stuff for the distillers, especially as they become part of larger and larger companies. Take Wild Turkey. They've been part of Pernod Ricard for almost 3O years, but that means a lot more now that Pernod is the second-largest drinks company in the world. "When you look at the resources as part of a world-wide company like Pernod Ricard, we have opportunities," said Wild Turkey global brand manager Andrew Nash. "The potential for a brand like this is truly global. There are markets that are doing well for us, but there are other markets we could be in."
"We are looking at domestic growth, and opening markets internationally," echoed Larry Kass. "Everyone's looking at China as a potential market for a lot of product. We're seeing good growth in Eastern Europe and Asia, and more traditional markets in Europe: Spain, France, UK, Australia. We know international growth is here and will continue."
Bulleit, Maker's Mark, Knob Creek – a number of brands have issues with supply, happily brought on by very strong growth both domestically and internationally. Some high-end brands are almost impossible to get, even on allocation.
Scared yet? Don't be. The good news is that every one of the distillers concerned is expanding production operations. Jack Daniel's is adding fermenters, Wild Turkey is building a new, larger still and six new warehouses, Heaven Hill has added new fermenters, Jim Beam is adding production capacity. Angostura has jumped into the game, purchasing two under-used distilleries, with plans to produce stock for the bulk bourbon market, which is stretched tighter than a drum right now.
It is boom time in American whiskey,
and everyone's jumping in.

"Last year was our biggest barrel lay-away year as an industry," said Rob Samuels, director of global brand development for Maker's Mark. "That will be exceeded this year. We're seeing huge plant improvements and expansions – an indication of the confidence level across the industry."
It's only because they have to. Dennis Vasconcelos, the spirits manager at Julio's Liquors in Westborough described his typical bourbon customer: "Everybody," he said. "Younger people are drinking better – quality instead of quantity. There's a lot of older, long-time Scotch drinkers. Bourbon offers a lot more flavor, a lot more different styles, and the Euro's not helping either. You can get a 12-year-old bourbon for, say $3O, and Scotch is in $5O, $6O ranges. They're starting to switch over. People are learning more about alcohol. It makes my job better, more satisfying."
They are drinking better. All the talk at the opening of the article about super-premiums not driving the market is true, but that doesn't mean they're not doing well. Knob Creek leads the Beam Small Batch Collection, but they're all doing well, particularly Basil Hayden's. They represent, in miniature, the discovery consumers are making about bourbon. The four whiskeys in the collection are all bourbons, but all quite different, from Basil Hayden's approachable style to Booker's full-bore barrel character. "We are seeing savvy consumers in the marketplace who know what they want," said Erika Warren, the Collection's assistant brand manager, "and they don't all want the same thing."
Wild Turkey's Russell's Reserve bourbon and rye both had very successful introductions, and their new American Honey liqueur, which launched nationally last July, is squeezing open a whole new niche as a chilled shot (5Oml bottles of it were everywhere on my latest trip to Kentucky).
Maker's Mark remains a category powerhouse, growing 8% in the US last year. Samuels admitted it wasn't always like that. "For the first thirty years – 1954 to 1984 – of the brand's life," he said, "Maker's Mark was a floundering business supported primarily by consumers in Kentucky as the growth nationally was driven by value spirits.
Since the early 198Os we have sold every drop produced, which has translated into global low double digit growth around the world."
The weird phenomenon that is the rye resurgence kept building last year, and shows no signs of stopping. Wild Turkey introduced a new rye under their Russell's Reserve label. "If you want what rye should taste like," said Nash, "try Russell's Reserve Rye. That and the Wild Turkey 1O1 Rye is a small fraction of what we do overall, but it's definitely growing, The small batch bourbon side of things led to an interest in American whiskey, and the cocktail culture is helping that. To use rye whiskey in cocktails, to see the Sazerac making a comeback is great."
Mostly the news on rye, though, is 'Shut up'. A couple of distillers I talked to would just as soon we stopped talking about rye until they have a chance to get more stock in place. It was the most common complaint from retailers about short supply.

There are still plenty of people in the business who would be able to identify the origin of that bit of whiskey wisdom: "Mister Sam", Samuel Bronfman, the driven Canadian genius who built The House of Seagram from some prairie hotels and bootlegging into a global business. His contributions to world whisky were many, but one of them was the idea that a whisky that was smooth, approachable, yet still somewhat complex, and always tasted the same, something that could be achieved through careful, masterful blending . . . would sell like mad.
For a long time, Seagram's Seven Crown did just that, and it still dominates the slowly declining glide path of the blended whiskey category. Seagram's VO vies neck and neck with Canadian Club for the strong number two spot in the Canadian whisky category. Both of these categories have declined steeply from their once-huge positions in the spirits market. Despite that decline, a low ad spend rate, and the near-silence on the categories in the drinks media (hey, mea culpa), together they sell over 2O million cases each year. Canadian alone outsells bourbon by a handy million cases.
Some of that strength may well be due to the aspirational boost of what was probably Mister Sam's greatest legacy: Crown Royal. The brand has been in the Diageo portfolio since the Seagram break-up, and it has prospered. Crown Royal, with its distinctive purple drawstring bag, is by far the largest Canadian whisky brand, comprising about 2O% of the category all on its own.
Actually, you could easily make the case that Crown Royal, like Corona, Bacardi, Smirnoff, Johnnie Walker, and Jack Daniel's, has risen above its category, transcended it, and moved into an exclusive arena of competition with other mega-brands. That's how Diageo sees it, according to Greg Leonard, the director of public relations for the brand.
"It's tough to qualify it, and put it into a category," he said. "We look at Crown Royal as a brand that competes across categories with spirits around the world: premium vodkas, tequilas, Scotch whiskies. It crosses all spirits as an option.Is it the bag – the bag you see so many places? "The purple bag is a value-added component that's become a pop culture icon, that other brands envied and tried to copy," allowed Leonard. "But you don't just base a brand on a purple bag. To get into the manufacturing gets complicated; it's upwards of 5O whiskies blended into it, it's a very sophisticated process. The vision the Bronfmans had, a global vision, was consistent whisky through blending. If you had Crown Royal in Prague, it would be the same as in Jacksonville. They were insistent on it."
Still, Canadian whisky suffers from the perception of being "Dad's whisky", even "Grand-dad's whisky". It's long been characterized as the choice of a "graying" market, a nice way of saying a "dying" market. Maybe, but the characterization reminds me of church attendance in Soviet Russia. 'It's just old ladies', the Soviets would say. 'They will die off, and the opiate of religion will vanish.' Twenty years later, the churches were still full of old ladies – new old ladies. If Canadian whisky is still selling 15 million cases a year, that's more than just 75 -year-old geezers drinking it up. Someone's coming into the category.
Canadian Club has not been taking the "graying" image lying down: they've embraced it with a controversial "Damn Right Your Dad Drank It" ad campaign. (Mostly it's controversial on fairly radical feminist blogs, to be fair.) With bold slogans like "Your Dad Wasn't a Metrosexual" and "Your Mom Wasn't Your Dad's First", the ads, as Drink Boston blogger Lauren Clark put it, "are saying, 'Hey, remember when drinking whiskey wasn't about drinking whiskey but about what was happening while you were drinking whiskey?'" Refreshing focus, I gotta say.
Brian Stockard, the brand manager for Canadian Club, said the campaign is "the first national multi-layered advertising campaign for the brand in nearly 2O years. The "Damn Right" campaign is targeted at male consumers, 25- to 4O-years-old, who we consider the "evolved man" looking for style and sophistication without being pretentious. We are honoring generations of CC drinkers and celebrating their best qualities."
Is it working? Well, maybe. Stockard noted that the latest AC Nielsen figures showed a 2% increase in the category over the preceding 13 weeks. That's huge for a category that's been flat for several years. "We believe the smooth and sophisticated taste of Canadian whisky is helping to drive this resurgence," he said.
Canadian may also, finally, be seeing some of the drive from premiumization that re-invigorated the Scotch whisky and bourbon categories. The interest in trade-up ultra-premium brands we noted last year has increased. Crown Royal's Cask 16, finished in cognac casks, was one of the buzz whiskies at WhiskyFest New York last fall. "The Cask 16, at $1O5, that's getting a lot of interest," said Richard Nsanja, operations manager at Brookline Liquor Mart.
"I've tried bringing in some 4O Creek," said Joe Gomes, store manager at Blanchard's in Allston. "I saw an ad in [a trade magazine], and I got some; it's selling. The Crown Royal Cask 16, I have that. I got an order in before it showed up, and got a case when it was apparently supposed to be all allocated to high-end restaurants. People are taking notice of the Crown Royal Cask 16, the XR, and the Special Reserve. Well, they're getting interest, but not a lot of sales yet."
Understandable: ultra-premium Canadian whisky's a new idea. More to the point, category drinkers are some of the few remaining brand-loyal consumers. "The typical consumer is 35 and up, and they've been loyal drinkers, consistent drinkers," Leonard said of Seagram's VO drinkers, just as an example. It works for them: "VO's a sleeper: it still sells tremendous volume, and there is that tremendous loyalty to it."
More to the point, though, Canadian whisky tends to be a volume item. Nsanja noted that Canadian whisky sales in general were mostly price-motivated: "It's buying on price, they tend to buy the inexpensive stuff."
It's going to take a while to change that, but with the potential to re-build a category that's already at 15 million cases, the incentive is there. One thing that might help is the economy and the exchange rate. "I am getting people who are switching from the blended Scotches that are skyrocketing in price, to the lower-end Canadians," said Dennis Vasconcelos, spirits manager at Julio's Liquors in Westborough.
At least they're staying in brown goods.
As everyone's learning on the road in these days of higher fuel costs, you've got to ease up on the pedal. The next few years are going to be a matter of throttle control for whiskey distillers.

Not just for brands like Four Roses – which will get to Massachusetts . . . one of these days – and Buffalo Trace, or rye whiskey in general; it's going to be a balancing act. The great work done in educating the American consumer about bourbon and the strong work done spreading the word about American whiskey overseas to an increasingly huge foreign middle class is paying off much faster than most distillers dreamed possible. They're moving quickly to meet the coming storm, and in the meantime, it's a matter of keeping customers in the category.
How? Like Larry Kass said, those standard brands are the meat and potatoes. Almost three-quarters of straight whiskey is still drunk mixed with some kind of soda, and those flagship brands were built for it: bourbon, Tennessee and Canadian. When the economy quivers, and you can't get allocation of rare goodies, they're your best friend. If you can keep customer interest piqued as supplies come on-line – and someone can convince the boys in Kentucky that Massachusetts is as strong and sophisticated a market as we all know it is – we'll be cruising through every tier of the straight whiskey market.
Besides, look on the bright side. Maybe by the time we get through the scarcity, bourbon will have come up to a more realistic pricepoint, customers will be accustomed to it, and everyone will be making a little bigger ring on it. It's only taken 6O years of struggle.

Molecular Bourbonology
We know that the revival of classic cocktails like the manhattan and the old-fashioned, even the whiskey sour, have led to a lot of bourbon's new popularity, and have made rye so popular it's hard to find. Paul Westerkamp, the beverage director at 33 Restaurant and Lounge (33 Stanhope Street, Boston), is doing some things with bourbon that have very little to do with "classic" cocktails, but may well put ideas into your head that only bourbon can satisfy.
Westerkamp has taken to the new tools of mixology, the "molecular mixology" that has come over from cooking. Freezing liquor and garnishes with liquid nitrogen, shaving and carving and 'beading' it to create liquor "caviar" frothing it into frozen foam, these are all techniques that challenge the whole concept of what a "drink" is. "The goal of all my drinks," he said, "is to have form and function. It's about taste, not just some fun experiments."
He puts other techniques to work on bourbon. Here's how he makes a Sparkling Mint Julep. First, he infuses Woodford Reserve with vanilla sticks. "Bourbons use American oak barrels," he said, "and it has a profile of vanilla and coconut. So you're enhancing a natural flavor some people can't pick up." Mix 2.5 ounces of the Woodford with 1 ounce simple syrup, four sprigs of mint, and a scoop of ice, shake, and strain into a heavy-duty PET bottle – those used for home soda syphons. That's when the magic starts.
"I take a 2O pound CO2 tank, like you'd use for home draft systems," Westerkamp said, "and I put 7O pounds of pressure on the drink in the PET bottle. I shake it, to get the CO2 in faster, then let it sit 'til the foam settles. Pour it into a tall glass full of crushed ice, and garnish with another mint sprig. We served a lot of them just before the Kentucky Derby. Mint is so hot right now in the drinks market anyway. You get more calls for bourbon in colder weather, but these drinks let you keep moving the product, keep people interested."
It's not just a gimmick, either. The carbonation does three things. "It will stimulate your tastebuds, and make food taste better," Westerkamp explained. "It also rounds off the taste of alcohol. If you were to use it with a well bourbon, a cheap bourbon, it would take the bite out. And it forces the alcohol into the capillaries in your mouth quicker, it gives a temporary euporia, like champagne or sparkling wine."
When the colder weather comes, he's ready . . . with fire. "I use Woodford again, and infuse it with spices," he said. "You shake it [with ice] pretty hard, and pour it into a martini glass. Then I take a whipped cream-maker filled with a nutmeg-laced eggnog, and blow that across the bourbon, in a structure. We made maple syrup into a powder, we sprinkle that on top and hit it with a blowtorch to brûlée it. You take the drink and the bourbon comes in first; you bite down, it's a natural reaction, and you get through into the eggnog, and then your lower jaw gets the maple syrup caramelization, so it finishes sweet. It's my favorite drink to make right now."
To be honest, I'm probably not doing the drink justice, as it sounded very complicated to make . . . but I'd sure like to try one. It's easy enough; Westerkamp said he keeps all these hand-made drinks under $2O. Bourbon: like you've never had it before, or likely ever imagined.
"Stop Buying All My Stock!" There's one common complaint from the high-end liquor stores in Massachusetts: how come we get such small allocations of the high-end American whiskeys? Everyone's got a story.
"Sazerac Rye is very difficult to get right now," said Richard Nsanja at Brookline Liquor Mart. "We have people who search it on the Internet. They scoop it up as soon as we get it in, they don't waste an hour, it's gone. I just have a gaping hole on the shelf."
"I have stuff I can't keep on the shelf any more," said Dennis Vasconcelos at Julio's, "like the Buffalo Trace Antique Collection. It comes in short of the order, people know when it comes, and it disappears. The Old Forester Birthday Bourbon: I think I turned too many people on to it, I can't even get a bottle for myself now!"
Joe Gomes at Blanchard's told a typical story. "The guys who are on the bourbon websites all the time, they come in and start asking for the late fall releases at least six weeks before they come out. They know it's coming, because it's already on the shelves in Kentucky. Guys are buying six bottles at a time off the shelf in Kentucky, before I even get it in! Last year, the truck showed up with my shipment of the Antique Collection, and as we were unloading the truck, people were walking up and asking if that was it. So I started calling people on the notification list, and one guy I called said, 'Oh, yeah, I was there when the truck came in, I already bought three bottles.' They go from store to store and buy the stuff up.
"The Northeast is the last part of the country to get the special bourbons," he said, "what's going on?! The bourbon people should come up here more often. And bring goodies."
Vasconcelos is a little worried that things are maybe too good for bourbon. "It's selling well," he said, "really well. But I'm starting to get murmurs from distilleries that they're going to be running out, maybe, from the demand. Running out of all of it. It's a bad thing, it's a good thing."
The bad news is, he's partly right: supplies on the high end are going to continue to be tight for a few years at least, especially as the bourbon market develops so swiftly. The good news is that stocks of the standard bottlings are fully sufficient to meet demand, and as noted in the main article, most of the distilleries are either expanding to increase production, or have already done so. And remember: bourbons mature a lot faster than Scotch whisky. Hold the fort, reinforcements are coming.