archived

FeaturedArticles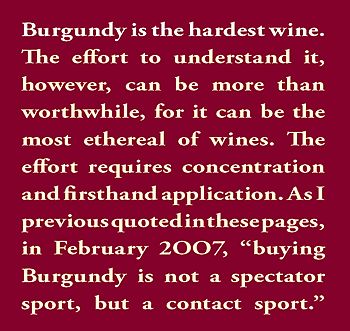 Article By: Harvey Finkel
Burgundy is the hardest wine. The effort to understand it, however, can be more than worthwhile, for it can be the most ethereal of wines. The effort requires concentration and firsthand application. As I previous quoted in these pages, in February 2OO7, "buying Burgundy is not a spectator sport, but a contact sport."
Why so difficult? To start with, microterroir really matters in Burgundy. Cross a stream, a road, even an invisible boundary, and the vines will give a wine of different character. Position on the slope in the same vineyard makes a difference. And, far from least, most vineyards and their wines are owned, farmed, vinified, and matured by a number of individuals. Most famously, Clos de Vougeot has dozens of proprietors, each with varying talent, means, goals, integrity, making their produce, even of the same vintage, distinctly different wines. Vineyard land in Burgundy is fragmented, a patchwork that evolved under the mists of history. Holdings are small: a grower may own but a few vines in a vineyard. Add to this the vagaries of the northerly climate and the capriciousness of the grape of red Burgundy, pinot noir, and you begin to understand the difficulties. To compound them, most wines are made in small quantity, and so are consequently hard to find and expensive.

So it was with enthusiasm that I welcomed the early spring visit of Jean-Nicolas Méo, proprietor and winemaker at Domaine Méo-Camuzet in Vosne-Romanèe among the lords of the CÔte d'Or, an elite property one can bank on to produce elegant wines of finesse and delicacy, of charm with underlying power. At a tasting/dinner sponsored by the Massachusetts chapter of the Confrérie des Chevaliers du Tastevin and hosted by William Friedberg, Méo's retired importer, we tasted side by side wines of the justly vaunted 2OO5 vintage, now virtually sold out, and the untested and untasted 2OO6s, due to be delivered to shops this summer.
Before commenting on the wines, let's review the history of the property and the nature of these two interesting vintages.
The estate was knowingly assembled in the early years of the twentieth century by Etienne Camuzet, member of Parlement for the CÔte d'Or. The last single owner of the Chateau du Clos de Vougeot, he donated the fifteenth-century monumental edifice to the Confrérie des Chevaliers du Tastevin in 1944 for celebration of and education about the wines of Burgundy. On Camuzet's death in 1946, his daughter Marie inherited the estate. She had no children; when she died in 1959, the estate passed to Jean Méo, Etienne Camuzet's great-nephew, a petroleum engineer and a member of de Gaulle's cabinet. His son, Jean-Nicolas Méo, took over management in 1989.
Jean-Nicolas, now 44-years-old, studied economics in Paris and in graduate school at the University of Pennsylvania. He studied viticulture and oenology in Dijon, and worked at wineries in California. (He speaks excellent American English.) More important, he has learned on the job under the tutelage of his elders, most notably the immortal late Henri Jayer, who was the vigneron here for more than 4O years. Christian Faurois is the vineyard manager.
Until 1985, all the wines were grown and vinified under a sharecropping arrangement (métayage). Much was sold off in bulk. During the '8Os, the domaine began to reacquire control over the previously leased parcels and to bottle its wines. It now farms its own 15 acres of vineyards and supervises 13.5 more under contract. The average annual production is more than 9OOO cases. One white wine is produced, Hautes CÔtes de Nuits Clos Saint-Philibert. A very superior Bourgogne, 98 percent sourced from the CÔte de Nuits, and fine village wines are bottled under the négociant label, Vins Méo-Camuzet Frëre & Soeurs (buys grapes, makes wine): Chambolle-Musigny, Marsannay, Morey-Saint-Denis, Fixin. Also under that label are two premiers crus of Nuits-Saint-Georges and two from Chambolle-Musigny. The Domaine Méo-Camuzet label covers the white, village wines from Vosne-Romanée and Nuits-Saint-Georges, three premiers crus of Vosne- Romanée, two from Nuits-Saint-Georges, and four grands crus: Corton Clos Rognet, Clos de Vougeot, Echezeaux, Richebourg. Of the premiers crus, perhaps most notable are Vosne-Romanée aux Briées and aux Cros Parantoux and Nuits-Saint-Georges aux Boudots and aux Murgers. There are on occasion a few other wines made.
The vines are tenderly nurtured, as organically as possible and without mechanization. Horses are employed. Green harvesting, grape selection and late picking seek an optimal yield of healthy, concentrated grapes, which are again triaged on arrival at the cellar. The effects of global warming have been noticed during the past twenty years. Budding and flowering of the vines now occur nearly two weeks earlier than in the early 198Os, and harvests come earlier too.
In the cellar, manipulation is minimized almost to the vanishing point. Natural yeasts conduct the fermentations after complete destemming and a cold maceration. Most of the wines above the basic levels are matured in new oak, selected to fit the characters of the wines. There is almost no chaptalization or fining, no filtration. Gravity is used instead of pumps. Jean-Nicolas says that all the major wines need ample time in bottle to express themselves, especially in a vintage such as 2OO5.
The weather in 2OO5 was almost perfect, resulting in what's been called by some a "dream vintage". Drought conditions prevailed during a hot August. There was some rain in early September, but harvest, preceded by a north wind, was carried out in good weather, yielding perfectly healthy, balanced, concentrated fruit, both chardonnay and pinot noir. The wines are fragrant; the reds are dark. They possess power, texture, complexity, and finish, up and down the line. The preservation of acidity in the face of flawless ripeness is especially notable, giving them liveliness and long life, and requiring us to wait for optimal drinking. The acidity was largely maintained by the concentration of the grapes. The acidity is more apparent now than it was to me when I visited the cellar in June of 2OO6 and tasted barrel samples of this vintage.
Conditions were neither so even nor so favorable in 2OO6, yet the wines have, in Jean-Nicolas's words, "come as a divine surprise." The growing season began hot and sunny, but quickly turned unusually erratic, limited in sunshine. After a bad August, September was better, though some hail damage and rot required fine tuning of the harvest and careful and conservative selection of grapes, contributing to a low yield. Although not up to the level of 2OO5, acidity held up, probably under the influence of the cool temperatures. The wines have evolved well-attractive, mature fruit foremost, immediately appealing, but not at all limited to the short term. Jean-Nicolas believes that, given the state of the art, such a vintage 3O years ago would have wound up a disaster. Now, because of technological progress and, mainly, management of yields, we have enviable wines.
To complete the recent panorama, let's have a peek at 2OO7. The wines, which I have not even sniffed, are, of course, still in barrel. The weather resembled that of 2OO6, but was even wetter. The wines are less concentrated than those of 2OO6.
Five pairs of wines were critically tasted, and illuminated by Jean-Nicolas's comments. Each pair faced off the same wines of 2OO5 and 2OO6. There was one regional pair, Bourgogne rouge, one village pair, Fixin, one premier cru, Vosne-Romanée Les Chaumes, and two pairs of grands crus, Clos de Vougeot and Echezeaux Les Rouges du Bas, the more enticing of the grands crus. The pair of Bourgognes are both far better than the average regional Burgundy. The 2OO5, in particular, possesses fine balance, fruit intensity and finish, even elegance. It is more difficult to state a preference right now in each of the other pairings: with wines of this quality, it may be presumptuous. The 2OO5s in all cases seem to me firmer, more concentrated, less ready, probably more complex and longer in finish than the 2OO6s, which, however, favor us with generous amount of more open and delicious fruits, balance and finish. Drink the wines of 2OO6 before those of 2OO5, and enjoy both.
Our own tasting was followed by dinner graced by more mature Méo-Camuzet wines.