archived

FeaturedArticles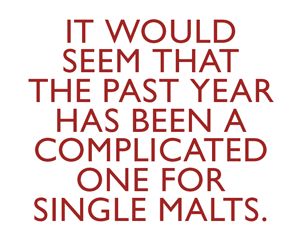 Article By: Liza Weisstuch
Curiosity is up, more Scotch brands have deployed brand ambassadors to host events, and mainstream and high-end publications seem to be covering rare releases more than ever. But the dollar is down on the global market, and people are skittish about spending, to say the least. Plus some are worried that the surge in single malts' popularity in the East is increasingly impacting the available supply in the States. But talk to retailers and bar managers and one thing becomes clear, single malts are recession proof.
They continue to be the drink of high-rollers as well as a source of intrigue and a symbol of cachet for newer drinkers. Budding Scotch drinkers tend to stick to the marquee brands, as evidenced by lists at prominent restaurants, particularly steakhouses. But those in the industry are doing more to introduce and expose clients and customers to a wider variety of single malts.

THE CASE OF THE CURIOUS PALATE
There are signs that those efforts are paying off. Case in point: peatier malts are seeing a surge in popularity. "Word of mouth is beginning to spread about the peaty monsters. Bowmore, Lagavulin, Bunnahabhain, Caol Ila and Ardbeg 1O all do very well.
I still see a few of traditional bottlings from Gordon & MacPhail," said Joe Gomes, store manager and spirits buyer of Blanchard's in Allston, referring to the independent bottler. "Lagavulin has always been one of the top two or three malts at the store. I've always found it interesting that people come in the middle of summer and buy two or sometimes three bottles of big, heavy, peaty malts."

Joe Howell, manager of Federal Wine and Spirits, sees the demand for heavily peated single malts grow and grow as people seem to seek out extreme flavor experiences. "Without a doubt, peat is hot," he affirmed. "There's never enough out there, and there are so many fanatics out there. It's surprising how many people are drinking it. People who are just starting to drink single malts are getting right into big peat. Years ago I didn't even taste people who were just coming into whisky on peat. And it was just standard that I didn't show peated whisky to women. That's a surprising category – a lot of women are into peated whiskies. Palates and outlook of spirits have evolved. That's where people are trying when they have the opportunity. Bartenders are working it and opening the doors for people."

PASSING the BAR
For their part, bar owners and managers are walking the narrow line of pushing smaller, more boutique brands that they're personally enthusiastic about, brands that are gaining traction thanks to word-of-mouth and exposure in the press, while keeping the bar stocked with the all-star brands, the ones that demonstrate the power of advertising, that dominate the category.
Paul Monahan, manager at Grill 23 in Boston's Back Bay, also oversees the bar program. Having spent many years in the restaurant industry, including time at high-end restaurants in the South End like Aquitaine, he's monitored how trends have changed from the trenches. "Since I started running the program here, I've never seen people drinking more single malts than in this place. People's knowledge base has changed. People are more curious. That could be because they're reading reviews or looking at the bottles on the bar. Everybody's more willing to try," he said, but more willing than in the past doesn't necessarily mean they are the most willing and adventurous that they could be. Trying is, to hear him tell it, just that. Rare is the seasoned customer who abandons the old standbys she or he has been faithful to for years.
This is the indisputable effect of what he calls "brand-washing" – people gravitating toward the familiar, the impact of the force of advertising. "Our list is short and sweet. We always have the major stuff, but when I throw an Ardbeg or Lagavulin or different Laphroaigs on the list, people will try them. We have a 1.75 ounce pour here. I try to do the right thing for the price point. We have to cover costs and make it all look presentable on the bar and on the actual menu. I'm dabbling in some changes."
Sometimes the subtle changes can have the greatest impact. He recently changed around the layout of his menu and moved the list of single malts from the bottom right to the crnter of the left hand column. "Now they're smack in the middle and all the regions are highlighted with the Scotches listed below. I'm trying to create a niche with single malt Scotches and bourbon. We do a lot of education [with our staff]. I think people get confused with the difference between a Macallan 12, 15, 18, 25. The amount of Macallan 18, neat, I see passing over the bar is astounding." He noted, however, that all other factors are moot when bartenders personally push a product. "I'll sit down with bartenders just before shifts on the busiest nights and say, 'sell this Glenmorangie.' It's the best way to get stuff out the window."
It's hardly surprising to see a steakhouse offering a strong single malt selection, but when you can look toward the smaller bars that do a hefty amount of sales in wine, beer and cocktails and find a unique, if well-edited, collection of malts, you know that change is afoot, even if it hasn't fully taken root. "People are really very interested in single malts, and there are enough professionals at the forefront demystifying it and making things more accessible," said Josh Childs, owner of Silvertone Bar and Grill, the perpetually buzzing subterranean joint near Boston Common that's popular with a young business crowd as well as industry types. "In a retail application, you'll find people interested in tasting. On premise, a small bar like ours is still driven by white spirits, and the brown spirits lean towards the bourbon end more. Scotch is still not a young person's drink. I don't know too many cocktails with Scotch as a base that are at the forefront of a drink menu and the spirits renaissance in general leads to everyone piggybacking on that. Still, the market share is going to grow considerably."
In fact, you could argue that smaller, more intimate bars have an advantage over more formal steakhouses in that bartenders, with a smaller space to oversee, have a greater opportunity to hand-sell. "One of the reasons for bourbon's popularity is that it's a handcrafted American product. Location and historical significance have increased bourbon's awareness here. It's the quintessential American spirit," said Childs. "But with Scotch it's about increasing overall market and exposure. I can say, 'if you like Basil Hayden's, you might like Macallan 18. To me Basil Hayden's is more subdued and has Highland qualities. And there's the idea of trying different things for different flavor profiles, which makes a lot of sense. You can make an analogy between wine and Scotch in the way you think of terroir in France."
He says that for the most part, his single malt offerings and sales have been steady since they opened over a decade ago, but there have been signs that change is afoot, especially with regards to iconic brands carving a space for themselves in the cocktail realm. "I see single malts as something to be sipped and savored after dinner. I don't really see it on the earlier side of the evening very much. I do think the market is changing. There's some evidence of that change, like when a well-known house such as Macallan makes a product like its Amber to be used as a mixer. It's something they're doing, I think, because they need to change the perception of its versatility. When someone like Macallan has done one thing for so long, and it's so classic, what's the next step? The Balvenie does their port wood age and that's something that makes it more appealing to people who might not be Scotch drinkers. Balvenie was a big proponent of bourbon barrels. I think Scotch is always trying to get over the grandfather's-Scotch-and-soda image. There are generational differences. Personally, I think there's nothing better than a good single malt, but the physical size of a bar like Silvertone keeps us from having window dressing that bigger steakhouses can have." But he can still offer a comprehensive sampling, regionally speaking. "We try to cover the bases, but in a small place, you can have a nod to experimentation. We have the big guns, the whole United line, and with those, the average consumer gets good exposure to primary regions with Lagavulin, Dalwhinnie (a Highland), Cragganmore, Talisker from Skye, and Oban. And we carry Springbank from Campbeltown. We can almost treat it like a small place with five taps that's always changing up its beer. It gives people a chance to try something else and offers an idea of diversity and experimentation."

It's the ECONOMY, STUPID
With the dollar in a nosedive all year against the pound, and supplies at many distilleries not as robust as they've been in years past, costs are, inevitably, on the rise. "Prices have been increasing," said Gomes at Blanchard's. That leads to some challenges beyond the obvious consumer reluctance to shell out. But not all those challenges are bad for business. "My main concern is that I ran out of space. To bring in higher marques and more esoteric stuff, I have to put bottles on the shelf with high-end blends and people start noticing them more when they're out. They'd see the glass case and not realize what's in it. A lot of people started to notice additional marques on the sales floor. More obscure, harder to find single malts might be some odd 3O-year-olds when I can get access to them. It means that something else would go out on the sales floor. Right now I see three facings of Isle of Jura – the 1O, the 16 and the Superstition – on the shelf. There are three of the Compass Boxes out there, too."
Gomes also said that with the economy, people are modifying their spending habits, but not necessarily in ways you'd expect. "You see shifts. I've noted 1.75 sales declined slightly and 75O sales are increasing. So you adjust purchasing. There are shifts in levels of categories. Midrange vodkas slow down a bit, but top shelf isn't affected. People are being more careful with their purchases, and instead of buying 1.75 bottles, they buy a 75O." With that trend, retailers like Gomes worry that Scotch customers, who are characteristically loyal to one or a small number of stores, may not have the opportunity to broaden their palate as much. He said he's made a habit of getting any sampler packs that become available (5O or 2OO milliliters) and keeping them at a reasonable price. "By doing this, I can get customers to try more," he said. Talisker put out a package that included three 2OOs – the 1O-year-old, the 18-year-old, and a sherry finish – and fetched about as much as a 75O.
Of course, it's easy to wonder whether prices would change regardless of today's grim economy. "Five or six years ago, it was harder to get anything older than 15 years. Macallan 18 disappeared for a year and Lagavulin for about nine months. Some of the older marques were still available because demand wasn't high. Back then, bottles around $5O to $1OO disappeared. A lot of single malts became unavailable or hard to get a hold of. The demand outstripped the ability to produce. Of course, once supply increased, cost went up because the demand was still there. Since that time, Macallan 18 was $52, then it disappeared and replaced by a 15-year-old for a year at $55. When the 18 was available again, it was $6O, and from that point on up it went up $6 to $1O every six months."
That's not to say there aren't any values for high quality Scotches. Sometimes, however, they get brushed to the side. "A lot of people are looking at smaller niche brands, so the main staple brands aren't getting attention that they should," said Joe Howell at Federal. "This is a year that value is really going to be part of the picture and that's where a lot of the bigger brands come in – they show better value. And that's where a lot of people don't look at an 18-year-old or a 21-year-old. The 12-year-olds tend to be a lighter spirit. A lot of people start off with that and then experiment and try other single malts and kick the line they started with to the side, like with Glenlivet and their 18 Year Old or Nadurra. Those show extreme value. It's $9O for the 18 Year Old. That's where you're really going to look to put products like that on the front burner."
Glenlivet, however, is among a growing number of single malt houses that's tapping the inter-personal power of the brand ambassador. "I just met with the new Glenlivet brand ambassador and I'm looking forward to working with brand. It's nice to see, because there's a brand that gets left to the side a lot. They live off their reputation and that's where a lot of people miss those older marques. I'm looking forward to the XXV. I'm pleased to see them release the 16 Year Old because it's a straight bourbon cask. It works well for people looking for cask strength. People aren't used to cask [strength] so it gives them a product to look at and explore without being overly priced, and it's a good whisky without a doubt.

AND so it seems
Single malt will remain a spirit of prestige, and with an increasing number of younger drinkers getting interested in the spirit, it reinforces the common belief that Americans these days aren't necessarily drinking more, but drinking better. And we can only assume that as new distilleries are constructed throughout Scotland to accommodate the global demand for single malts and more bartenders and retailers work in tandem to educate consumers and support one another's business, wee drams will continue to have a huge impact.
Aberfeldy


Dewar's Rips Its Heart Out for You

"Aberfeldy was always the heart of Dewar's blend," says Fanny Young. She's the brand director for Dewar's, so she should know. The distillery, built by Dewar's in the late 18OOs and opened in 1898, has been producing steadily except for a two-year hiatus during the whisky distilling 'holiday' in World War I.

But it's entirely possible that you'd never heard of Aberfeldy before the past few years. Except for a few scattered independent bottlings, and a very limited 1OOth anniversary distillery bottling, it was never bottled as a single malt until 2OO3. Now you can get a 12 Year Old bottling and a 21 Year Old.

Before 2OO3, all of the distillery's output went into Dewar's blended Scotch whisky. You can tell when you talk to Fanny Young that any implication that Aberfeldy should have stepped out of the Dewar's closet years ago doesn't go down well. Aberfeldy being the heart of this strong, entirely relevant brand is clearly okay with her.

"When you talk to real Scotch whisky connoisseurs," she notes, "they'll say, 'Yeah, I started out drinking blended scotch, then I got interested in the mystique of it.' They know the single malts, they know the distilleries. And then they come back to blends, and now they recognize the complexity, the difficulty of blending those whiskies.

"But today's consumers," she worries, "are bypassing blends and going straight into single malts. Hopefully, their education will reach the point where they will see the complexity of blended Scotch; that complexity happens in your mouth. Boo on the Scotch marketing teams across the country that lost a whole generation on blended Scotch. And boo on them for failing the older generation for not appreciating the contributions single malts make to their blends."

In the case of Aberfeldy, it becomes crystal clear what it's been contributing to Dewar's all these years as soon as you crack the seal and pull the cork on a bottle. You smell sweet, fresh aromas that Young characterized as "heather-honey". There's some sweet citrus in there as well, but the whisky really catches your attention with that freshness.

What you won't find much of is peatsmoke. "There's not a lot of smoke in our products," says Young. "We do have that heather-honey note, and you find that. You may not appreciate the heather-honey until you're drinking it beside something full of smoke."

As I mentioned in my Laphroaig/Ardmore article in this issue, lots of new Scotch whisky fans are all over the peat, rolling in it like tabbies in catnip and dissing any whisky without peat as gutless. They bring Young to despair. "You have to appreciate all the dimensions, not just the smoke," she says, forcefully. "I hate people who only drink big red wines, who say, 'I don't drink white wine.' That's what these people are doing. They're really missing out."

She's right: it's called single malt whisky, after all, not single peat whisky. Peat's not bad, it's a great part of some whiskies. But it can be a teasing nuance as well as a bracing slap. Young points out that having that nuance in your offerings is important, because at the single malt level, whisky is sold like wine: it depends on education, on variety and difference. "You need a full portfolio of products," she emphasizes.

Aberfeldy is another entry in that portfolio for Bacardi. The company has not put a lot behind the single malt since releasing Aberfeldy in 2OO3 (Bacardi acquired Dewar's in 1998). But that's intentional. "People ask why we don't do anything with it, and that's the point," Young explains. "People want to discover things on their own. The complexity of single malts allows that. The growth on Aberfeldy is about 13,OOO cases – given that we do nothing to promote it other than sampling it at trade shows, it has a decent following."

There's some pragmatism, too, of course. "We have to focus on the Dewar's market," she says, quite matter of fact about it. "Single malts are a highly fragmented business: there's only one big player with single malts: Glenlivet." It's expensive to get a new single malt pushed up to big levels quickly; Bacardi is taking a more incremental approach.

The two Aberfeldy bottlings are at the low end for pricing in their respective age groups, representing some rare values in today's market. "The 12 Year Old retails for about $3O, the 21 is about $2OO," Young says. "It's a very good price, actually. I think the 21 Year Old is a more intense experience of the 12: creamier, fuller, but still full-on heather-honey notes. It's so smooth, it's like butter."

You may find some Dewar's drinkers that would be enticed by the idea of 'deconstructing' their favorite blend and tasting the vital heart of it. You may find some peat freaks that might be interested in finding out what they're missing. Or you may find some 'tickers' who just want to try something they've never had before. After 1OO years of waiting, Aberfeldy's ready for them.

-LEW BRYSON